This website may contain affiliate links and advertising so that we can provide recipes to you. Read my privacy policy.
Skinny Slow Cooker Kung Pao Chicken is a delicious chicken coated in a sweet and spicy sauce with tender vegetables and crunchy cashews. Skip the takeout, this is so much healthier and better!
I love the light and tastiness of this skinny Kung Pao Chicken recipe. If you are looking for skinny meals this new year try this Skinny Chicken Enchiladas, Skinny Fettuccini Garlic Alfredo and for a sweet dessert try this Skinny Mini Cheesecake.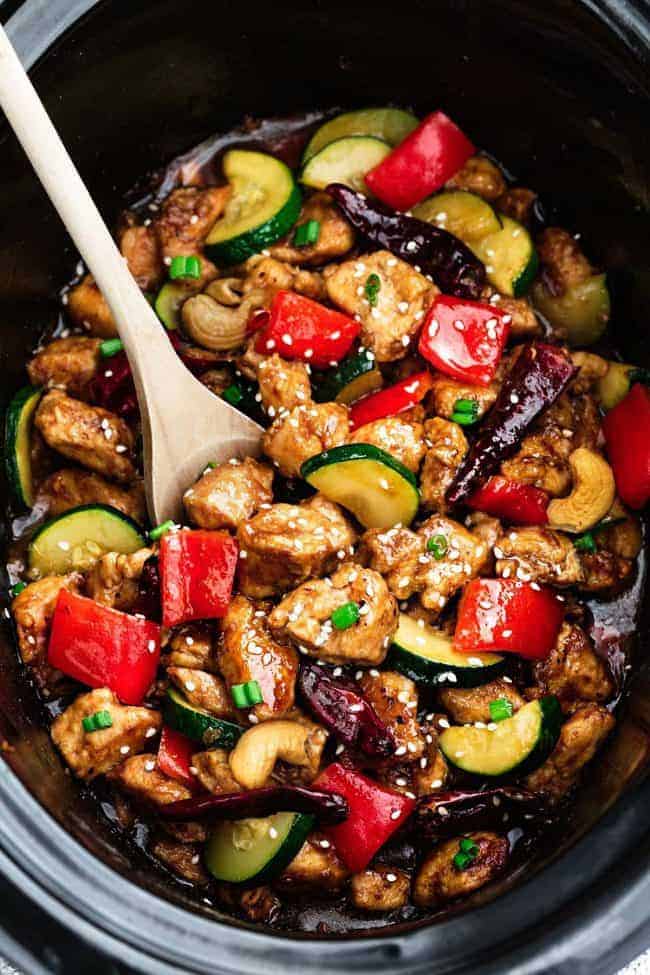 Skinny Slow Cooker Kung Pao Chicken
I love making my favorite Asian take out dishes at home because I can lighten them up without sacrificing on the flavor.
This recipe is a lot healthier than the Baked Kung Pao Chicken you would typically get when ordering out.
According to My Fitness Pal, it's about 443 calories per serving.
Plus, it's really easy to whip up and has all the same amazing flavors we love.
Cook on low for a few hours then add in the veggies right near the end for the perfect tender & crisp texture.
You can serve this over your favorite quinoa, fried rice or even zoodles for a lower carb option.
Either way you choose, it's so much easier and healthier than takeout!
What's the difference between General Tso's Chicken and Kung Pao Chicken?
Both Kung Pao and General Tso's chicken are equally delicious with a sweet and spicy glaze sauce.
However, they are both different ways of cooking them and different flavoring of glazes over top of the chicken.
Skinny Slow Cooker Kung Pao Chicken recipe is served with a few vegetables and mixed in a sweet and tangy sauce that has a little bit of heat in it if you prefer.
Slow Cooker General Tso's Chicken is breaded and usually fried chunks of chicken that are chopped up and cooked in a sweet and spicy sauce.
General Tso's chicken does not usually have vegetables in it either.
Both dishes taste AMAZING and are simple to make.
With Kung Pao chicken you are able to control the spiciness and which vegetables you prefer in the recipe.
With these two recipes, you are sure to please your family and make the BEST food right at home.
What you need to make Skinny Slow Cooker Kung Pao Chicken:
Sweet, savory with just enough of a fiery kick that you can totally customize according to your taste.
There is no deep frying required. Just a little oil to brown the chicken.
Plus it has a generous serving of tender crisp veggies.
I used red peppers and zucchini but you can easily swap in your favorites.
Black pepper and salt: to taste
Chicken: skinless chicken breasts (about 2-3 pieces), cut into bite-sized chunks
Olive oil: helps cook the chicken in a pan.
Red Chili Peppers: to taste found in Asian supermarkets or the International section of a large chain grocery store – see NOTE
Roast Cashews: or roasted peanuts
Red Bell Peppers: chopped into bite-sized pieces
Zucchini: chopped into halves
Sauce:
Soy Sauce: dark in color and adds a sweet and salty flavor.
Water: keeps the consistency thin and runny.
Honey: thickens the sauce and adds sweetness.
Hoisin Sauce: dark red appearance that has a slightly sweet and tangy flavor.
Garlic: minced
Ginger: freshly grated.
Red Pepper Chili Flakes: more or less depending on how much heat you prefer.
Cornstarch Slurry:
Cornstarch Powder: helps make it thicker.
Water: plus more as needed to thin out consistency of sauce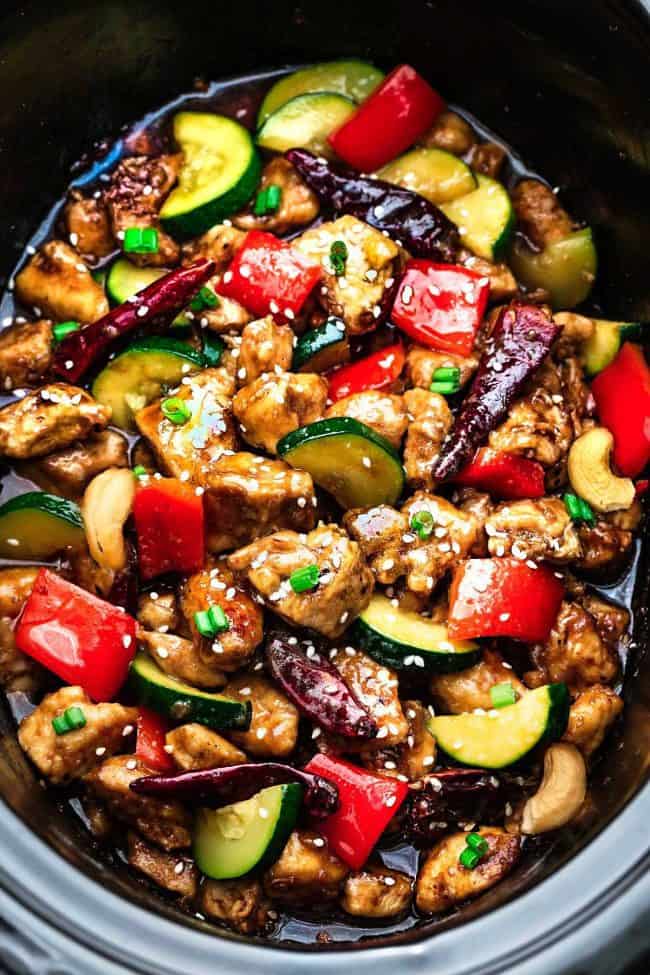 How to make Skinny Slow Cooker Kung Pao Chicken:
To make this Kung Pao Chicken, start by browning the chicken before adding it into the slow cooker.
If you are in a pinch, you can skip this step but browning the chicken on the stove first makes a big difference!
Then combine the sauce ingredients together and toss with the chicken.
In a large zip-top bag, toss in chicken, salt and black pepper. Shake until well-coated.
Heat a large skillet over medium-high heat. Cook chicken about 2-3 minutes on each side, until lightly browned. **Skip this step if in a pinch and add chicken directly to the slow cooker.
Transfer chicken into slow cooker. (SEE NOTE FOR STOVETOP DIRECTIONS)
In a medium bowl, whisk together the soy sauce, water, honey, hoisin sauce, garlic, ginger and red pepper chili flakes and pour over chicken.
Cover and cook on LOW for 2.5 – 4 hours or HIGH for 1.5 – 3 hours. (SEE NOTE)
About 30 minutes before serving, whisk together the cornstarch and water in a small bowl. Stir into the slow cooker. Add the dried red chili peppers, red bell peppers, zucchini and cashews.
Cover and cook on HIGH for another 20-30 minutes or until the vegetables are tender and the sauce has thickened up. (Add more water to thin out sauce to your preferred consistency).
Sprinkle with sesame seeds, green onions and serve over rice, quinoa or zoodles, if desired.
Tips for making Skinny Slow Cooker Kung Pao Chicken:
Adding vegetables: If you are adding in more vegetables you will want to increase the amount of sauce to cover all of the vegetables and chicken.
Increase the heat: Add in cayenne powder or more red pepper flakes.
Decrease the heat: Leave out the red pepper flakes or substitute with chili garlic paste.
Shopping: Most the sauces are found in the Asian section of your local supermarket.
Substituting red chili peppers: If you can't find dried red chili peppers, leave out and add an additional ½ – 1 teaspoon red pepper chili flakes.
Slow cooker tip: If your slow cooker runs hot, be sure to check on chicken earlier as it may cook faster than the suggested cooking times.
Stovetop Directions: Brown the chicken until cooked through (7-8 minutes). Then add vegetables and saute for about 3 minutes – or until tender. Add the sauce to the pan, turn to high heat and cook until the sauce bubbles and thickens up – about 1-2 minutes. Taste and adjust seasonings. Once everything is coated and heated through, serve hot with favorite sides.
Variations for making Skinny Slow Cooker Kung Pao Chicken:
What vegetables can I add to Skin Slow Cooker Kung Pao Chicken?  Broccoli florets, green beans, peas, sliced carrots, sliced yellow or green zucchini.
How do I change the heat/spiciness of kung pow chicken? One easy way to adjust the spiciness is to increase or decrease the amount of red pepper flakes listed in the recipe.
Can you use other meats? Yes! This Kung Pao Chicken recipe goes well with shrimp, pork or beef. Here is my Awesome Kung Pao Shrimp recipe.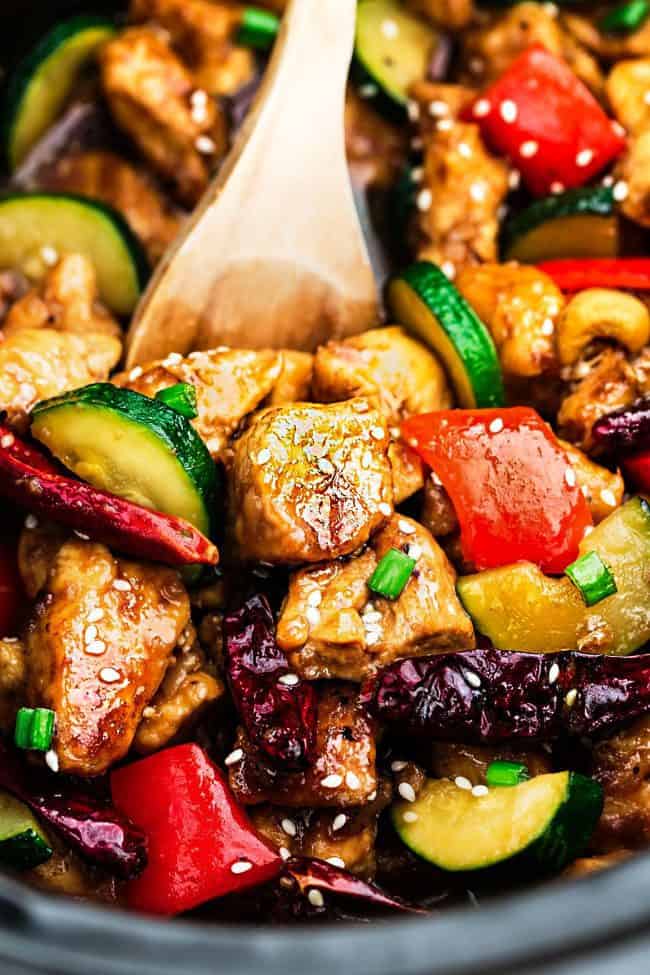 Storing Skinny Slow Cooker Kung Pao Chicken:
How long will Skinny Slow Cooker Kung Pao Chicken last? This dish will last in the refrigerator for 3 to 4 days.
Can you meal prep Skinny Slow Cooker Kung Pao Chicken? Yes! This is perfect for meal prep. Make this and add rice or chow Mein to the meal prep containers. This makes about 4 to 5 days worth.
Can you freeze Skinny Slow Cooker Kung Pao Chicken? Yes, this recipe does well frozen. You can freeze it in a ziplock bag and lay flat in the freezer. It will last in the freezer for about 1 to 3 months long.
Warming up Skinny Slow Cooker Kung Pao Chicken: When ready to warm up, slowly warming up in a microwave will work great or adding it back into the slow cooker to warm on high or low heat for about 1 hours.
More Delicious Chinese Food to Try: