This website may contain affiliate links and advertising so that we can provide recipes to you. Read my privacy policy.
Creamy Tuscan Garlic Chicken has the most amazing creamy garlic sauce with spinach and sun dried tomatoes. This is a restaurant quality meal that's easy to make at home in just 30 minutes!
Also try Creamy Tuscan Garlic Shrimp and Insanely Good Creamy Tuscan Garlic Salmon.  They are also unforgettable Tuscan Garlic meals your family will be so impressed with!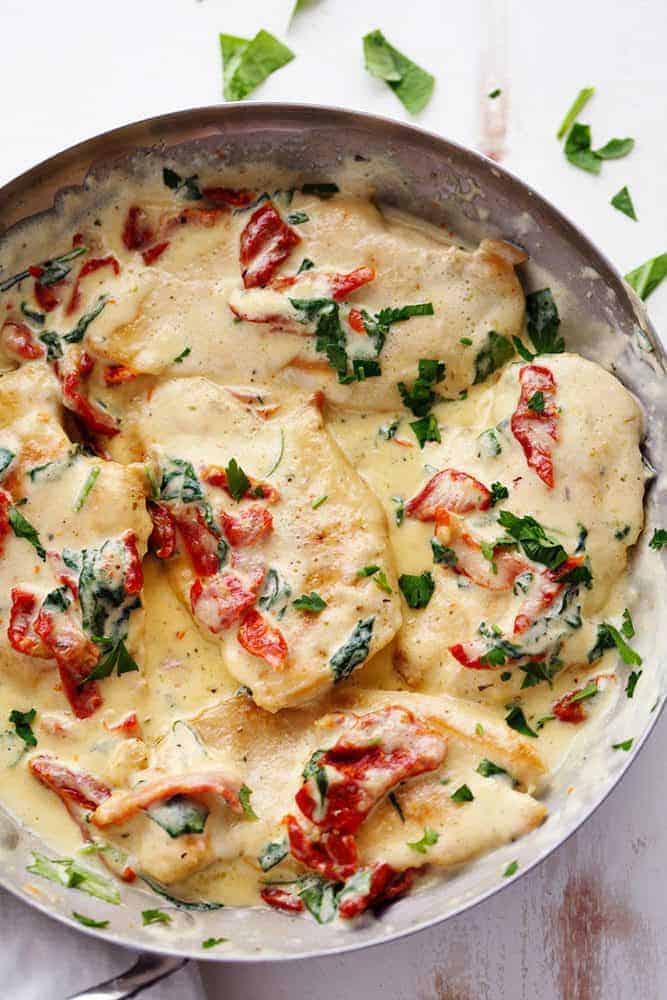 Creamy Tuscan Garlic Chicken
This Creamy Tuscan Garlic Chicken tastes like it is straight from a restaurant. The first time I made it, I couldn't even get over how amazing the creamy sauce was!  It has such a delicious creamy garlic taste with spinach and sun dried tomatoes.  The chicken is so tender and juicy every bite just melts in your mouth!  Everyone who eats this chicken falls in love with it at first bite!
Not only does it taste amazing, but this Tuscan Garlic Chicken is so easy to make!!  The creamy sauce whisks together so perfectly and uses familiar ingredients you already love.  You will want to lick your plate clean because it is that good!  This is a must try recipe that involves no-fuss prep with gourmet looking results.  Put this meal at the top of your must make list!
What's in Creamy Tuscan Garlic Chicken?
Many of these ingredients are basics you will already have in your pantry or refrigerator.  They come together so easily to make the BEST Creamy Tuscan Garlic Chicken I have ever had!
Boneless skinless chicken breasts: Thinly sliced chicken will work best because it will cook evenly and quickly.
Olive oil: To cook the chicken in at medium-high heat.
Salt: Season chicken breast as it cooks.
Heavy cream: The slightly sweet and creamy base of the sauce.
Chicken broth: To thin out the sauce a bit.
Garlic powder: Adds rich bold garlic flavor to the sauce.
Italian seasoning: This is the perfect blend of seasonings that give your sauce unbelievably good flavor.
Parmesan cheese: Use freshly grated if possible for the best consistency in your sauce.
Spinach: Chop and add to the cream sauce at the end after lowering heat to a simmer.
Sun dried tomatoes: The flavor of the sun-dried tomatoes in the cream sauce is amazing!!
How to Make Tuscan Chicken
This is a restaurant quality meal that you can quickly and easily put together at home.  It is effortless, but so impressive.  The taste is SOO GOOD you will be obsessed with this dinner!
Cook Chicken: In a large skillet add olive oil and cook the chicken on medium high heat for 3-5 minutes on each side or until brown on each side and cooked until no longer pink in center. Then, remove chicken and set aside on a plate.
Whisk together cream sauce: Add the heavy cream, chicken broth, garlic powder, italian seasoning, and parmesan cheese. Immediately begin to whisk over medium high heat until it starts to thicken. Finally, add in the spinach and sundried tomatoes and let it simmer until the spinach starts to wilt.
Combine sauce and chicken: Lastly, add the chicken back to the pan and serve over pasta if desired.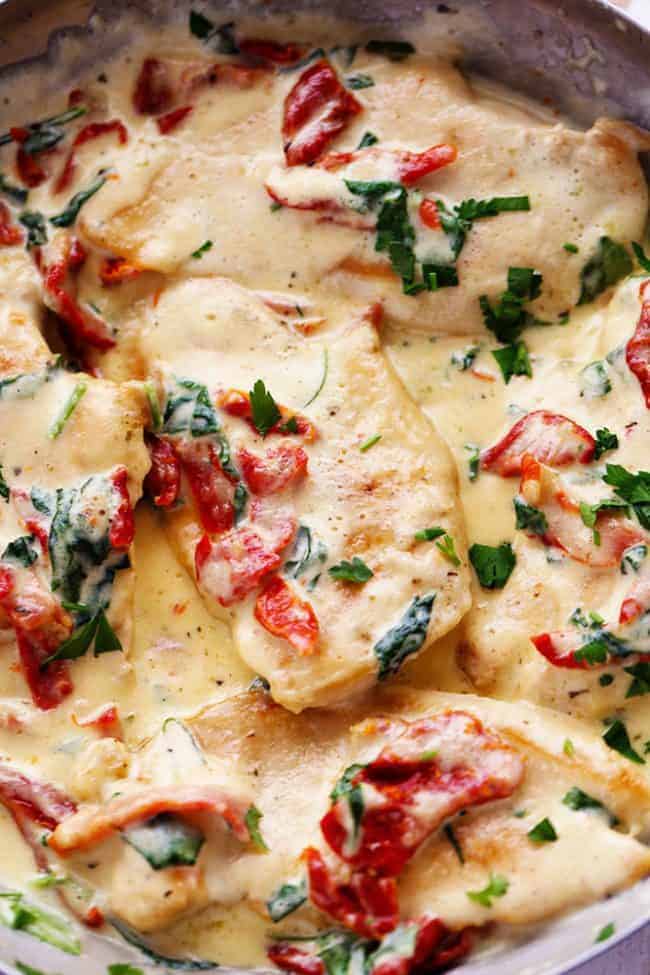 Tips for Perfectly Creamy Tuscan Chicken
Creamy Tuscan Chicken is one of the best things our family has had.  We often serve this over pasta to make it into a delicious meal.  You guys are going to love the flavors and versatility of this creamy chicken just as much as we do!
Serve with: Your favorite pasta, Insta Pot Mashed Potatoes or Mashed Cauliflower. Freshly steamed veggies or a light salad are great sides to add freshness to the meal.  Finally, prepare The Best Homemade Garlic Bread, because you will definitely want to be scraping the creamy sauce up with your bread at the end!
Protein: Swap out the chicken for salmon or shrimp.  The sweet garlic cream sauce will pair perfectly with these meats as well and give you some variety in your proteins.
How to know when the chicken is done: To ensure your chicken is cooked throughout, look for the juices to run clear.  Also, keep in mind chicken must be cooked to an internal temperature of 165 degrees.  So, use a meat thermometer to be sure you have perfectly cooked chicken.
Creamy Sauce: For the most creamy sauce, be sure you're using freshly grated parmesan cheese.  Already shredded cheeses are coated with preservatives that keep them from melting completely and will result in grainy sauce.
Tender Chicken: Make sure your chicken is at room temperature before cooking.  It will cook more evenly than if it is still cold.  Also, dry it completely and season it with salt as it cooks in the oil coated pan.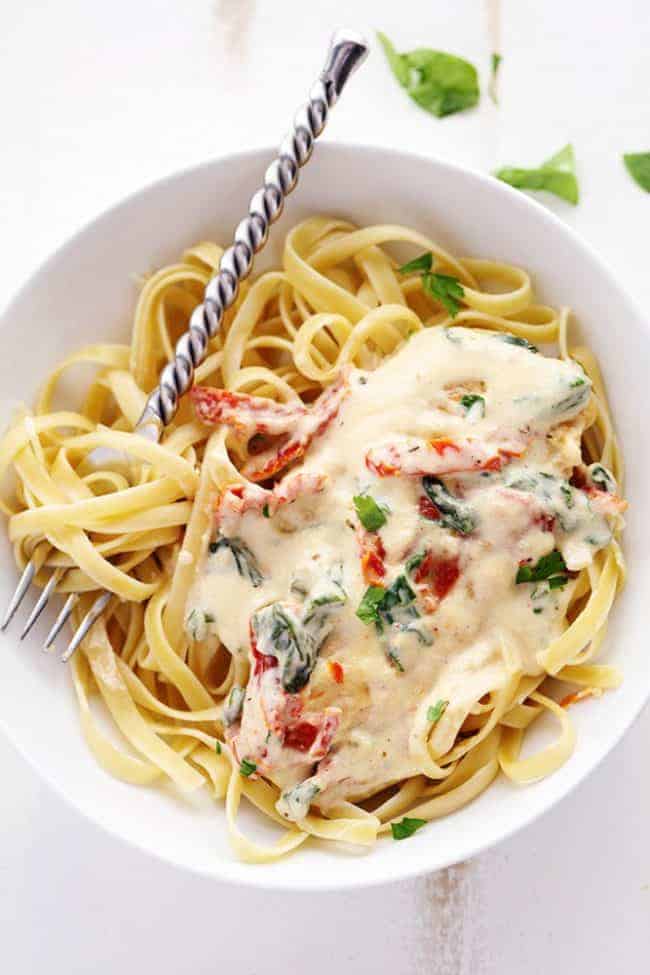 Storing Creamy Tuscan Chicken:
Leftovers with this meal are extremely unlikely.  However, it can be made ahead to save you time on a busy night.  To store it you will want to let it cool completely.  Then, within 2 hours of cooking, store it in an airtight container.  After storing, it will remain good for 3-4 days in the refrigerator or 6 months in a freezer.  To thaw from frozen, heat it up on the stove-top.  You need whisk sauce thoroughly to get the sauce back to its original creamy consistency.  Add additional chicken broth or cream if your sauce is breaking.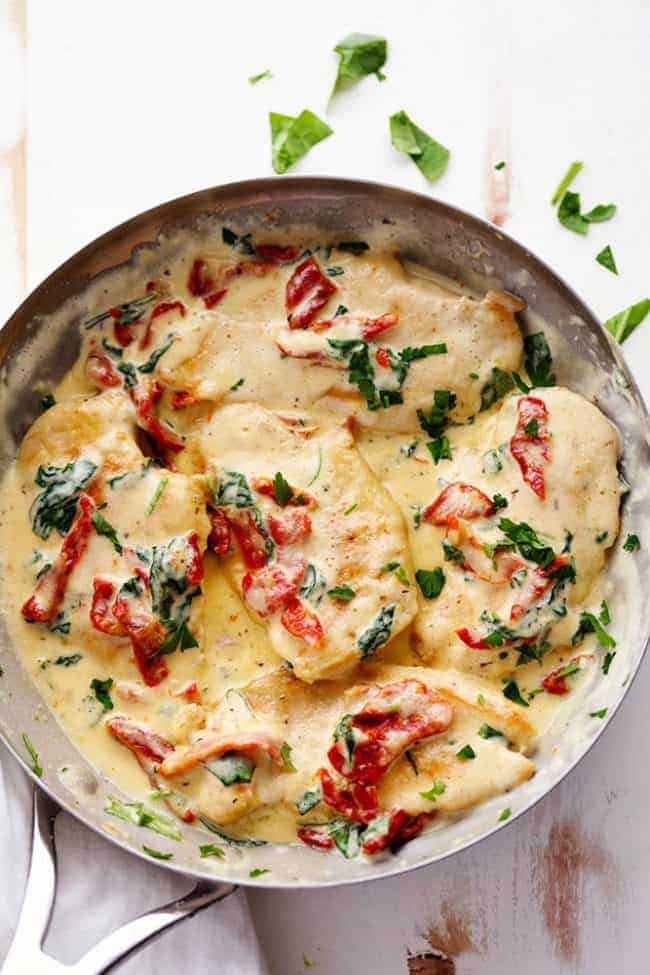 More Creamy Chicken Recipes:
Save