This website may contain affiliate links and advertising so that we can provide recipes to you. Read my privacy policy.
Instant Pot Lemon Garlic Chicken is simple and easy to make in the pressure cooker and perfect for busy weeknights. The chicken cooks up tender and juicy in a buttery lemon garlic sauce.
This chicken is enhanced with a hint of lemon, flavorful herbs and cooked to perfection in your instant pot. Instant Pot Beef and Broccoli, Instant Pot Salsa Verde Chicken Tacos or Instant Pot Chicken Alfredo Pasta are some of our family favorites too!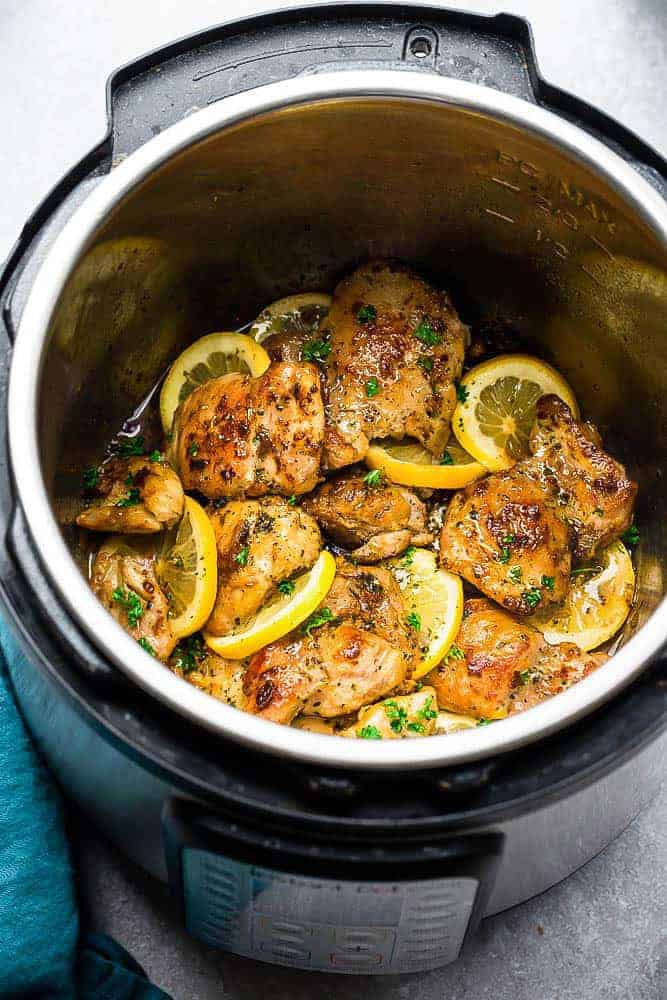 Instant Pot Lemon Garlic Chicken
This is an easy Instant Pot dinner recipe.
With two little ones that keep me busy all day, I don't always have time to prep ahead when it comes to dinner.
That's why I am such a big fan of the Instant Pot and use it regularly at our house.
If you love using your instant pot try this Instant Pot Ribs or Instant Pot Pasta with Meatballs.
Instant pot is just what you need for those busy weeknights!
This Lemon Garlic Chicken is tender, juicy and full of flavor.
And the best part is that dinner can be on the table in just 30 minutes with the help of a trusty pressure cooker.
It is the one stop meal that is perfect for busy nights and a growing family that loves a flavorful meal!
What you need to make Lemon Garlic Chicken:
Chicken: boneless chicken thighs skinless or with skin.
Garlic powder: great for taste and flavor.
Olive oil: helps cook the chicken without sticking to the instant pot.
Butter: adds flavor as well as helps cook the chicken and gives it a golden color on the outside.
Onion: a sweet flavoring for the chicken.
Garlic cloves: sliced or minced.
Italian seasoning: full of flavor on the chicken.
Lemon: sweetness from the zest of it.
Chicken broth: adds flavoring and juiciness to the chicken.
Parsley: optional
How do you make Lemon Garlic Chicken?
Start off by seasoning the chicken thighs with some salt, black pepper and garlic powder.
Next, you're going to brown the chicken in the Instant Pot (I use an Instant Pot DUO 6 Quart) using the sauté function.
Searing the chicken helps to seal in those amazing flavors and gives the chicken that crispy coating.
Once the chicken is golden brown, transfer to a plate then add butter, onions, garlic, Italian seasoning, lemon zest, lemon juice and chicken broth.
Place the chicken back in the Instant Pot, seal the lid and pressure cook for 5 minutes.
Prepare chicken: Season chicken with salt, pepper and garlic powder.
Prepare Instant Pot: Press the Sauté function (Normal setting the Instant Pot (I used a 6 Quart DUO) and add the olive oil to the pot.
Brown chicken: Place chicken in the Instant Pot and allow to sear on each side for 2 minutes, or until golden brown. This helps to seal in the juices and keep it tender. (You may have to work in batches depending on the size and amount of chicken you are using). Once browned, remove from Instant Pot and set aside.
Add seasonings: Melt butter in Instant Pot and stir in the onions and garlic. Add lemon juice to deglaze pan. Cook for 1 minute then add Italian seasoning, lemon zest, and chicken broth.
Cook the chicken: Place the chicken back into the Instant Pot, lock the lid, and turn the valve to SEAL.
Adjust the Instant Pot: Select the Manual (older modeler Pressure Cook (newer model button and adjust the timer to 7 minutes. It will take about 5-10 minutes to come to pressure and start counting down.
Natural release: When done, allow to naturally release for 2-3 minutes then using a long spoon push the valve to RELEASE, then remove your Instant Pot lid.
Serve: Sprinkle with chopped parsley and serve hot with your favorite sides. Spoon sauce over chicken and garnish with lemon slices, if desired.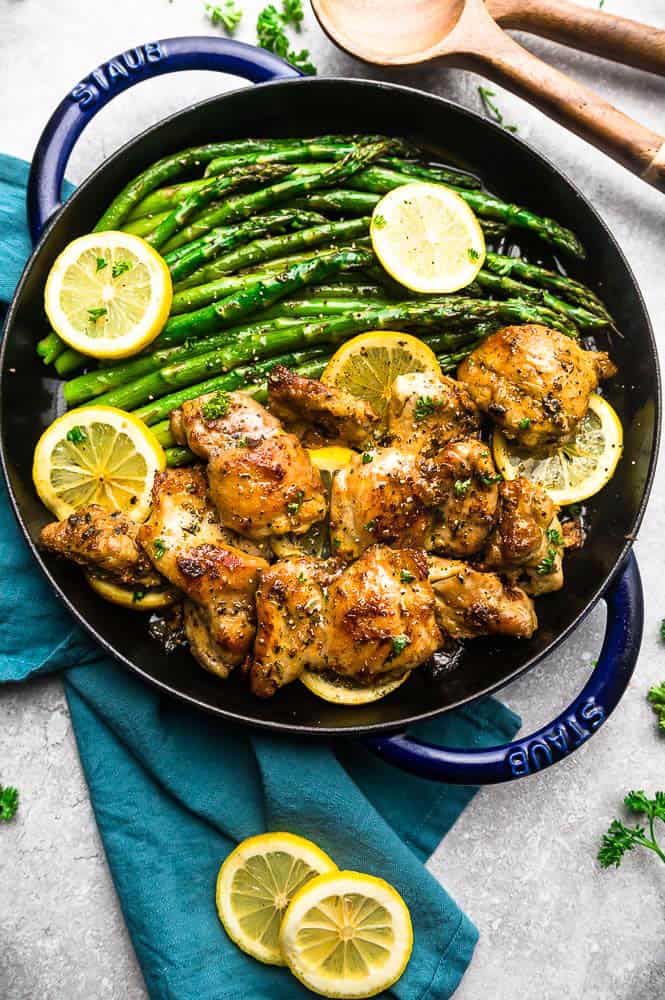 Tips for making Instant Pot Lemon Chicken:
Thicken you sauce: If you want to thicken the sauce – make a cornstarch slurry using 1 teaspoon of cornstarch whisked with 2 teaspoons cold water and stir in the Instant Pot. Press SAUTE and allow to bubble and thicken up.
Frozen chicken: Using frozen chicken will work. It is best to thaw your chicken ahead of time but if that is not an option simply cook the frozen chicken in the Instant Pot.
Slow Cooker Lemon Chicken Recipe: Follow all the same instructions for preparing the chicken. When it is time to add the chicken and other ingredients to the instant pot, add it to the slow cooker. Cook on low for about 3 to 4 hours until your chicken is cooked through. Get ready to have all the smells in your home!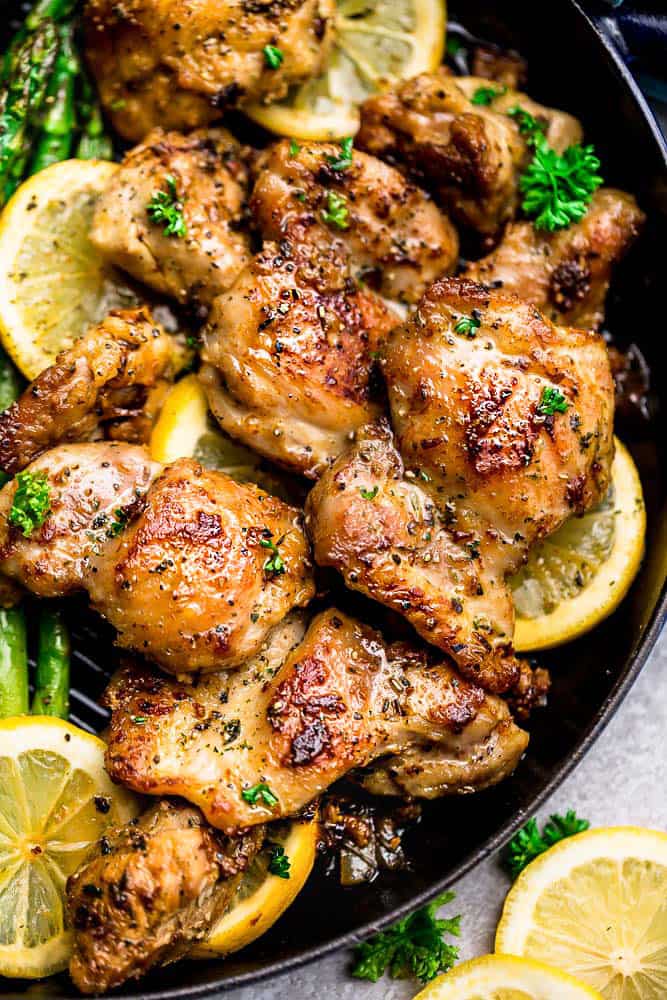 What sides can I serve with this Garlic Chicken?
This chicken would go well with so many sides.
I chose to serve it with some roasted asparagus since it's one of my favorite spring vegetables but broccoli, zucchini or cauliflower would be delicious as well.
This Instant Pot Lemon Garlic Chicken is a quick and easy dish bursting with bright and fresh flavors.
It's perfect for spring and and any busy weeknight!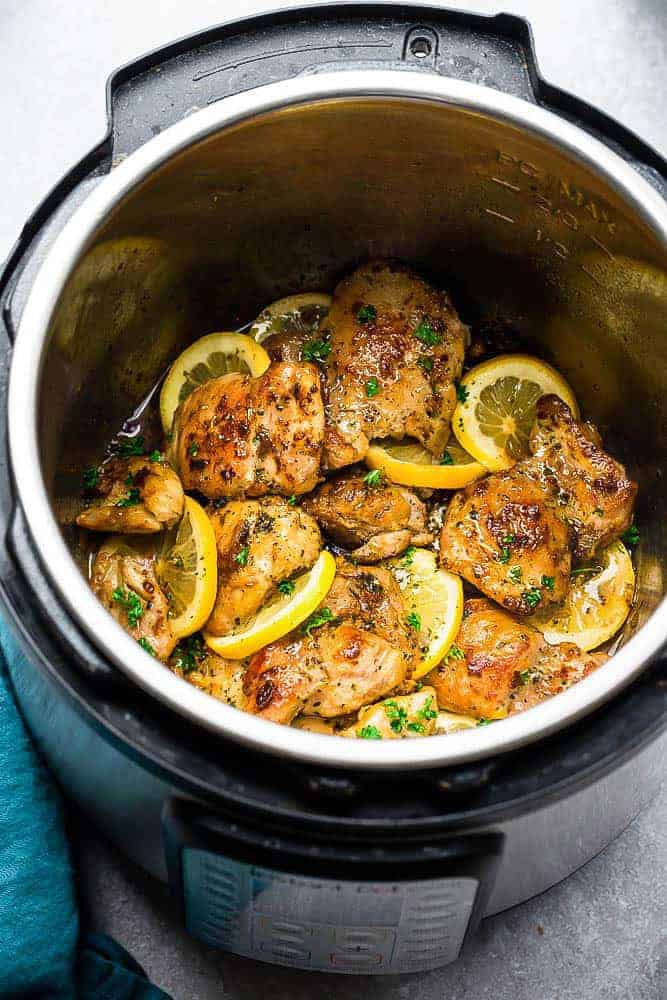 Storing Instant Pot Chicken:
How to store Instant Pot Lemon Garlic Chicken: Once your lemon garlic chicken is cooled down from being cooked, place in an airtight container or ziplock bag. This will store in the refrigerator for 4 to 5 days longs. This makes for a great prep meal too! Just add a vegetable and/or rice to a container and enjoy each day.
Can you freeze Instant Pot Lemon Garlic Chicken? Yes, this is a great dinner to freeze. Once it is cooked, let cool then place in a ziplock bag. Release the air and lay flat in the freezer. This will stay in the freezer for one month. When ready to warm up, simply thaw in the refrigerator over night.
Warming up Instant Pot Lemon Garlic Chicken: When ready to warm up, simply heat the oven to 350* Fahrenheit and warm up in a oven safe pan for about 15 to 20 minutes. You can also use a microwave to warm up slowly and flipping your chicken each time.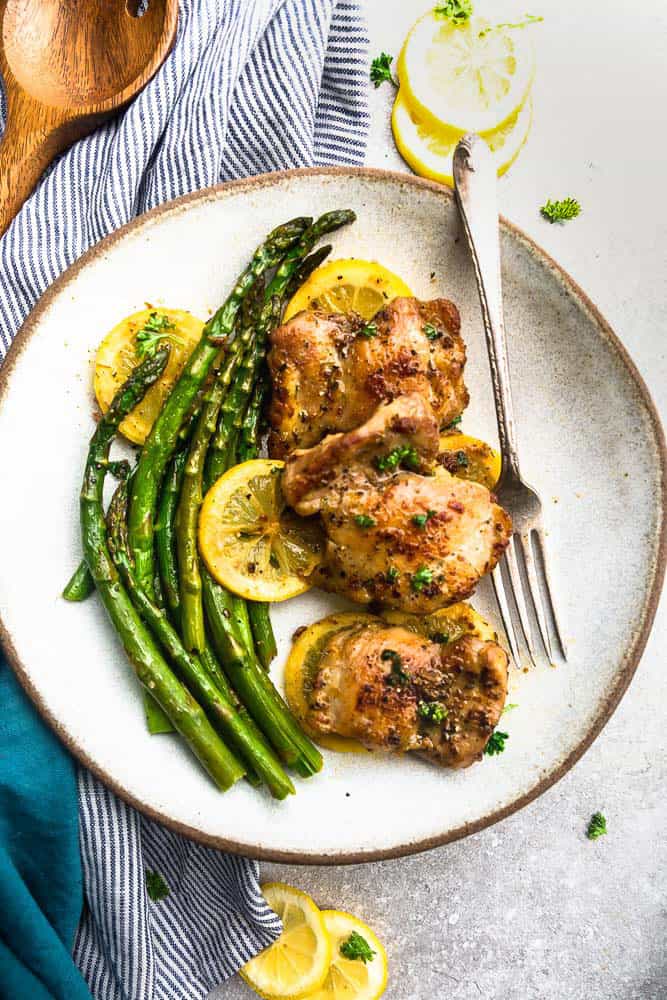 Looking for More Lemon Chicken Recipes? Here you go!