This website may contain affiliate links and advertising so that we can provide recipes to you. Read my privacy policy.
One Pan Chili Lime Chicken and Rice is made in one pan with minimal ingredients but is packed with amazing flavor! Your entire family will love this easy 30 minute meal!
This one pan meal is quick and easy! If you love one pan meals try this One Pan Fajita Chicken and Veggies, One Pan Southwest Blackened Cajun Chicken with Rice with this Red Beans and Rice.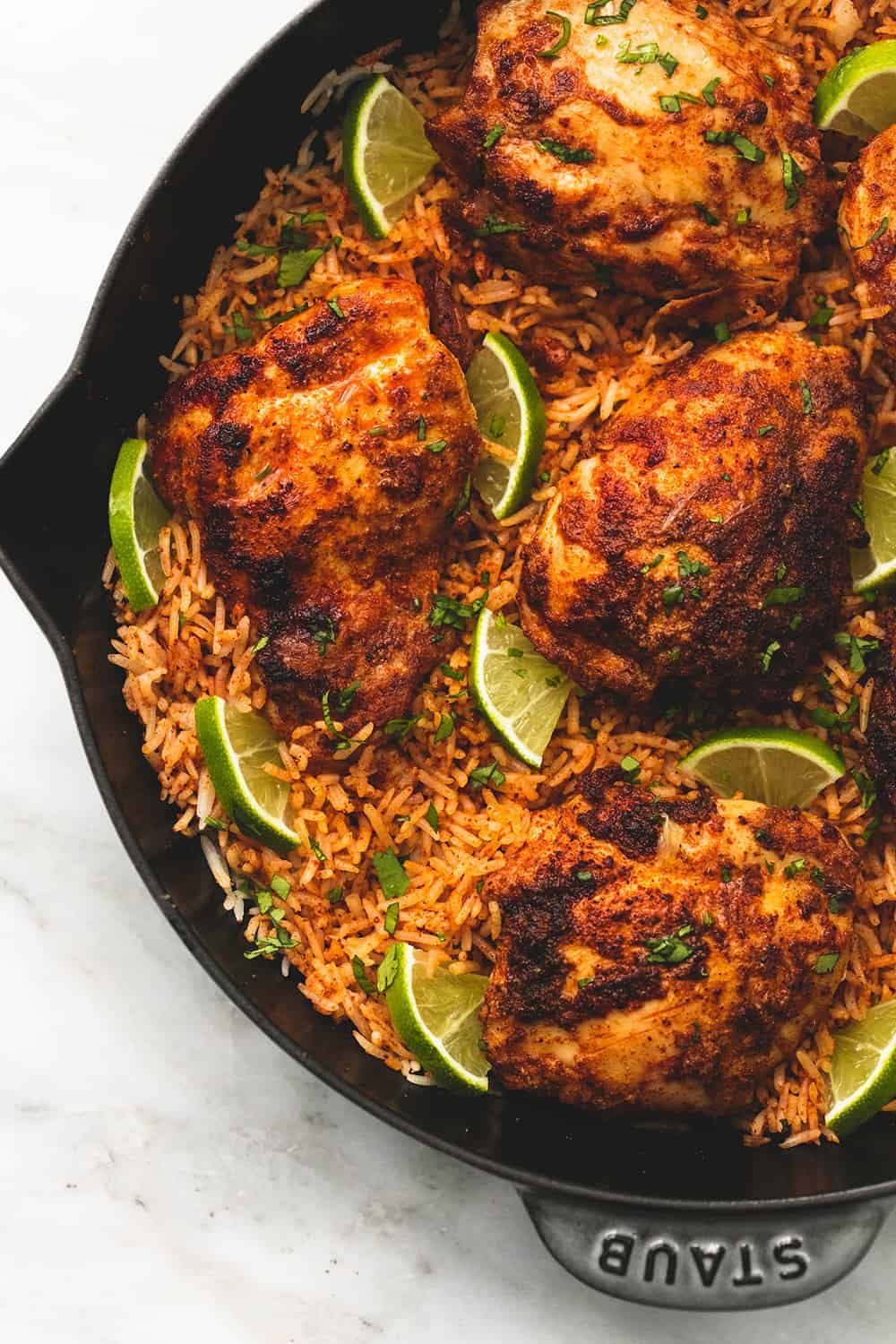 One Pan Chili Lime Chicken and Rice
I am OBSESSED with one pan and one pot meals.
The whole idea of making a main dish and a side dish all in one pan without having to worry about separate cooking times, or dirtying up a million bakeware items is kind of genius.
And I'm always looking for simple 30 minute dinners my family will love so anything that can be done in about a half hour is right up my alley.
This dish has SO much flavor packed into it and it only calls for a few ingredients – you can't be that!
It meets both of my big checklist items: one pan AND ready in about 30 minutes.
And this dish is one you can easily customize by kicking up the spice with some chopped jalapeños, or adding corn and beans to the rice right at the end.
My whole family loves this and I know yours will too!
What you need to make chili lime chicken and rice
Don't let this list of ingredients scare you.
It is all simple ingredients that add so much flavor.
You will love how easy this recipe is and it all comes together in less than 30 minutes.
It is a perfect weeknight meal when everyone is busy.
Enjoy your dinner with your family this week!
Chicken: boneless, skinless chicken breast pounded to even thickness
Vegetable oil: helps ensure your chicken will not stick to the pan.
Chili powder: a little spice.
Paprika: some gently added heat.
Garlic powder: you can't have enough garlic.
Onion powder: added flavoring.
Cayenne pepper: a little bit of spice!
Salt and pepper: just to taste.
Lime: squeezed lime juice.
Cilantro: add for a topping.
White rice: I prefer jasmine rice but a long grain rice would be best.
Chicken broth: soaks up all the chicken pieces and adds flavoring to the rice and chicken at the end.
How to make chili lime chicken and rice
I love how easy and simple it is to make on a busy weeknight!
Save time by making this wonderful meal that is going to be a family favorite.
It only takes 30 minutes to make and one pan.
Which means quick and easy plus quick and easy cleanup!
This is a tried and true favorite in our home.
Prepare chicken: Stir together chili powder, paprika, garlic powder, onion powder, cayenne pepper, salt, and pepper. Season chicken with half of the seasoning mixture and set remaining seasoning aside.
Cook chicken: Drizzle a pan with oil over and bring to medium heat. Cook chicken 3-4 minutes on each side until browned. Remove from pan.
Add rice and chicken broth: Add rice, remaining seasonings, chicken broth, and lime juice to pan and stir to combine. Return chicken to pan on top of the rice. Cover and cook for 20-25 minutes until liquid is dissolved.
Prepare to serve: Fluff the rice with a fork. Top with cilantro and squeeze fresh lime juice over the top. Serve immediately.
Storing one pan chili lime chicken and rice
You can prepare parts of this dish ahead of time.
This recipe is great to even make a meal prep plan with.
Can you make this ahead of time? Yes, this is a great recipe to make ahead of time.
How do you store this one pan meal? Once cooked, let cool completely and store in an air tight container for 5 to 7 days.
Can you freeze chili lime chicken and rice? Yes, this is best frozen without the rice. Separate the chicken and the rice. Let cool completely and add your chili lime chicken into a freezer bag and place flat in the freezer. When ready to reheat, let thaw overnight in the refrigerator.
How do you reheat chili lime chicken and rice? Cook your rice ahead of time or during the reheating process. Add your chicken to a pan and cook on low to medium reheating your chicken. Place on a oven pan and cook at 350 degrees Fahrenheit until your chicken is cooked through or microwave you chicken in small time increments. This will ensure you do not over cook your chicken,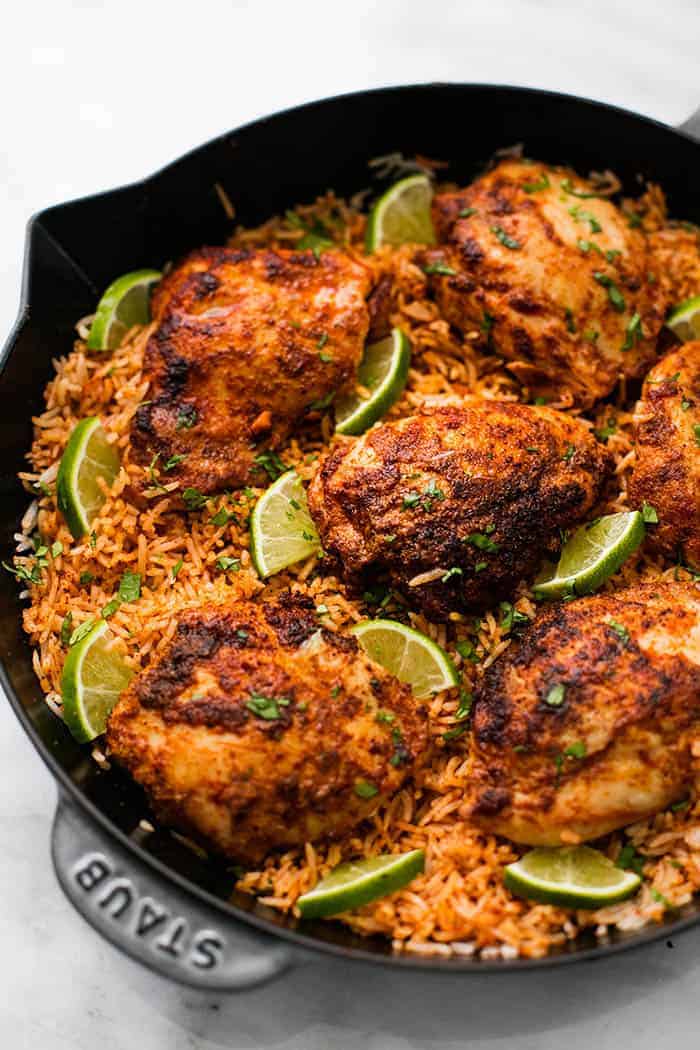 More delicious one pan meals