This website may contain affiliate links and advertising so that we can provide recipes to you. Read my privacy policy.
Honey Garlic Butter Scallops get pan seared and then coated in the most amazing honey garlic butter sauce. This meal is so quick and easy that you will make it again and again! 
If you looking for more amazing scallop recipes, be sure to check out these Pan Seared Scallops with a Lemon Caper Sauce, and these Garlic Butter Herb Scallops!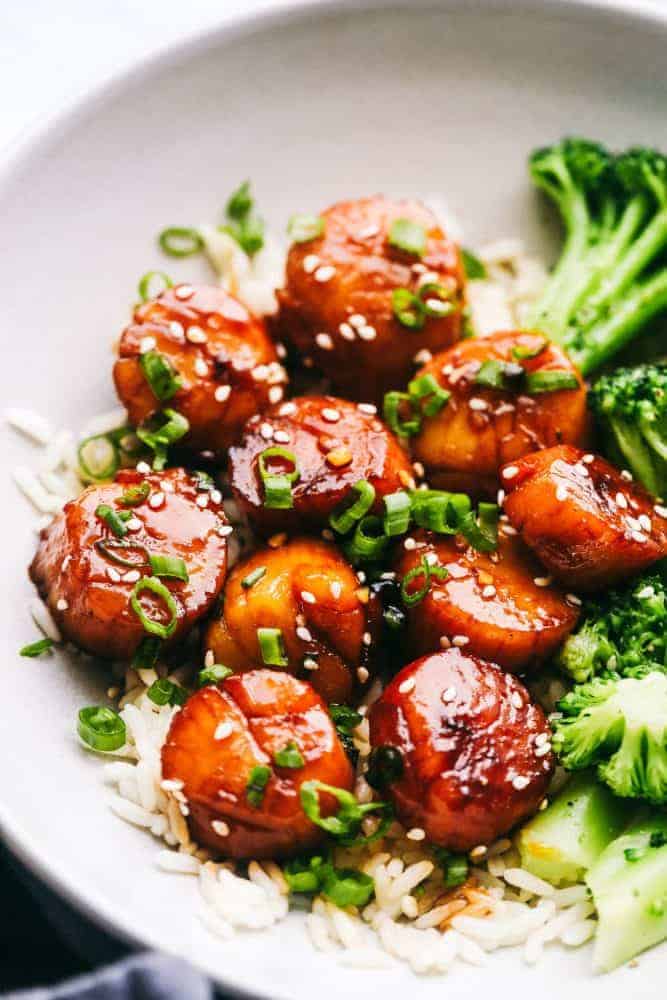 Honey Garlic Butter Scallops
One of the top recipes on my blog is this Sticky Honey Garlic Shrimp Recipe. It is honestly the first recipe that I have made with shrimp that I loved. Remember how I don't really care fro shrimp? I guess when it gets coated in an amazing sticky honey garlic butter sauce, I am in love with shrimp. We make this recipe all of the time now and recently, someone commented and told me that they made it with scallops. So I HAD to try and make this with scallops. It turned out so amazing and we were reminded why we love this recipe so much!
How do you cook scallops?
In a small bowl whisk honey, soy sauce, garlic and lemon. Add half of the sauce to the shrimp and let marinate for 30 minutes.
In a medium sized skillet at the butter. Add the scallops and discard marinade. Season with salt and pepper. Turn the heat to medium high. Sear scallops for 3- 3½ minutes on each side until they are golden brown on each side. Add the reserved marinade and pour over scallops. Cook until the sauce starts to thicken and coats the scallops. Garnish with green onions.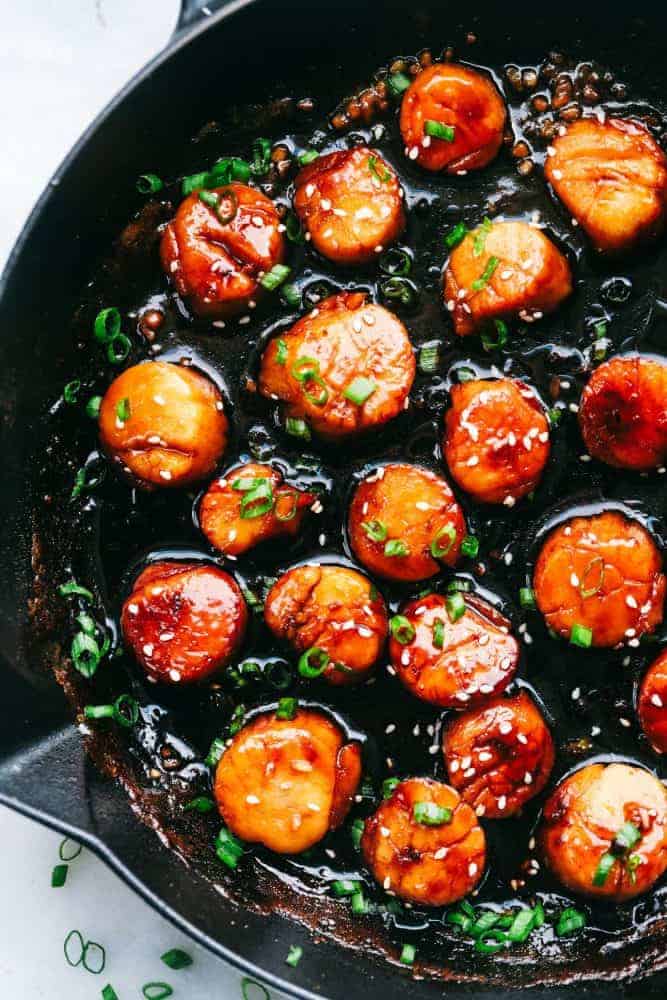 WHAT DO SCALLOPS TASTE LIKE?
They are often described as similar to crab or lobster, but more firm. Their flavor tends to be sweet and delicate, but it's the texture that really makes them interesting and enticing. When cooked correctly, they are soft and chewy but not rubbery or tough.
ARE SEA SCALLOPS GOOD FOR YOU?
Scallops are 80 percent protein. They are also a good source of magnesium and potassium.
HOW DO I MAKE SEARED SCALLOPS?
Add olive oil to a skillet and turn to medium-high heat. Salt and pepper the scallops and add to the heated pan. Sear the scallops 3-3 ½ minutes or until the sides are golden brown.