A reader named Paula sent me this recipe for Moroccan Chickpea Stew and it's a meatless dish with chickpeas, red lentils, and spices. I don't know if Paula's recipe is authentically Moroccan, but it's definitely delicious! 
PIN Moroccan Chickpea Stew to try it later.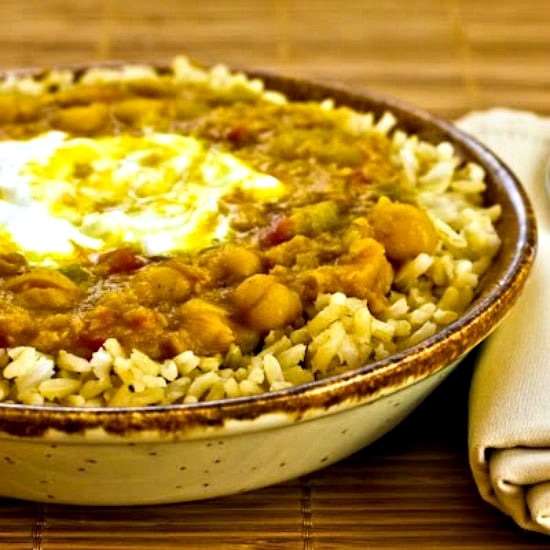 Two of my favorite ingredients for meatless recipes are lentils and chickpeas, so when I got this recipe for Moroccan Chickpea Stew by e-mail from a reader named Paula B., the minute I read the recipe, there was never any doubt I was going to make it. Not only did it sound like a perfect combination of flavors, but I'd just gotten a big bag of red lentils from Whole Foods, so it seemed like an omen when the recipe arrived.
Paula called the dish a Moroccan stew although I'm not sure if it's really an authentic Moroccan recipe, but it's aromatic and spicy with a blend of interesting ingredients that come together perfectly. Paula said she eats it with a dollop of sour cream (again, probably not Moroccan, but highly recommend it!) I ate mine over brown rice, and this was one of the best easy dinners I'd had for a long time.
What ingredients do you need?
What if you don't have red lentils?
If you're thinking of using brown lentils for this, please try to find the red lentils. Not only are they beautiful, but they're much softer than other lentils and dissolve to make a perfectly thickened stew. 
Is this Chickpea Stew really a Moroccan Recipe?
I've actually been to Morocco, which was a fascinating place. But I still can't say for sure if Paula is correct in calling this a Moroccan recipe. When I googled it I did find similar recipes called Moroccan all over the web, but I'm not claiming it's an authentically Moroccan dish.
Want more Moroccan Flavors?
If you'd like to try more recipes with flavors used in Moroccan cooking, I love the Moroccan Spice Mix that I've enjoyed in Roasted Butternut Squash with Moroccan Spices and Air Fryer Carrots with Moroccan Spice Mix. And Moroccan Cabbage Slaw with Carrots and Mint is also a tasty dish.
How to Make Moroccan Chickpea Stew :
(Scroll down for complete recipe including nutritional information.)
Heat the olive oil in a heavy pot, then gently saute the onions, garlic, ginger, and ground turmeric for about 7 minutes.
Then add chopped celery, garam masala, ground cardamom, cayenne pepper, and ground cumin and cook 3-4 minutes more, or until spices become very aromatic and celery is just starting to soften.
The beautiful red lentils that dissolve into the stock become the base of this stew. They turn more of a yellowish color when they're cooked.
Add chicken, beef, or vegetable stock, 1 can diced tomatoes, 1 can chickpeas, and the red lentils, and let the stew start to simmer.
Once it starts to bubble, reduce heat to a gentle simmer, cover pan, and cook 45-60 minutes (or even a bit longer, depending on how fully dissolved you'd like the lentils to be.) I wanted to keep some texture, but cooked mine for about 60 minutes so the lentils were about half-dissolved.
Serve Spicy Red Lentil Stew over rice or brown rice if desired. I love this with a dollop of sour cream or plain yogurt as well.
More Tasty Chickpeas or Red Lentils:
Bengali Red Dal Curry from Jake
Curried Rice and Red Lentils
Mexican Red Lentil Stew
Red Lentil and Chickpea Soup
Chickpea Salad with Tomatoes, Olives, and Herbs
Weekend Food Prep:
This recipe has been added to a category called Weekend Food Prep  where you'll find recipes you can prep or cook on the weekend and eat during the week!
Ingredients
1 large onion, finely chopped
1 T olive oil (or perhaps a little more, depending on your pan)
2 tsp. minced ginger (or grated fresh ginger)
1 T finely minced garlic
1 tsp. ground turmeric
3/4 cup celery, finely diced
1 tsp. Garam Masala
1 1/2 tsp. ground cardamom
1/4 tsp. ground cayenne pepper
1 tsp. ground cumin
6 cups vegetable stock or canned vegetable broth
1 1/2 cups red lentils
one 15 oz. can chickpeas, rinsed until no more foam appears
one 14.5 oz. can diced tomatoes
cooked brown rice for serving (optional)
sour cream or plain yogurt for serving (optional)
Instructions
Heat olive oil in a heavy pot with a tight-fitting lid.
Add onions, ginger, garlic, and turmeric and gently saute, stirring often, for about 7 minutes, or until onions are quite soft but not browned.
Add diced celery, Garam Masala, ground cardamom, cayenne pepper, and ground cumin and saute 3-4 minutes more, until celery barely starts to soften.
Add the stock, red lentils, canned tomatoes, and rinsed chickpeas and bring mixture to a gentle boil.
When it starts to bubble, reduce heat to the barest simmer and cover pan with lid.
Let mixture simmer, stirring a few times, until lentils are dissolved enough that mixture has thickened into a chunky stew.
The shorter time you cook it, the more chunky it will be. I cooked mine at the barest simmer for about 60 minutes.
Serve hot, over brown rice and topped with sour cream or plain yogurt if desired.
Paula said this is even better after it's been in the fridge, and I'd have to agree that like many stews, the flavors were even better the next day.
This freezes very well, so I'd recommend making the whole batch, even if you're only cooking for a small number of people. However, it's so good it might not make it into the freezer.
Notes
This recipe adapted very slightly from one sent to me by a reader named Paula B; Paula doesn't remember where she got it but everyone she has shared the recipe with has loved it!
Nutrition Information:
Yield:
8

Serving Size:
1

Amount Per Serving:
Calories: 196Total Fat: 4gSaturated Fat: 1gTrans Fat: 0gUnsaturated Fat: 3gCholesterol: 2mgSodium: 812mgCarbohydrates: 31gFiber: 8gSugar: 8gProtein: 10g
Nutrition information is automatically calculated by the Recipe Plug-In I am using. I am not a nutritionist and cannot guarantee 100% accuracy, since many variables affect those calculations.
Low-Carb Diet / Low-Glycemic Diet / South Beach Diet Suggestions:
If you eat this Moroccan Chickpea Stew plain (without rice) this dish would be approved for any phase of the original South Beach Diet or other low-glycemic diet plans. I ate mine over brown rice, which would make it phase 2 or 3 for South Beach.  This is too high in carbs for a stricter low-carb eating plan.
Find More Recipes Like This One:
Use Stews for more recipes like this one. Use the Diet Type Index to find recipes suitable for a specific eating plan. You might also like to follow Kalyn's Kitchen on Pinterest or on Facebook to see all the good recipes I'm sharing there.
We are a participant in the Amazon Services LLC Associates Program, an affiliate advertising program designed to provide a means for us to earn fees by linking to Amazon.com and affiliated sites. As an Amazon Associate, I earn from qualifying purchases.