This website may contain affiliate links and advertising so that we can provide recipes to you. Read my privacy policy.
This sushi bake is a deconstructed California sushi roll that is packed with flavor and all of your favorite sushi ingredients. It's layers of delicious fish, sushi rice, and the best blend of seasonings. It's an easy layered dish that is absolutely addicting!
The best part about sushi is that it's considered healthy, right? Oh, and the amazing flavors. I've always been a little nervous about making sushi at home because it sounds labor intensive. This sushi bake is the perfect solution! Like any good casserole, it's full of all of your favorite ingredients and flavors with a lot less work. For other great casserole dishes, you've got to try this Chicken Tetrazzini Casserole, this Breakfast Casserole, and this Turkey Mediterranean Casserole.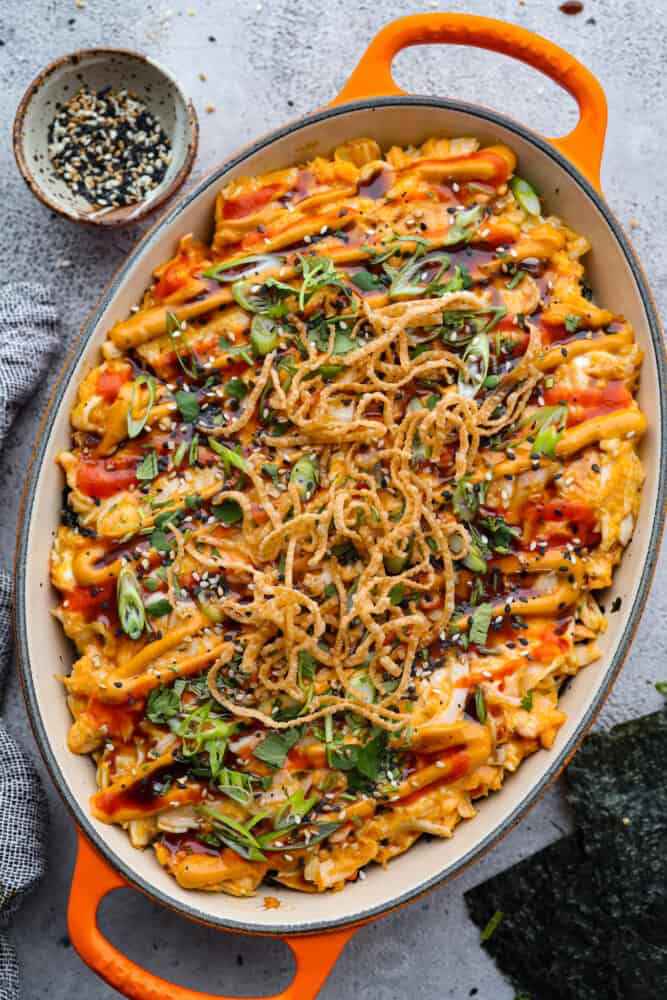 Recipe for Sushi Bake
So what is a sushi bake? It's basically a deconstructed California roll and it's SO addicting! It's also really really easy to make, so you get all the flavors of your favorite sushi roll without all of the intimidation of knowing how to make it! I love that it has just a few simple ingredients like a perfectly baked salmon fillet and imitation crab meat. Then of course you have the classic sushi rice, which I teach you how to make in this recipe too. Then you top it with the most amazing blend of sauces for the ultimate touch. You're going to love it!
You can also get creative with this recipe. With all casseroles, you get to create your own balance of flavors. You can take away or add ingredients to your hearts content! If you like other sushi rolls, try to incorporate their ingredients here. I have never made sushi at home, but I hope to in the near future. In the meantime, I will stick to my poke bowls and sushi casserole!
Ingredients
A sushi bake is basically the best casserole you will ever have. It's layers of what you would find in a sushi roll, which makes it easy to make at home and great for feeding a crowd. You can use tuna instead of salmon if you felt like it. I love a sprinkle of sesame seeds over the top, but that's up to you! You can find the ingredients below in the recipe card.
The Basics
Imitation Crab Meat: The leg style. Of course you can buy real crab meat instead if wanted!
Salmon Fillet: You will cook it first before putting it into the bake.
Salt and Pepper: For seasoning the salmon.
Sushi Rice or Short Grain Rice: It's sticky and a little sweet with hints of vinegar. It's so amazing, you have to make it!
Rice Vinegar: For the sushi rice, I share how to make it below in the recipe card.
Granulated Sugar: This is added to the sushi rice to help it get sticky.
Salt: For the rice, helps to bring out all the yummy flavors.
Water: To cook the rice.
Cream Cheese: Cream cheese and sushi were made for each other, you are going to love it!
Sauces and Seasonings
Kewpie Mayo: I love this brand of mayo for sushi, but it's optional. Any mayonnaise will work.
Sriracha: It's perfectly spicy and goes great with Asian foods.
Nori Sheets: This is a seaweed sheet. I think I've even seen it at Costco. You should be able to find some at your local grocery store or at Asian grocery stores.
Spicy Mayo: You are already adding mayo and sriracha, so if you don't want to buy another mayo, sriracha mayo is a great idea.
Eel Sauce: I like to make my own at home because it's just a thickened soy sauce. You can also find it easily in stores, it is sometimes called unagi sauce.
Sesame Seeds: Just brings the whole bake together!
Green Onion: For garnish:
Cilantro: For garnish.
Sushi Bake Recipe
Get ready for a super fun and unique recipe that you just won't be able to get enough of! This sushi bake literally disappeared off of my table. I had to hunt down my other casserole dish and make a second because I just didn't get enough. You cut it into slices and can wrap those slices in more seaweed to get that fun sushi effect. Seaweed tastes amazing paired with sushi so don't knock it 'til you try it!
Prepare the Salmon
Prep Oven: Preheat the oven to 425 degrees Fahrenheit.
Season Fillet: Season Salmon with salt and pepper and place on a parchment lined baking sheet. Bake for 18-20 minutes.
Flake: Once baked and cooled, use two forks to flake the filet into bite sized pieces, discarding the skin. Set aside.
Cook Rice
Rinse Rice: While the salmon bakes, prepare the sushi rice. Rinse the rice with cold water until the water runs clear.
Cook: Cook the rice on the stovetop, in a rice cooker, or in the Instant Pot. If you use a rice cooker or Instant pot, cook the rice according to the manufacturer's instructions. My rice cooker takes 4 cups water to cook 3 cups of rice.
Mix Seasonings: While the rice is cooking, add the rice vinegar, sugar and salt together in a small saucepan. Heat over medium-high heat and whisk until the sugar has dissolved.
Add to Rice: Transfer the cooked rice to a large mixing bowl. Pour the vinegar mixture over the rice and use a spatula to fold the mixture into the rice.
Cover and Cool: Cover the bowl with saran wrap and let the rice cool on the counter until it reaches room temperature.
Assemble Sushi Bake
Prep: Preheat the oven to 425 degrees Fahrenheit. Spray a 9-inch baking dish with pan spray and set aside.
Shred Crab: Use a fork to prepare the imitation crab by shredding the fork down the length of the leg. Repeat until stringy. Chop into pieces about an inch long.
Mix Meat and Seasoning: Add the salmon, shredded crab, cream cheese, mayonnaise, and sriracha to a bowl. Mix until combined.
Add Rice and Seaweed: Press the sushi rice into the bottom of the baking dish. Crush the nori over the top so it covers the rice evenly, adding more as desired.
Add Meat on Top: Spread the salmon and crab mixture over the top.
Bake: Bake for 12-15 minutes, until thoroughly heated.
Garnish and Enjoy: Drizzle the top with sriracha, spicy Mayo, and eel sauce. Garnish with sesame seeds, green onions, and cilantro. Serve with additional nori to wrap around bites of the bake.
Tips for Making Sushi Bake
This sushi bake is really simple, and I love making it a little different each time to get more combinations of flavors. Here are a few ways that I have tweaked the recipe and have loved it every time!
Spiciness: Adjust the spice level to your desired spiciness by adjusting the amount of sriracha in the mix and how much you add on top.
More Toppings: Sometimes my favorite part of the sushi roll is the crispy bits on the top! I am just a huge fan of wonton strips and pretty much anything tempura. Add things such as cucumbers, avocados, sliced hot peppers, or fried wonton strips for more texture, flavor, and color!
Make it Shrimp Sushi: Substitute the salmon for 8 ounces of cooked, chopped shrimp for a shrimp sushi bake. Trust me, you won't regret it! It's absolutely incredible, and a great way to keep this recipe fresh and fun.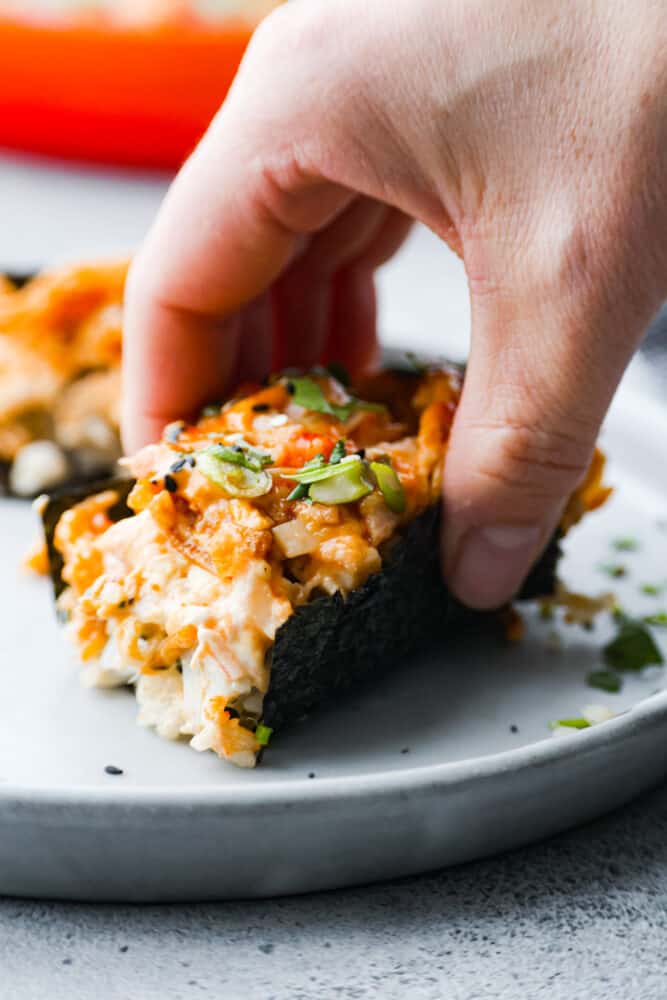 Storing Leftovers
Sushi bake doesn't have the longest shelf life, but trust me, it won't stick around long anyways! Here is how to store leftovers if you have any.
In the Refrigerator: Store leftovers in the fridge for 1-3 days. It is best reheated in the oven at 425 degrees Fahrenheit for 12-15 minutes.