These Harissa Meatballs with Whipped Feta are perfect for an easy SOS dinner! Store-bought meatballs, bell peppers, zucchini, harissa, and whipped feta all in one bowl. YUMMY!
This is a fan favorite recipe that's part of our Fall 2022 SOS Series! View the full series.
---
Here's a stunner for you.
You are looking at a big ol' bowl of store-bought wonders such as hummus, olives, and pita bread, topped with a pile of meatballs (also store-bought! SOS life) that have been coated in a quick harissa / lemon / olive oil paste and baked to juicy-crisp perfection, roasted peppers and zucchini, and a super tangy, salty, whipped garlicky feta to add a little creamy punch to every bite.
It sounds fancy when I write it all out, and actually, every bite really does feel very complex and so delicious. But in reality, almost everything can be store-bought, and then you just have two tasks: roasting a meatball and veggie sheet pan, and whipping up a block of feta.
---
In This Post: Everything You Need For This Bowl
---
Ingredients You Need To Make This Happen
Here's our shortcut-friendly ingredient list:
meatballs
harissa paste (it usually comes in a jar and is often sold in the "global foods" section at many grocery stores)
bell peppers
zucchini
hummus
pita
feta
And assuming you've got olive oil, S&P, and garlic…this big bowl of goodness is yours for the taking.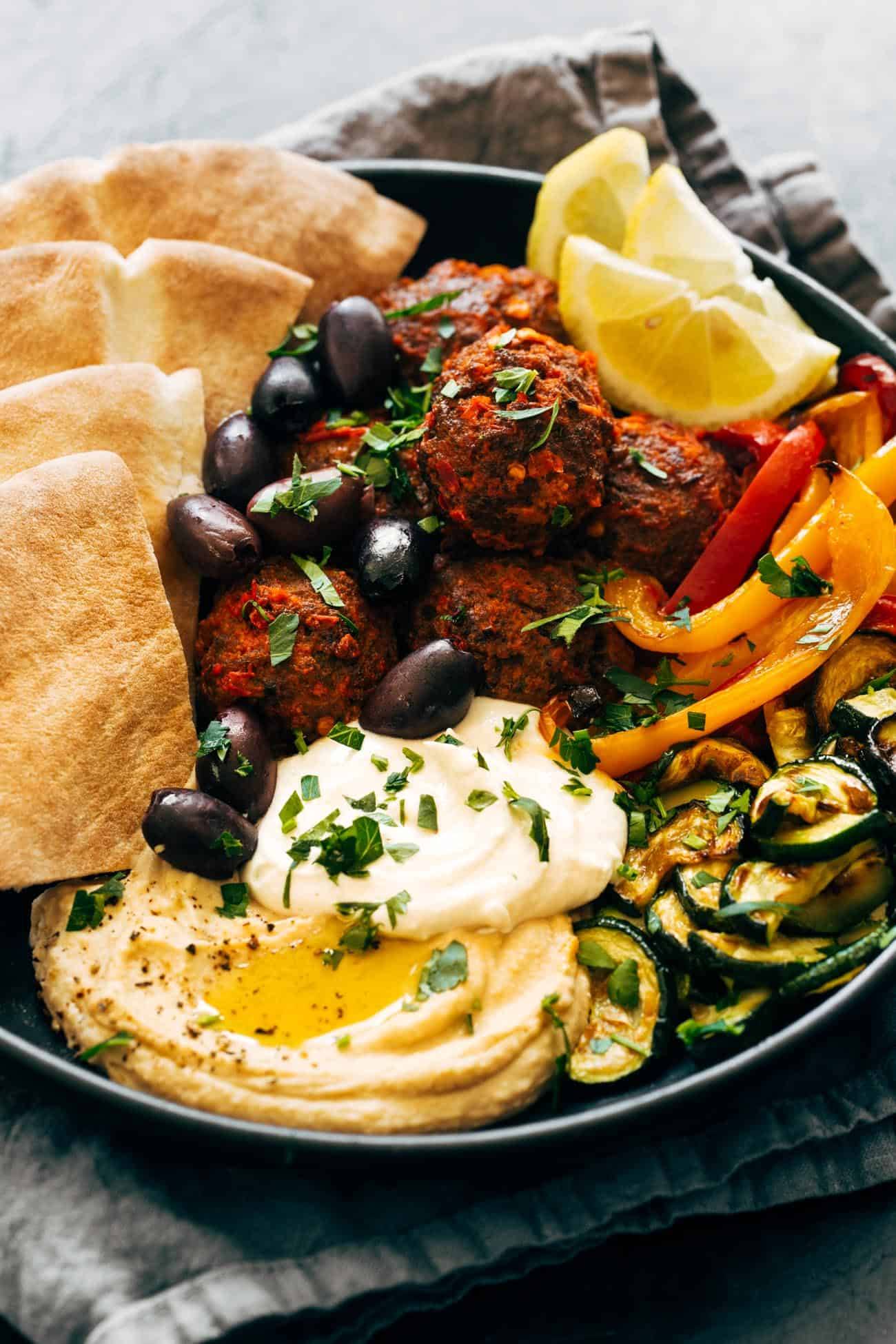 How To Make This Bowl Come Together
Essentially what is happening here is the meatballs, peppers, and zucchini get roasted on one single pan.
I know technically this isn't the correct way to do it because you want each veggie to be cooked to its own perfection. And if you are particular about your zucchini, feel free to give it its own pan for optimal zucchini-specific roasting. But I found it most efficient (and 100% delicious) to just add the zucchini on the same pan – not for the whole time, but just for the last few minutes of roasting. If there's an easy way to do something that still gets the same super-yum end results, you know I'm all over that. And in this case, everybody-on-one-pan is the way.
The Whipped Feta Is a Must-Make
The only other really "active" cooking step here is blitzing up a block of feta cheese in a food processor or mini chopper (I love this one) until it becomes a creamy, spreadable, dollop-able wonder that you might be tempted to put on, like, everything from here on out.
This recipe, this combo of flavors, this textural heaven? This one is for those of us who like to go big. Lots of color, lots of puckery zip, lots of salt, and a good amount of heat from that harissa paste… more of all, please.
In terms of eating this, you can just fork-and-knife it, OR you can get right up in there with your pillowy pita and swoop it directly into the hummus, top with a meatball and some veggies, and do a final dunk into that whipped feta to just take this day right over the top. (10/10 would recommend.)
Harissa Meatballs with Whipped Feta: Frequently Asked Questions
What type of store-bought meatballs do you recommend?
Any kind! I've tried pork, beef, chicken, and turkey meatballs – and I think veggie meatballs would also work really well as a vegetarian option! This recipe is very forgiving – it can work with meatballs that are pre-cooked, and I've also enjoyed this recipe with the pre-made, UNCOOKED meatballs that you can often buy in the meat department. For a specific brand, I really enjoyed these with the ALDI pre-made uncooked Italian style meatballs (I know, wrong flavor profile, but it worked just fine and the meatballs were amazing). I just brushed them with the harissa sauce before baking.
I have some extra time. Can I make my own meatballs for this recipe?
Sure can! These baked chicken meatballs are perfect in this recipe, and major bonus – they're freezer-friendly if you wanted to prep these ahead of time. Doubling the recipe is not a bad idea!
Is harissa paste spicy?
It's not terribly spicy, but harissa paste does pack some heat. I would rate it as mild+ or medium- level heat. I left a few meatballs un-sauced for my toddler just to make sure it wasn't too spicy for her.
I can't find harissa paste. What else can I use?
Chili oil or even sriracha could work here instead! Just adjust the amounts as necessary so that you don't make it too spicy.
Prefer To Watch Instead Of Read?
Source Notes: Harissa paste is "a Tunisian hot chili pepper paste, the main ingredients of which are roasted red peppers, Baklouti peppers, spices and herbs such as garlic paste, caraway seeds, coriander seeds, cumin and olive oil to carry the oil-soluble flavors." (definition from Wiki!) It reminds me a little bit of curry paste – it's packed with flavor and vibrantly red in color. In the US, you can find it at many grocery stores that have a solidly stocked "global foods" section. It's usually is sold in small jars. If you want to dabble with making your own (and I am actually tempted to after reading Suzy's description), here is a recipe for homemade harissa paste.
Print
Description
These Harissa Meatballs with Whipped Feta are perfect for an easy SOS dinner! Store-bought meatballs, bell peppers, zucchini, harissa, and whipped feta all in one bowl. YUMMY!
---
Meatballs and Such:
one

22

-ounce bag of store-bought frozen meatballs (or homemade, if you've got them / got the time)

2

bell peppers (yellow and red), sliced

1

–

2

zucchini, sliced into half moons

2 tablespoons

harissa paste
olive oil, garlic powder, lemon juice, salt
Whipped Feta:
one

6

-ounce container feta cheese

1

–

2

ounces

cream cheese or sour cream or I've used plain yogurt in a pinch

1

clove garlic
Extras:
hummus
pita
olives / lemon wedges
---
Sheet Pan, Part One: Preheat the oven to 425 degrees. Place the peppers on one side of a large sheet pan. Drizzle with oil and sprinkle with salt. Mix the harissa with a little bit of olive oil, lemon juice, and garlic powder until you have a nice spreadable red paste. Coat your meatballs with the sauce (you can do this by tossing the meatballs in a bowl with the sauce if they're pre-cooked, or just brushing the meatballs directly on the sheet pan if your meatballs are raw). Add meatballs to the center of the sheet pan. Bake for 15-20 minutes.
Sheet Pan, Part Two: Add the zucchini to the pan with some olive oil and salt. Roast for another 10 minutes. For extra browning on everything, broil for about 5 minutes.
Whip That Feta: In a food processor, chopper, or blender, whip up the feta, cream cheese, and garlic until a thick and creamy sauce forms. 
Serve: Serve meatballs and veggies with a dollop of hummus, your whipped feta, pita wedges, and anything else you like (olives, lemon, etc.). And now DEVOUR. And repeat. And repeat. And repeat.
Prep Time:

15 minutes

Cook Time:

30 minutes

Category:

Dinner

Method:

Sheet Pan

Cuisine:

American
Keywords: harissa paste, meatballs, whipped feta
Recipe Card powered by
We Love Sheet Pan Recipes. Here Are More Faves!
---
One More Thing!
This recipe is part of our collection of savory meatball recipes. Check it out!