I love this Grilled Eggplant Salad with fresh cherry tomatoes and Feta cheese and a dressing with basil, parsley, and capers!
PIN Grilled Eggplant Salad to try it later!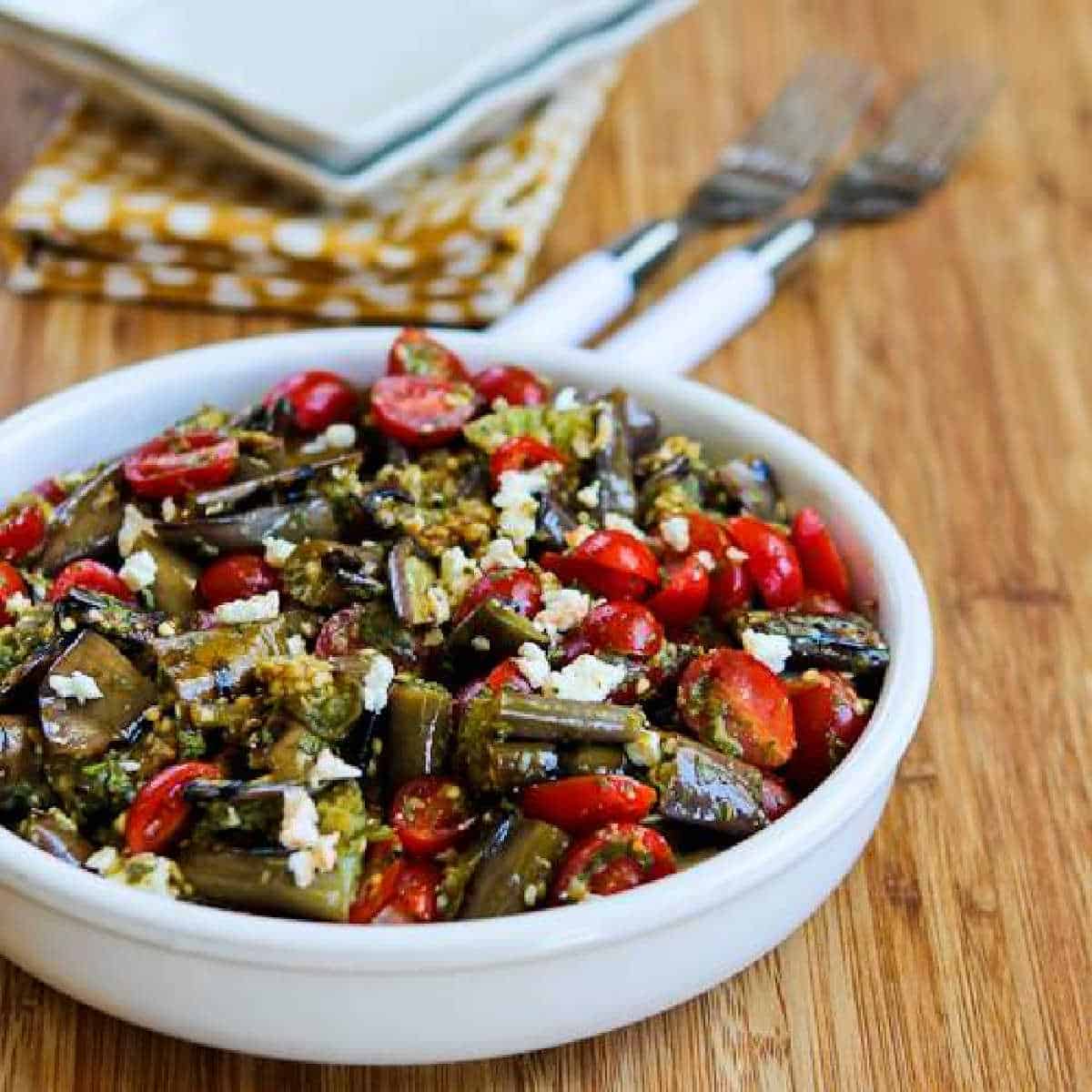 For anyone who saw the title of this recipe and said "I don't like eggplant," I need to remind you of my discovery that grilled eggplant is really one of the best things about summer. I was never an eggplant fan until I started growing the thin Japanese Eggplants in my garden, and cooking them on the grill. If you've never had grilled eggplant, you've never really had eggplant!
And I absolutely loved this Grilled Eggplant Salad from the first time I tried it, and the Basil, Parsley, and Caper sauce that we used as a dressing in this recipe really added so much amazing flavor.
But if I can't possibly talk you into eggplant, then you still should try that delicious sauce to eat on grilled chicken, fish, or vegetables. The sauce recipe and the inspiration to combine it with grilled eggplant came from a recipe in Donna Hay's New Food Fast (affiliate link), and this sauce is another one of those summer herb combinations that would be good on nearly anything.
What ingredients do you need for this recipe?
Asian Eggplants
olive oil
salt and fresh-ground black pepper
grape tomatoes, cut in half
crumbled Feta (or more)
fresh basil leaves
fresh parsley leaves (flat or curly)
garlic cloves, sliced
Dijon mustard
capers
fresh-squeezed lemon juice, I used my fresh-frozen lemon juice
What are Asian Eggplants?
There are many types of eggplants. But Asian Eggplants are long and thin compared to other types. Chinese Eggplant is longer than Japanese Eggplant, but both those varieties have a soft skin that doesn't need to be peeled and the shape and size make them perfect for cooking on the grill. See photos of the four most common types of eggplants to compare.
Can you make Grilled Eggplant Salad without an outdoor grill?
If you don't have an outdoor grill the eggplant for this eggplant salad can definitely be cooked on a stove-top grill pan with ridges (affiliate link) or a George Foreman Grill (affiliate link) with good results. Remember that the George Foreman Grill cooks both sides at once so grilling time will be a lot shorter!
Want low-carb eggplant recipes?
Check out Low-Carb and Keto Eggplant Recipes for more tasty eggplant dishes from Kalyn's Kitchen and other blogs around the web!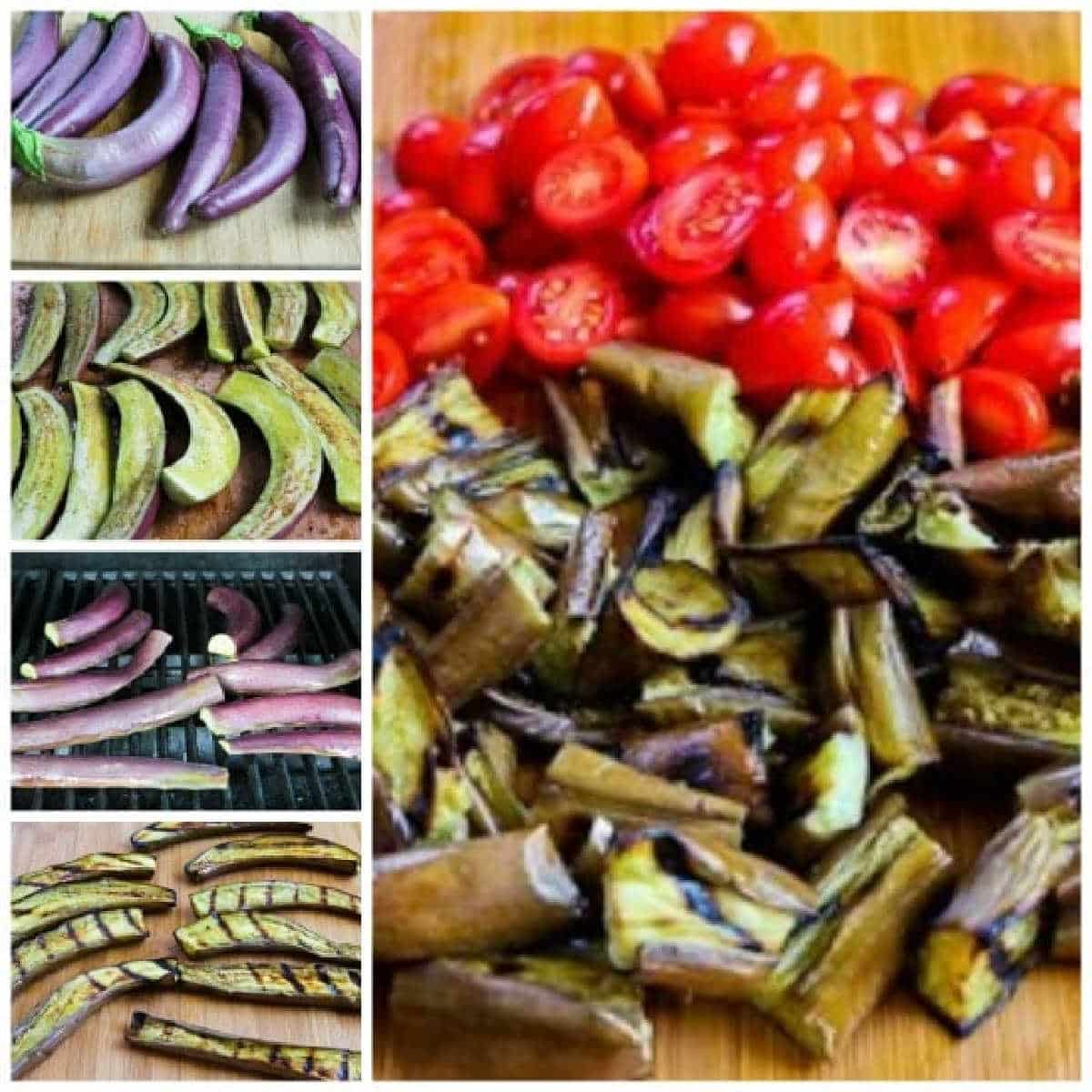 Preparing and grilling the eggplant for this salad:
(Scroll down for complete recipe with nutritional information.)
I used 8 thin Japanese eggplants, but any kind of Asian eggplant will work.
Cut off both ends of eggplant, then cut in half lengthwise and brush both sides with olive oil. Season the cut side with salt and pepper.
Preheat the grill to medium high and lay the eggplants flesh-side-down. Cook until you see nice grill marks, about 5-7 minutes.
Cook about 5 minutes more on the other side, until the eggplant is fairly softened and nicely browned.
Let the eggplant cool on a cutting board until they are cool enough to cut.
While eggplants cool, cut the grape tomatoes in half. When eggplants are cool enough to handle, cut them into slices about 1 inch thick.
Making the sauce and assembling Grilled Eggplant Salad:
While eggplants cool, make the amazing dressing. Start with fresh basil leaves, fresh parsley, and some sliced garlic.
Give those ingredients a good buzz in the food processor, then add Dijon Mustard, capers, fresh lemon juice, and olive oil, and process until the mixture is chunky.
This keeps well in the refrigerator for more than a week, so make the full amount and eat it on everything in sight!
Gently combine the eggplant and tomatoes in a bowl, and stir in enough of the amazing dressing to coat the vegetables.
Stir in the crumbled Feta cheese and serve warm or at room temperature. 
Make it a Meatless Meal:
Eggplant is used as a meat substitute in many parts of the world, and I can definitely imagine serving this as a main-dish salad for a plant-based meal that includes hummus with grilled low-carb pita bread and some kind of green salad on the side.
More Eggplant Recipes:
Julia Child's Eggplant Pizza
Spicy Grilled Eggplant and Zucchini Salad
Mediterranean Eggplant
Spicy Grilled Eggplant
Grilled Eggplant with Feta and Herbs
Ingredients
Ingredients:
8 Japanese Eggplants
1 T olive oil
salt and fresh-ground black pepper
1 cup diced tomatoes
1/2 cup crumbled Feta (or more)
Dressing Ingredients:
2/3 cup fresh basil leaves
1/3 cup parsley leaves (flat or curly)
2 large garlic cloves, sliced
1 T Dijon mustard
3 T capers
2 T fresh lemon juice
1/4 cup extra-virgin olive oil
Instructions
Preheat the grill to medium-high. (You can only hold your hand there for a few seconds at that heat.)
Wash the eggplants if needed and cut off both ends. Cut the eggplants lengthwise, brush both sides with olive oil, and season the cut side with salt and pepper
Lay eggplants on the grill cut side down, and cook until you see nice grill marks (about 5-7 minutes.)
Turn eggplants and cook about 5 minutes more on the other side, or until eggplant is softened and nicely browned.
Remove eggplant to a cutting board and let them cool.
Cut grape tomatoes in half and make the amazing dressing while the eggplants cool.
If needed, wash and spin dry the basil and parsley leaves.
Slice the garlic cloves, then use a food processor fitted with a steel blade to chop the basil, parsley, and garlic together.
Add the Dijon, capers, and lemon juice and process until ingredients are well blended; then add the olive oil and process about 30 seconds more.
When eggplant is cool enough to handle, cut it into slices about 1 inch thick.
Gently combine the eggplant and tomato halves in a bowl and stir in enough dressing to coat the ingredients (about 1/4 cup). Save the rest of the dressing for another time; it's good on so many things!
Stir in the crumbled Feta and serve salad warm or at room temperature.
Even though tomatoes are best when they haven't been refrigerated, this was not bad after it had been the fridge overnight.  It didn't last much longer than that though.
Notes
This makes more dressing than you need for the salad, but it's good on any type of grilled meat, grilled vegetables, or sliced tomatoes, and it will keep more than a week in the fridge. 
This recipe inspired by a grilled eggplant dish from Donna Hay New Food Fast. (affiliate link)
Nutrition Information:
Yield:
6

Serving Size:
1

Amount Per Serving:
Calories: 183Total Fat: 10gSaturated Fat: 2.9gUnsaturated Fat: 6.7gCholesterol: 11mgSodium: 301mgCarbohydrates: 23gFiber: 6.4gSugar: 8.6gProtein: 4.3g
Low-Carb Diet / Low-Glycemic Diet / South Beach Diet Suggestions:
Everything in this Grilled Eggplant Salad is approved for all-phases of the original South Beach Diet or any other type of low-glycemic eating plan, and this salad is also relatively low in carbs but probably too high in carbs for Keto.
Find More Recipes Like This One:
Use Eggplant Recipes or Salads to find more recipes like this one. Use the Diet Type Index to find more recipes suitable for a specific eating plan. You might also like to follow Kalyn's Kitchen on Pinterest, on Facebook, on Instagram, or on YouTube to see all the good recipes I'm sharing there.
Historical Notes for this Recipe:
This recipe was first posted in 2012. It was updated with more information in 2022.
We are a participant in the Amazon Services LLC Associates Program, an affiliate advertising program designed to provide a means for us to earn fees by linking to Amazon.com and affiliated sites. As an Amazon Associate, I earn from qualifying purchases.