For anyone who gets tired of lettuce, this Lettuce-Free Keto Cobb Salad has all the tasty Cobb salad ingredients you love! And this is a perfect main dish salad for any time of year!
PIN the Keto Cobb Salad to make it later!
I love salads for lunch, but there are times when I get tired of lettuce, so maybe that's why the idea for this Lettuce-Free Keto Cobb Salad popped into my mind. And don't you agree that this type of Keto Cobb Salad is a tasty lunch or salad meal any time of year?
I proposed it to Jake and Kara when we were having a cooking session, and let's just say they were skeptical. But then we cut up the ingredients, mixed the dressing, photographed it, and then (always the best part) ate the salad, and they were completely convinced that this was a great salad idea!
You also don't have to bother with arranging your salad ingredients in rows like we did, especially if you're just making this to eat for a quick lunch or dinner. But if you like chicken, boiled eggs, avocado, tomatoes, bacon, and blue cheese, I bet you're going to love this salad!
What ingredients do you need for this recipe?
eggs, hard-cooked and then diced
cooked rotisserie chicken
avocados
bacon, cooked crisp and then crumbled
tomatoes or cherry tomatoes
crumbled blue cheese
Blue Cheese Dressing of your choice
What if you're not eating Keto?
Please don't worry about the word Keto in the recipe title if you're not following that type of diet. This salad is great for any type of carb-conscious diet, and if you like the ingredients used here you can adjust the ingredients any way you want to make it work for your personal eating plan.
More Cobb Salad Options:
This salad has all the traditional Cobb Salad ingredients, but if you're not a fan of every ingredient we used here just make a salad with the ones you prefer! And if you want to try some non-traditional variations you could use Feta or Cotija Cheese instead of blue cheese, switch out the chopped chicken for turkey or ham, or switch the bacon for chopped salami.
Want more salad ideas with Blue Cheese?
I'm guessing it's the crumbled blue cheese that might be the most controversial ingredient in this Keto salad! But people who love blue cheese (like me!) might like some of my other salads with this ingredient like Blue Cheese Coleslaw, Easy Broccoli Radish Salad, Tomato, Egg, and Olive Salad with Gorgonzola Vinaigrette, Kale and Arugula Salad, or Thanksgiving Green Bean Salad.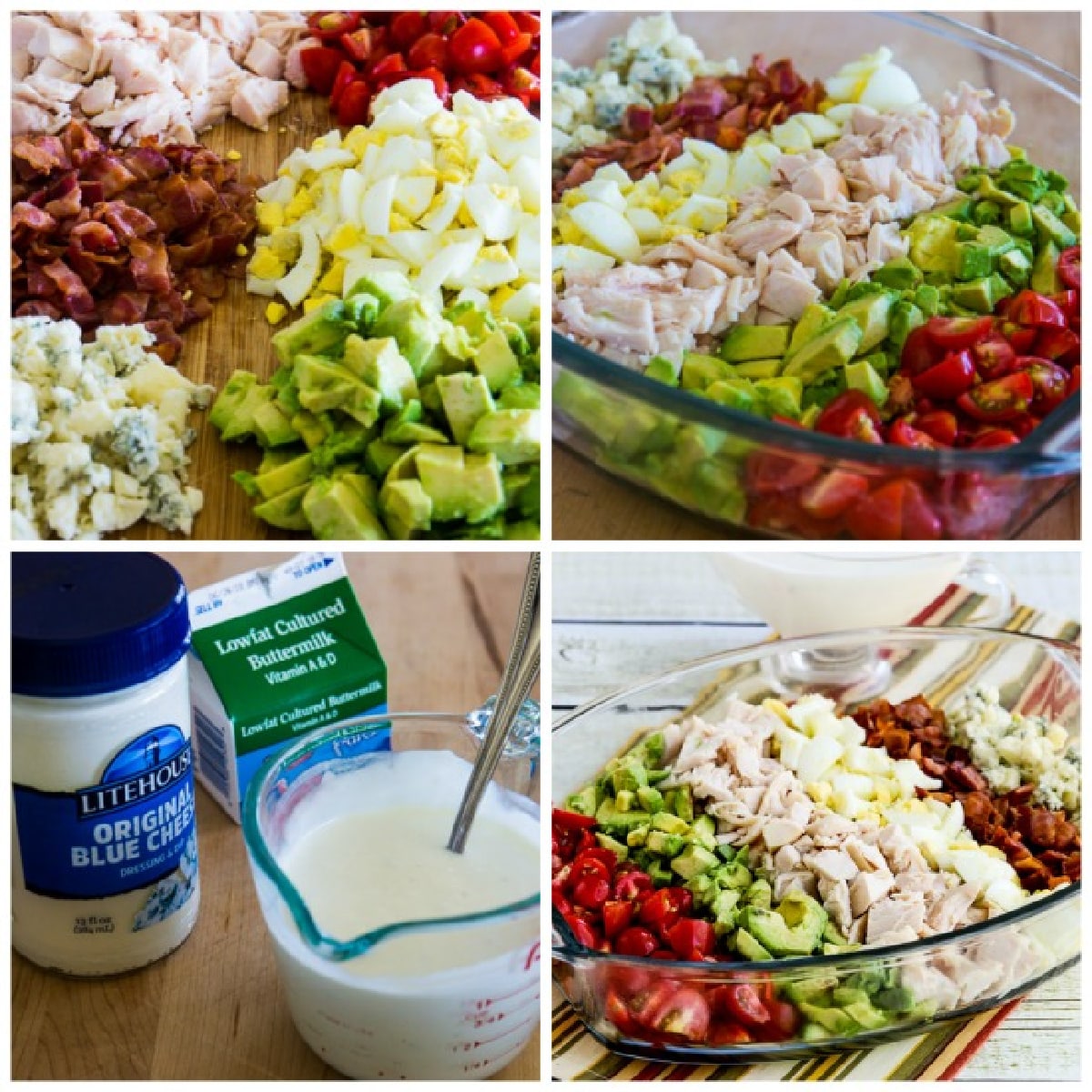 How to make Lettuce-Free Keto Cobb Salad:
(Scroll down for complete printable recipe with nutritional information.)
We made perfect hard-cooked eggs while we chopped up the other ingredients.
We started with rotisserie chicken and pre-cooked bacon (both from Costco) which made it easy.
Chop up the chicken, avocado, and tomatoes and crumble the blue cheese and crisp bacon.
By then the eggs should be cooked and cooled; chop them up as well.
Arrange the salad in a glass dish in rows if you want it to look pretty.
I mixed some buttermilk with my favorite blue cheese dressing to make a slightly thinner dressing. (If you're following the Keto diet you might want to replace the buttermilk with heavy cream, or just use the dressing without thinning it if you prefer.)
Serve the salad with dressing on the side, so people can drizzle on as much as they'd like. And enjoy!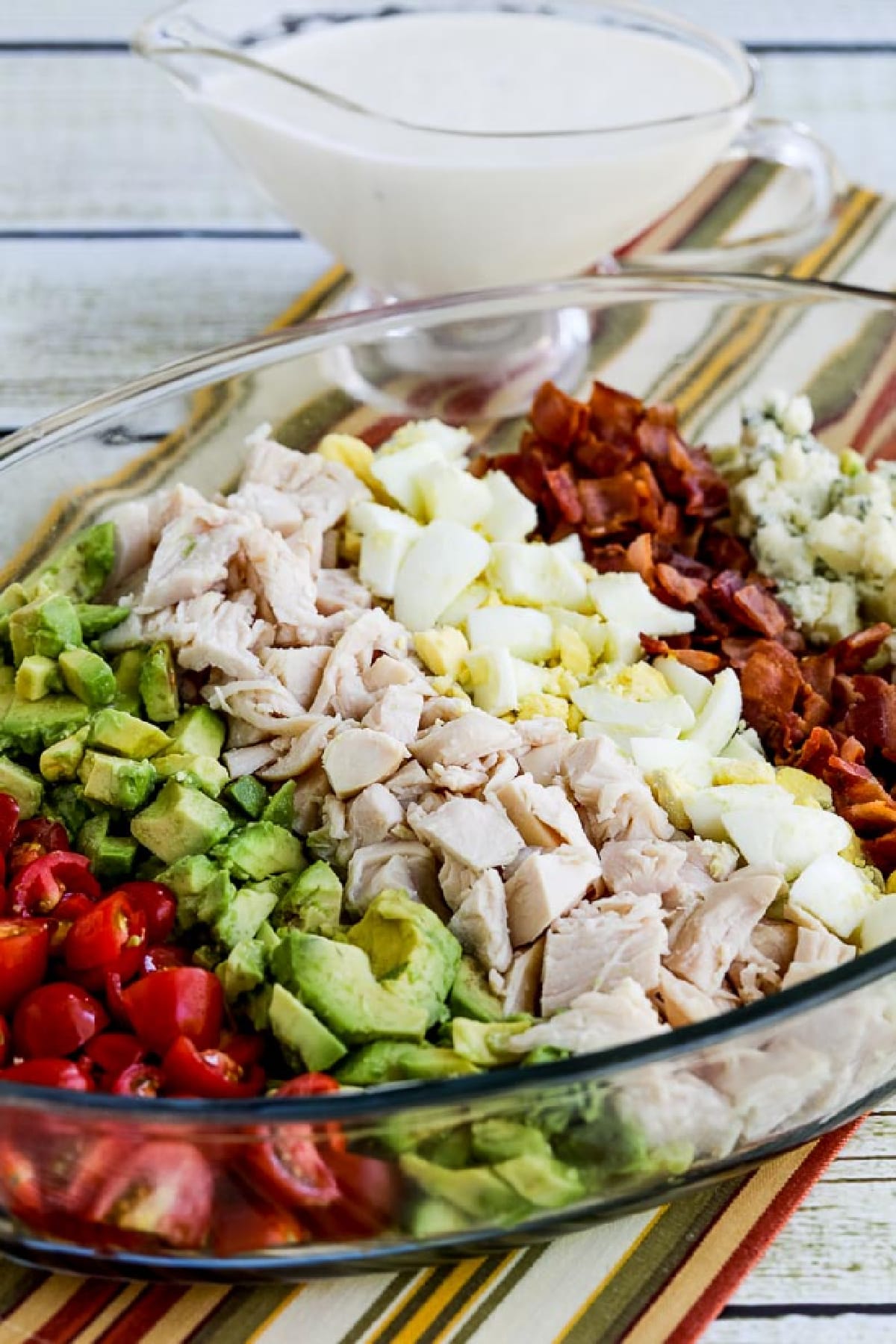 More Tasty Keto Salads to Try:
Ingredients
4 eggs, hard-cooked and then diced
2 cups cooked rotisserie chicken, cut into 3/4 inch cubes
2 avocados, diced and tossed with lime juice
12 slices bacon, cooked crisp and then crumbled (We used pre-cooked bacon that we crisped in the microwave.)
1 cup diced tomatoes or cherry tomatoes
1 cup crumbled blue cheese
Blue Cheese Dressing of your choice (see notes)
Instructions
Use one of the methods for Perfect Hard-Cooked Eggs to cook the eggs while you prep the other ingredients. When they're done, put the eggs into ice water to cool.
Cut up the chicken into 3/4 inch pieces.
Crisp bacon in the microwave for about 1 minutes (for pre-cooked bacon) or cook in a frying pan until crisp, then crumble the bacon.
Cup up enough tomatoes or cherry tomatoes to make 1 cup of diced tomatoes.
Crumble enough blue cheese (or Gorgonzola cheese) to make 1 cup crumbled blue cheese.
As soon as eggs are cool, peel them and coarsely chop.
Arrange the ingredients in rows in a glass serving dish (or just toss together in a bowl if you prefer.)
If you want to thin the dressing, use equal parts purchased blue cheese dressing and buttermilk, milk, half and half or heavy cream. You can adjust it to your own preference, I like slightly more dressing than buttermilk when I make it.
Serve salad with dressing on the side for each person to drizzle over as they eat it.
Notes
Add buttermilk, milk, half and half, or heavy cream to thin the dressing if desired.
The highest carb items here are the tomatoes and the avocado, so use less of those if you prefer even less carbs.
This salad was an idea that just popped into Kalyn's head!
Nutrition Information:
Yield:
4

Serving Size:
1

Amount Per Serving:
Calories: 686Total Fat: 52gSaturated Fat: 17gUnsaturated Fat: 32gCholesterol: 310mgSodium: 1120mgCarbohydrates: 12gFiber: 7.2gSugar: 2.1gProtein: 44g
Nutrition information is automatically calculated by the Recipe Plug-In I am using. I am not a nutritionist and cannot guarantee 100% accuracy, since many variables affect those calculations.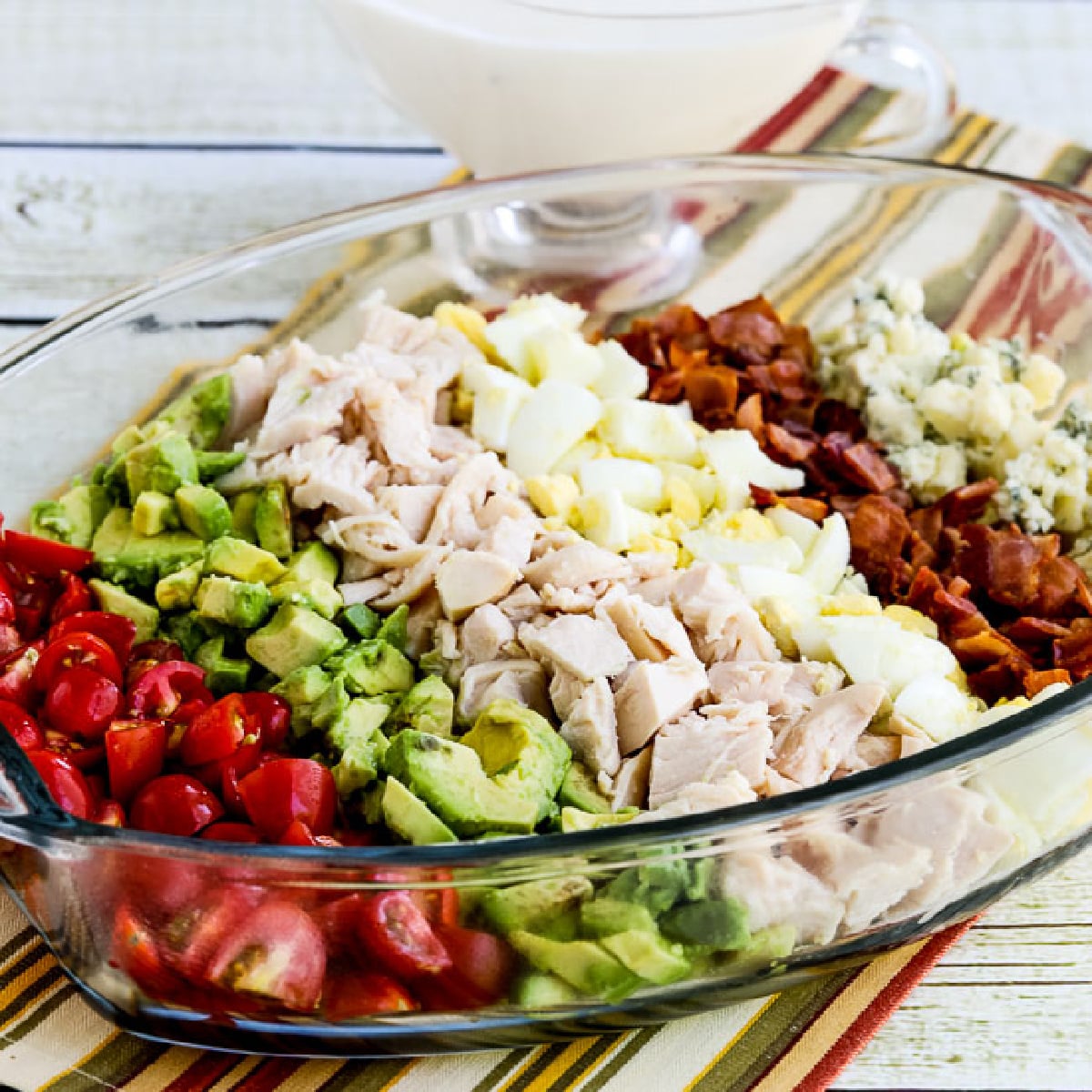 Low-Carb Diet / Low-Glycemic Diet / South Beach Diet Suggestions:
Lettuce-Free Keto Cobb Salad is a good dish for any low-carb diet, including Keto of course. You could reduce the amounts of the higher-fat ingredients if you want to make it suitable for the original South Beach Diet, although this salad does have a lot of high-fat ingredients..
Find More Recipes Like This One:
Use Salad Recipes to find more recipes like this one. Use the Diet Type Index to find recipes suitable for a specific eating plan. You might also like to follow Kalyn's Kitchen on Pinterest, on Facebook, on Instagram, or on YouTube to see all the good recipes I'm sharing there.
Historical Notes for this Recipe:
This salad was first posted in 2018. It was updated with more information in 2022.
We are a participant in the Amazon Services LLC Associates Program, an affiliate advertising program designed to provide a means for us to earn fees by linking to Amazon.com and affiliated sites. As an Amazon Associate, I earn from qualifying purchases.