For a little dinner vavavoom, try my spiced pan-fried lamb chops (also known as lamb cutlets) with zesty, tangy mint vinaigrette. This lamb recipe is gluten-free, paleo, Whole30, low-carb and keto-friendly and can be served with a variety of side dishes.
---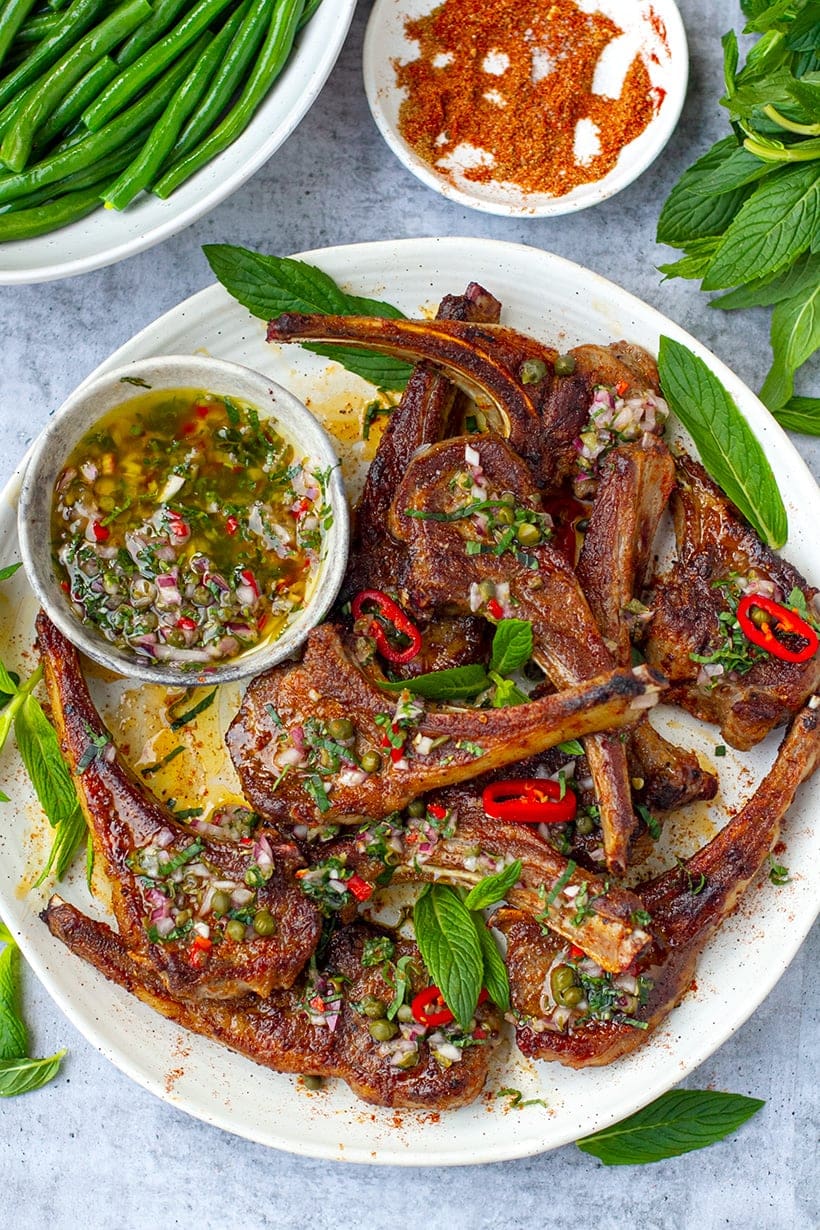 We love love love lamb chops in our family! Not a weekly protein choice as they are expensive but we treat ourselves from time to time. I often make these pan-fried lamb chops with a delicious spice rub and I've been meaning to shoot the recipe for you for a long time. I am delighted to finally share it here.
I love pairing lamb meat with a zesty, tangy condiment like the mint vinaigrette, salsa verde or chimichurri. You want something bold and fresh to cut through the richness of the lamb. If you don't like mint, you can use a different herb like basil or parsley.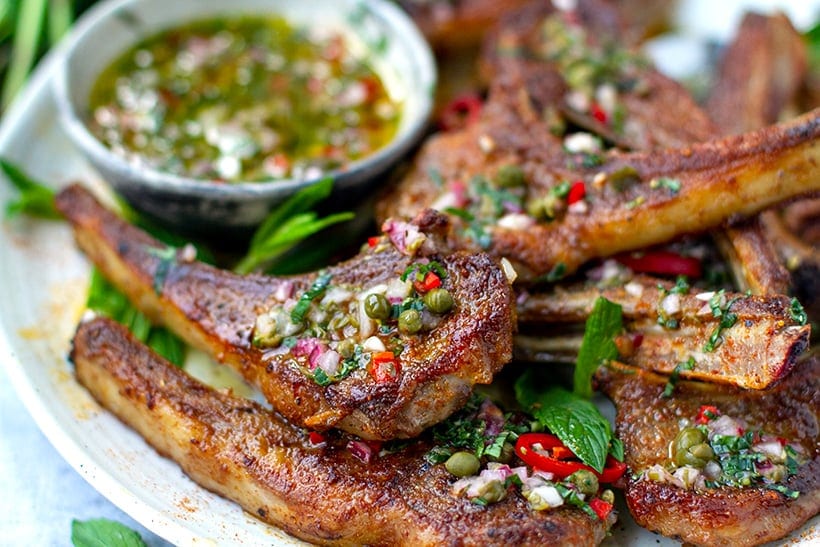 I hope you enjoy this lamb cutlet recipe, let me know in the comments if you make it and leave a rating as it helps others to discover my recipes. Frequently asked questions and step-by-step photos of how to make this dish are below the recipe card.
---
Full Recipe For Pan-Fried Lamb Cutlets
Find the full list of ingredients, instructions and extra cooking notes below. If you have questions or cook this recipe, please let me know in the comments and make sure to rate this recipe so it's easy for others to find.
Print
---
Description
Learn how to make succulent pan-fried lamb cutlets (lamb chops) with zesty capers and mint vinaigrette. This delicious lamb recipe can be served with roasted veggies, mashed potatoes, steamed greens or a salad. It's gluten-free, paleo and Whole30 friendly, low-carb and keto.
---
---
Spice rub the meat:

 Place the lamb chops on a cutting board and season each side with salt, pepper and spices. If using later, refrigerate in a container for a few hours or overnight for extra flavour.

Pan-fry the lamb chops:

 Heat a tablespoon or two of oil or ghee in a large frying pan or a skillet over medium-high heat. Once sizzling hot, add the cutlets and cook for 5 minutes on the first side and about 3-4 minutes on the second side. Remove to a plate and rest for a minute or two.

Make the vinaigrette

While the lamb chops are cooking or ahead of time, prepare the condiment. Chop all the ingredients very finely and combine with lemon juice and olive oil. 

Serve lamb chops with the vinaigrette on the side and some drizzle over the meat. 
---
Notes
We served with green beans, pumpkin and quinoa.
I used French-trimmed lamb cutlets/chops but you can use the ones without fat removed around the bone. Other cuts of lamb can be used with the same spice rub and grilled.
Nutrition
Serving Size:

3 lamb chops

Calories:

453

Sugar:

0.8 g

Sodium:

723.2 mg

Fat:

37.8 g

Saturated Fat:

12.8 g

Carbohydrates:

2.5 g

Fiber:

0.6 g

Protein:

27.9 g

Cholesterol:

89 mg
Keywords: lamb chops, lamb cutlets, mint, vinaigrette, meat, gluten-free, low-carb, paleo, whole30
How To Make Pan-Fried Lamb Chops Step-By-Step
Step 1. Mix the spices in a bowl and sprinkle over the lamb chops, on each side. Use your hands to rub the meat. I usually leave them out for 10-15 minutes to come to room temperature before pan-frying. If using later, refrigerate in a container for a few hours or overnight for extra flavour.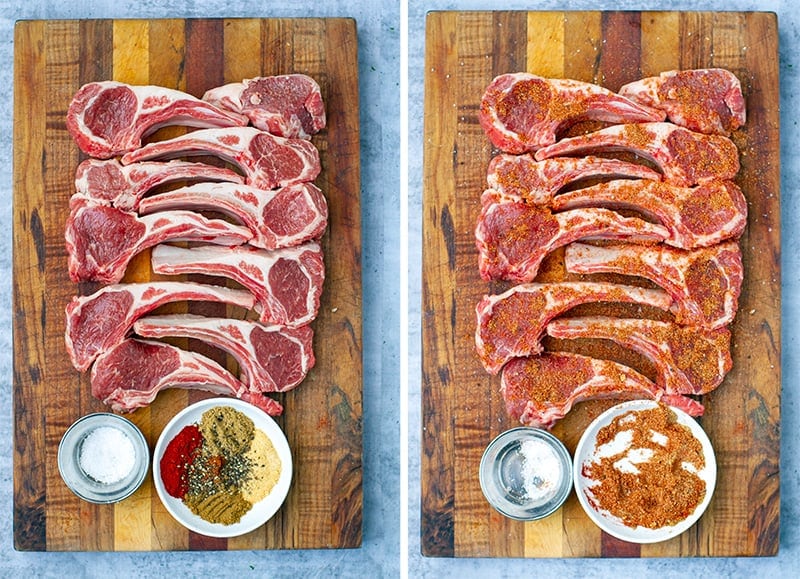 Step 2. You can use a large frying pan, a skillet or a BBQ grill. Heat a little oil over medium-high heat and once sizzling, add the lamb. Cook for 5 minutes on one side, then 3-4 minutes on the other side and rest for a few minutes off the heat.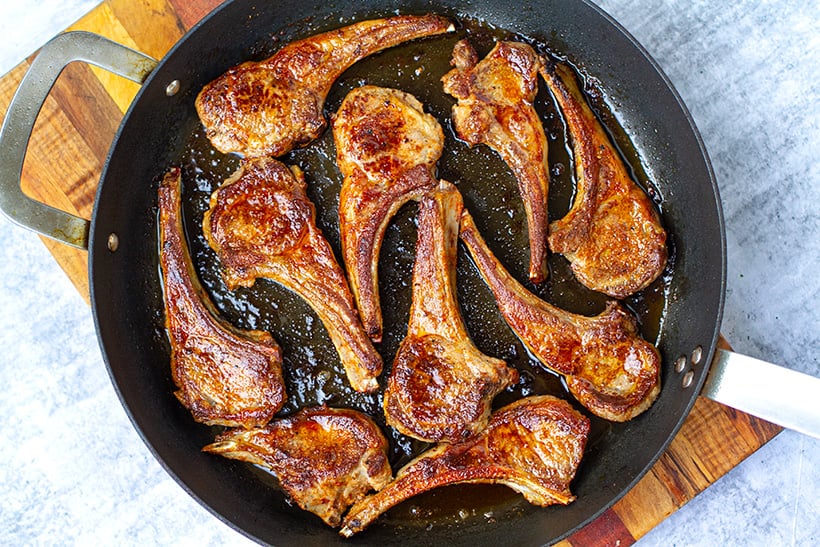 Making Mint Vinaigrette
You can prepare this mint vinaigrette ahead of time or while the lamb cutlets are cooking.
If you don't have red onion, white is also fine or you can use spring onions (scallions).
Mint is fabulous with lamb but you are welcome to use basil or parsley. Capers add a little salt here, you could also use some finely diced gherkins or a couple of small anchovies. This vinaigrette will keep in the fridge for up to 3 days.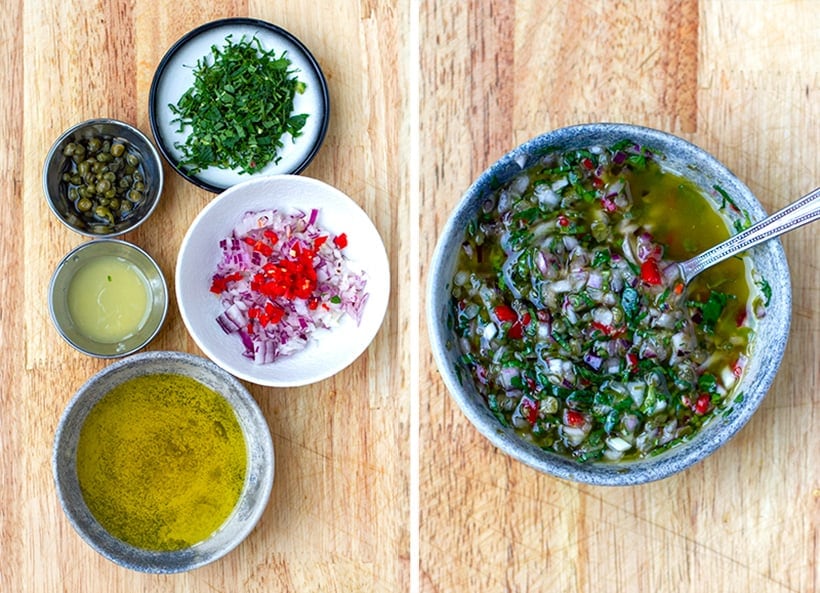 Which Lamb Chops Should I Use For This Dish?
For this dish, you can use French-trimmed lamb cutlets (lamb chops) or with some fat on the bone. Lamb chops are quite expensive so this is not an everyday dinner BUT if they are ever on special or I feel a little fancy, they are my favourite cut of lamb (and possibly red meat in general). I prefer buying French-trimmed because I get more meat for my buck, so to speak, but having a little fat on adds to the flavour. You can get regular untrimmed chops, which tend to be a little cheaper.
Can I Use A Different Cut Of Lamb For This Recipe?
Absolutely! The spice rub will work with any cut of lamb that's suitable for grilling – loin chops, steak, loin, neck, ribs and so on. It will also work with beef. The mint vinaigrette is a condiment that works with any red meat.
Can I Grill These On The BBQ?
Hell yeah! These would be sensational if grilled outdoors as that slightly smoky chargrilled flavour will work well with the vinaigrette.
What To Serve With Lamb Chops?
I prepared a side of roasted pumpkin and steamed garlic green beans, plus a little quinoa. Any roast vegetables will work well as will a good salad or stir-fried greens. You can also make rice Here are some side dishes that would work well: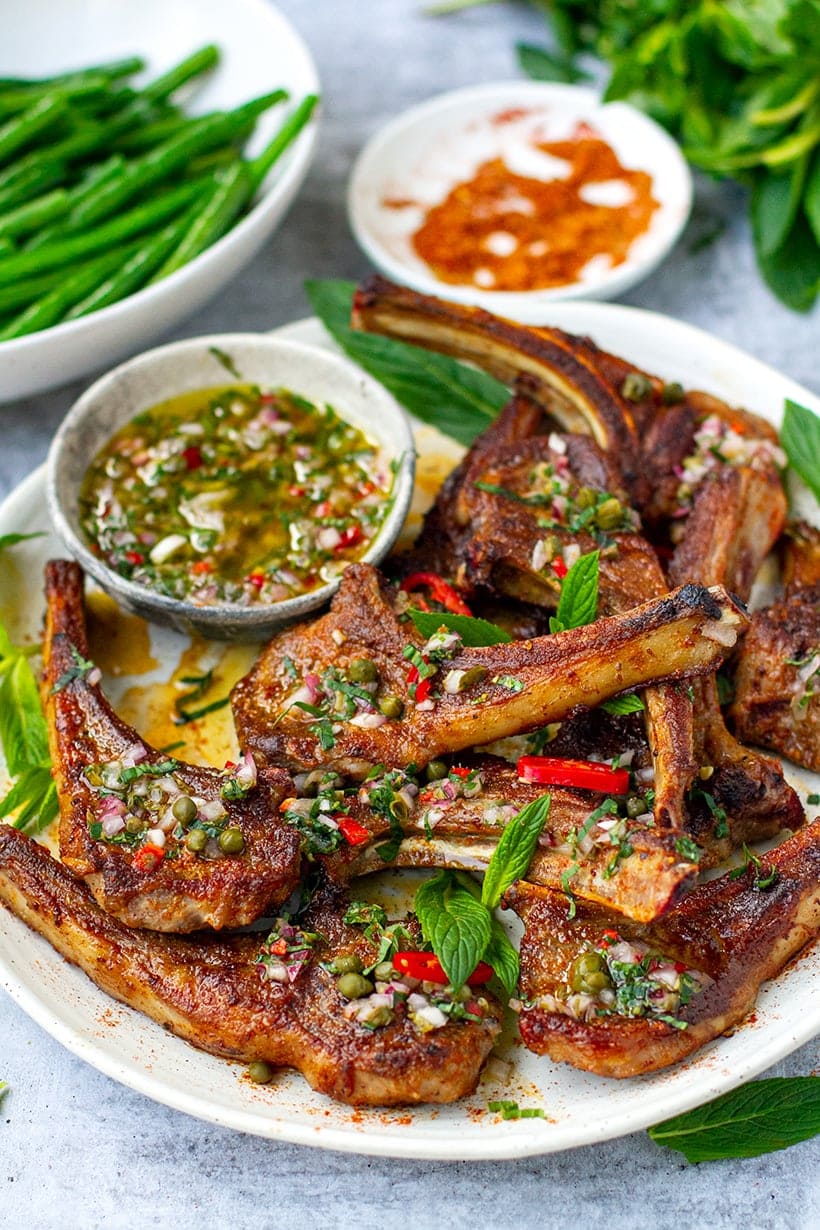 More Healthy Lamb Recipes