This Canned Salmon Salad with crunchy vegetables and curry-spiced mayonnaise dressing is super simple to make and is great as a lunch meal or a light dinner. You can make a one-person serving or a larger batch as a make-ahead healthy lunch as it keeps well for a few days. This salad can be made with canned tuna or sardines and it's low-carb, keto, paleo, Whole30 and gluten-free. 
---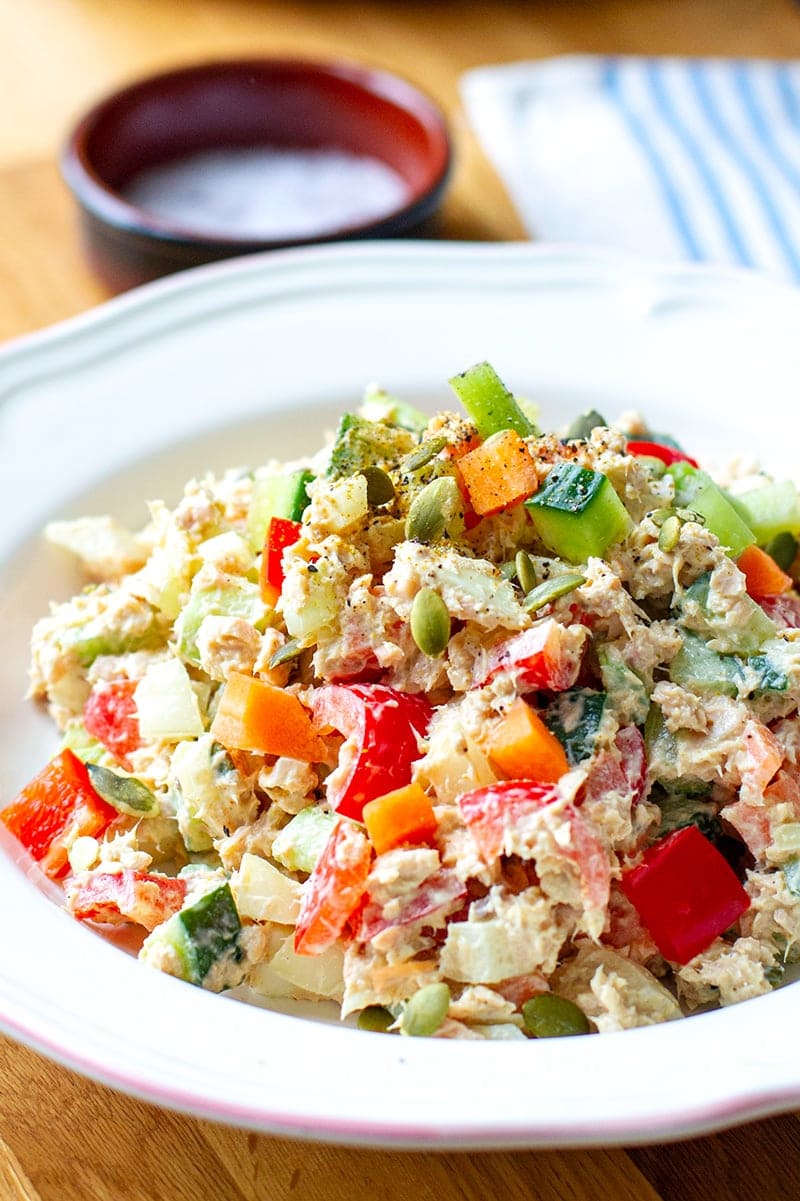 Caned Salmon Salad
As one of my go-to lunch meals, this canned salmon is somewhat of a template. The key ingredients are the same – canned salmon, mayonnaise, onions, curry spice – but the vegetables always differ depending on what I have on hand. It's similar to my tuna and sweet potato salad but without the starchy root vegetables. 
PS. This salad was first featured in my free Paleo Reset meal plans, so some of you might recognise it.
What's Good About This Salad
Well, it's quite tasty, for starters. And easy! From a nutritional standpoint, it's filled with goodies (see the nutritional panel below for just how good it is). You'll get plenty of anti-inflammatory, heart and brain-beneficial omega-3 fatty acids from canned salmon (budget-friendly!), as well as protein. B-vitamins and a whole array of minerals.
Then come the veggies with all their fibre and antioxidants. Curry spice used in the dressing adds a touch of turmeric with its cancer-protecting properties.  And, I like to top it off with some nuts or seeds and in this case, it's pumpkin seeds with all that anti-ageing vitamin E. 
Plus, it's a meal that ticks a lot of the dietary boxes: satiating, protein-rich, low-carb/keto, paleo, Whole30, gluten-free, and pescatarian. 
Canned Salmon Salad Cooking Notes
The recipe below is for two servings but I love making an even larger batch of this salad as it keeps well for a few days in the fridge. You can pull it out after a workout or for a quick lunch. 
For variation, I sometimes serve it inside an avocado half (like stuffed avocados) or over shredded lettuce or baby spinach. You can also dish it up with some rice, quinoa, and sweet potatoes for extra carbohydrates. 
You can use any type of canned fish here but go for the oily kind to get all those omega-3s: salmon, tuna, sardines, mackerel. As we add our own dressing, I suggest using unflavored fish in brine or olive oil (depending on your calorie needs). 
Should I Take Out Bones From Canned Salmon?
This is optional, some of the bones are very small and it's fine to leave those in as they will get mashed up and you won't notice them. The larger spine bones will get mixed in but they are a bit crunchier, so if that bothers you, take them out.
One thing to note is that the bones in a can of salmon are the main source of calcium (and a few other minerals) so I always leave the small ones in. They certainly won't harm you in any way. 
---
More Salmon Recipes You Might Like
---
Full Recipe For Canned Salmon Salad
Find the full list of ingredients, instructions and extra cooking notes below. If you have questions or cook this recipe, please let me know in the comments and make sure to rate this recipe so it's easy for others to find
Print
---
Description
Easy to make and super nutritious, this canned salmon salad comes with a variety of crunchy, raw vegetables and a delicious curry-spiced mayonnaise dressing. It's paleo, Whole30, keto and gluten-free friendly and great for making ahead for a healthy lunch or a light dinner.
---
---
Combine diced onion, lemon juice, mayonnaise, curry powder and salt in a bowl. Set aside.
Dice and add the rest of ingredients. Combine well and enjoy. Store for up to 2-3 days in the fridge in an airtight container.
---
Nutrition
Serving Size:

Half of the salad

Calories:

516

Sugar:

8.1 g

Sodium:

957.8 mg

Fat:

31.4 g

Saturated Fat:

5.1 g

Carbohydrates:

17.7 g

Fiber:

6.8 g

Protein:

43.4 g

Cholesterol:

100.8 mg
Keywords: Salmon, Canned Fish, Whole30, Paleo, Keto, Curry, Mayonnaise, Lunch
---
SAVE THIS CANNED SALMON RECIPE TO PINTEREST