Learn how to make nutrient-dense and delicious marinated chicken livers, which you can pan-fry or grill in pieces or as skewers or kebobs. Served with caramelised, sweet and tangy balsamic onions and side of greens, you'll be serving a tasty dinner meal in no time. This recipe is gluten-free, paleo, Whole30, and low-carb friendly.
---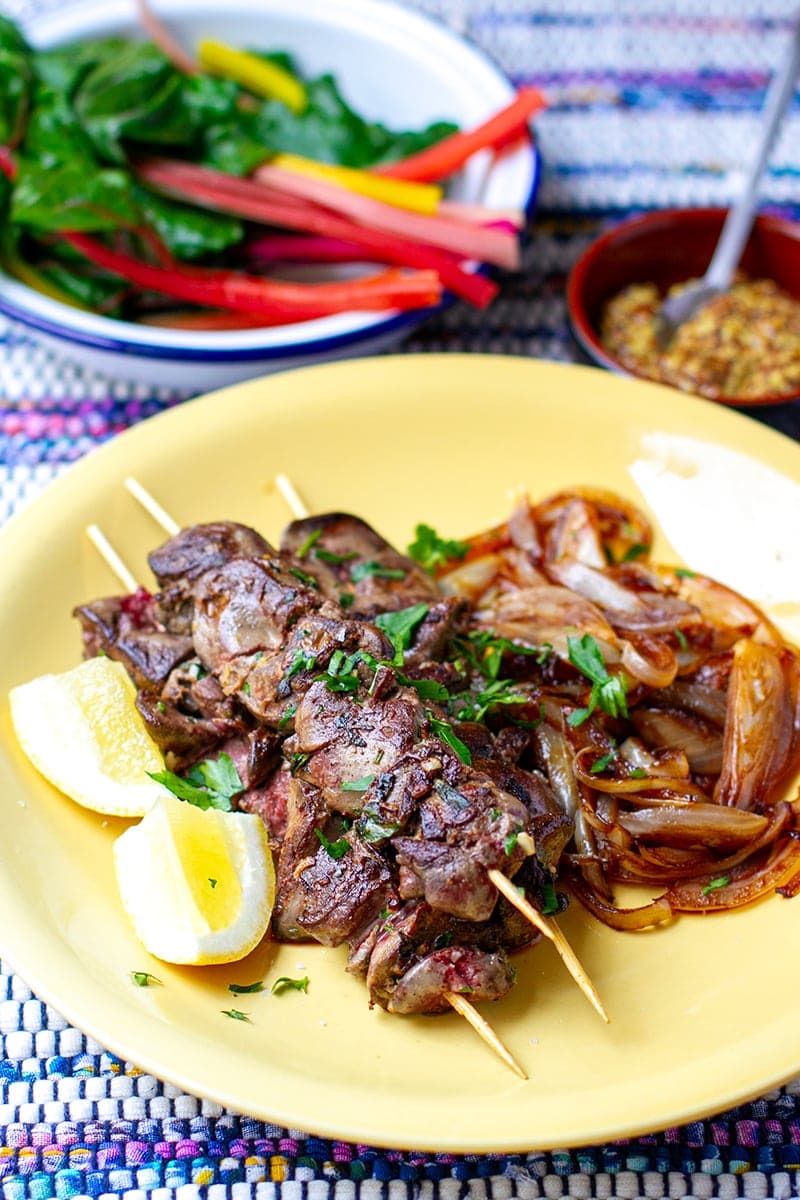 Chicken Liver
There are many reasons to include liver in your diet: it's one of the most nutritious foods on the planet, it's affordable and allows a more sustainable, nose-to-tail approach to eating animal products. If you're deficient in B-vitamins or not eating much meat, eating liver just once a week can give you a HUGE boost of this essential nutrient and will give you extra energy.
There is one BUT…not everyone likes it, or rather most people assume they don't like liver because it's organ meat or they've been preconditioned to think that they won't enjoy it before they even get to try it.
The truth is, if prepared well, the liver can be very tasty. Yes, it has a stronger flavour than regular meat but that's what makes it so unique too. Think of a creamy liver pate…imagine that taste but with a meaty texture.
If you're an offal newbie, I recommend trying chicken livers first as they are the most mild-tasting and easily accessible from most supermarkets and butchers. And, in today's chicken livers recipe, I am using a strong-flavoured, zesty marinade to infuse the meat and in a way hide some of that strong liver taste.
Chicken liver tastes a little like the dark meat of chicken, but with a gaminess that is pleasant and not overwhelming and it goes well with sweet, tangy, aromatic ingredients like onions, garlic, herbs, balsamic, vinegar, and fruit.
Check out more inspiring liver recipes here.
Liver and pregnancy: Please note that chicken livers (and all liver) are very high in vitamin A. Pregnant women are advised to avoid liver because too much this vitamin can harm the baby. This only applies to pregnant women, though.
How To Cook Chicken Livers
Once you have prepared the chicken livers and marinated them for at least 15 minutes, you have a choice of cooking them in pieces or making small skewers or kebobs, which would be especially suitable for grilling outdoors. I actually made the skewers and pan-fried them over medium-high in a large skillet.
If you don't have the skewers, simply pan-fry or grill pieces of liver. The key with either is to cook the liver meat briefly, just long enough to brown on both sides. It should be soft and creamy on the inside.
The over-cooked liver will have a rather grainy, sandy-kind of texture and will be a bit tough. This is another reason some people don't like 'badly prepared' liver. So remember, cook on high heat until brown and crisp on the outside and cooked, but still a little pink in the middle!
For this meal, I also made some speedy caramelised balsamic onions and a side of sauteed rainbow chard. You can also serve a side of roasted potatoes, pumpkin, quinoa, rice or any other veggies.
Print
---
Description
Nutritious and tasty marinated chicken liver skewers served with balsamic onions and a side of chard. Quick, easy and a good way to try adding liver to your diet, especially if you need a boost of nutrients (B vitamins for energy, anyone?).
---
---
If making skewers, soak the bamboo skewers in water. 
Prepare the chicken livers.
Cut off any firm connective tissues from the chicken livers and cut them into 2-cm pieces. Combine the marinade in a bowl, add the livers and mix well together. Set aside for 15-20 minutes (longer is even better).
Prepare the onions.
Heat ghee or butter in a frying pan over medium heat. Add the onions and salt and cook for 7 minutes, stirring, until softened and golden brown. Drizzle balsamic vinegar, stir and cook for another minute until the onions are slightly caramelised and sticky. Remove to a bowl to keep warm. 
Cook the livers.
If making skewers, divide and pierce chicken livers onto skewers, about 4 pieces per each. I cooked these in a large frying pan but you can also heat up the grill. 

In a clean frying pan, heat a tablespoon of ghee or oil over high heat (or brush the grill). Add the skewers and cook over high heat for 3-4 minutes on each side, and for extra 30 seconds on the edges. 
Prepare chard.
While livers are frying, heat a medium pot over medium-high heat. Add the oil and the chopped chard. Cook for 3-4 minutes, stirring a few times. You can add a tablespoon or two of water to help it steam through. Season with salt and pepper to taste. 

Serve liver skewers with warm balsamic onions, chard and extra lemon wedges. Additional vegetables, roast spuds or a salad can be served with this dish. 
---
Notes
Liver and pregnancy: Please note that chicken livers (and all liver) are very high in vitamin A. Food Standards Authority advises pregnant women to avoid liver because too much this vitamin can harm the baby. This only applies to pregnant women, though.
Nutrition
Serving Size:

150 grams chicken liver

Calories:

329

Sugar:

3.9 g

Sodium:

542.8 mg

Fat:

20.4 g

Saturated Fat:

6.1 g

Trans Fat:

0.1 g

Carbohydrates:

9.1 g

Fiber:

1.1 g

Protein:

26.3 g

Cholesterol:

528.9 mg
More Offal Recipes
Save This Chicken Liver Recipe To Pinterest