This website may contain affiliate links and advertising so that we can provide recipes to you. Read my privacy policy.
Cajun Shrimp and Sausage Vegetable Skillet is the BEST 20 minute meal packed with awesome cajun flavor with shrimp, sausage, and summer veggies. This makes a great low carb meal and is also great for meal prep! 
Make this skillet in a variety of ways! If you love the mixture of cajun, shrimp and vegetables try this Cajun shrimp and sausage veggie skewers, cajun shrimp and sausage vegetable sheet pan or cajun shrimp and sausage vegetable foil packet.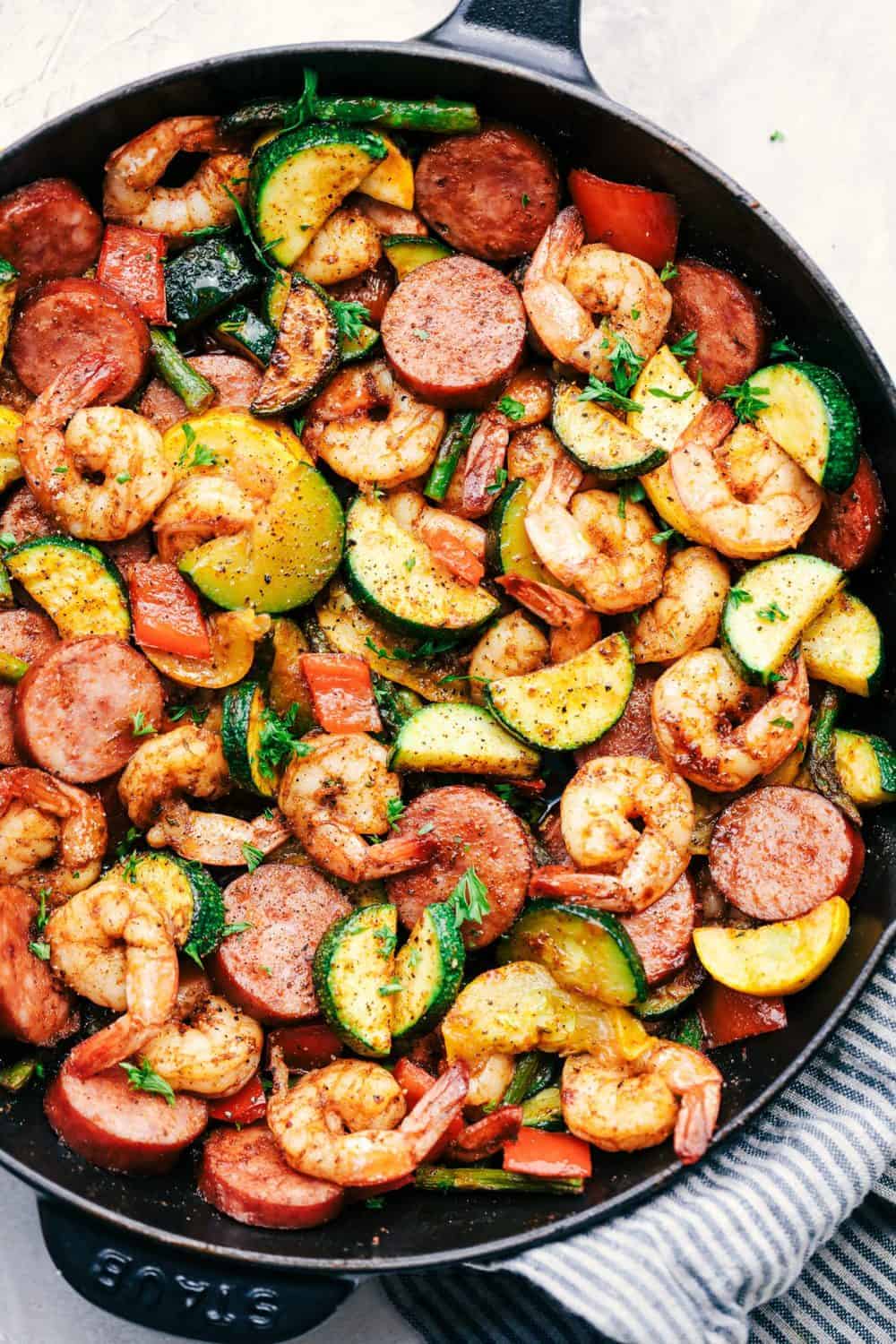 Cajun Shrimp and Sausage Vegetable Skillet
Summertime and getting into a swimsuit reminds me that I have got baby weight to lose.
Now that our sweet girl is six weeks old, I can focus on myself now. Working out and eating better to lose the extra pounds.
I was a lot more careful with this last pregnancy gaining weight, so I don't have a ton to lose. But I can't wait to start feeling better about myself and fitting in my pre-pregnancy jeans again.
I love creating easy meals that are healthy and full of flavor. Since I don't have a lot of time with a newborn, I love when I can create a meal that is ready in no time at all.
This one just happens to be ready in about 20 minutes! This is a great family meal, but I actually used it for meal prep.
It is delicious served over some brown rice, or quinoa and the cajun flavor is my favorite.
What you need to make cajun shrimp and sausage skillet
Shrimp and sausage go so well together!
You can use pork or chicken sausage in this and I love how delicious it makes this meal.
Cajun seasoning is one of my all time favorites and packs in delicious spices and a little bit of heat.
It is perfect for adding flavor to this quick and easy meal.
Large shrimp- large or jumbo is best. Tail on and frozen.
Sausage- either pork or chicken tastes best.
Zucchini- medium size
Yellow squash- medium size
Asparagus- bunch
Red bell pepper
Salt and pepper
Olive oil
Cajun seasoning

 
Shrimp: 
I prefer the larger of the shrimp so I have that added flavor and taste to go along with my fresh vegetables.
The most common types of shrimp found in markets are pink or white shrimp, both are great to use in this recipe.
Make sure to select a large shrimp, look for 16 to 20 count (or pieces) per pound. This will ensure that the shrimp does not overcook quickly when sauteed.
Large size shrimp also gives a nice two-bite piece for a heartier entree. Feel free to remove the tails to make it easier to eat.
Vegetables:
Garden fresh is the best way to make this skillet. It always tastes better fresh and you can't go wrong mixing zucchini and squash together.
Asparagus and bell peppers add that crunchy texture
Seasoning:
Cajun seasoning has become my go-to spice it up seasoning. I love the flavor and how much it adds to a simple, basic meal.
You go from normal to BAM in one second when adding cajun seasoning.
Not only does it add great flavoring but it also shows in your cooking and you can see the colorful changes in the skillet.
Cajun seasoning is made up of paprika, cayenne pepper, garlic powder, onion powder, seasoning salt, oregano, and thyme.
Add some kick and flavoring with this cajun seasoning.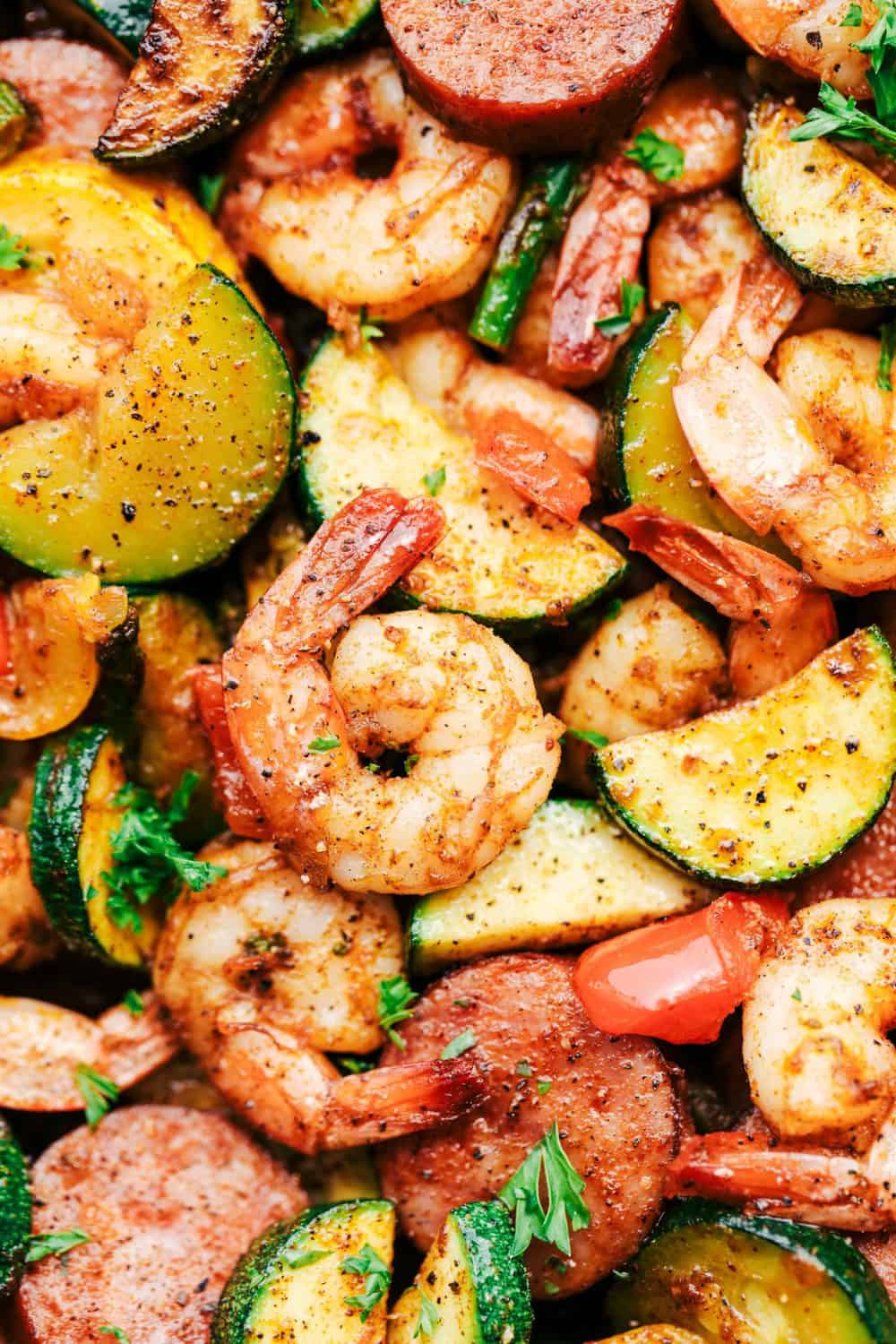 How do you make cajun shrimp and sausage skillet?
I included my favorite summer veggies.
Zucchini, yellow squash, asparagus, and red bell pepper.
It makes it a complete meal in one. This is the perfect flavorful meal and helps you stay on track.
It is such a delicious and easy low carb option and I don't get sick of eating it throughout the week!
If you are looking for a healthy and flavorful meal that is so incredibly easy, be sure to give this one a try!
Combine: Start by adding the shrimp, sausage, zucchini, yellow squash, asparagus, bell pepper and salt and pepper in a large bowl.
Add: Next, add olive oil and cajun seasoning and toss until coated.
Add: Then add step 1 and 2 to a large skillet and turn to medium high heat.
Cook for about 5-7 minutes until the shrimp is pink and the vegetables are tender.
Server Immediately: Garnish with fresh parsley if desired.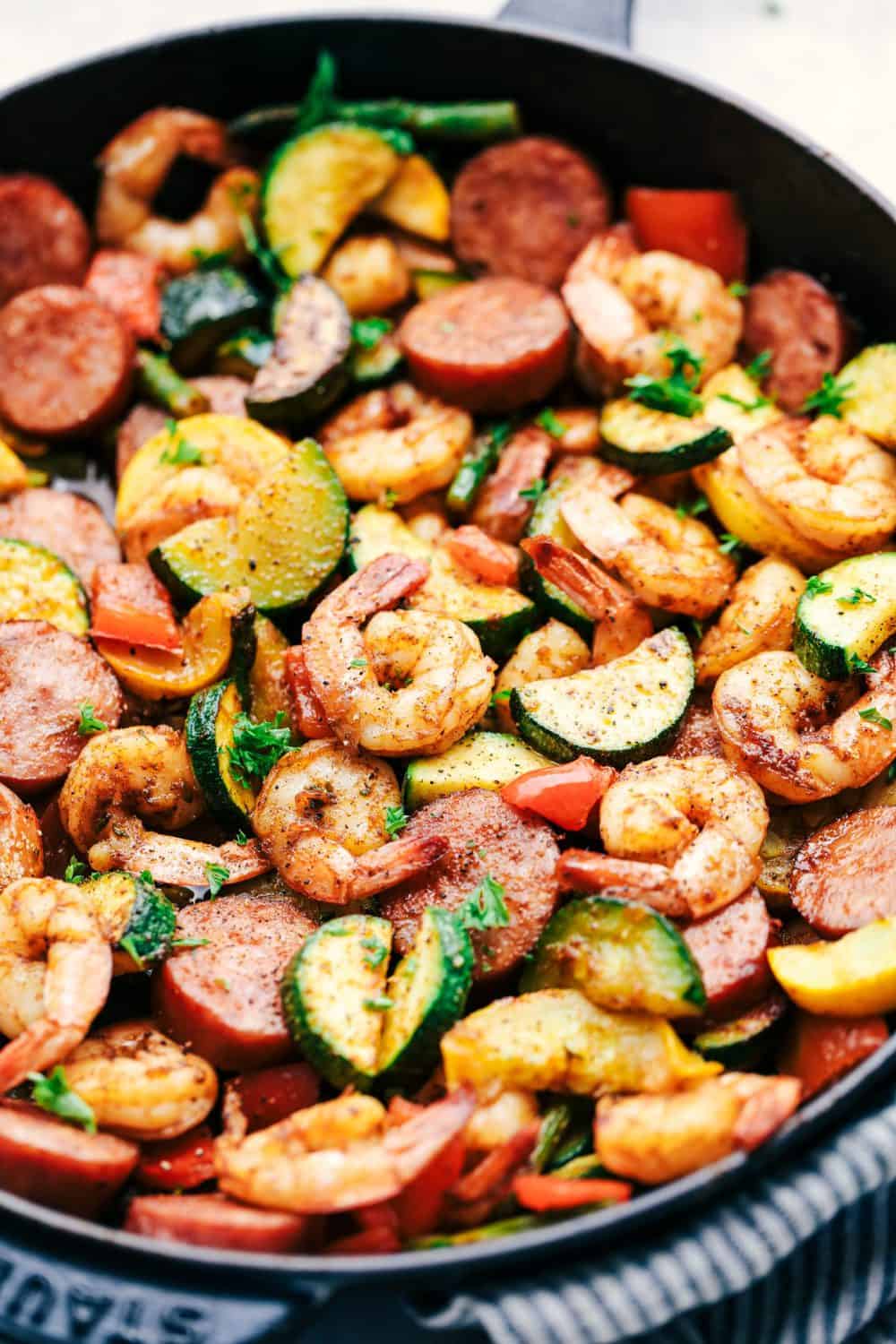 What to serve with cajun shrimp and sausage
Tips about sausage
This is a perfect 30 minute, one-pan meal! Even better, the clean up is a breeze! Less dishes to do equals more time with family around the dinner table!
Frozen shrimp can also be used, run them under cool water until the ice melts, or defrost them the night before and drain well.
If you are not a fan of shrimp or sausage. You can substitute it for chicken or tofu.
This is best served immediately after being made.
Are you a cajun fan?! Here are more cajun friendly meals: