This website may contain affiliate links and advertising so that we can provide recipes to you. Read my privacy policy.
Grilled Portobello Burgers are delicious, meaty and savory marinated portobello mushrooms, grilled to perfection and stacked in a soft toasted bun!  Quick and easy to grill, these mushrooms are so impressive and will become a new family favorite!
Portobello mushrooms are an amazing ingredient that will be the star of any recipe.  Try Grilled Honey Balsamic Portobello Mushrooms or Southwest Sausage and Egg Stuffed Portobello Mushroom for more of the intense portobello flavor created with simple to follow recipes.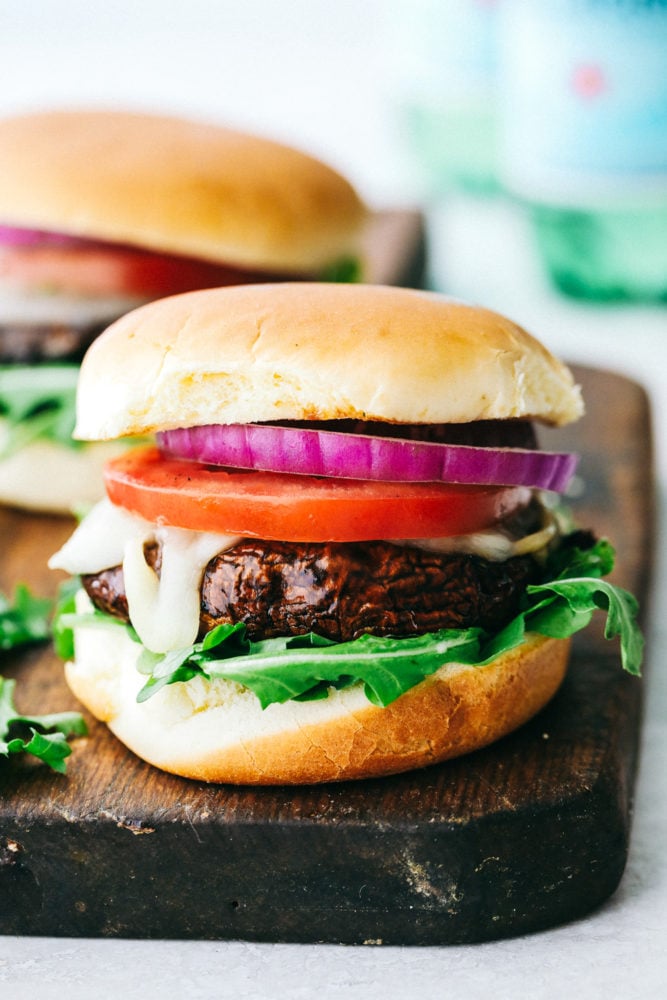 Grilled Portobello Burgers
Grilled Portobello Burgers are so satisfying!  They have all the delicious meaty texture you would expect from a burger plus the savory and tangy taste of the marinated mushroom is just right. After they soak in the marinade, the mushrooms are so tender and flavorful.  Layer them with cheese and extra veggies then top with a soft toasted bun for the perfect vegetarian burger!
Portobello mushrooms are super easy to grill because they grill so quickly!  In just 5 minutes per side, they make a quick and amazing dinner.  The flavor from the smoky grill enhances their incredible taste and makes them irresistible!  This recipe is a MUST try dinner your family will go crazy over.
Burger Ingredients:
These ingredients come together to make the most amazing savory marinade.  The flavors absorb all throughout this portobello burger making it juicy and tender.  It tastes so amazing and is an easy meal for your family to enjoy any night of the week!
Olive oil: Seeps into the skin and takes the marinade flavors into the mushroom as it sits.
Melted Butter: Rich flavor that soaks in with the marinade.
Garlic Cloves: Minced
Balsamic vinegar: An acidic ingredient that will help tenderize the portobello mushroom.
Soy sauce: Savory liquid flavoring in the marinade.
Honey: Adds a bit of sweetness to the marinade.
Salt and Pepper: To taste!
Hamburger Buns: Toast the bun for a couple of minutes on the grill to create the perfect texture.
Optional Toppings: Cheese, arugula, tomato, red onion, mayonnaise
Grilling Mushrooms:
Grilled portobello burgers are super easy to make!  Whisk together the marinade and in just 10 minutes you are ready to grill.  In less than 30 minutes you can have dinner on the table!  The simplicity of this recipe makes it perfect for a quick weeknight meal, but it is impressive enough to choose when entertaining too!
Whisk: In a small bowl whisk together olive oil, butter, garlic, soy sauce, sugar, and salt and pepper.
Prepare mushrooms: Prepare portobello mushrooms by gently removing stem from the mushrooms. Using a spoon scrape out the gills. Set the mushrooms in a 9×13 inch pan.
Marinate mushrooms: Add the marinade and soak for 10 minutes.
Grill: Preheat the grill to medium high heat. Place the mushrooms on the grilled grill each side for 5 minutes.
Serve: Remove from grill and put on a bun with favorite toppings.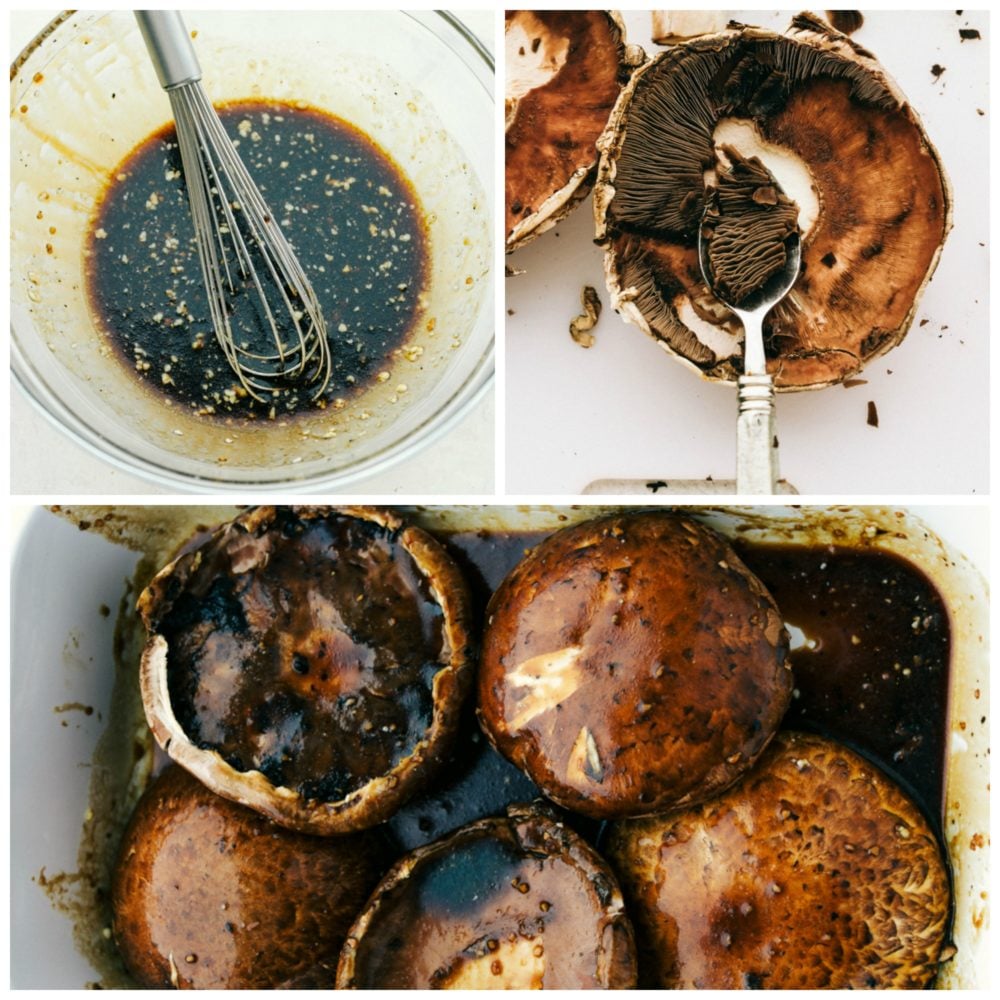 How to Serve Mushroom Burgers:
Grilled portobello mushroom burgers can be plated as a sandwich complete with bun and side.  In burger form, it makes the perfect vegetarian option at a cook out.  Or, put the marinated portobello on top of a regular ground beef burger for mega flavor!  Another great way to serve your grilled portobello mushroom is as a steak with no bun for a tasty low-carb and meatless version.
Great sides: Fries are a classic choice with any burger and this portobello burger is no exception! Garlic Sweet Potato fries are my favorite!
Toppings: Cheese, arugula, tomato, red onion, and mayonnaise are great toppings to start with!
Sauce: Spread pesto or garlic aioli all over your toasted bun or your make your favorite dipping sauce.
Cheese: Different types of cheese will give this burger a different personality. A sharp cheddar would be fantastic but really any melting cheese gives this burger the perfect ooey gooey element it needs.
Double stack: Double stack the mushrooms with an extra layer of cheese for a more hearty burger that will satisfy even the biggest appetite.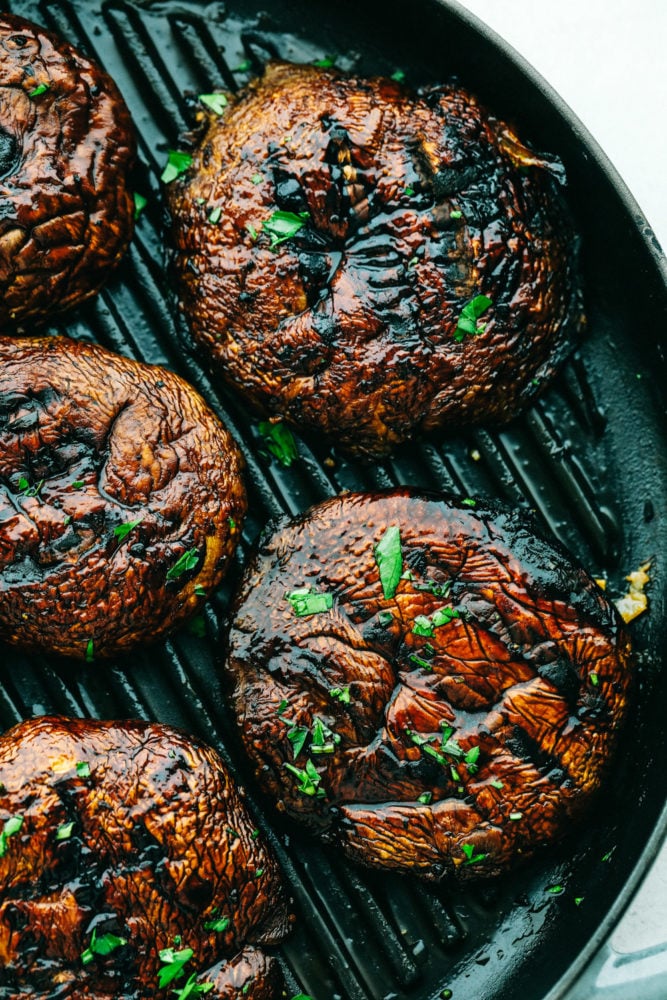 Storing Portobello Burgers:
This family favorite is easy to store for amazing leftovers!  Once the mushrooms have cooled completely store in an air tight container or resealable plastic bag within 2 hours.  They will be good for 3 to 5 days in the refrigerator.  If you don't plan to eat the leftovers right way, the best way to save these is in the freezer.  By storing them in the freezer, they are able to be used for up to a year!
To thaw: The best method of thawing is in the refrigerator overnight.  However, if you are in a rush you can thaw them in cold water or in the microwave.  If you thaw in the refrigerator you have 3 to 4 days to use them.  When doing a quick thaw use immediately and to not re-freeze.
More Mushroom Recipes to Try: