Learn how to make a simple, Healthy Tuna Salad with Sweet Potatoes, celery, peppers and mayonnaise dressing for a nutritious and balanced lunch, post-workout meal or as a quick make-ahead dinner. This tuna salad is paleo, Whole30, gluten-free, high in protein and fibre and low in carbs. 
---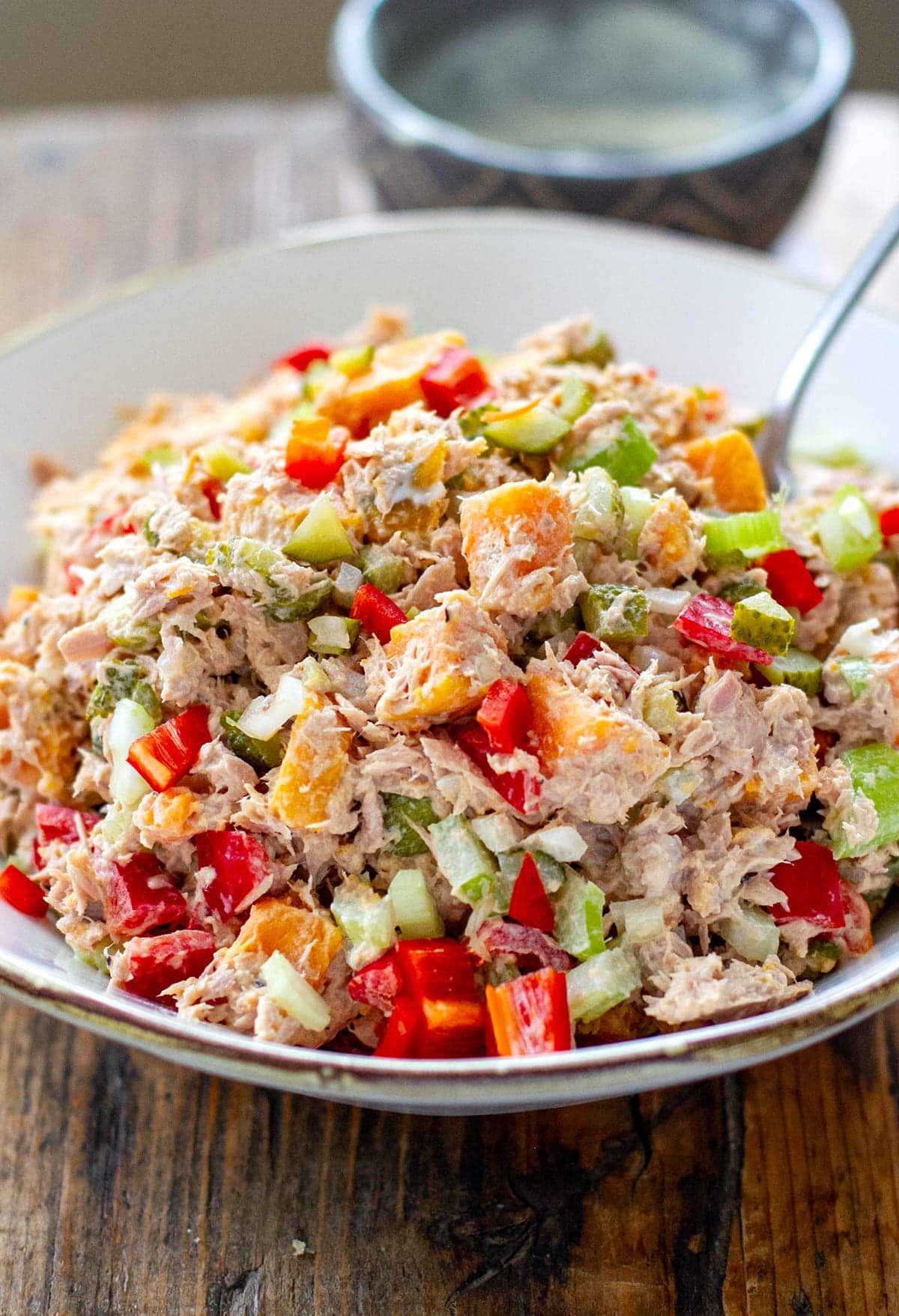 Why I Love This Tuna Salad
There are a few reasons why I often make this tuna and sweet potato salad.
It's a great make-ahead dish that you can do as part of your meal prep. It keeps well and you can store it portioned off in containers for quick and easy lunch. Plus, it only takes 30 minutes to make.
This salad has the perfect ratio of carbs, protein and fat to serve as a nourishing post-workout or pre-workout meal. I often have a big bowl of this tuna salad in the fridge and I will bring a small container to have after a workout, especially if dinner is still a few hours away. 
Sometimes, I have this ready ahead of time so that if I come home late after training, I will have a bigger portion for dinner. 
It's balanced in many essential nutrients and is paleo, Whole30, and gluten-free friendly. You can use olive oil or egg-free mayonnaise as well.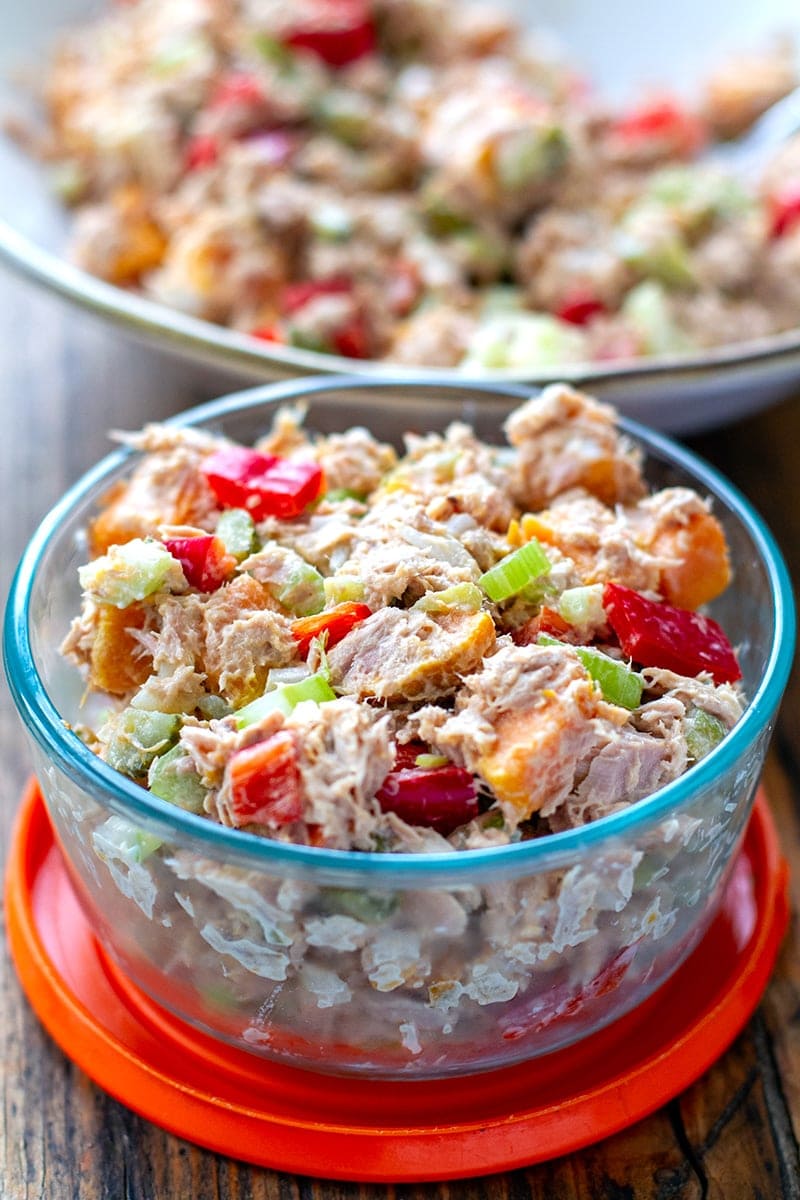 Tuna Salad Nutrition
As you can see from a nutritional breakdown in the recipe card below, this tuna salad is quite balanced when it comes to vitamins and minerals. You could add more pumpkin seeds for zinc and vitamin C; sesame seeds,  Greek Yoghurt or grated cheese for extra calcium; serve with a side of spinach for extra iron and folic acid (and also for calcium). 
Calories in this tuna salad come to about 430-440 per generous, filling serving, and you're looking at relatively low carbohydrates (especially given the fibre content) and lots of protein.
The ratio of carbs and protein in this dish is perfect for post-workout recovery, glycogen repletion and muscle building. Tuna itself is a great source of Omega-3 fatty acids, so this salad also has anti-inflammatory benefits (again, great for muscle recovery and for your brain health).
Salad Ingredients 
I like to use tinned tuna in brine and I always choose sustainably sourced brands. You can also use canned salmon or sardines for this recipe (even more nutritious!).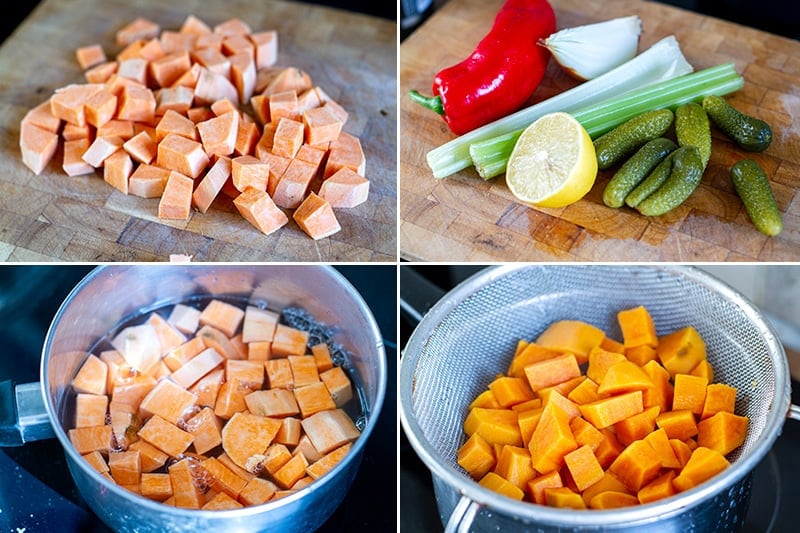 Many tuna mayo salads are made with pasta but I opted for much healthier sweet potatoes, which work really well here. The rest of the vegetables are up to you really. I like to add lots of crunchy and high-in-fibre veggies like celery, red peppers, cucumbers, carrots, radish and so on. You can use whatever you have on hand.
Crunchier vegetables will also keep their texture better if you're making this salad ahead of time. I would avoid tomatoes, avocadoes, or anything else that will go soggy or doesn't keep well.
The dressing is made with mayonnaise (use a Whole30 and paleo-friendly version if you need to), Dijon mustard and lemon juice. Super simple and really tasty!
How To Make Tuna Salad (Photos)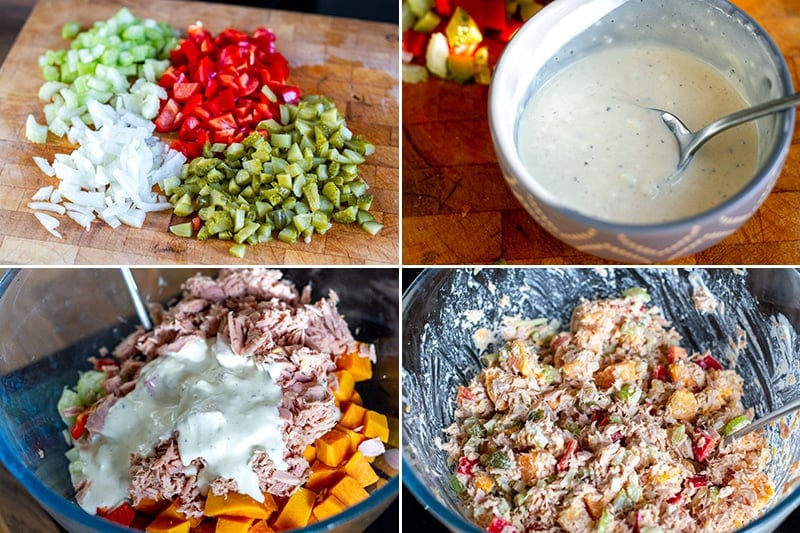 How Long Does Tuna Salad Last?
This cold tuna salad is a great make-ahead and meal prep dish. You can make a big batch and store it in a large Tupperware container or portioned off for lunches or post-workout meals (also good an hour or two before a workout). It should be good for 3 days in the fridge.
The recipe below is for two generous portions but could be divided into three, especially if you add a piece of fruit and some nuts or seeds to buff it out. If you want to make a larger batch, simply double the ingredients.
I hope you guys like this simple salad. Let me know in the comments if you make it and if you add your own spin on it.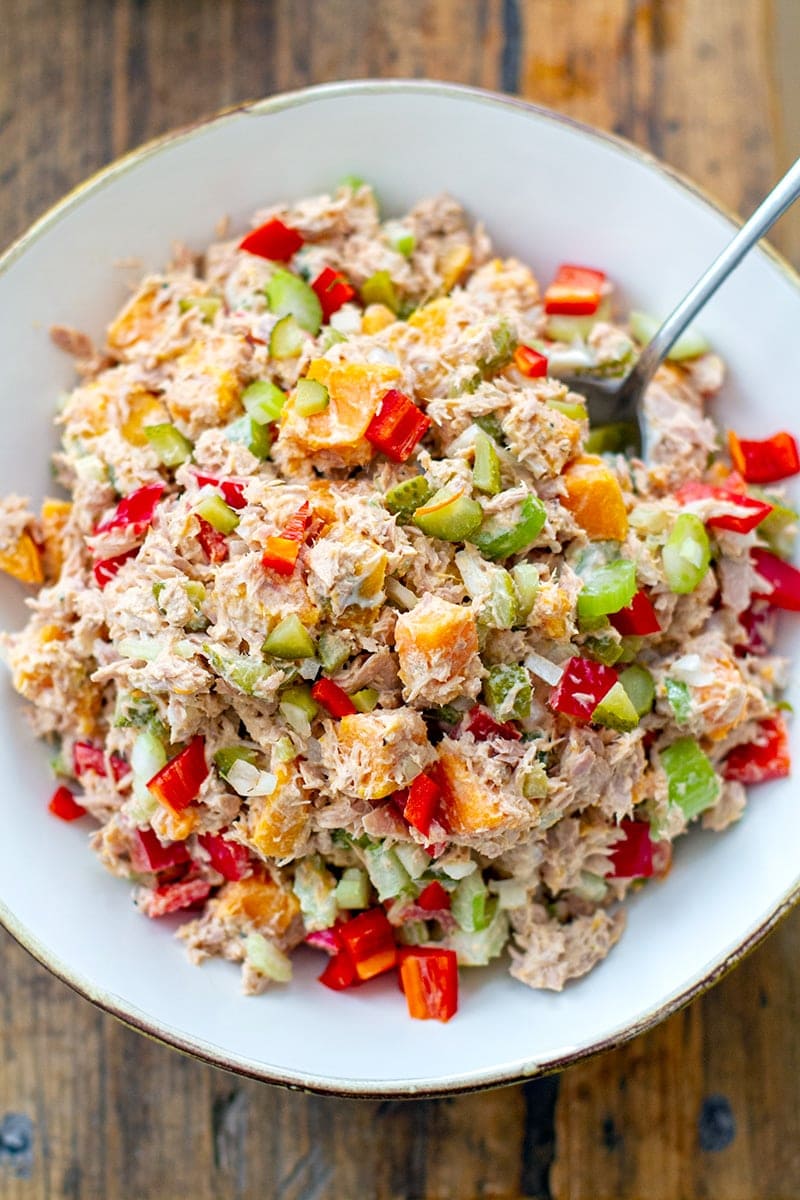 More Easy Healthy Lunch Salads
German Cabbage & Ham Salad
Apricot Chicken Salad With Curry Mayo Dressing
Sweet Potato Prosciutto & Rocket Salad
Kale Chicken & Apple Salad
Shaved Zucchini & Sardine Salad
Print
---
Description
This healthy tuna salad is made with sweet potatoes, red peppers, celery and pickles and dressing with mayo and mistard. It only takes 30 minutes and is a great make-ahead recipe that is paleo, gluten-free, Whole30, high in protein. Great for lunch, post-workout and for an easy dinner.
---
---
Add the sweet potato to a pot and cover with cold water, season with salt. Bring to a boil and cook for 10 minutes. Drain and rinse under cold water, allow to cool in the sieve.
Dice all remaining ingredients and whisk the dressing.
Combine cooled sweet potatoes, tuna, vegetables and dressing in a large bowl. Serve right away or store in a large Tupperware container or portioned off for lunches.
---
Nutrition
Serving Size:

1.5 cups

Calories:

427

Sugar:

6 g

Sodium:

1330.1 mg

Fat:

24.5 g

Saturated Fat:

4.2 g

Carbohydrates:

19.2 g

Fiber:

3.8 g

Protein:

30.6 g

Cholesterol:

62 mg
Save This Tuna Salad Recipe To Pinterest