I can eat these Baked Sweet Potatoes with Miso Butter and sesame seeds all day long. In fact, they are perfectly suited to any time of the day and you can serve them as a nutritious side dish, vegetarian main or bring a large platter of these guys to a festive table. They would work well as a healthier alternative to a sweet potato casserole for Thanksgiving or Christmas. 
---
Guys, let me tell you, these baked sweet potatoes are insanely good. Baked whole in the oven, they have that slightly crisp, chewy skin and soft, sweet flesh and the savoury miso butter, with all its umaminess, melts into the hot, starchy fibres adding just the right amount of salt to enhance the natural flavour of sweet potatoes.
In today's recipe, you will learn how to bake whole sweet potatoes and how to make delicious miso butter that will become your new favourite condiment. 
Nutrition In Sweet Potatoes
The reason I love this dish so much is not just the flavour and texture. Sweet potatoes are full of vitamins and antioxidants and I love them as a healthy source of carbohydrates and dietary fibre. Miso is made with fermented soybeans and is one of the healthiest legume-based foods, especially if you use unpasteurized stuff. And sesame seeds add calcium, minerals and extra fibre. 
Served with a side of greens (rocket or arugula salad in my case), these Japanese-inspired baked sweet potatoes are nutritious and satisfying. You can add a side of protein if you like.
Can You Eat Sweet Potato Skin?
Unlike white potatoes, which contain most of its toxins in the skin (read my post on white potatoes here), sweet potato skin is fairly harmless and in fact,  eating the skin will add more nutrition such as fibre and potassium.
Make sure to wash the sweet potatoes well and cut away any obviously damaged skin. I really like the texture of the baked sweet potato skin as its chewiness contrasts the softness of the inner flesh.
What Type Of Sweet Potatoes To Use
I actually wanted to use Japanese sweet potatoes for this recipe (the ones with more purple skin and white flesh) but I only had the orange ones on hand. You can use any type of sweet potato (or kumara) and this miso butter would also go well with baked pumpkin or squash.
I wanted to bake the potatoes whole, so I chose small and medium-sized spuds so that I could have one per serving. Larger sweet potatoes will take much longer to cook but you could cut them in halves before popping them in the oven.
I used 200-250g of sweet potatoes (that's 0.5 lb or so). They will shrink in size slightly while baking.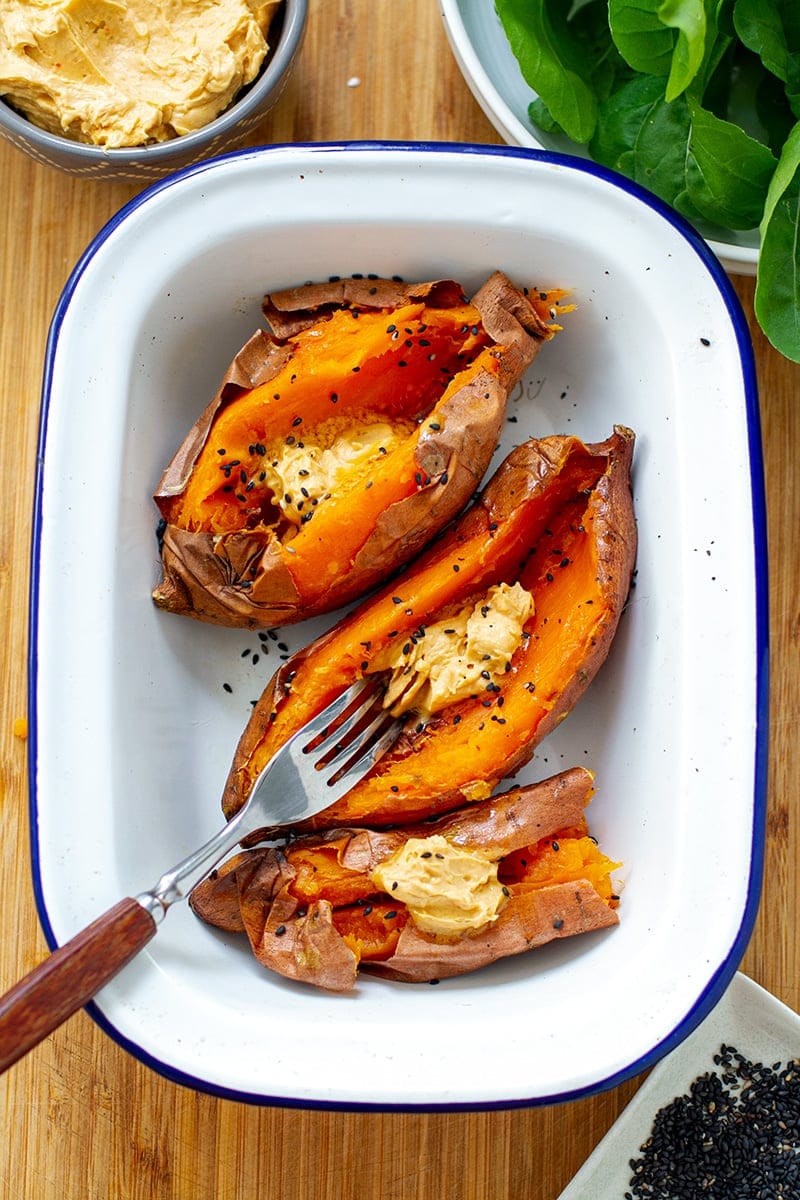 How To Bake Sweet Potatoes
This is the easiest thing ever!
Preheat the oven to 200 C / 400 F. Wash and pat dry the potatoes and place them in a lightly greased oven tray or dish.
For medium-sized sweet potatoes (200-250g each), bake for 30 minutes. They will shrink and collapse in places and you can poke them with a knife to check how soft they are.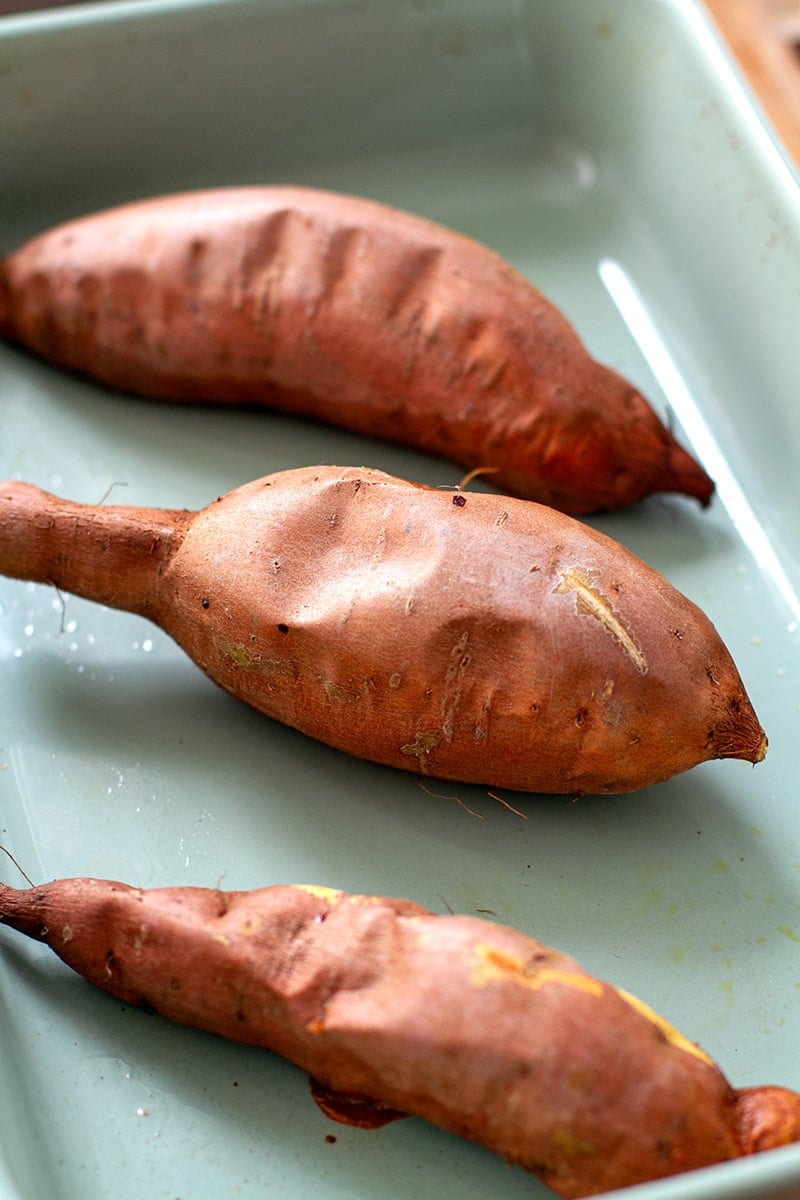 Once cooked, keep the sweet potatoes whole and warm until you're ready to serve. Simply cut them in the middle and add seasoning or toppings, such as miso butter and sesame seeds in our case. If you want to make these ahead of time, you can keep them whole in the fridge and reheat them before cutting in halves.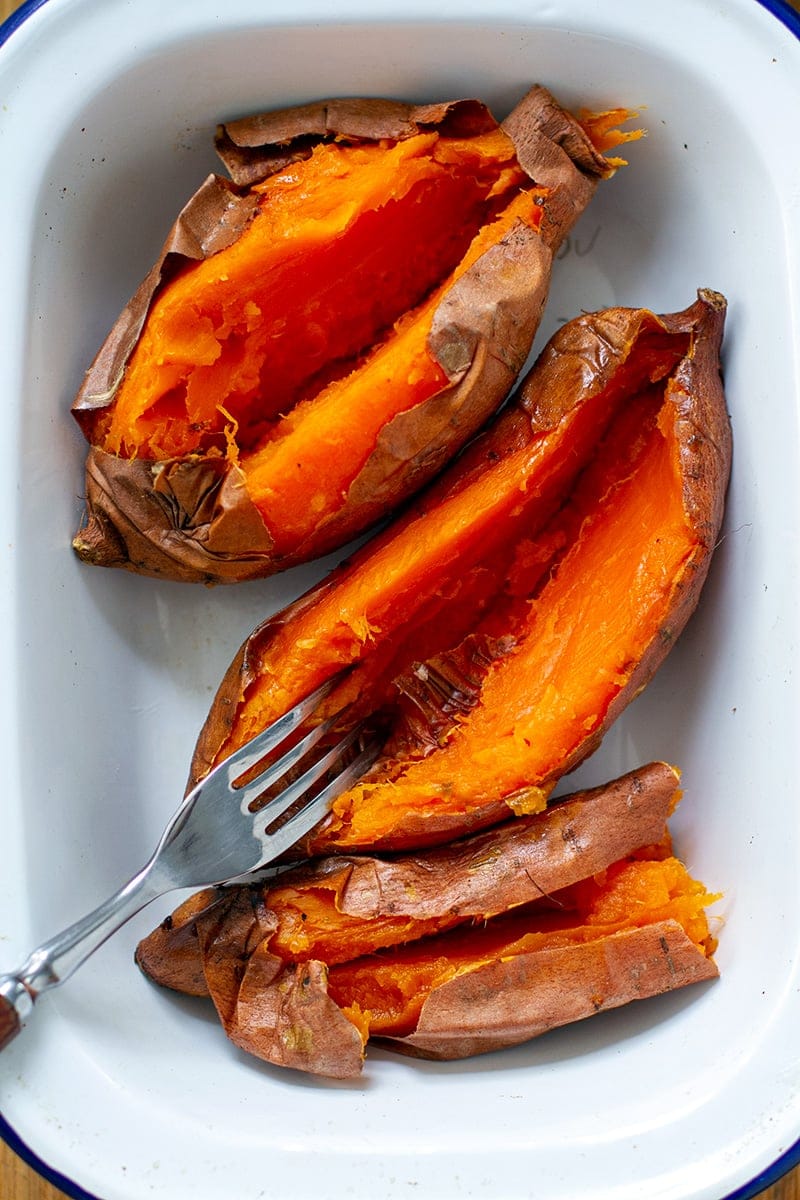 How To Make Miso Butter
I have a full recipe post dedicated to miso butter (because it's A-MAZING!) but in a nutshell, it's a mixture of softened butter blended with miso paste (I used brown miso), a little garlic and Sriracha hot sauce.
The recipe below makes a larger batch of this butter and you can store it in the fridge for a few weeks or freeze it for months. Seriously, read my miso butter post as I talk about all the different ways you can use it. 
If you want to make a smaller batch, simply half the ingredients. You can omit the garlic and chilli if you have difficulties digesting those. The butter doesn't take too long to make and can be done while sweet potatoes are baking or ahead of time. 
You can find more info on miso and its nutritional profile here.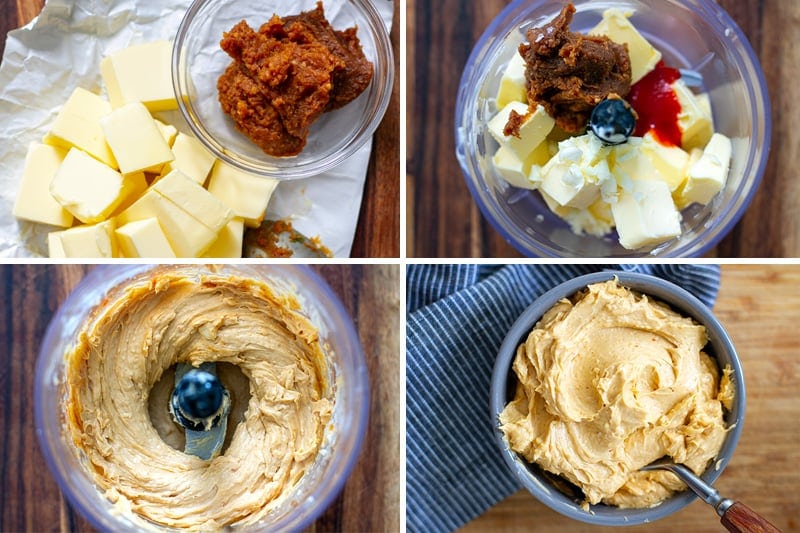 Awwww, look at these gorgeous sweet potatoes with the miso butter melted into them. Don't you want to have a bite?
By the way, you can use black or white sesame seeds and if you don't have those, feel free to top with chia seeds, pumpkin seeds, sunflower seeds or hemp seeds for extra crunch. Or go without. 
What To Serve With Baked Sweet Potatoes
Here are just a few suggestions on what you can serve these potatoes with.
For a plant-based, vegegetarin dinner or lunch, you can simply make a side of green veggies or a salad. I find these potatoes quite satiating so I was pretty happy with no added protein but you could serve them with a little grilled chicken, fish, quinoa, halloumi or chickpeas if you have no issues digesting those.
I reheated the leftover sweet potato in the morning and served it with a fried egg on top. Winning breakfast! You could also have leftovers as a pre-workout snack or lunch. 
I am thinking of making a large tray of these baked sweet potatoes with miso butter for our potluck Thanksgiving dinner this year. Sweet potato casserole or bake is always a staple but why not make something a little different and healthier.
Whichever way you serve these, I promise that you will love this dish! Let me know in the comments what you think.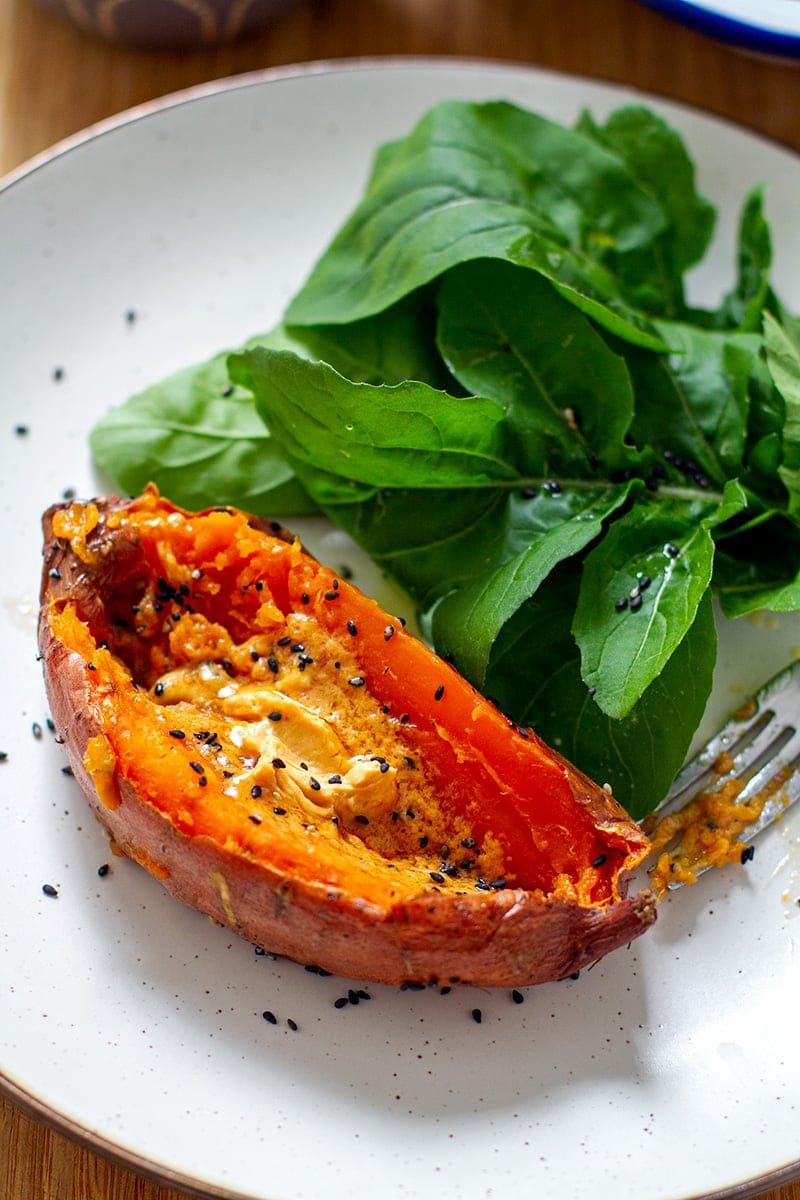 More Sweet Potato Recipes
Baked Sweet Potato Chips
Roasted Sweet Potatoes With Walnut Garlic Parsley Crumbs
Spiced Cauliflower & Sweet Potato Mash
Kimchi Sweet Potato Fries (Paleo, GF, Vegetarian)
Sweet Potato Brownies(GF, Paleo)
Print
---
Description
These incredible baked sweet potatoes with miso butter and sesame seeds are perfect as a main or a side dish. It's a Japanese fusion dish that is nutritious, tasty and family-friendly.
---
For miso butter (see notes)
---
Preheat the oven to 200 C / 400 F. Lightly grease an oven tray or dish with a little coconut oil or olive oil.
Wash and pat dry the whole sweet potatoes and cut away any damaged bits. Place on the tray and pop in the hot oven for about 30 minutes. They will shrink and collapse a little and some juice might escape and caramelise underneath. Use a knife to poke the potatoes to make sure they are soft inside.
While the sweet potatoes are baking (or ahead of time), make the miso butter. Place softened (but not melted) butter, miso, garlic and hot sauce in a food processor and whiz together until well blended and whipped. Transfer to a bowl. Don't forget to taste some!
Serve the hot, baked sweet potatoes cut on one side with about a tablespoon of miso butter melted on top. Sprinkle with sesame seeds if using and make a simple salad with a drizzle of olive oil and lemon juice.
---
Notes
Sweet potatoes. I like to pick slightly smaller ones so it's one potato per serving. They should be about 200-250 g / 0.5 lb each. If using larger sweet potatoes, cut them in halves.
Miso. You can use brown or white miso, but ideally it should be unpastaurised stuff you find in the refrigerated section of the store. If you can't find fresh miso, use the paste from a packet instead.
Miso butter. The ingredients are for a larger batch of miso butter. You can half them to make a smaller amount or store leftovers in the fridge in an airtight container. You can wrap leftovers in some parchment paper – see this post – to freeze leftovers for later. Miso butter goes with steamed veggies, grilled fish or meat, and you can use it to sautee mushrooms and cook scrambled eggs in. It's also a great dish with radishes.
Nutrition
Serving Size:

1 sweet potato + 1 tablespoon miso butter + 1 cup arugula salad with olive oil & lemon drizzle

Calories:

279

Sugar:

6 g

Sodium:

79 mg

Fat:

17.6 g

Saturated Fat:

8 g

Carbohydrates:

28.7 g

Fiber:

4.8 g

Protein:

3.7 g

Cholesterol:

30.5 mg
Keywords: Miso, Sweet Potato Recipes, Butter, Roast Vegetables, Vegetarian, Gluten-Free
Save This Sweet Potato Recipe To Pinterest