This website may contain affiliate links and advertising so that we can provide recipes to you. Read my privacy policy.
The Best Southwest Chicken Egg Rolls are a colorful combination of golden corn, black beans, red bell peppers, jalapeños, shredded cheese and tender bites of chicken with a sweet and spicy southwest seasoning all wrapped up in an egg roll wrapper. These won't last long at your next party!
Simple and flavorful appetizers that can be made into snacks or a main dish is the perfect food recipe I love. Try this Shrimp Spring Rolls, Asian Turkey Lettuce Wrap or The Best Avocado Egg Rolls (cheesecake Factory Copycat) for more delicious appetizers that can be made into a main dish.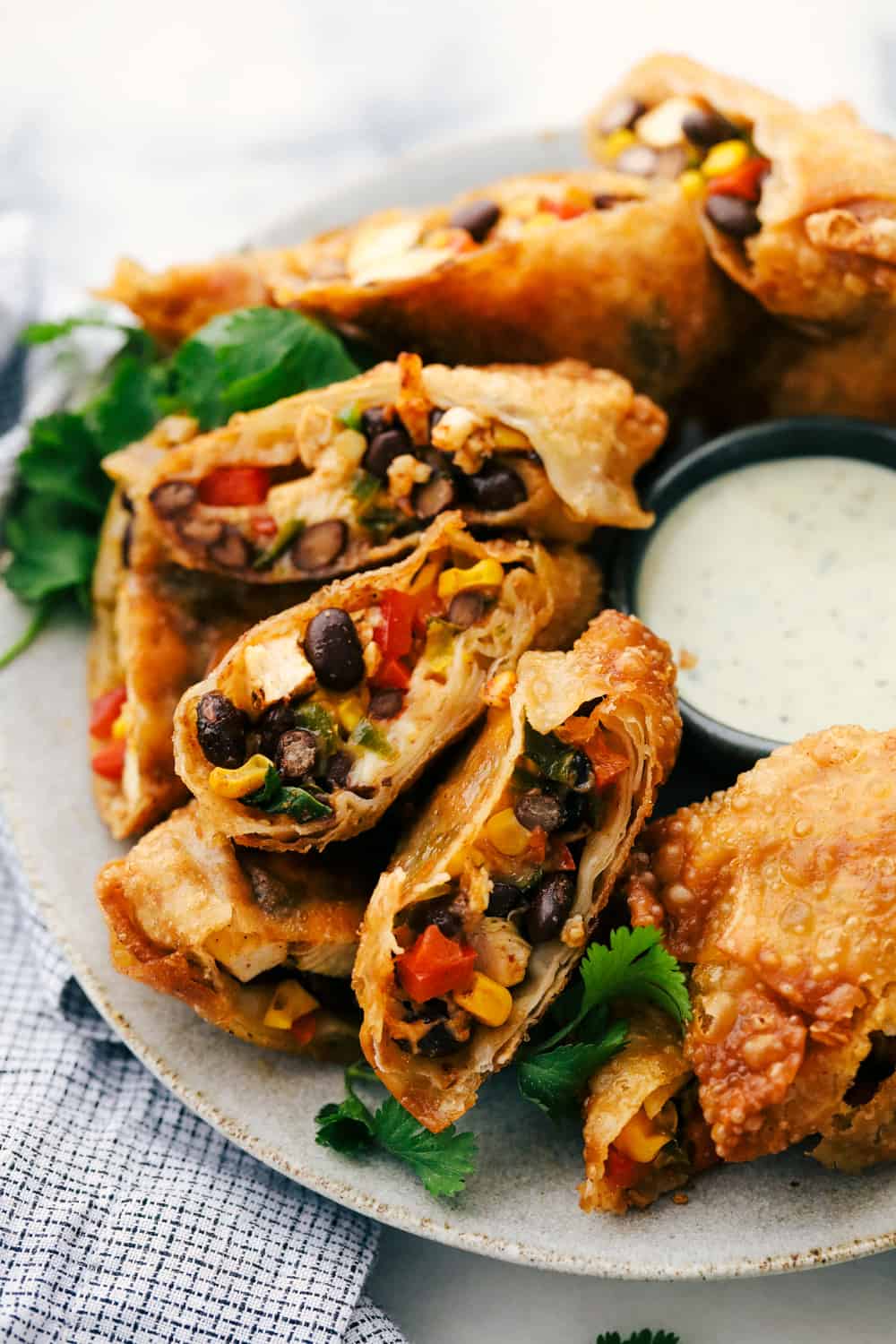 The Best Southwest Chicken Egg Rolls
These southwest chicken egg rolls are truly THE BEST! Every bite is filled with fresh vegetables that are covered in an AMAZING blend of seasoning that pops and has SO much flavor. It is a total party in your mouth! With a crunchy outside and a sweet and spicy vegetable filling inside these chicken egg rolls are sure to please everyone at your next party.
Southwest chicken egg rolls are so simple to make and taste delicious. These are perfect for a quick snack or appetizer during game night. We love to enjoy these with friends and family during our parties. These are the perfect appetizers that are filling and delicious with loads of flavor in every roll. Cut them diagonally in half and serve with ranch, Cilantro Ranch dressing or just as. Enjoy these egg rolls as soon as you can!
What you need to make Southwest Chicken Egg Rolls:
You can't go wrong with this southwest chicken egg roll appetizer. It is one of my favorites and has loads of flavor. The filling is consisted of vegetables, a little spice from a jalapeño, throw in some green spinach and mix together a tasty seasoning topped with some monetary cheese. It is that simple and only takes minutes to combine. This spicy, southwest feel will be everything you ever wanted and more. You won't be able to stop after eating just one egg roll.
Chicken

 

Black Beans
Corn
Red Bell Peppers
Green Onions
Jalapenos

 

Spinach
Chili Powder
Cumin
Garlic Powder

 

Salt

 

Pepper
Monterey Cheese
Oil for Fryer
Egg Roll Wrappers
Cilantro Ranch Dressing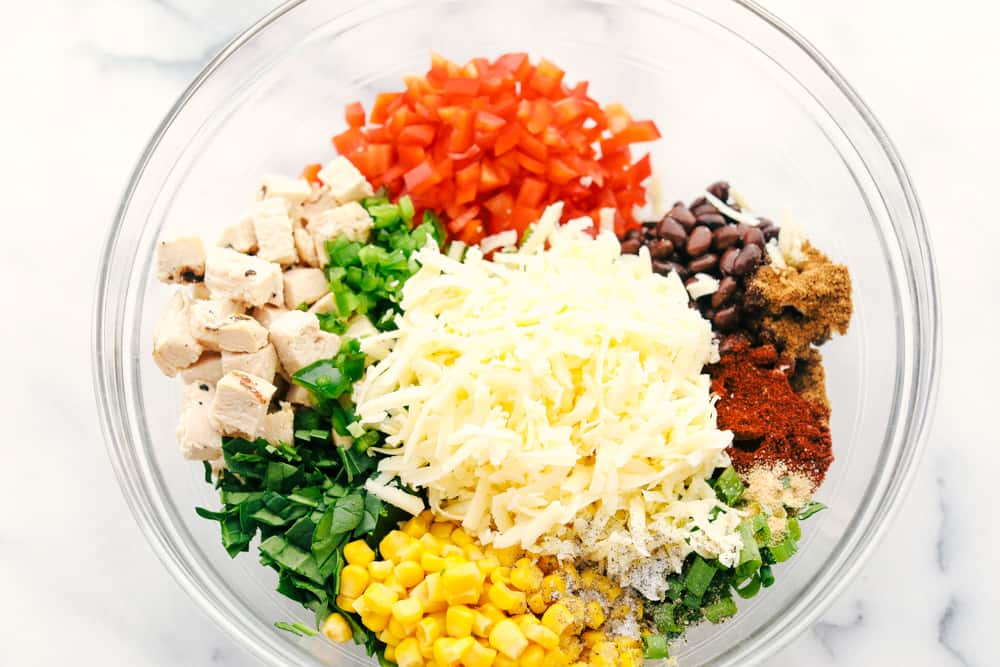 How to Make the Best Egg Rolls:
Combine filling ingredients: In a medium sized mixing bowl combine the chicken, black beans, corn, red bell pepper, green onions, jalapeño, and spinach. Add the chili powder powder, cumins garlic, salt, pepper and Monterey cheese. Mix until incorporated.
Fill the egg roll wrapper: Place an egg roll wrapper on a clean surface so that it is a diamond. Spoon about two tablespoons of the mixture into the center. Wet the sides of the wrapper with a little bit of water. Fold up the bottom half and then tightly fold in the sides and roll up. Repeat until you have used all of the egg roll wrappers.
Fry the egg rolls: In a large skillet add the oil until it is about an inch up the side of the pan and heat to medium high. Add the egg rolls and fry for about 1-2 minutes and then flip and cook until they are golden brown. Serve with favorite dipping sauce.
How Do You Roll an Egg Roll?
Lay the egg roll wrapper in a diamond shape.
Spoon about 2 tablespoons of the filling ingredients onto the center part of the diamond shape egg roll wrapper.
Wet the sides of the wrapper with a little bit of water.
Take the bottom corner and fold it halfway on the diamond. Then tightly fold in the sides and roll up carefully.
Continue to repeat this process until the mixture is gone or the egg roll wrapper are gone.
Variations of Southwest Chicken Egg Rolls:
Cheese: Add in a Mexican blend of cheese or a jalapeño cheese for more spice.
Fruit: Avocado or tomatoes chopped up add a sweet and fresh taste.
Vegetables: Try more colors of bell peppers, chopped onions, peas or mushrooms.
Seasoning: Mix up the seasoning with a little more heat from red pepper flakes and cayenne pepper or cajun seasoning or cool it down with more garlic seasonings.
Tips for making Southwest Chicken Egg Rolls:
Egg wash: For a crispy egg roll add an egg wash to the tips of the wrap and/or to the outside of the egg roll wrapper.
Cover your egg rolls: Keep your egg rolls covered while you are rolling them so they don't dry out.
Cooking the egg rolls: Try not to fill your pan with too many egg rolls. They will become crowded and stick together. This will decrease the temperature and won't let them cook evenly.
Cooling the egg rolls: Once fried, place the egg rolls on a cooling rack with a paper towel or plate under neath to catch any of the oil that drips off the egg rolls. Putting them directly on a paper towel will create too much steam and become soggy sitting there.
Bite Size egg rolls: Use a wonton wrapper with 1 tablespoon of fillings and wrap the same.
How to Store Southwest Chicken Egg Rolls:
Refrigerate: Store in an airtight container or ziplock bag in the refrigerator for 3 to 4 days long.
Can you freeze Southwest Chicken Egg Rolls? These are great to freeze after being made. Store in an air-tight container or ziplock baggie. Straight from the freezer to the microwave or oven to warm them up. They will last in the freezer up to 3 months. You do not need to thaw them or place in the refrigerator to thaw once frozen.
Warming Up: I prefer to warm up in the oven at 350*F for about 10 to 15 minuets or until they are warmed through. You can also warm them up 1 to 2 minutes at a time in the microwave. Flipping them in between making sure they don't get soggy.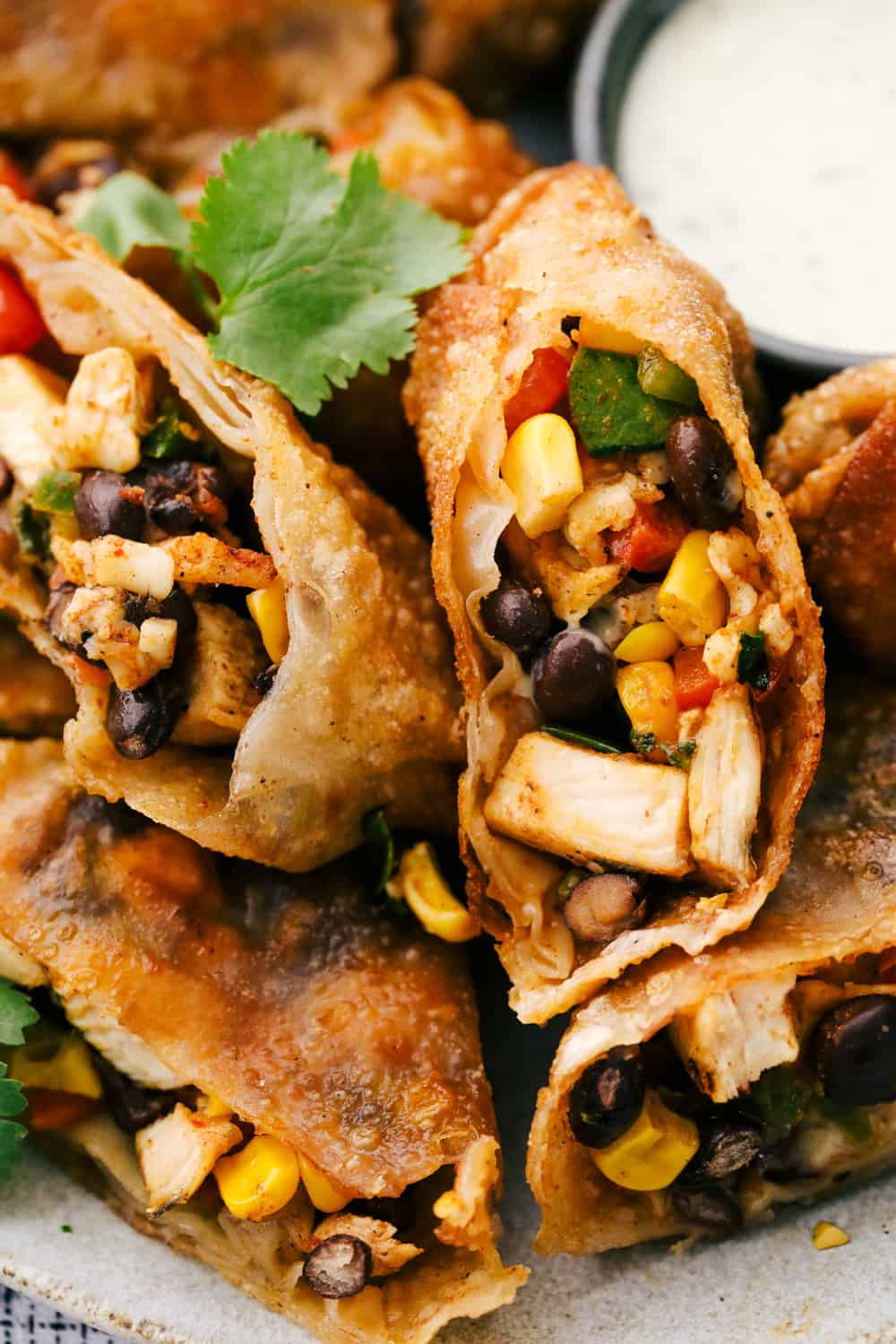 More Delicious Appetizer Recipes: