This website may contain affiliate links and advertising so that we can provide recipes to you. Read my privacy policy.
Baked Chicken Thighs are tender, juicy chicken thighs baked in an AMAZING glaze mixture of Italian seasoning, Dijon mustard, sweet honey a pinch of spice and garlic cloves. This is a MUST make family meal!
Chicken thighs have so much tender, juicy meat on them! If you love chicken thighs as much as I do try this Slow Cooker Lemon Garlic Chicken Thighs and Veggie, Lemon Garlic Butter Herb Chicken with Asparagus or Roasted Honey Garlic Butter Chicken.

Baked Chicken Thighs with the Most Amazing Glaze
This is it! This is the recipe that is a staple in our home. It is simple to make, easy to whisk together and has the BEST results! Baked chicken thighs are more than AMAZING. It is all you wanted and more! Crispy, brown chicken skin on the outside then amazingly tender and juicy on the inside. Every bite of these baked chicken thighs is melt in your mouth worthy! It is one of our favorites as a family. Seriously, this bake chicken thigh recipe is a MUST make for sure!
What makes Chicken Thighs So Delicious?
Chicken thighs are mostly made up of dark meat. Dark meat is known to be lean when compared to other cuts of chicken. Compared to chicken breasts, chicken thighs are usually more moist and flavorful. One of my favorite cuts of meat are Chicken thighs when baking chicken. It is very similar to chicken breasts that you can easily create and make more recipes by tenderizing the thighs using special rubs or marinades for variations of flavors and meals.
When comparing chicken thighs to chicken breasts, chicken breasts are made up of mostly white meat which is a little tougher and can dry out quicker when cooking if overcooked. Chicken thighs have a rich, enhanced flavor to them since they have a higher fat content compared to chicken breasts. This is why it tastes juicier and more tender when baked. Chicken thighs are similar to chicken breasts but maintain the flavorful and deliciousness from the dark meat.
What you Need to Make Baked Chicken Thighs:
Chicken thighs are so flavorful and delicious this baked chicken thigh recipe is going to melt in your mouth it is so good! For the juiciest, tender chicken thighs, it is best to purchase bone in with skin on chicken thighs. This baked chicken thigh recipe is so simple to make with very few ingredients. You will be making this easy baked chicken thigh recipe over and over again!
Bone in Chicken Thighs
Salt and Pepper
Butter
Italian Seasoning

 

Honey
Dijon Mustard
Paprika
Garlic Cloves
How to Bake Chicken Thighs:
Juicy and tender chicken thigh meat is the best dinner choice during the week. No prepping the chicken thighs, just simply lay flat in a baking dish and add salt and pepper to taste. It is quick and easy to whisk the ingredients together and spread over the chicken thighs. With this baked chicken recipe the skin is going to turn a golden brown and become crispy while baking the chicken thigh meat inside to a tender and juicy meat. It is an AMAZING combination that you are going to love!
Prepare chicken: Preheat oven to 400 degrees Fahrenheit. Place the chicken in a single layer in a 9×13 inch baking dish. Salt and pepper.
Whisk together: In small bowl whisk together the butter, Italian seasoning, honey, Dijon mustard, paprika, and garlic cloves.
Combine and bake: Spread the mixture evenly over the chicken and bake for 35-40 minutes or until chicken reaches an internal temperature of 165 degrees Fahrenheit and is browned on the tops.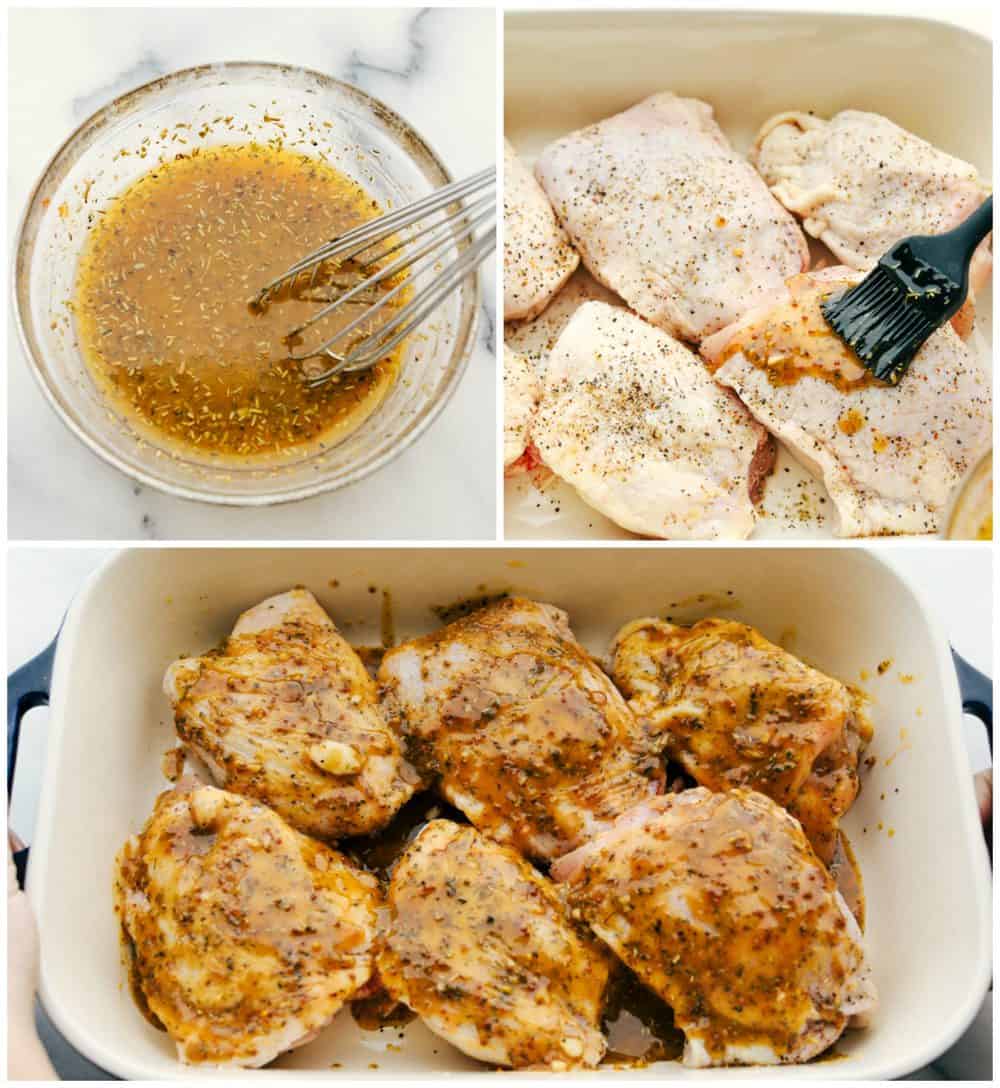 How Long to Bake Chicken Thighs:
The higher the temperature when baking chicken thighs creates that golden brown outer skin that protects the dark meat from over cooking and tenderizes the inside making it even more flavorful and tender. I like to bake chicken thighs at 400 degrees Fahrenheit for 35 to 40 minutes long. Checking baked chicken thighs with a meat thermometer gives the best reading to find out if the chicken thighs have reached an internal temperature of 165 degrees Fahrenheit.
Baking Chicken Thighs at: 
350°F – 50-55 minutes
375°F – 45-50 minutes
400°F – 40-45 minutes
425°F – 35-40 minutes
Variations of Baked Chicken Thighs:
Baked chicken thighs are so simple to make and can be made several different ways. Once you learn how to bake chicken thighs and feel comfortable with how they cook it is always fun to try new flavors for different tastes. It is fun to modify recipes and add in favorite ingredients that still make for an AMAZINGLY delicious chicken thigh recipe. Try different seasonings, marinade or sauces to mix together and spread over the chicken thighs. Take this easy baked chicken thigh recipe to the next level by adding and substituting ingredients for more delicious recipes!
Tips for Making Baked Chicken Thighs:
Chicken breast: If you prefer chicken breast instead chicken thighs you can substitute the chicken breast. Chicken breast tend to dry out quicker compared to chicken thighs. You will want to cook at 375 degree Fahrenheit for about 25 to 30 minutes checking it with a meat thermometer.
Choosing chicken thighs: It is best to find chicken thighs that are all the same size and shape. This will help the chicken when it is being to cook evenly.
Preparing chicken thighs: Before placing the chicken thighs in the baking dish pat them dry with a paper towel before adding the salt and pepper.
Meat thermometer: Using a meat thermometer is best to make sure that your chicken meat reaches 165 degrees Fahrenheit.
Cooking on the Stove top: Cook your chicken thighs over medium heat in a skillet. Crisping the outside until it is a dark golden brown.
Left overs: This baked chicken thigh recipe is perfect for left overs and making more meals out of it. The chicken thigh meat can be shredded and used for sandwiches, salads or baking into soups or casseroles.
Additional FAQ about Baked Chicken Thighs:
Should I cover my chicken thighs when baking? There is no need to cover your chicken thighs while baking. This will ensure the crispy outer layer on the chicken thighs turns a golden brown and cooks up quickly.
What temperature should chicken thighs be cooked? It is best to have a higher temperature cooking setting to crisp up the outside of the chicken thigh and tenderize the inside making it so delicious and juicy.
Do you put water in the pan when baking chicken? No, there is no need to add any water to the baking dish. The glaze that is whisked together is AMAZING and will bake perfectly in this baked chicken thigh recipe.
Should I trim my chicken thighs? Another great thing about chicken thighs is there is less preparation when using them. They do not need to be trimmed. Simply add them to the baking dish with the glaze over top of it.
Why are my chicken thighs tough? Normally chicken thighs do not come out tough unless they are overcooked in the oven.
What Goes with Baked Chicken Thighs:
Make this a complete meal with all the sides to go along with it. This is the perfect chicken thigh recipe to add in your favorite side dishes.
Here are a few of our favorite sides to add more to your plate:

How to Store Baked Chicken Thighs:
Baked chicken thighs are so simple to make and in less than an hour you have a delicious meal with tender chicken to enjoy with your family. This chicken thigh recipe is perfect for preparing ahead of time and making it easier during the busy week ahead.
Can you make the glaze ahead of time? Yes! Prepare the glaze about 3 days ahead of time before it needs to be baked with the chicken thighs.
How do you store chicken thighs in the refrigerator? Let your chicken thighs completely cool before adding them to an airtight container or ziplock bag. Try not to stack them over top of each other. It is best if they are laying flat, side by side. They will store in the refrigerator for up to 5 days.
Can you freeze baked chicken thighs? Yes, it is best to freeze the chicken thighs in a flat layer in a ziplock bag with the air completley removed. Properly stored when laying flat and freeze for up to 3 months. When ready to bake or reheat, let thaw in the refrigerator over night.
How do you warm up chicken thighs? It is best to let your chicken thaw before cooking or reheating again. Once your chicken thighs are thawed from the refrigerator place on a baking sheet and bake at 400 degrees Fahrenheit for 20 to 25 minutes or until the meat thermometer reaches 165 degrees Fahrenheit. It is best to only reheat chicken one time.
More Amazing Chicken Recipes: