This website may contain affiliate links and advertising so that we can provide recipes to you. Read my privacy policy.
Grilled zucchini is the perfect healthy summer side dish. The slices of squash are tossed in savory seasonings, then cooked until tender. It is so savory and delicious and goes with just about everything!
If you have a lot of zucchini that you need to use from your garden then you must try these other tasty zucchini recipes to enjoy the vegetable all summer long. This Zucchini Pizza, these delicious Zucchini Chips, and these Baked Zucchini Fries are some of my favorites!
Grilled Zucchini
If you're looking for a fast and healthy side dish that's low carb and delicious, this grilled zucchini is a tasty option. Squash is available year-round and cooks in under 10 minutes on the grill. Simply toss in your favorite seasonings, and cook until gorgeous charred marks appear on each side. I like to serve this with The BEST Homemade Smash Burgers for the ultimate meal.
Not only does this grilled zucchini taste absolutely delicious, but it's so easy to make, and it's ready in no time. It's definitely one that you must try out on your grill because the charred grill marks not only make it look delicious, but they add to the overall flavor and texture of the finished product. Have a BBQ and make sure to serve this delicious side that everyone will love!
Ingredients to Make Grilled Zucchini
You can't beat a side dish that's healthy and delicious and only has six ingredients! This one is exceptional and one that you will come back to over and over again. Check out the recipe card at the bottom of the post for exact measurements.
Zucchini: A pound of zucchini is about 2 large zucchini.
Olive Oil: This will help the seasonings stick to the zucchini.
Garlic Powder: The garlic powder adds the perfect flavor to the zucchini.
Salt and Pepper: This will enhance all of the flavors to season the dish.
Chopped Parsley: Fresh herbs are always the perfect garnish. The parsley complements the taste of the zucchini.
How Do You Make Grilled Zucchini?
This side dish is easy and delicious but packs a punch when it comes to flavor! You can always use this as a go-to side recipe because it goes with just about any meal.
Toss: In a large bowl, toss together the sliced zucchini, olive oil, garlic powder, salt, and black pepper.
Prep: Preheat the grill or grill pan over medium-high heat. Clean the grill grates and grease with olive oil.
Cook and flip: Once the grill is hot, the zucchini and cook until grill marks are achieved about 4 to 5 minutes. Flip and grill until the vegetable is tender, about 3 to 4 minutes.
Garnish: Transfer zucchini to a serving dish, garnish with chopped parsley.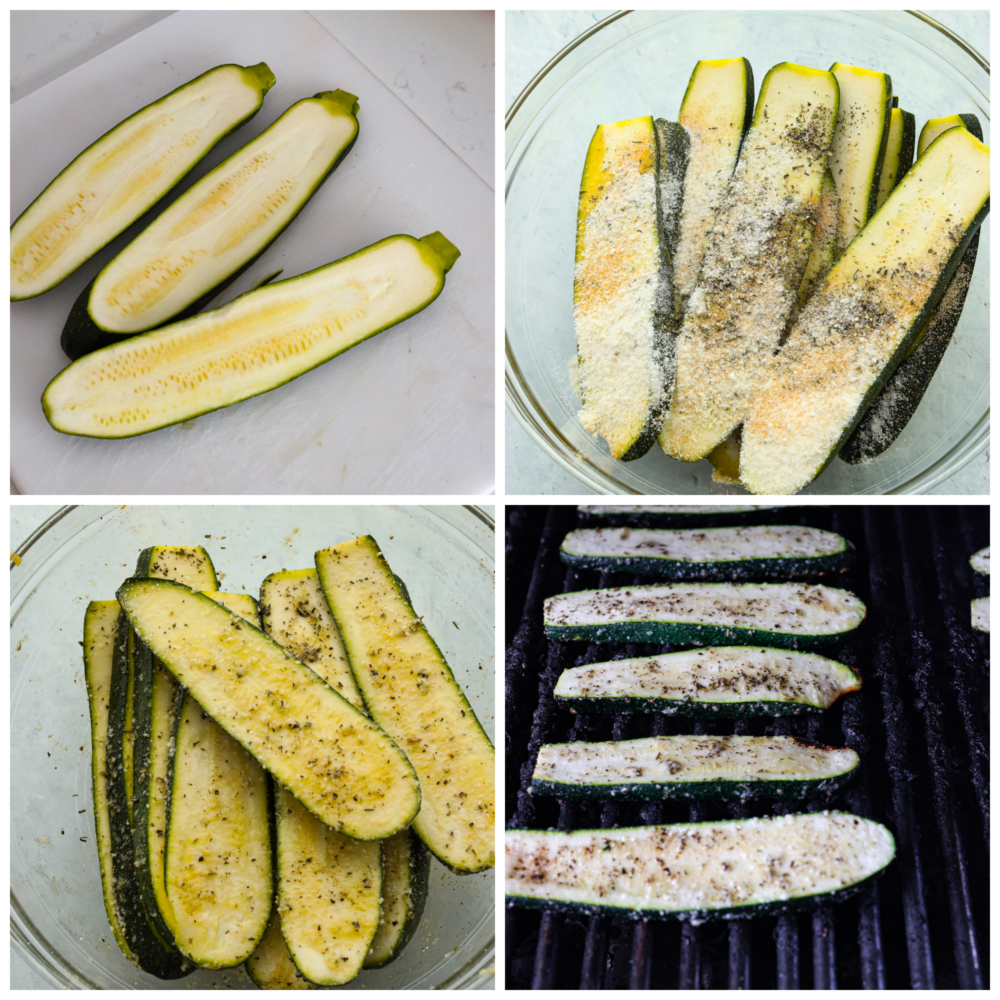 Tips and Tricks
Here are a few ideas for you to help your grilled zucchini turn out perfectly seasoned and charred. You can change things up each time to make this side dish more versatile!
Adding Heat: The black pepper adds a hint of heat BUT… If you want even more heat, add in some red pepper flakes. It will add a lingering spiciness!
Different Shapes: You can slice the zucchini into sticks or smaller discs. Just make sure that the vegetable is at least ½-inch thick. This prevents it from getting mushy easily, holds its shape, and not be so skinny that it falls through the grill grates.
How to get char marks: What makes these grilled vegetables so enticing is the gorgeous char marks running across the surface! There are a few keys to successfully making these char marks show up on your vegetable. Make sure that the grill is preheated and oiled to prevent sticking. When you add your zucchini slices to the grill then place them at an angle on the grates. Lightly press down on them so that they are making direct contact with the hot grill. Then… Leave them there! Don't move them around until you are ready to flip them.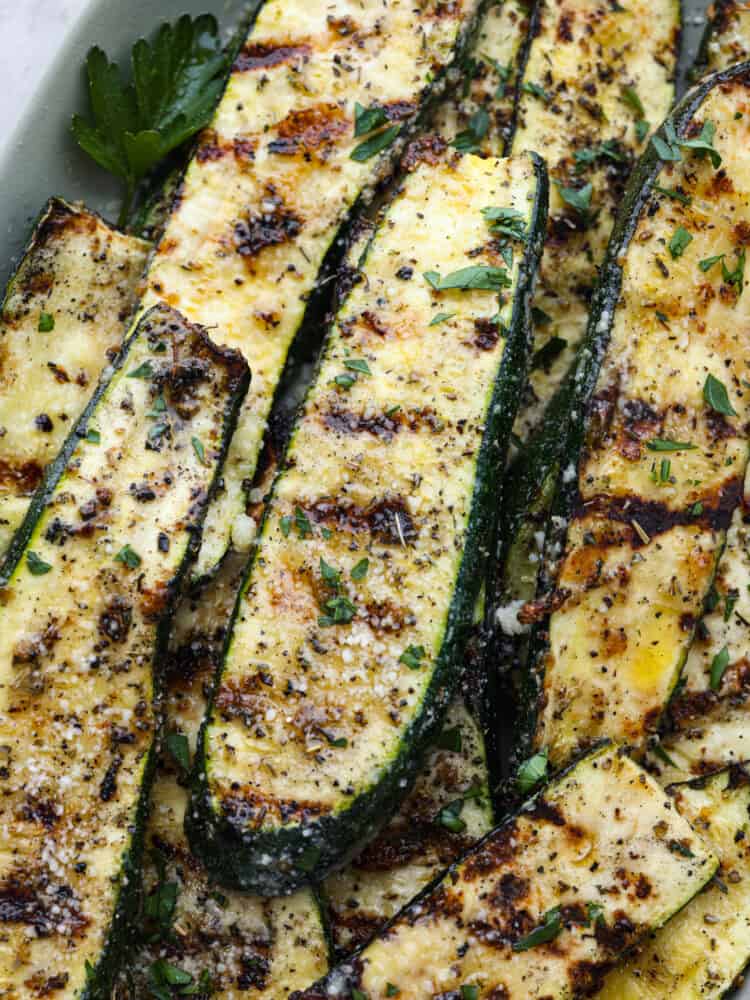 Add Different Flavorings
An easy way to change this grilled zucchini up is to change up the flavorings or dip them in some sauce!
Cheese: Sprinkle your zucchini with some parmesan cheese while it's on the grill and let it melt. Cheesy zucchini is so delicious!
Add Sauce: Drizzle on some pesto, balsamic vinegar, or dip the zucchini spears into some creamy Tzatziki Sauce or ranch dressing!