This website may contain affiliate links and advertising so that we can provide recipes to you. Read my privacy policy.
This Slow Cooker Mongolian Chicken takes just five minutes to throw into the slow cooker and the flavor is out of this world! Tender and juicy slow cooked chicken in a lightened up mongolian sauce that is sure to wow your family!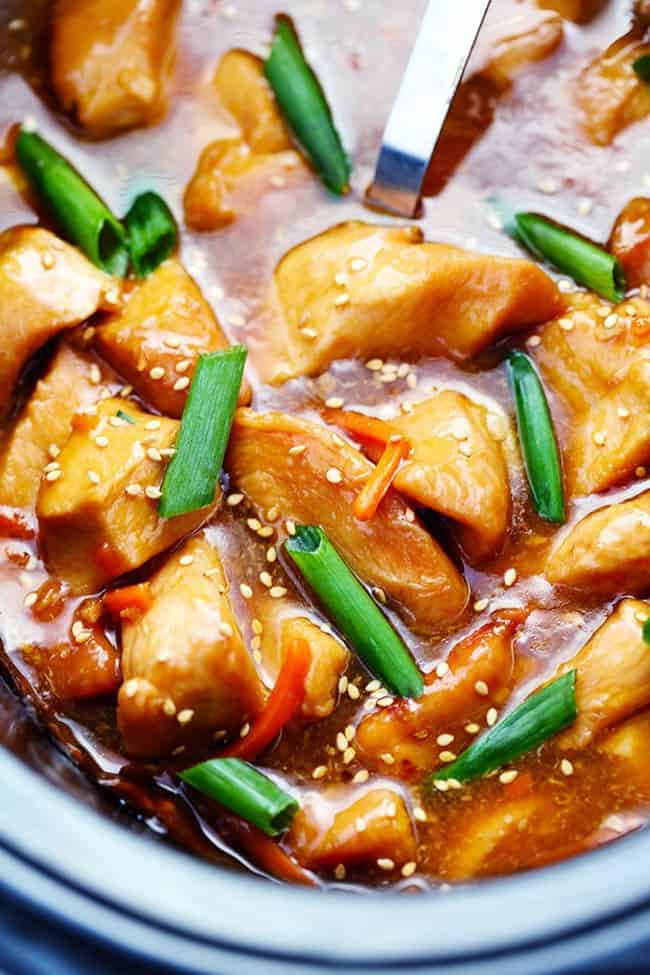 Birthdays are a pretty big deal in our house. We celebrate them for at least 3 days. My husband's birthday is today! We started the celebrations last night and went out to dinner with our BFF's. You see, I have been eating clean since the beginning of the year. I mean, I always try to eat clean but completely fell off the bandwagon for the holidays. So it was nice to enjoy a nice dinner followed by dessert followed by a big slice of cheesecake. Yes I had two desserts. 🙂
But anyway back to how I have been eating clean since the beginning of the year. It has felt great. And I love finding delicious and flavorful meals that I can eat throughout the week to keep me on track.
One of my most popular recipes is the Slow Cooker Mongolian Beef. I have been DYING without it. It is definitely one of my favorites and the reviews speak for themselves. So I decided to tweak a few things and lighten up the sauce. I added chicken instead of beef and the result blew my mind.
I made this entire batch for myself and ate it throughout the entire week. I loved it so much that I would have 6 ounces with fresh veggies and rice every single day. And every single day I was reminded of the amazing flavor. Not only was the flavor delicious but the chicken slow cooked to tender, melt in your mouth perfection!
I PROMISE that you guys are going to love this one! I already have it on the menu again for Monday for my family. It is absolutely delicious! The sauce is amazing and everyone will be begging for you to make it again and again!