Sweet Potato Hummus with Olive Oil and Sumac is a fun appetizer idea to enjoy it any time you're craving sweet potatoes. 
PIN Sweet Potato Hummus to try it later!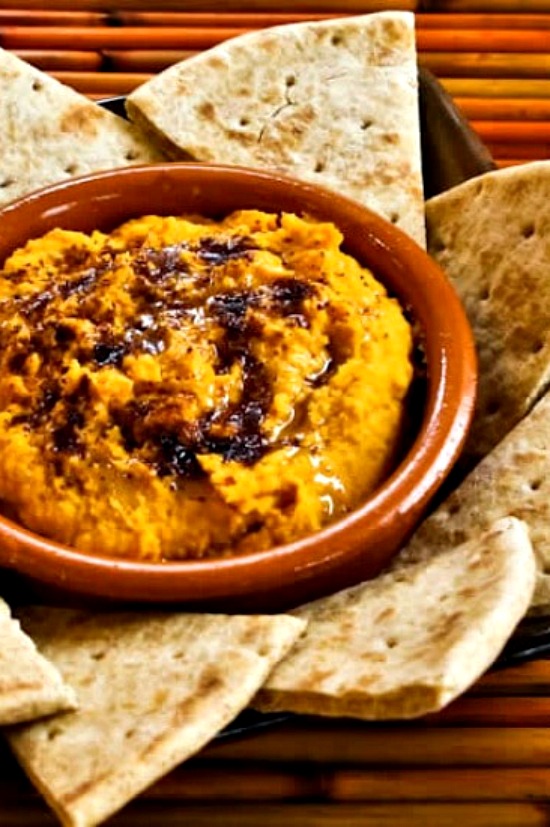 I didn't have any special reason for making this Sweet Potato Hummus, other than the fact that it caught my eye in the latest cookbook from Costco that I was simply unable to resist, despite the fact that I already have far too many cookbooks. (Do you have those moments too?) The cookbook is called Power Foods, and it's a collection of recipes using 38 healthy ingredients, with information about each ingredient and creative and interesting recipes. I love hummus and I love sweet potatoes, so I figured this would be a winner (and it was!)
I've made many different kinds of hummus, and I don't think I've found one I didn't like. However if you're like some people I could name who don't especially like hummus and really don't like sweet potatoes, then this hummus recipe is not going to be for you. There's a healthy dose of sweet potato flavor, with garlic and tahini undertones and just a hint of lemon. I ate this with whole wheat pita triangles the day I made it, but it was good with celery and sugar snap peas to scoop up the hummus as well.
What is Sumac?
Ground Sumac (soo-mack, affiliate link) maybe be an ingredient you haven't used before, but it's well worth adding to your spice cabinet and that's the dark maroon spice I sprinkled on this hummus. Sumac has a slightly lemony flavor, and it's an ingredient I absolutely love for middle eastern food. And if you do have Sumac, or buy some for this recipe, enter "Sumac" into the search bar on this site and you'll find other recipes where I've used it.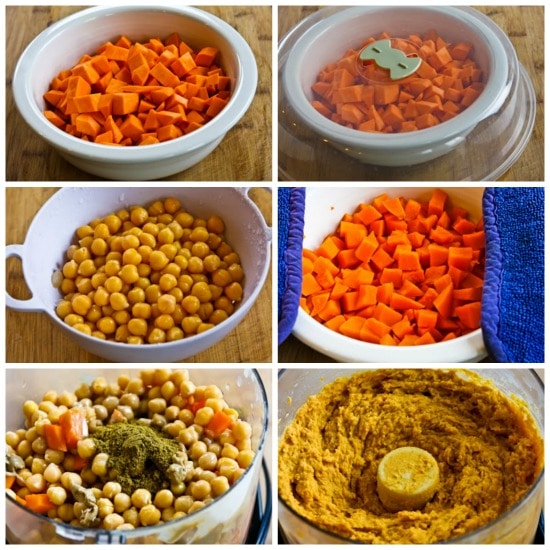 How to Make Sweet Potato Hummus:
(Scroll down for complete recipe with nutritional information.)
The recipe called for steaming the sweet potatoes, but my mind immediately said "microwave" and that method worked well. I cut them in fairly small pieces so they'd cook quickly.
I used this great microwave cover I got from my friend Margarethe, but if you don't have something like this, I'd cover the bowl with cling wrap, venting it a little.
While the sweet potatoes cook, rinse 1 can garbanzo beans and let them drain.
Cook sweet potatoes until they're soft, 10-12 minutes (more or less, depending on your microwave.)
I put the bright blue hot pads to remind you that the bowl will be HOT when you take it out.
Put the cooked sweet potato, drained garbanzo beans, lemon juice, tahini, olive oil, cumin, garlic, and a bit of salt and pepper into the food processor.
Process until the hummus is quite smooth, scraping down the sides of the bowl a few times.
Serve at room temperature or chilled, with pita triangles, veggie dippers, or whole grain chips.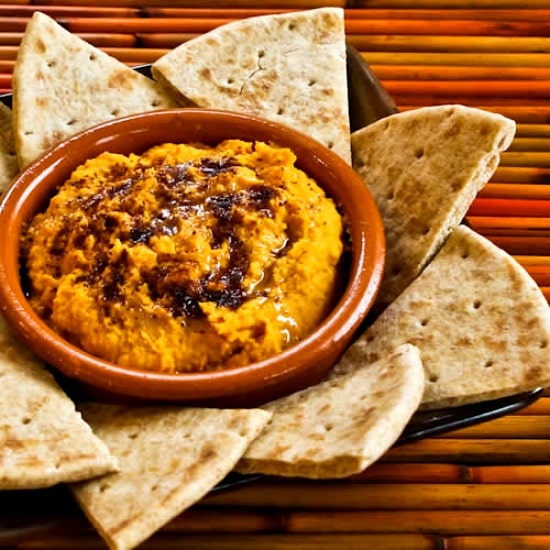 More Tasty Hummus Recipes:
Roasted Red Pepper Hummus from Pinch My Salt
Black-Eyed Pea Hummus from Kalyn's Kitchen
Beet Hummus from Simply Recipes
Slow Roasted Tomato Hummus from Kalyn's Kitchen
Hummus with Caramelized Onions from [No Recipes]
Parsley Hummus from Kalyn's Kitchen
Ingredients
2 medium sweet potatoes, peeled and diced (see notes)
one 15.5 oz. can garbanzo beans
1/4 C fresh squeezed lemon juice
1/4 C tahini sauce
2 T extra virgin olive oil, plus more for drizzling on top of hummus
2 tsp. ground cumin
1/2 tsp. minced garlic
salt and fresh ground black pepper to taste
1/2 tsp. paprika or Sumac for garnish (optional)
Instructions
Peel sweet potatoes and cut into small cubes.
Place in microwave-safe bowl, cover with vented lid or cling wrap, and microwave on high until sweet potatoes are soft. (This was about 10-12 minutes for me, but microwave power can vary, so check a few times, being careful not to burn yourself.)
While sweet potatoes cook, drain garbanzo beans into a colander placed in the sink and rinse with cold water until no more foam appears. Let garbanzos drain well.
Put cooked sweet potatoes, garbanzo beans, lemon juice, tahini, 2 T olive oil, ground cumin, garlic, salt, and pepper into food processor bowl, with processor fitted with steel blade.
Process until the mixture is fairly smooth, about 2 minutes, scraping down the sides of bowl a few times. If the mixture seems too thick, thin with a few tablespoons of water until it is the consistency you want.
Taste for seasoning and add more salt and/or pepper if desired.
Serve at room temperature or chilled , with a drizzle of olive oil and a sprinkling of paprika or Sumac if you wish. This would be good with whole wheat pita triangles, veggie dippers, or whole grain chips. Hummus will keep in the fridge for at least a week.
Notes
I used about 1 lb. sweet potatoes, in U. S. stores orange-fleshed sweet potatoes are often called yams or sweet yams.
Nutritional information based on 1/4 cup serving size and doesn't include pita bread.
Recipe from Power Foods, with the addition of olive oil drizzle and sumac from Kalyn.
Nutrition Information:
Yield:
16

Serving Size:
1

Amount Per Serving:
Calories: 100Total Fat: 5gSaturated Fat: 1gTrans Fat: 0gUnsaturated Fat: 4gCholesterol: 0mgSodium: 134mgCarbohydrates: 12gFiber: 3gSugar: 2gProtein: 3g
Nutrition information is automatically calculated by the Recipe Plug-In I am using. I am not a nutritionist and cannot guarantee 100% accuracy, since many variables affect those calculations.
Low-Carb Diet / Low-Glycemic Diet / South Beach Diet Suggestions:
This would be too high in carbs for a low-carb diet. The addition of sweet potatoes to this Sweet Potato Hummus with Olive Oil and Sumac makes it limited to phase 2 or 3 for the original South Beach Diet. If you're eating it with pita triangles or whole grain chips, I'd use portion control for phase 2. (You could eat a larger amount if you're using veggie dippers.) 
Find More Recipes Like This One:
Use Sweet Potato Recipes to find more tasty ideas for sweet potatoes! Use the Recipes by Diet Type photo index pages to find more recipes suitable for a specific eating plan. You might also like to Follow Kalyn's Kitchen on Pinterest to see all the good recipes I'm sharing there.
We are a participant in the Amazon Services LLC Associates Program, an affiliate advertising program designed to provide a means for us to earn fees by linking to Amazon.com and affiliated sites. As an Amazon Associate, I earn from qualifying purchases.