If you like Sriracha Rooster Sauce, you'll love these spicy Sriracha Deviled Eggs, and they're perfect for a low-carb appetizer any time of year! And you can adjust the amount of Sriracha Sauce to make the deviled eggs more or less spicy, whichever you prefer.
PIN Sriracha Deviled Eggs so you can make them later!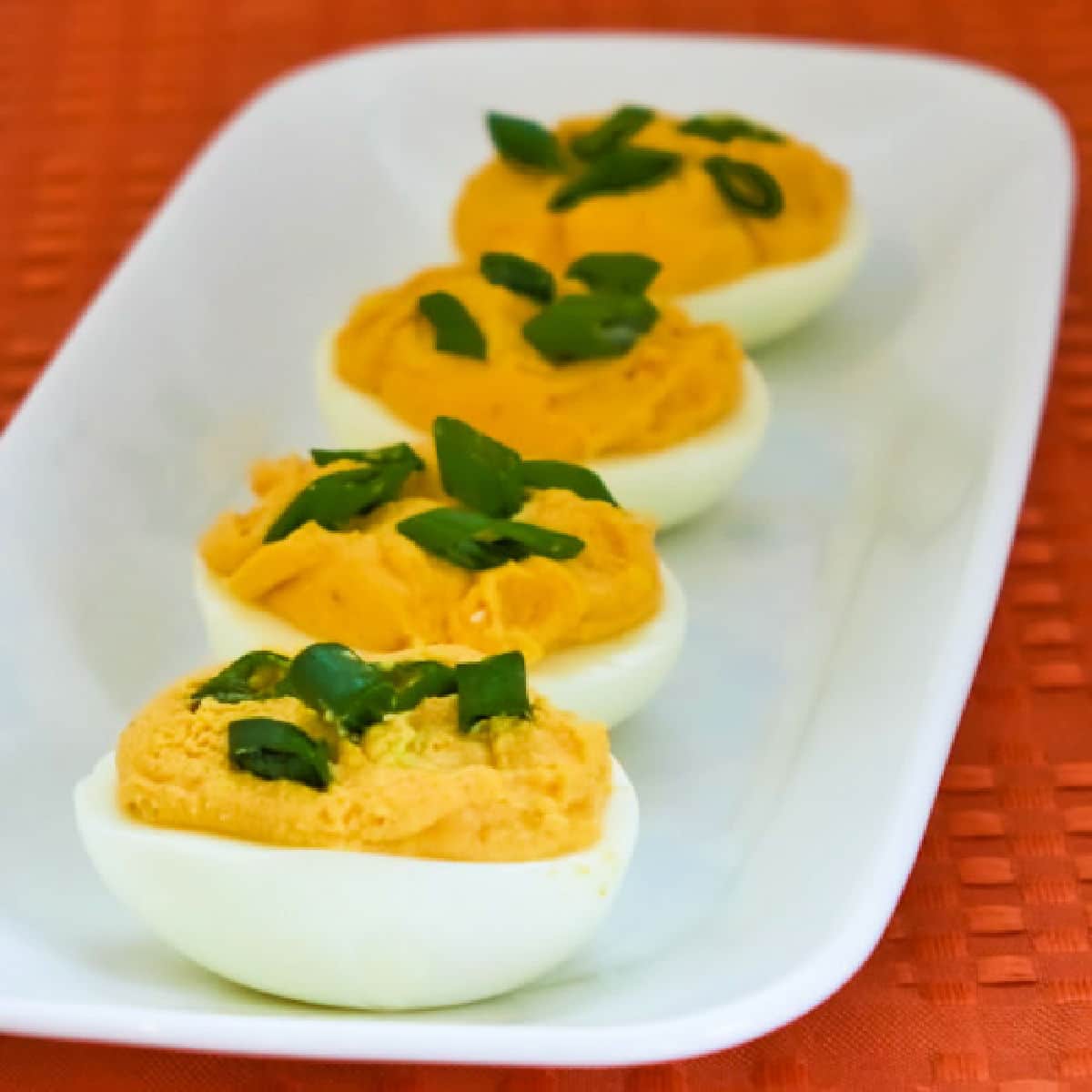 My post on making Perfect Hard-Boiled Eggs has been popular on the blog for a long time now, so I'm guessing a lot of people make deviled eggs! And I make deviled eggs often myself, and I'm always experimenting with different combinations for the yolk fillings.
I'm sure I wasn't the first one to think of seasoning deviled eggs with spicy Sriracha Sauce (affiliate link), but I absolutely loved how these Sriracha Deviled Eggs turned out. The combination of yellow mustard and Sriracha I used in the yolk mixture turned the eggs a beautiful goldenrod color and the diagonally sliced green onions added just a bit of crunch.
I made mine just slightly spicy, but if you really like the heat go ahead and use more Sriracha Sauce in your deviled eggs!
I think these would be a great idea for a tasty appetizer any time year and I bet Sriracha Deviled Eggs would disappear quickly on game day! Let us know in the comments about your favorite seasonings for deviled eggs!
What is Sriracha Sauce?
Sriracha Sauce is a type of hot chili sauce used in Asian food. Here's more about why I like Sriracha and my favorite recipes using it.
What ingredients do you need for this recipe?
(This is only a list of ingredients; please scroll down for complete printable recipe. Or if you use the JUMP TO RECIPE link at the top of the page, it will take you directly to the complete recipe.)
eggs (preferably a week or two old)
mayo
yellow mustard
Sriracha Sauce (affiliate link)
sea salt
green onions
More Low-Carb and Keto Appetizers:
Check out 50+ Low-Carb and Keto Appetizers if you're looking for tasty appetizers without a lot of carbs!
How to Make Sriracha Deviled Eggs:
(This is only a summary of the steps for the recipe; please scroll down for complete printable recipe. Or if you use the JUMP TO RECIPE link at the top of the page, it will take you directly to the complete recipe.)
For 12 deviled egg halves, I always use 7 eggs, because you know at least one egg will get mangled even if you follow the directions for Perfect Hard-Boiled Eggs! See those ragged eggs up at the top?  That's why I always cook one or two extra eggs. But notice the yellow part of the eggs is perfectly cooked, with no green ring around the yolk.
Carefully remove the yolks and place in a bowl. 
Mash yolks and then mix in the mayo, yellow mustard, Sriracha (affiliate link), and salt.
I don't have a piping bag, so I put the yolk mixture in a small plastic bag, cut off the corner, and use that to squeeze out the yolk mixture and fill the eggs. You can see that I'm not that great at piping, so I usually take a knife and smooth out the yolk filling.
Garnish each egg with some thin slices of green onion cut on the diagonal. These didn't even last a day at my house, so you might want to make a double batch!
More Interesting Ideas for Deviled Eggs:
Check out My Best Deviled Eggs to see all my favorites, plus lots more creative deviled eggs ideas from food bloggers!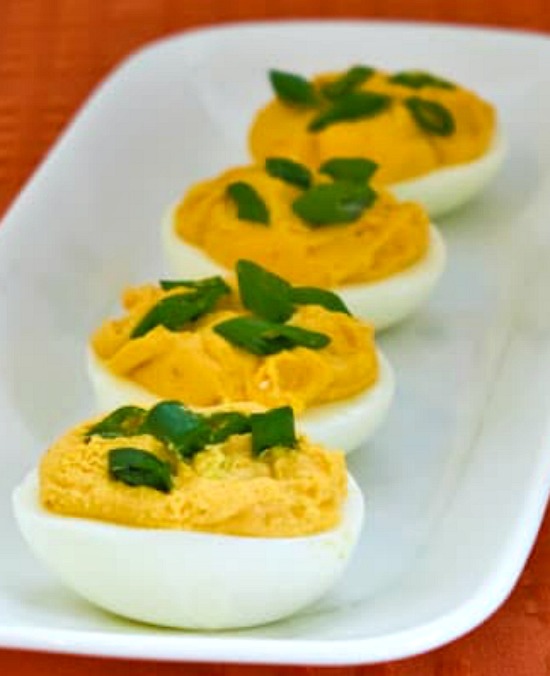 Ingredients
7 eggs (preferably a week or two old)
3 T mayo (see notes)
1 1/2 tsp yellow mustard
1-2 tsp. Sriracha sauce (see notes)
1/2 tsp. sea salt
2 green onions, green part only, thinly sliced on the diagonal
Instructions
Follow the directions to make Foolproof Hard-Cooked Eggs.
After eggs have cooled, peel carefully and cut in half.  (If you use eggs that are at least a few weeks old, they will be much easier to peel.)
Carefully remove the yolk from each egg half.
Put yolks in a small bowl and arrange the 12 best white egg halves on a tray (or use them all if you're lucky enough to not get any mangled eggs!)
Mash yolks thoroughly with a fork, then mix in the mayo, yellow mustard, Sriracha (affiliate link), and salt.
Taste to see if you want more Sriracha.
Use a rubber scraper to put the egg yolk mixture into a small plastic bag, then cut off one corner and squeeze the yolk mixture out to fill the egg white halves.  (I usually use a fork after to smooth out the filling.)
Clean green onions and thinly slice the green part on the diagonal.
Sprinkle each egg with a few slices of green onion and serve.
These will definitely keep in the refrigerator for a day or two, so you might want to double the recipe.
Notes
You may need a little more mayo if your eggs are extra large. Use plain Greek yogurt to replace some or all of the mayo if you prefer. I used 1 1/2 tsp. Sriracha Sauce for eggs that were just slightly spicy; start with the smaller amount of Sriracha and taste until it's spicy enough for you.
This recipe created by Kalyn.
Nutrition Information:
Yield:
62

Serving Size:
1

Amount Per Serving:
Calories: 13Total Fat: 1gSaturated Fat: 0gUnsaturated Fat: 1gCholesterol: 21mgSodium: 37mgCarbohydrates: 1.3gFiber: 0gSugar: 0gProtein: 1g
Nutrition information is automatically calculated by the Recipe Plug-In I am using. I am not a nutritionist and cannot guarantee 100% accuracy, since many variables affect those calculations.
Low-Carb Diet / Low-Glycemic Diet / South Beach Diet Suggestions:
Eggs are a great low-carb food, and Sriracha Deviled Eggs are great for low-carb or Keto diets or  for any phase of the original South Beach Diet. Full-fat mayo is a limited food for South Beach, but in the small amount used in this recipe I wouldn't worry about it.
Find More Recipes Like This One:
Use Appetizers to find more recipes like this one. Use the Diet Type Index to find recipes suitable for a specific eating plan. You might also like to follow Kalyn's Kitchen on Pinterest, on Facebook, on Instagram, on TikTok, or on YouTube to see all the good recipes I'm sharing there.
Historical Notes for this Recipe:
The deviled eggs seasoned with Sriracha were first posted in 2011. The recipe was last updated with more information in 2023.
We are a participant in the Amazon Services LLC Associates Program, an affiliate advertising program designed to provide a means for us to earn fees by linking to Amazon.com and affiliated sites. As an Amazon Associate, I earn from qualifying purchases.