This website may contain affiliate links and advertising so that we can provide recipes to you. Read my privacy policy.
Sweet and Sour Shrimp is a quick Chinese meal made all in on pot! Succulent seafood is stir-fried with bell peppers, zucchini, pineapple and then tossed in a tangy honey sauce. This dish comes together in just 20 minutes for a simple and flavorful dinner.
When you're looking for a quick and easy Chinese inspired dinner, grabbing a wok and making a stir-fry is a tasty solution. This sweet and sour shrimp delivers protein, vegetables, and fruit all in one dish. If you're looking for more fast and flavorful Asian recipes then try Instant Pot Beef with Broccoli, Teriyaki Beef Skewers, or Asian Grilled Flank Steak for your next weeknight dinner.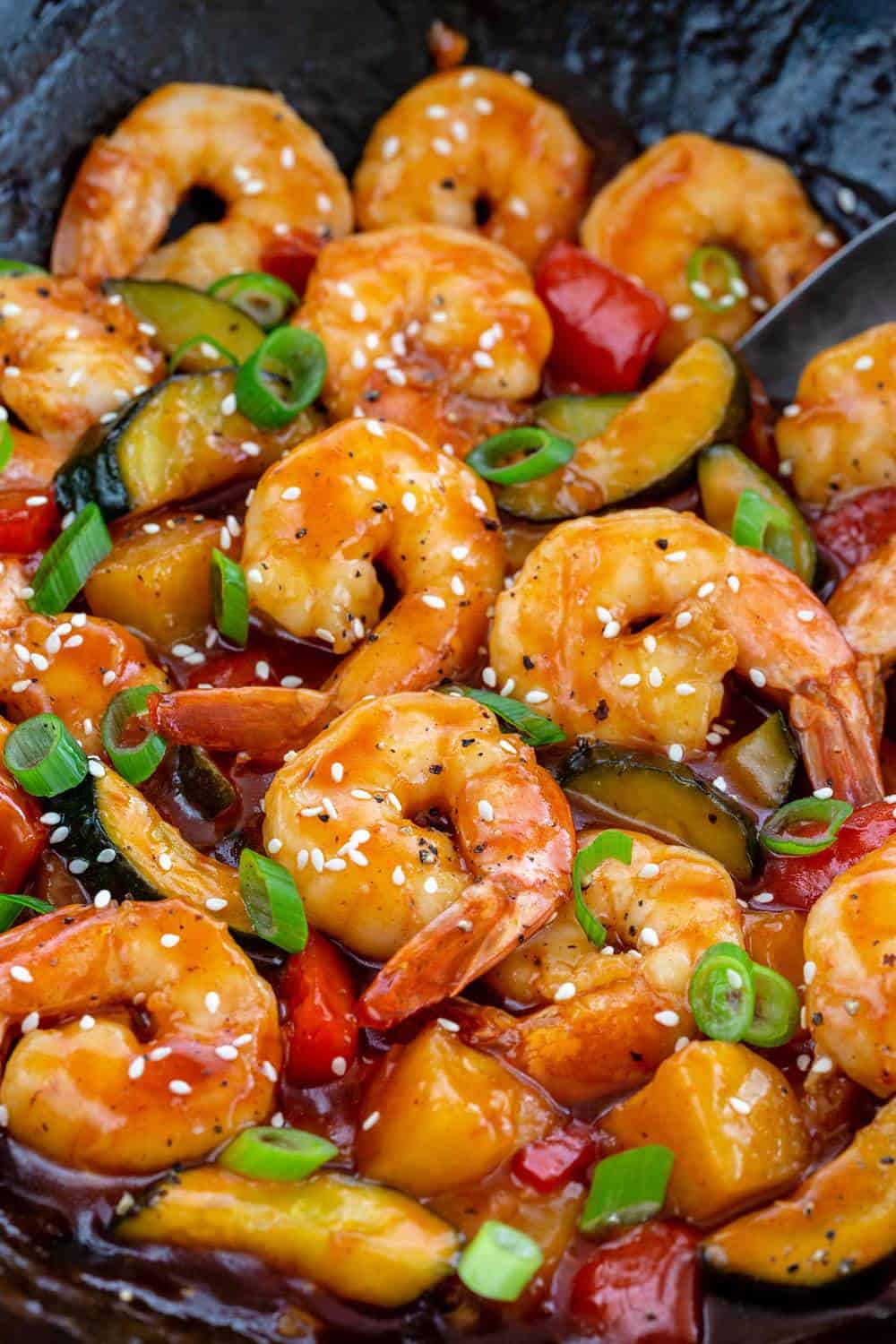 Sweet and Sour Shrimp
It may be tempting to pick up a take-out menu, but making a homemade stir-fry is a lot easier than you think. This wok-fired sweet and sour shrimp dish will satisfy all savory, sweet, and tangy cravings. Succulent shrimp paired with crisp bell peppers, tender zucchini, and tropical pineapple makes for a colorful presentation. At the end of a busy day, treat yourself to a restaurant quality home cooked meal that's a breeze to prepare!
How do you make Sweet and Sour Shrimp?
To make the sweet and sour sauce combine honey, rice vinegar, soy sauce, tomato paste, and pineapple juice.
Make a cornstarch slurry.
Season shrimp with salt and pepper.
Cook shrimp with vegetables and sesame oil.
Stir-fry bell pepper, zucchini, garlic, ginger, and pineapple.
Add the sweet and sour sauce, simmer for 2 minutes.
Stir in the cornstarch slurry and cook until thickened, 30 seconds.
Add the shrimp, cook to warm, then garnish with green onions and sesame seeds.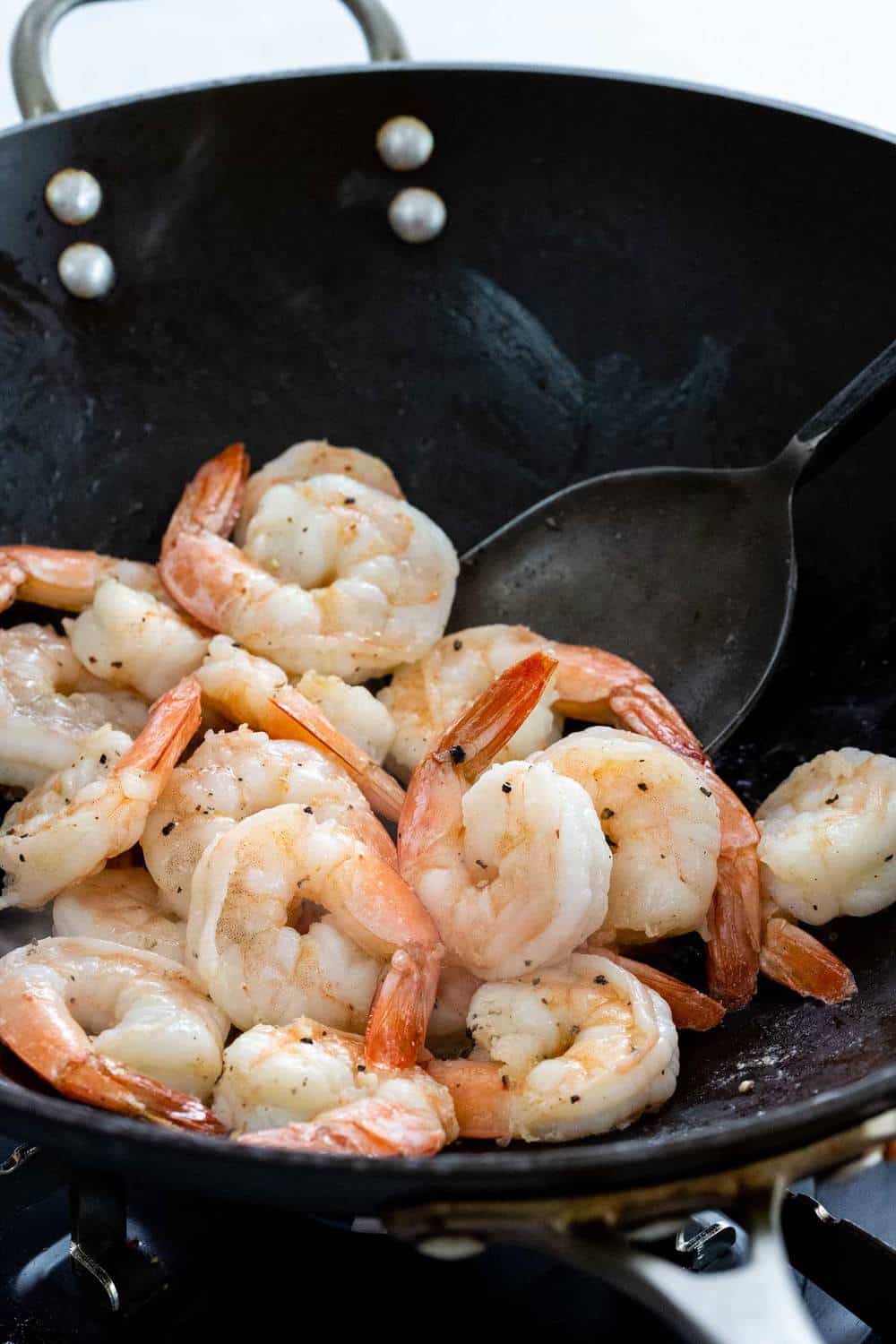 What size shrimp do you use?
When picking out shrimp, the best way to choose is by selecting count per pound to determine size. I like 16/20 count, which means that many pieces per pound. This gives about a two-bite shrimp that won't quickly overcook in the hot wok. It will take less than 2 minutes to fully cook the shrimp, so keep a close eye. Overcook shrimp will curl into a tight "C" shape and the texture will be rubbery instead of tender.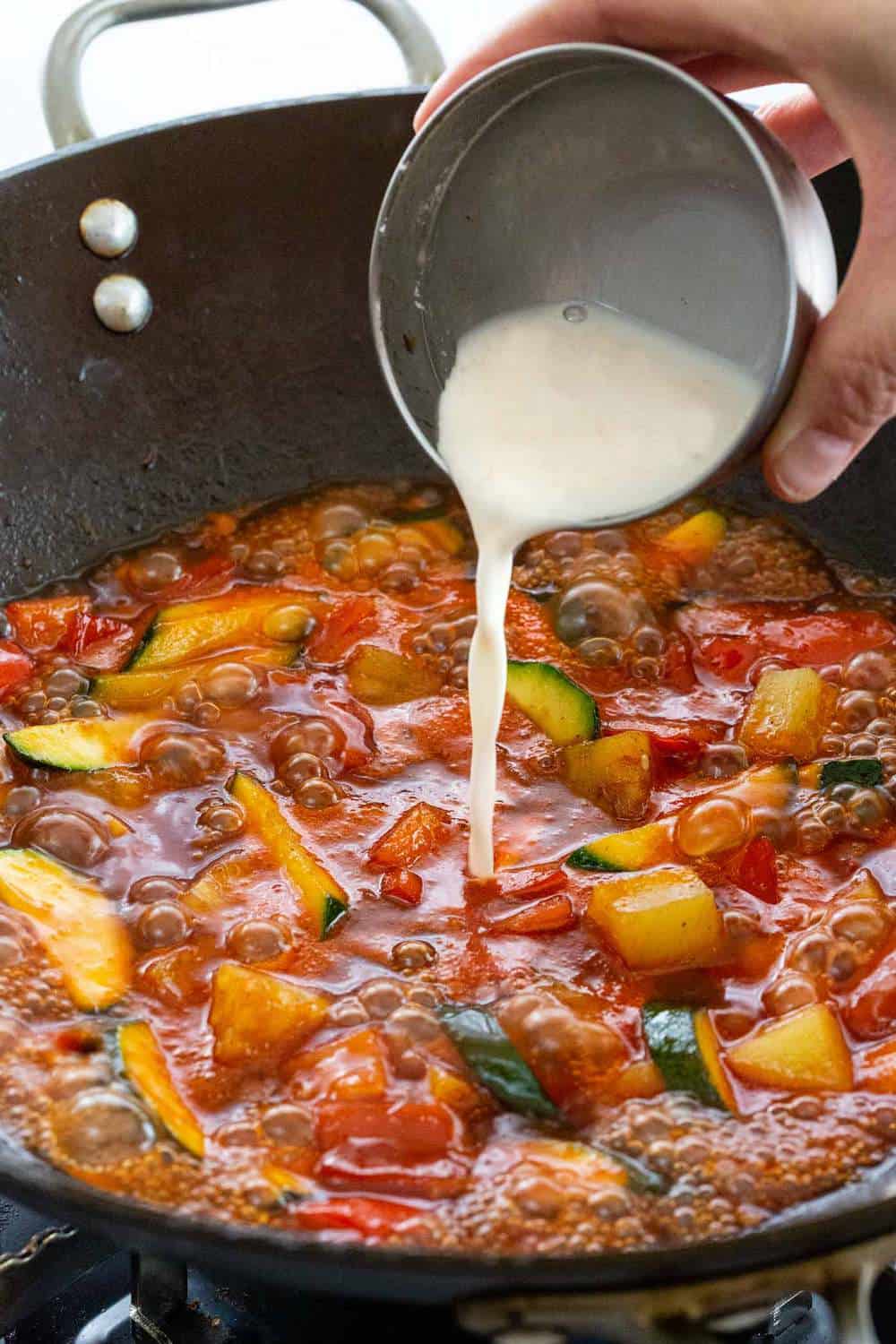 What goes into a sweet and sour sauce?
It's a tomato-base plus a sweetener and vinegar. I used my homemade sweet and sour dipping sauce recipe and converted it for the stir-fry. Most recipes contain ketchup, but I like the ability to control the amounts of each ingredient going in for a more wholesome option. A combination of tomato paste, honey, soy sauce, and pineapple juice provides the perfect flavor balance. A cornstarch slurry is added at the very end of cooking the sauce to create a luscious coating that clings to the shrimp.
Looking for more Asian shrimp recipes? Try these ones!
Shrimp Pad Thai
Sticky Sesame Garlic Shrimp
15-minute Garlic Shrimp Stir-Fry