This website may contain affiliate links and advertising so that we can provide recipes to you. Read my privacy policy.
Grilled Tuscan Pork Skewers are made with tender pork tenderloin cubes that are loaded with flavor, paired with fresh, summertime vegetables that enhance texture and flavor that will leave your tastebuds wanting more. This recipe will take your grilling to the next level this summer!
Grilling season needs this fresh vegetable medley with this Roasted Garlic and Cracked Black Pepper Fresh Pork Tenderloin. A great appetizer or side dish that would be fun is Bacon Guacamole to enjoy while you are grilling.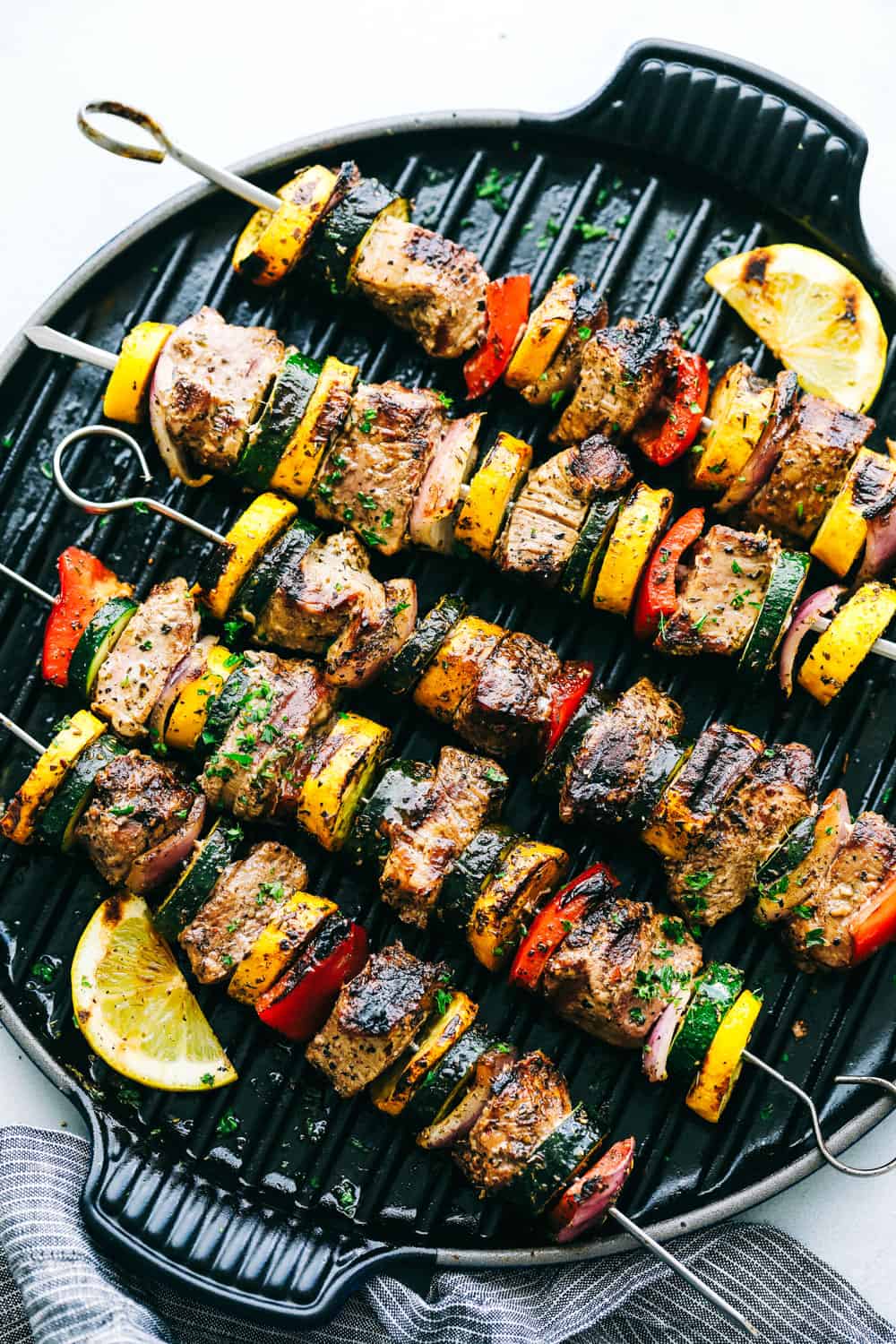 Tuscan Pork Skewers
You guys! These turned out AMAZING! This Smithfield Roasted Garlic and Cracked Black Pepper Marinated Fresh Pork Tenderloin has my heart. I LOVE how tender this pork meat is to begin with and the flavor is out of this world. Every bite has so much texture and flavor that send my tastebuds through the roof.
Smithfield Marinated Fresh Pork is my go-to for a quick and simple delicious meal because it is high quality and conveniently pre-seasoned with no artificial ingredients. With the prep work already done for you, you can put together a meal in about 30 minutes or less.
Smithfield Marinated Fresh Pork is so versatile! You can simply grill, roast, sauté or slow-cook it for any style of dish, any night of the week!
How to make Grilled Tuscan Pork Skewers?
Cut the pork tenderloin into 1 inch cubes. In a medium sized bowl, add the zucchini, yellow squash, red bell pepper, and red onion.
Add the olive oil and tuscan seasoning blend and toss the vegetables until coated.
Thread the pork cubes on skewers along with the zucchini, yellow squash, red pepper, and onion. Grill for 8-10 minutes until the pork is tender (should reach an internal temperature of 145 degrees Fahrenheit) done to desired liking. Remove from the grill and serve.
What is so great about Smithfield Marinated Fresh Pork?
Available in an assortment of mouthwatering flavors, including ready to grill options like the Roasted Garlic Herb and Hickory Smoked Brown Sugar Dry Seasoned Pork Chops, and regionally inspired Dry Seasoned Ribs.
Available in a wide variety of fresh cuts, including pork roasts, loin filets, chops, ribs, sirloins, and tenderloins, and can be sliced or cubed for even faster cooking.
Made from 100% fresh pork with no artificial ingredients and packed with protein.
Available at select grocery stores and retailers nationwide, including ShopRite, Food Lion, Publix, Albertsons/Safeway, Save a Lot and Walmart.
How to know when it is done cooking?
The National Pork Board recommends cooking chops, roasts, loins, and tenderloin to an internal temperature of 145° F, followed by a three-minute rest.
How do you grill skewers without burning?
Brush your kebab pieces with olive oil (or vegetable oil) before placing them on the grill. Since you are turning your pork cubes and vegetables, remember to leave the skewers about the same time on the grill for each side. Grilling consistently over medium heat is better than over high heat.
How long do you soak bamboo skewers?
While 30 minutes is the minimum, it's best to plan ahead and soak your bamboo skewers overnight in water. It takes a long time for the skewers to soak up the water, but well-soaked skewers, which are slow to give up their moisture, will last longer on the grill without burning up.
What temperature do you grill skewers at?
Place the pork tenderloin cubes and vegetables on skewers, about 4-6 pieces per stick. Prepare the grill for direct grilling over medium heat (350-450 degrees) and allow it to preheat for 10–15 minutes. Brush the cooking grate clean. Grill the skewers over direct medium heat turning once or twice.
Smithfield is encouraging at-home cooks to get grilling all summer long and bring out
your inner pit master with their "Get Grilling America" sweepstakes.
From now through September 4, 2019, visit www.SmithfieldGetGrilling.com to share how Smithfield Fresh Pork helps you become the hero of your grill for a chance to win $5,000.
In addition to entering the sweepstakes, you can check out tips and how-to videos from award-winning champion pit-masters, and play daily instant win games for a chance to win hundreds of prizes including grilling tools, cookbooks and more.

For more sweepstakes information, grilling tips and recipes, visit 

www.SmithfieldGetGrilling.com.
Looking for more Smithfield Recipes?! Here are some!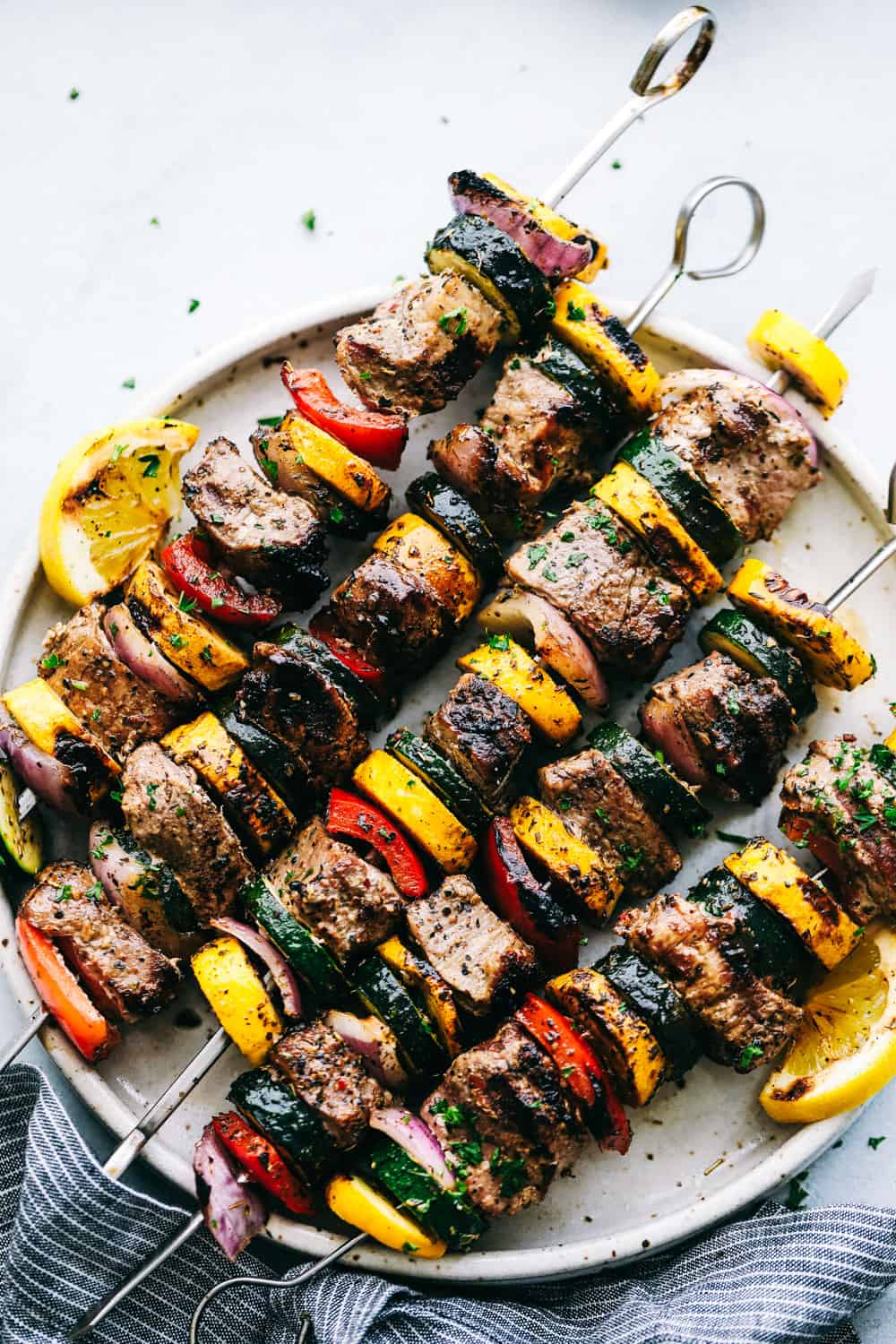 Watch a video on how to make Grilled Tuscan Pork Skewers here: