These beautiful, zesty shrimp, avocado and tomato salad stacks are fantastic as an appetiser for a dinner party or Christmas celebrations, especially for a festive lunch.
---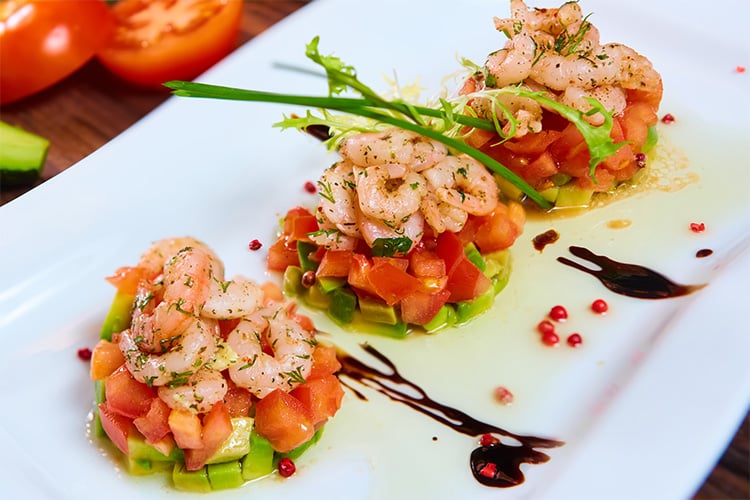 Gorgeous king prawns or smaller shrimp might not be what some associate with Christmas, but down under in Australia it's a classic festive ingredient. Seafood is often served for Christmas lunch, accompanied by a beautiful sauce and a salad. I wanted to share a super simple and beautiful looking appetizer dish made with small marinated shrimp, sweet tomatoes and velvety avocados dressed with citrus juices.
Cook's notes
You can prepare all of the dish elements ahead of time and assemble the stacks just before serving. Another way you can serve this dish is as a layered salad in small glasses or jars, or a larger single platter.
If you're using larger king prawns, you can dice them into smaller pieces or serve fewer pieces per serving.
For those following AIP (autoimmune protocol) or avoiding tomatoes for other reasons, diced mango, peach or cucumber would work really well with shrimp and avocado.
If you don't have aged, sweet balsamic vinegar, use regular balsamic and combine it with a teaspoon or so of honey.
Print
---
For the shrimp layer
For tomatoes
For avocado layer
For garnishes
---
First, we're going to marinate the shrimp, which can be done the day before or a few hours ahead of serving. Combine cooked prawn meat with the rest of the ingredients and use your hands to toss everything together until well combined and coated. Leave to infuse for 2-3 hours or overnight.
Dice tomatoes (seeds removed) and season with sea salt. Combine and set aside.
Combine lemon, orange and lime juices with olive oil, garlic and salt and whisk together. Add the diced avocado and combine gently as to not mash or break the avocado too much.
To assemble, divide the avocado between 6 small or serving glasses, or as one large layer on a bigger platter. Then pour over the remaining dressing over the top evenly.
Scoop the diced tomato over each serving and then top with equal amount of marinated shrimp. Scatter chopped chives or scallions over the top and drizzle the plate with some sweet balsamic vinegar. Sprinkle with some peppercorns or chilli flakes.
---
---
Follow me on Instagram and show what Eat Drink Paleo recipes you're making in your kitchen.  Tag @eatdrinkpaleo or use hashtag #eatdrinkpaleo.
---
CLICK HERE TO SHARE ON PINTEREST