This website may contain affiliate links and advertising so that we can provide recipes to you. Read my privacy policy.
Shrimp Pasta Salad is going to become your new go-to for summer picnics and potlucks. With tender bits of shrimp, fresh veggies, and the fact that it is so easy to put together and take on the go, it is quickly becoming one of my favorite recipes of the season!
Using shrimp in classic dishes like pasta salad gives it an extra boost of delicious flavor and texture. You can use shrimp in so many ways- grilled, in a skillet, or pasta!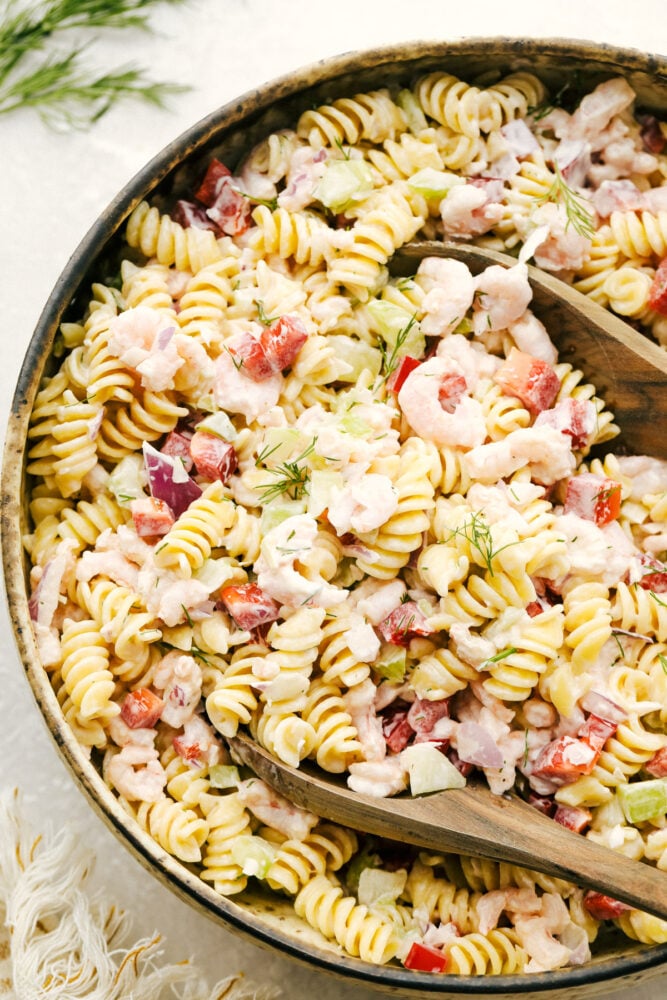 Cold Shrimp Pasta Salad
Pasta salads are always there for you. It is so easy to whip some up for the masses right before a potluck, with no hassle storage and transportation. But it is time to give your salad an upgrade and bring in light, summery flavors like fresh dill, lemon, and shrimp! These simple ingredient swaps are sure to make your pasta salad a crowd-pleaser. This quick and easy Shrimp Pasta Salad still comes together in minutes, but will impress your friends and family with its refined, zesty flavor!
I always love finding new pasta salad recipes because they really are the most versatile side dish. The best part is that you can add your own personal touches to your salad, whether it is a certain type of pasta, herb or vegetable! For more inspo, take a look at my Tuscan, Meditteranean, and Mexican pasta salads for more delicious variety!
What You Will Need to Make Shrimp Pasta Salad
All you need are a few fresh ingredients to put this amazing shrimp pasta salad together! It is tasty, fresh and everyone will love it. Use the recipe card below for all the ingredient measurements you need!
Rotini Noodles: I like using rotini noodles because they are fun to eat and the sauce gets trapped in the corkscrews, allowing for each bite to be flavorful!
Celery: Diced into very small pieces.
Red Bell Pepper: Adds sweetness and crunchy texture to your salad.
Red Onion: With a slight kick, this will give your salad an amazing brightness and add to the texture.
Cooked Salad Shrimp: Precooked shrimp makes this recipe even easier to put together. I like using small shrimp to match the size of the noodles and veggies. If you want more meat, you can opt for large or jumbo shrimp instead. Like with other kinds of seafood, if your shrimp smells like ammonia or has a slimy, sticky coating on the outside, it should not be used.
Mayonaisse: Will add a creaminess to your dressing.
Juice and Zest of Half a Lemon: Fresh is best!
Chopped Dill: Adds perfect summery zest to your pasta.
Salt and Pepper: To taste.
Making Your Shrimp Salad
Making this shrimp pasta salad is so quick and easy, it is perfect for on the go families and gatherings! With just 5 easy steps, this salad is sure to be a family favorite!
Boil: Bring a large pot of water to a boil.
Cook Your Pasta: Cook noodles according to package directions, then drain and rinse.
Combine: In a large bowl, add the noodles, celery, bell pepper, red onion, and shrimp.
Sauce: In a separate small bowl mix together the mayonnaise, lemon juice and zest, dill, and salt and pepper.
Mix: Pour sauce over the top of the pasta and stir everything to combine.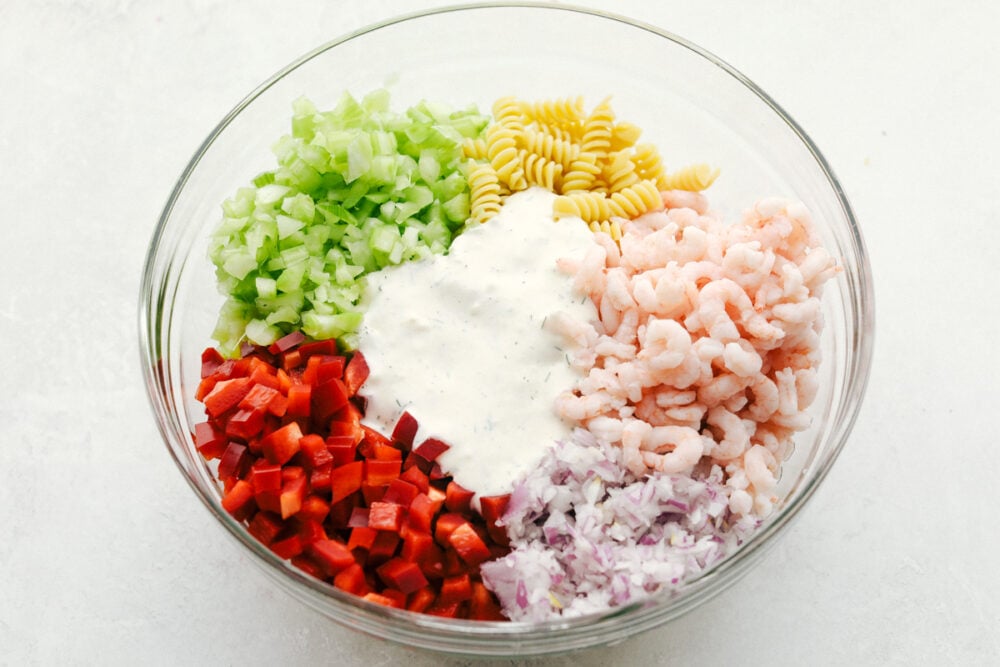 Quick Tips For Making the Best Shrimp Pasta Salad
If you really want to wow at the potluck, try out these tips to make your shrimp pasta salads taste even better!
Pasta: You can swap out rotini for another pasta that is small with deep grooves for holding sauce. I recommend also trying penne, fusilli, or cavatappi!
Adding Sauce: Adding sauce to your shrimp pasta salad while it is still warm helps it absorb flavor.
Texture: Since pasta hardens as it cools down, you can cook your pasta for an extra minute before preparing the salad. But make sure not to overcook your pasta or else the noodles will fall apart when mixing your ingredients together.
Spices: Adding a pinch of chili powder or cayenne can give your pasta salad a delicious Cajun twist!
Salt Pasta Water: Adding extra salt to your water when cooking pasta will help it to have extra flavor!
Raw Veggies: Adding raw veggies to your pasta salad will create a beautiful, colorful salad but also give you amazing texture and nutrition.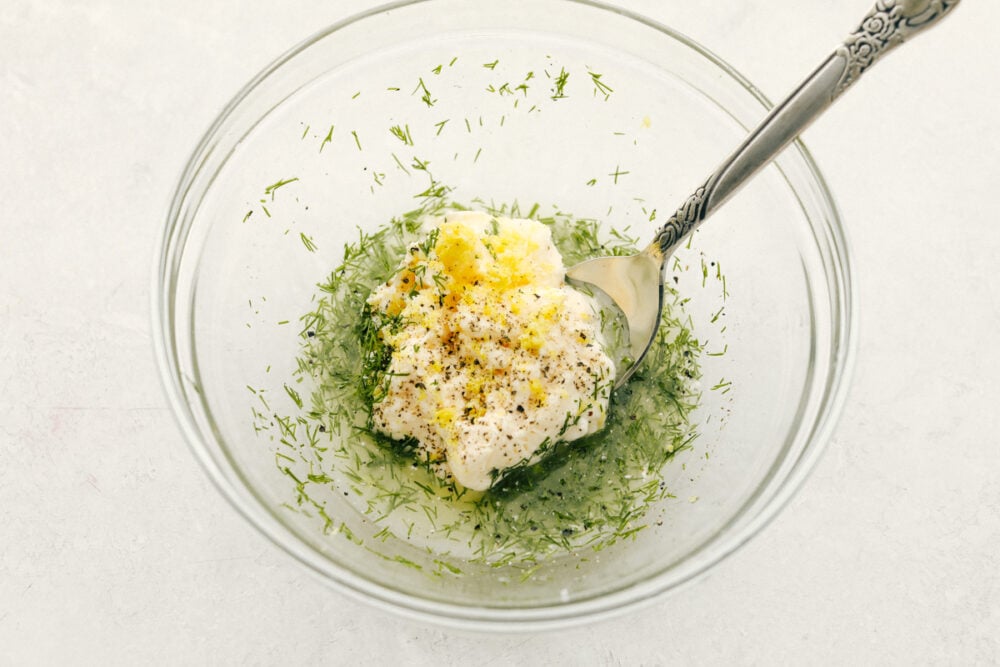 What to Serve with Your Salad
For seafood lovers- my favorite food to pair this salad up with is salmon for a complete summer meal. It also goes great with other BBQ favorites like turkey burgers and grilled chicken! Serve with beef skewers for a selection of appetizers you and your family will not be able to get enough of! The bright, zesty flavors in this Shrimp Pasta Salad are so versatile, they will complement an array of different foods.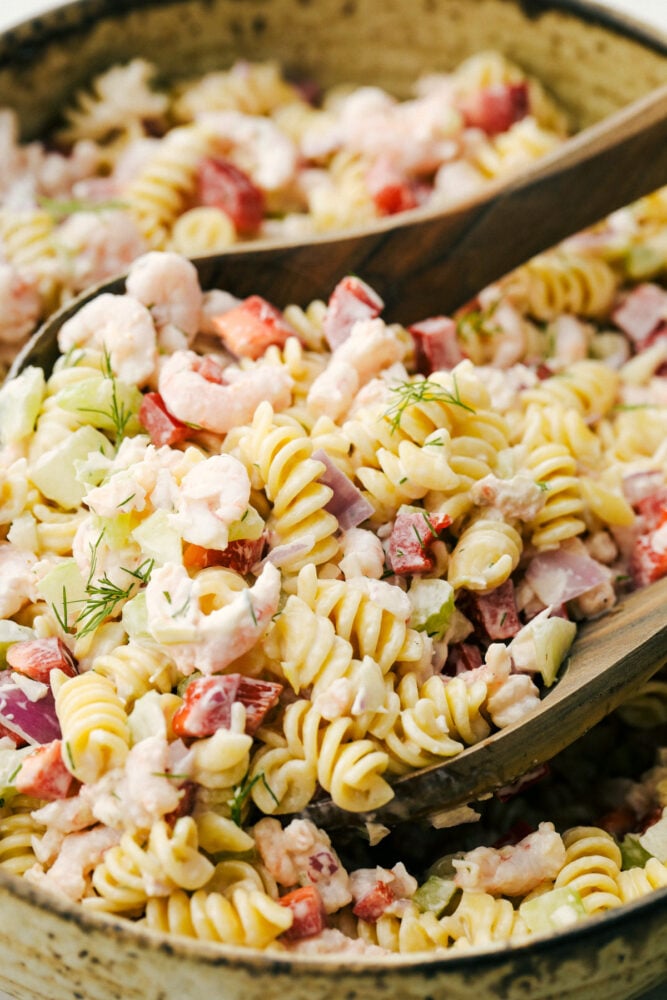 Storing Shrimp Pasta Salad
Refrigerator: Cooked shrimp will last up to 3 days in an airtight container. The best part about pasta salad is that it can be eaten right out of the fridge! Whether it is for a quick meal, soccer practice, or a midnight snack, this pasta salad is ready.
Freezer: While pasta salad is best served within the first few days of making it, you can also store it in the freezer in a ziplock bag with pasta and any dressings separated. It will last for up to 3-4 months. Before serving, thaw in the fridge for a few hours. Note that if you are making your pasta salad with any cream products like sour cream or mayo, they may separate when thawed.