This website may contain affiliate links and advertising so that we can provide recipes to you. Read my privacy policy.
Lemon Garlic Shrimp and Asparagus Skillet is a quick and healthy one pan meal loaded with fresh citrus flavors. Tender jumbo shrimp are marinated in lemon, garlic, olive oil, and seasonings before they hit the pan. The seafood is sauteed with crisp asparagus and tomatoes for a wholesome dinner.
This shrimp skillet recipe checks all of the boxes for a tasty mealtime solution. Healthy, quick and easy! It's inspired by Mediterranean flavors and seasonal ingredients. Looking for more delectable one pan shrimp recipes? Then try Sweet and Sour Shrimp, Fiery Shrimp Diablo, Cajun Shrimp Skillet.
Shrimp and Asparagus Skillet
A classic combination of flavors is lemon and garlic. It adds rich savory aromas plus a welcomed, bright and citrusy tartness to any ingredient. I selected shrimp and asparagus to provide the protein and vegetable component to the dish, and they pair effortlessly together and with the base flavors.
The best part is all you need is a large hot skillet to cook the meal in under 15 minutes! I use my trusty cast iron skillet to deliver a super fast and mouth-watering dish, with minimal cleanup!
How do you make Shrimp and Asparagus Skillet?
Combine salt, pepper, olive oil, lemon juice, zest, and minced garlic in a bowl.
Cut asparagus into 2-inch spears.
Heat a large skillet with olive oil, saute shallots for 1 minute.
Add the shrimp and cook for 2 minutes, flip and cook 1 minute.
Transfer shrimp to a plate.
Add olive oil to the pan and add the asparagus.
Saute asparagus until crisp-tender, 3 to 4 minutes.
Add in the tomatoes, cook 1 minute.
Add shrimp to warm for 1 minute.
Serve with lemon wedges.
What is the best shrimp to use?
There most common types of shrimp found in markets are pink or white shrimp, both are great to use in this recipe. Make sure to select a jumbo-sized shrimp, look for 16 to 20 count (or pieces) per pound. This will ensure that the shrimp does not overcook quickly when sauteed.
Jumbo size also gives a nice two-bite piece for a heartier entree. Feel free to remove the tails to make it easier to eat. Frozen shrimp can also be used, run them under cool water until the ice melts, or defrost them the night before and drain well.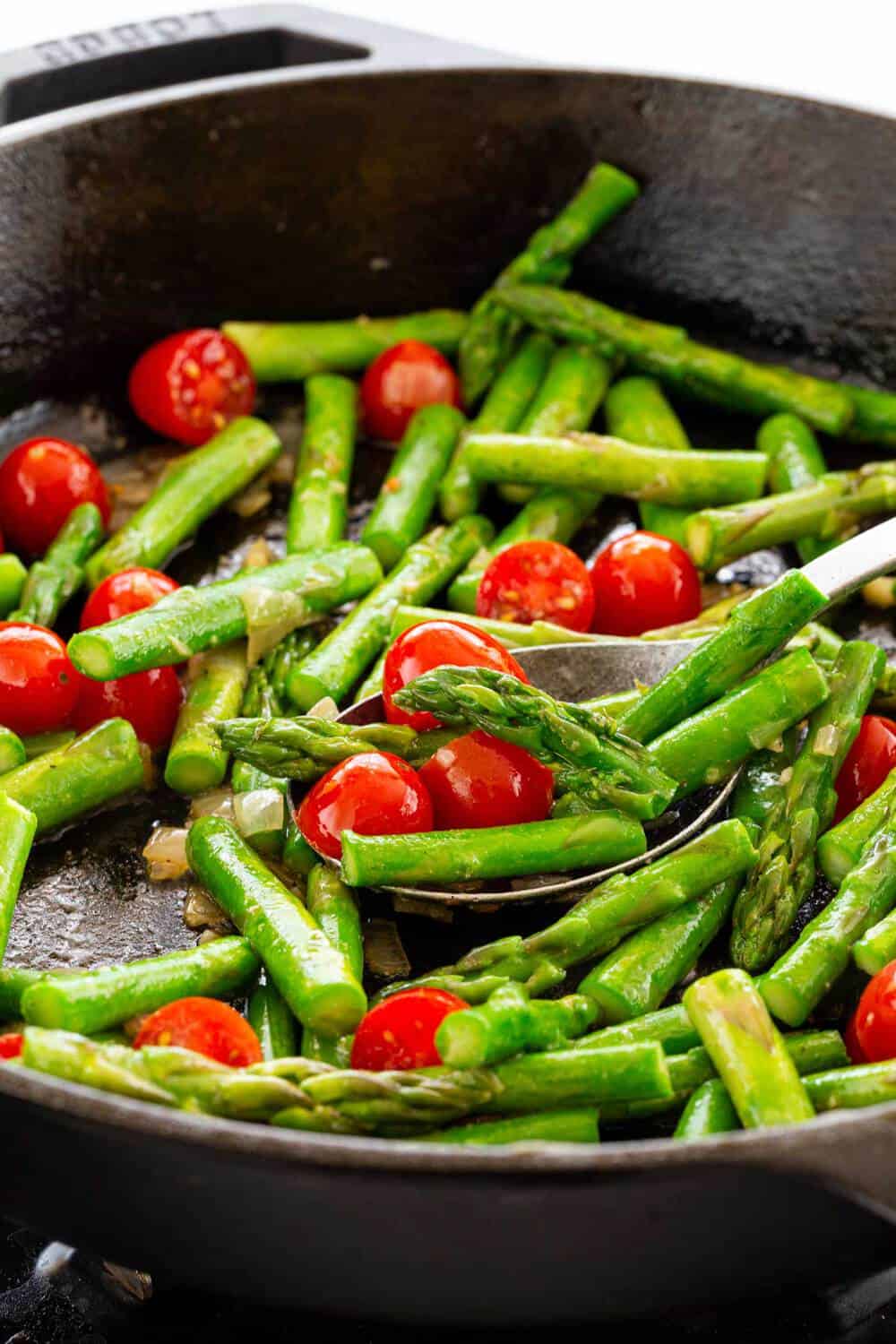 How do you prepare and cook the asparagus?
Asparagus can be found year-round in most locations, but its peak season is in the springtime between February and June. Learning how to cook asparagus is easy!
The slender green stems have a tough fibrous bottom portion. Simply snap or cut those parts off, otherwise, they are difficult to eat. I've found that 2-inch long spears are perfect for sauteing or adding to stir fry for rapid cooking. It only takes a few minutes in the high heat to turn bright green and super tender.
Finishing the shrimp skillet
Once asparagus is crisp-tender, add in the sliced baby tomatoes just to soften so they burst when bitten into. You can add any type of tomato that is ripe and juicy, just cut into smaller pieces before adding to the skillet. Add back in the shrimp at the very end to reheat right before serving so it does not overcook. Serve with lemon slices to squeeze onto the skillet for a zesty sauce!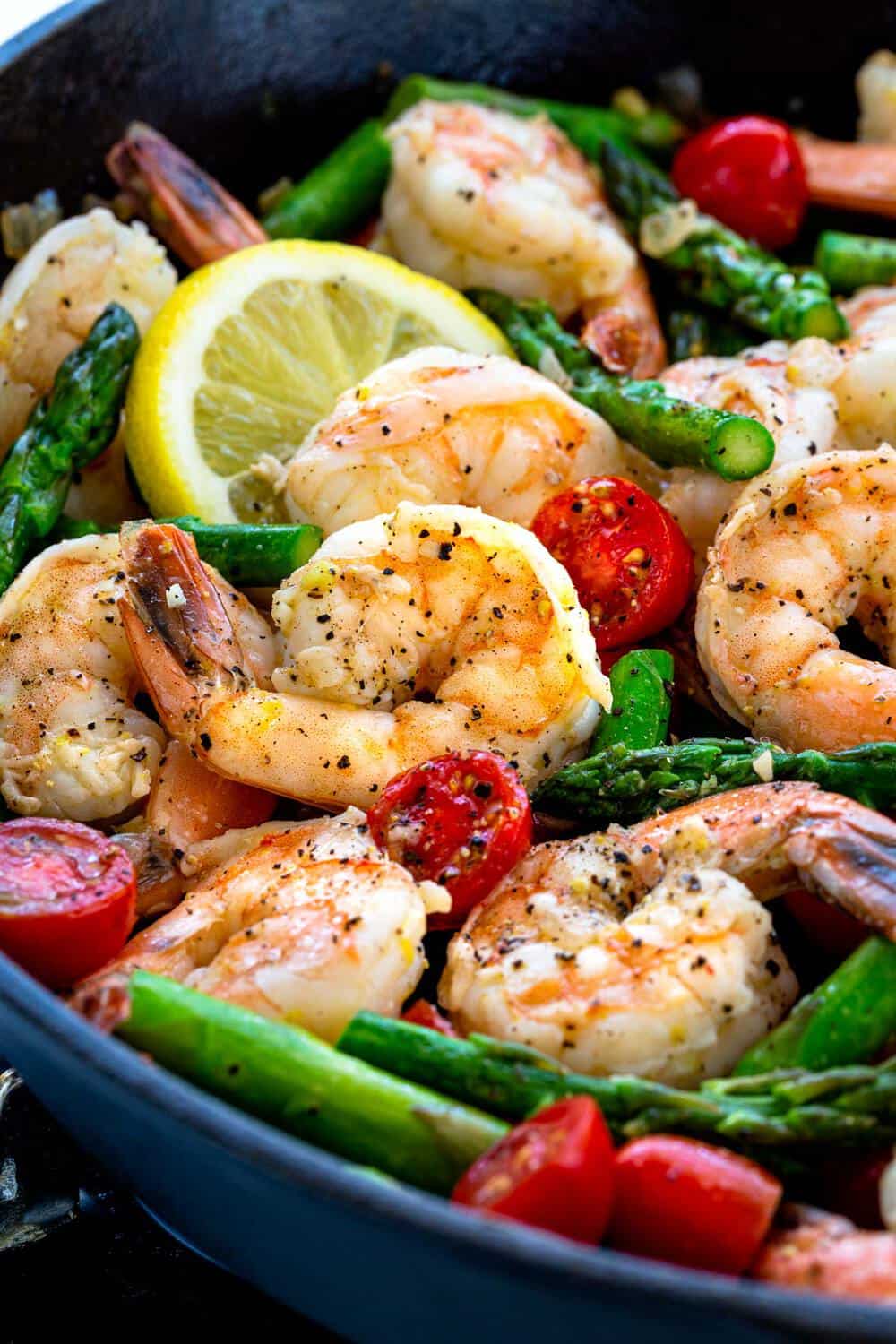 Craving more garlicky shrimp recipes? Try these ones!