It's 7:30am in the morning and I am in the food capital of France – Lyon. Having been eating my way through the French country-side I thought it would be only appropriate to post something French inspired. Today we're using scallops and leeks as our key ingredients, and a traditional French cooking method confit.
You might have tried some duck confit at a French bistro, it is essentially a leg of duck submerged and slowly cooked in lots of fat. This technique allows the meat to cook gently and to stay very soft on the inside while adding caramelisation characteristics to the flavor. This cooking method can be applied to vegetables and fruits as well. Leek confit is usually made with lots of butter and a little water but as I wanted to make it into a thick puree I added a little white potato and cream. I used ghee instead of butter to cook the leek in. You can use a little extra stock instead of cream when processing the cooked leek into a puree. Alternatively, you could also cook leeks in some duck fat.
Scallops are super simple and just grilled with some seasoning. Most of the flavor in this dish comes from the leek confit, which is rich and velvety. I wanted to add some acidity to the dish but instead of just using a drizzle of lemon juice, I made something that brings a third flavour and different texture to the dish. Heavy citrus and sweet garlic in the macadamia crumbs cut through the heaviness of the leek confit and tie the whole dish together really well.
As fancy as this dish sounds, it's not hard to make and will knock the socks off your friends at the next dinner party. I wouldn't even wait until the next dinner party, just treat yourself to a glass of Champagne and this yummy French dish any night of the week.
Cooking notes: This is more of an appetiser/first course kind of meal but to make more simply double the amount of ingredients and cook the leek confit for a little bit longer. Macadamia crumbs will make enough for four servings. Make sure to use as fresh scallops as possible, rinse them under cool running water and pat them dry. Check for any side muscles that might still be attached to the scallops. The side muscle is a little rectangular bit of tougher feeling tissue on the side of the scallop which you can remove by pinching and tearing it away with your fingers. Make sure the scallops are as dry as possible before going in the pan and only season with salt right at the end to avoid too much moisture during cooking.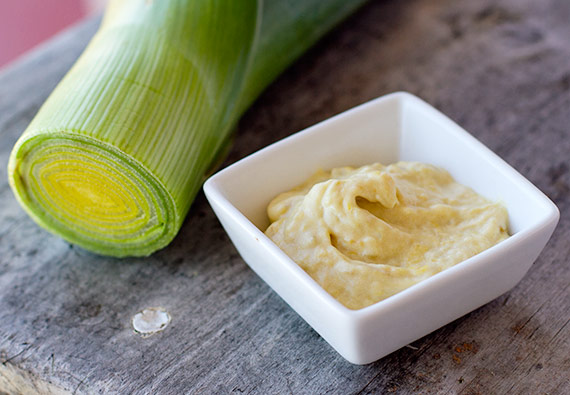 Leek confit can be used for many other dishes, it goes well with red and white meats, fish and other seafood. It's also a nice sauce to dip some steamed vegetables in.
Ingredients
For leek confit
1 large leek, white part only, washed and diced
1 small white potato, peeled and cubed
1 tbsp ghee
1/2 cup salt reduced chicken or vegetable stock
A pinch of salt
4 tbsp full fat, pouring cream
For macadamia crumbs
1 garlic clove, roughly chopped
1/2 cup macadamia nuts
1 lemon (zest + juice)
A good pinch of salt
2 tbsp macadamia or olive oil
10 scallops, check the cleaning method
A pinch of salt
A pinch of black pepper
Some ghee
Instructions
To make the confit, sauté diced leek on medium heat in 1 tablespoon of ghee for 5 minutes. Add potato and cook together for another 5 minutes. Add half a cup of salt reduced chicken or vegetable stock and a pinch of salt. I prefer salt reduced stocks as I like to control how much salt I add. Cook covered on low heat for 20-25 minutes, stirring occasionally. Transfer the cooked leek mixture to a blender or food processor and puree with cream or a little extra stock until smooth and thick.
Grind macadamia nuts and garlic to small crumbs. You can use a knife or a mortar and pestle, I used a food processor.
Heat oil to medium heat, not smoking hot. Add the crumb mixture and cook for 2-3 minutes until golden brown. You have to stay with it and continue to stir every 10-15 seconds to prevent any burning. Once toasted, add lemon zest, juice and a pinch of salt. Mix through and set aside.
Finally, heat a grill plate or a frying pan with some ghee to sizzling hot. Fry scallops on high heat for 1 minute on each side (top and bottom), then stir them around for another 20 seconds to give other sides some heat.
To plate, smear a tablespoon or two of leek confit on the bottom of a plate. Place a few scallops on top and sprinkle with one to two teaspoons of macadamia crumbs. Garnish with fresh parsley and a drizzle of olive oil.
Preparation time: 15 minutes
Cooking time: 40 minutes
Number of servings: 2