---
Learn how to cook paleo salmon cakes with this nutritious, Whole30 friendly recipe. With hidden beets inside and a side of crunchy pink coleslaw, avocado and pickled onions, these patties make for a perfect, balanced meal. 
---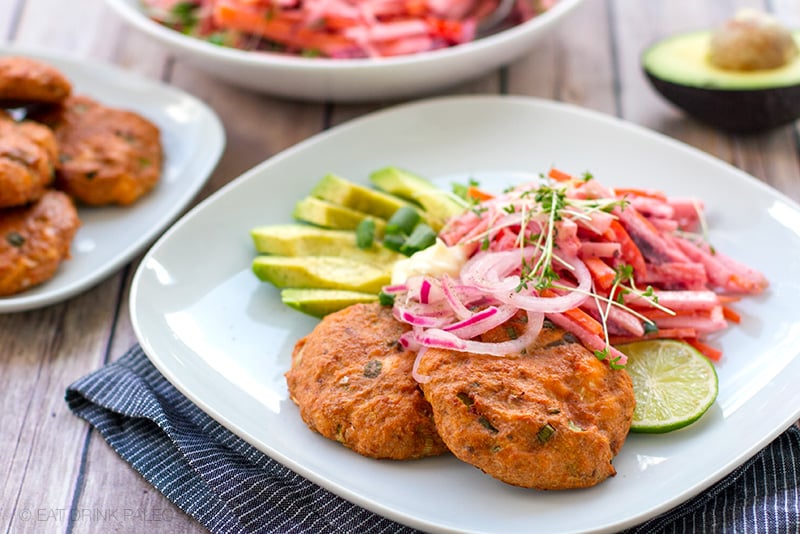 I love making fish burgers and fish cakes as part of a weekend meal prep. They are great to cook on the day while fresh or to freeze a few patties for later. With these salmon cakes, I decided to add some grated beetroot inside, which gives them beautiful pinkish colour and adds a few hidden nutrients. The patties are seasoned with some beautiful, warm spices and spring onions, which give them a bit of a Middle Eastern twist.
To turn this into a complete paleo meal, I prepared a gorgeous crunchy coleslaw made with kohlrabi, carrots and cooked beetroot (this allowed me to use up all the beets I had). I also served some sliced avocado and pickled red onions, which complement the fish really well. You can also use some gherkins or other fermented veggies instead of the pickled onions.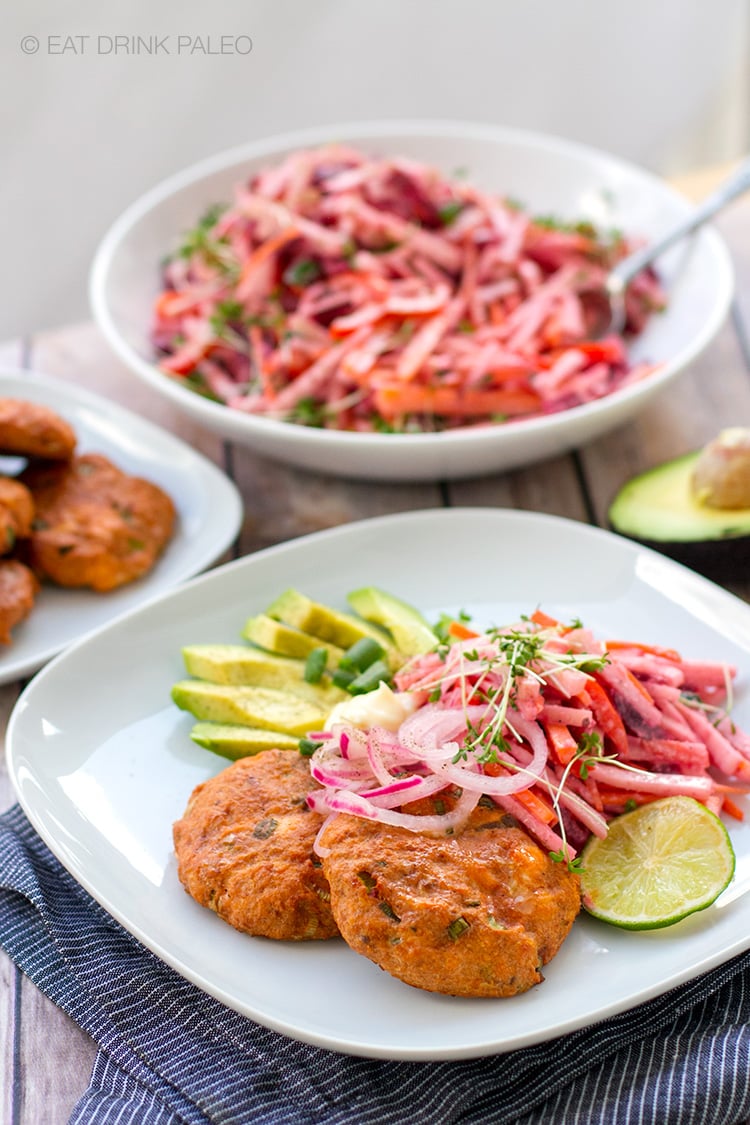 You can use this recipe to just make the salmon burgers and serve them up with any vegetable side you like, or you can try making the whole meal.
Cook's notes
You can use salmon fillets or salmon steaks in this recipe. To save money, I often buy frozen salmon and then, once defrosted, I grind the fillets into fish mince using my hand-held food processor (also fabulous for making cauliflower rice). You can use other types of fish here as well or do half salmon and half white fish. Make sure to remove any bones first. Equally so, if you don't eat fish, chicken or turkey mince would work well in this recipe as well.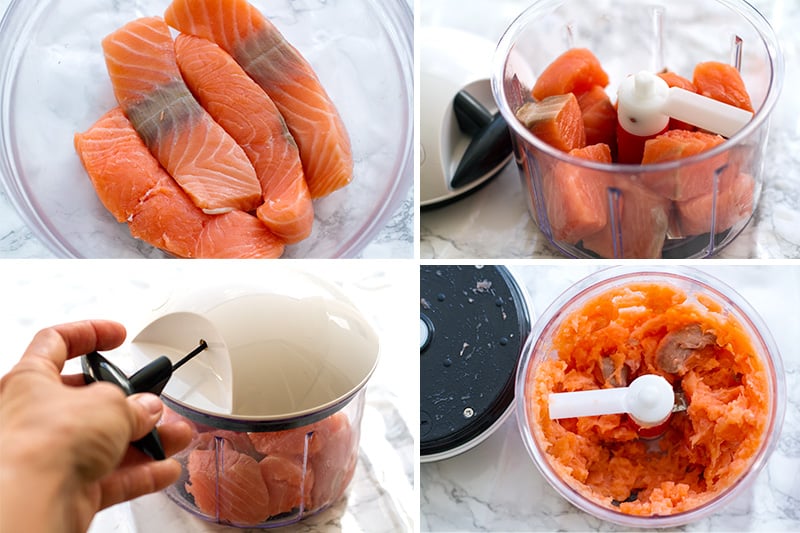 To thicken up and bind the pattie mixture, I used some cassava flour as it's nut-free and great for making lunchbox friendly burgers.
You can also use almond flour or coconut flour instead. I decided to try two cooking methods: baking and pan-frying. I think the texture was quite similar, although the pan-fried patties were a tiny bit juicier. The main difference that surprised me is that the pan-fried patties retained their bright pink colour, while the baked ones went a bit more orange. Your pick!
For the coleslaw, I used fibre-rich veggies like kohlrabi and carrot, and the leftover cooked beetroot, which gives it a lovely, pinkish colour. Plus, the sweetness and softness of the beets compliment the crunchiness and sharpness of kohlrabi. You can also make a slaw with cabbage, radish or any other salad veggies you like.
Freezing instructions
Once the raw patties are shaped, I suggest placing a sheet of baking paper on a flat plate or cutting board and then placing the patties on top but not overlapping each other. Cover the plate with some cling wrap and place it in the freezer for 1 hour. Once the patties are firm enough / semi-frozen, you can add them to a Ziplock bag or into a container as at this stage they won't stick together. You can also freeze the cooked patties. Store for 2-3 months. In the fridge, keep the cooked patties for 3 days.
Love salmon recipes? Try my Cajun salmon with tomato cauliflower rice, lomi-lomi salmon and avocado salad, or my salmon and green veggies sheet pan dinner.
Print
---
For the salmon cakes
Kohlrabi & beetroot slaw
---
Use a food processor to grind the salmon into mince. Transfer to a mixing bowl and add the rest of the cake ingredients. Mix through really well.
Shape into medium patties and set aside on a plate.
For baking, preheat the oven to 200 C/400 F. Place the patties on top of a sheet of baking paper greased lightly with coconut or olive oil. Bake in the oven for 15 minutes. Then, remove the tray and brush the tops of the burgers with a little oil. Pop under a hot grill/broil for 3-4 minutes to brown up.
Alternatively, pan-fry for 3-4minutes on each side over medium-high heat. I used a little coconut oil for cooking but olive oil is also fine. Pan-frying method results in more pink salmon cakes.
To make the slaw, simply mix all the salad ingredients together and set aside until serving. Plate the burger patties with sliced avocado, slaw salad, a dollop of mayo and pickled onions or gherkins.
---
SAVE THIS RECIPE TO PINTEREST