In this nutritious and tasty lomi-lomi salmon salad recipe, I am taking a Hawaiian classic and turning it into a very nourishing meal full of healthy fats and antioxidants. This recipe is paleo, gluten-free and low-carb friendly. 
---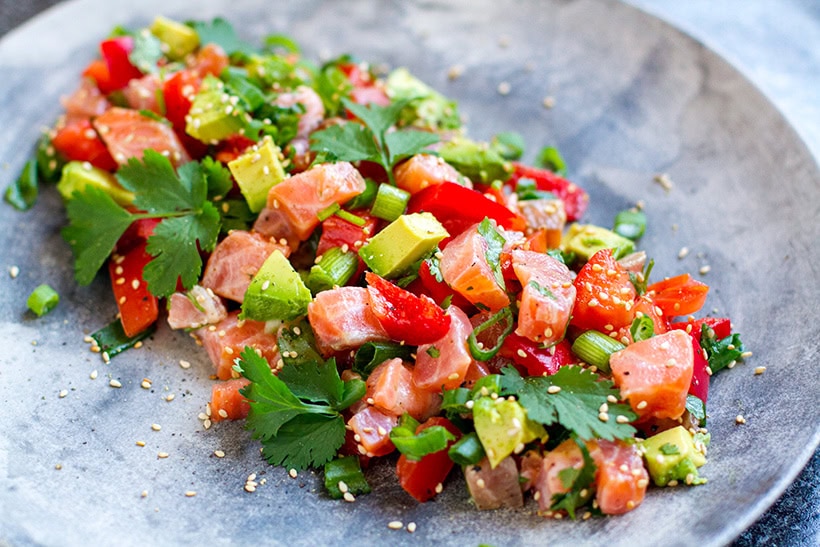 What Is Lomi-Lomi Salmon?
Jumping on last year's trend of Hawaiian tuna dish called poke, I want to introduce you to another pacific gem called lomi-lomi salmon. It's a side dish (sort of like a salad) made with lightly cured salmon, fresh tomatoes and onions, dressed with zesty lime dressing. Similarly to a poke dish, this recipe uses raw diced fish and is full of healthy fats and nutrients.
The name lomi-lomi means 'to massage, to kneed, to work in and out' and in this case refers to the salmon being massaged and mixed in with other ingredients by hand. 
In my slightly healthier, paleo version, I am curing the salmon with coconut sugar instead of the regular white stuff, and I am adding velvety avocado and crunchy peppers to turn this into a lovely, satiating salad.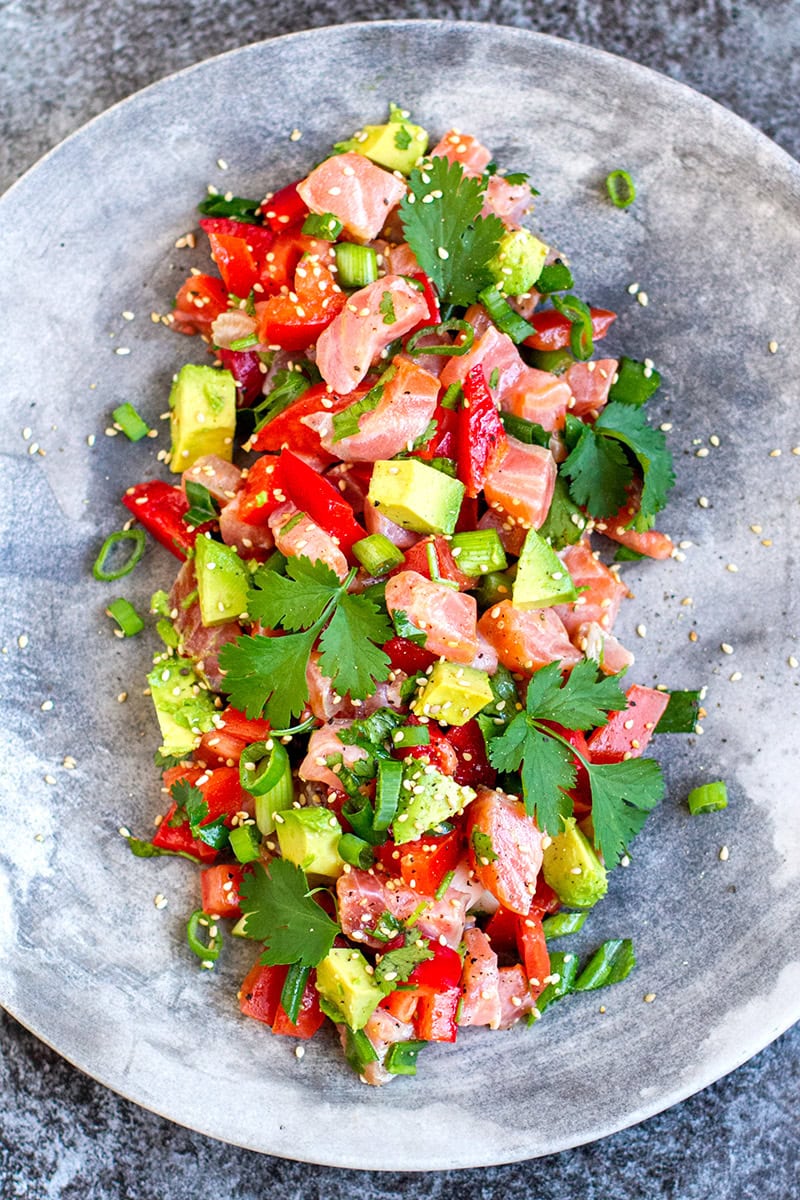 How To Make Lomi-Lomi Salmon Salad
The full recipe and ingredients are in the card below but here are the step-by-step pictures to help you along. The main thing you really need to know is that it's important to get really fresh salmon. This salad is all about the ingredients you use and the better and fresher the fish, the tastier the final dish will be.
I am using coconut sugar to cure the salmon. It's a great, low glycemic index sweetener and honestly, it worked really well in the salt rub. You can purchase it online and in most health food stores. If not available, you can use regular brown sugar. It's only used to infuse a little sweetness into the fish and you won't actually be eating all that sugar itself.
If you're avoiding all sweeteners, you can also cure the salmon with just salt and coriander. Oh, and if you hate coriander, feel free to replace with sweet basil or parsley.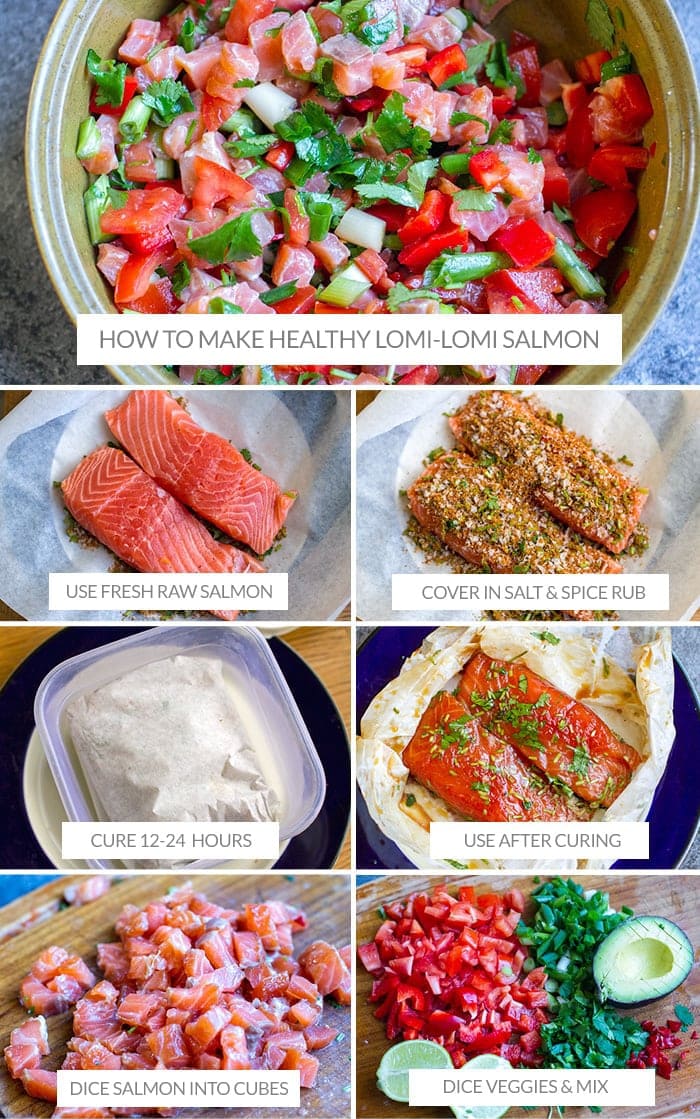 How To Serve Lomi-Lomi Salad?
You can serve it as is, or with a side of simple cooked white or sweet potatoes for extra carbs. I love it with a side of boiled white potatoes flavoured only with butter, salt and pepper. Ghee or olive oil can be used for a dairy-free version.
Simply cook diced white or sweet potato in water until soft (about 10-15 minutes), strain and then season with salt and add a generous dollop of butter or other healthy oil/fat. I think it goes wonderfully well with the salty, zesty lomi-lomi salad. You could replace white potatoes with other starchy veggies or extra greens.
Another fun way to use this recipe is to make it for a party. You can then serve it on a large platter or in small bowls/shot glasses/lettuce cups, so your guests can enjoy it as finger food. You can make a batch of homemade crackers and serve the lomi-lomi salmon on top (like you would with tuna tartare). Oh, and this gorgeous plate is by Made Of Australia.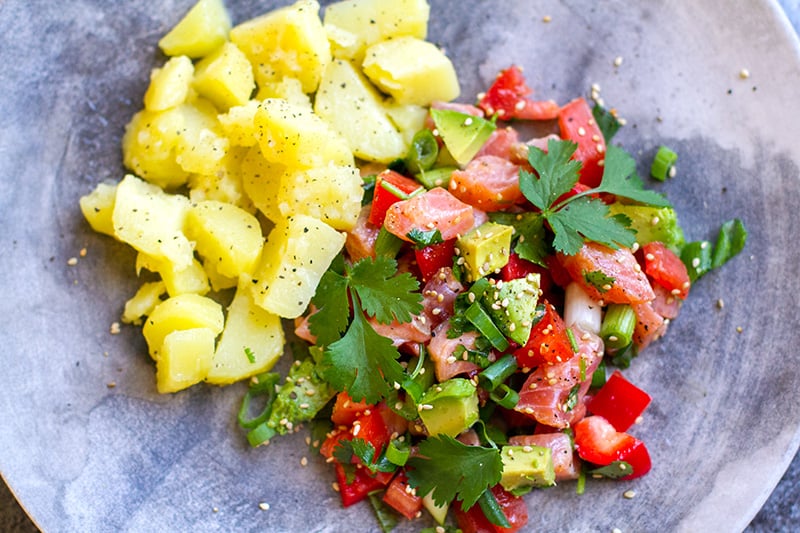 More Healthy Salmon Recipes
Green Veggies & Salmon Sheet Pan Bake
Green & Lean Salmon Bake
Salmon & Avocado Nori Rolls
Superfood Salad With Grilled Salmon & Kale
Cajun Lime & Honey Salmon With Cauli Tomato 'Rice'
Print
---
Description
Classic Hawaiian lomi-lomi salmon just got healthier in this delicious salad dish. The salmon is cured with low-carb cococonut sugar and served with velvety avocado and crunchy red peppers.
---
For the salmon
For the salad
---
Wash and pat dry the salmon fillets with paper towel. Remove skin, if present.
Place a piece of parchment or clingfilm on a plate. Mix the salt, coconut sugar, and chopped coriander in a bowl and spread half of it in the middle of the paper. Place the salmon fillets on top and cover with the reset of the salt rub mixture. Press the rub down into the fish with your fingers, making sure the fillets are evenly covered. Wrap the fish into a parcel and store in an airtight container in the fridge for 12-24 hours.
After the curing time, remove the salmon from the fridge and unwrap from the paper. Rinse the curing rub/marinade (it would have liquified by now) under cold water really well. Place the salmon fillets on a chopping board and dice into small cubes.
Prepare the salad ingredients and add to a mixing bowl. Add the diced, cured salmon. Drizzle with lime juice, sesame oil, coconut aminos (if using) and olive oil, and sprinkle with a little chilli. Mix through really well and serve in a big bowl or on plates, sprinkled with some sesame seeds and extra coriander.
If serving with potatoes, prepare those ahead of time.
---
Notes
Prep time below doesn't include the curing time for the salmon, which is 12-24 hours.
Nutritional breakdown below is based on this recipe divided into 3 servings without potatoes (just the salmon salad).
Nutrition
Serving Size:

1 cup

Calories:

401

Sugar:

4.4 g

Sodium:

922.9 mg

Fat:

21.7 g

Saturated Fat:

3.8 g

Carbohydrates:

8.3 g

Fiber:

2.9 g

Protein:

45.7 g

Cholesterol:

111.6 mg