Roasted Red Pepper Dip with Feta is perfect for a party appetizer, and when it's served with veggie dippers it's a tasty low-carb treat. 
PIN this Roasted Red Pepper Dip with Feta!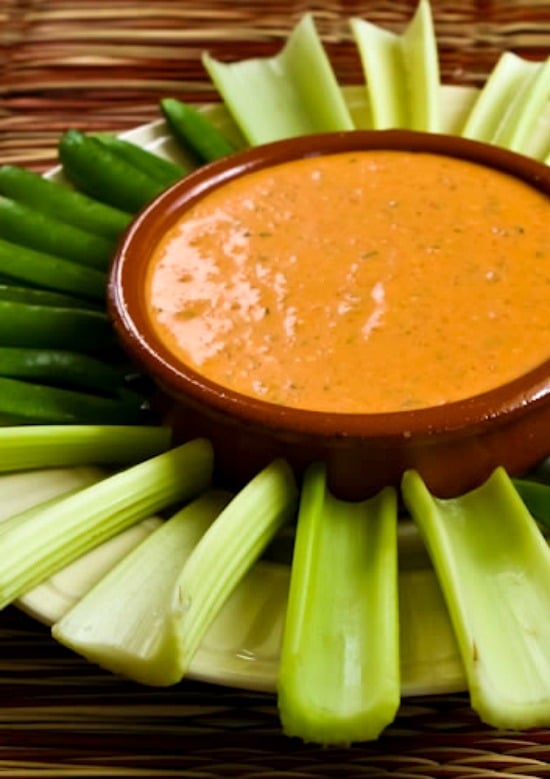 This Roasted Red Pepper Dip with Feta is something that's perfect to make when it's hot weather and you have mint in the garden. But for people who love roasted red peppers and Feta (like me) this is a tasty dip for any time of year. And if you don't feel like buying mint during the winter, just leave it out and this will still be delicious!
And if you serve low-carb vegetables to scoop up the dip like I did, this is perfect for a snack, but also flavorful enough to serve for a party. And trust me, no one will even think about this being low in carbs! This red pepper dip is one of my favorite snacks with celery, but it's good with a variety of low-carb veggies!
What ingredients do you need?
jar of roasted red bell peppers
Minced Garlic (affiliate link)
cream cheese
Feta cheese
Greek yogurt
chopped fresh mint (optional)
fresh-squeezed lemon juice (I used my fresh-frozen lemon juice )
Olive Oil (affiliate link)
salt to taste
What if you don't have fresh mint?
I did love the fresh mint flavor with the Feta in this tasty dip. But if you don't have fresh mint and don't want to buy it just for one recipe, I think this dip will still be delicious without it. You could also try parsley instead of mint if you like the sound of that.
What other veggies are good with this Red Pepper Dip?
I do love this dip with the celery and sugar-snap peas you see in the photo. But it will also be tasty with other low-carb veggies like like jicama, cauliflower, asparagus, green beans, turnips, radishes, or broccoli.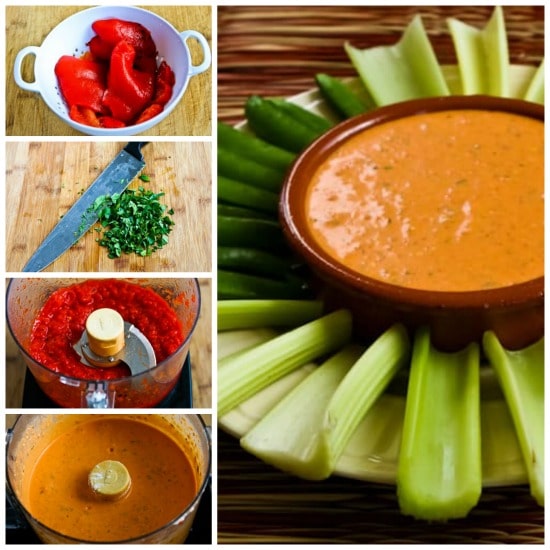 How to Make Roasted Red Pepper Dip with Feta:
(Scroll down for complete recipe with nutritional information.)
This recipe starts with a jar of roasted red peppers, drained very well and then patted dry with paper towels.
I chopped the mint while the peppers were draining.
Puree red peppers and the minced garlic in a food processor.
Add the cream cheese, Feta, Greek Yogurt, chopped mint, lemon juice, olive oil, and salt and process until the the mixture is well-blended.
I served the dip with celery and snow peas, for a low-carb option.
This would also be delicious as a sauce for grilled chicken, fish, or vegetables.
More Tasty Dips to Eat with Vegetables:
Grandma Denny's Homemade Ranch Dip
Greek Yogurt Dip
Sheila's Low-Carb Shrimp Dip
Ingredients
one 12 oz. jar roasted red bell peppers, drained well
1 tsp. minced garlic (or less)
4 oz. cream cheese
4 oz. Feta cheese
1/4 cup Greek yogurt
3 T finely chopped fresh mint (optional)
1 T fresh lemon juice (see notes)
1 T olive oil
salt to taste
Instructions
Put a colander in the sink and dump in the jar of roasted red peppers.
Let peppers drain well, then pat dry with paper towels.
While the peppers drain, finely chop the mint (if using).
Put red peppers and minced garlic into a food processor and process until peppers are pureed.
Add cream cheese, Feta, Greek yogurt, mint, lemon juice, and olive oil and process until well blended.
Taste to see if you want to add salt, and process again if you do.
Serve dip with raw veggie dippers like celery, sugar snap peas, jicama, or cauliflower, or cooked vegetables like asparagus, green beans, or broccoli for a low-carb appetizer.
This would also be delicious as a sauce for grilled chicken, fish, or vegetables, and it's also good as a spread on sandwiches or as a dip for whole-wheat pita bread.
The dip will stay good in the refrigerator for several days. Let come to room temperature again when serving.
Nutrition Information:
Yield:
8

Serving Size:
1

Amount Per Serving:
Calories: 130Total Fat: 11gSaturated Fat: 5gTrans Fat: 0gUnsaturated Fat: 5gCholesterol: 27mgSodium: 251mgCarbohydrates: 5gFiber: 1gSugar: 3gProtein: 4g
Nutrition information is automatically calculated by the Recipe Plug-In I am using. I am not a nutritionist and cannot guarantee 100% accuracy, since many variables affect those calculations.
Low-Carb Diet / Low-Glycemic Diet / South Beach Diet Suggestions:
If served with low-carb veggies this roasted red pepper dip would be perfect for a low-carb snack. If it's made with low-fat cream cheese and fat-free Greek yogurt, this would be approved for any phase of the original South Beach Diet. 
Find More Recipes Like This One:
Use Appetizers to find more recipes like this one. Use the Diet Type Index to find recipes suitable for a specific eating plan. You might also like to follow Kalyn's Kitchen on Pinterest, on Facebook, on Instagram, or on YouTube to see all the good recipes I'm sharing there.
We are a participant in the Amazon Services LLC Associates Program, an affiliate advertising program designed to provide a means for us to earn fees by linking to Amazon.com and affiliated sites. As an Amazon Associate, I earn from qualifying purchases.