These paleo nachos are made with sweet potato chips, tasty spicy beef, zesty guacamole and dairy-free cheese dip. They are much healthier than regular nachos but without compromising on the flavour and textures. Enjoy them with friends and family, while watching your favourite game or a movie. These are gluten-free, Whole30 friendly.
---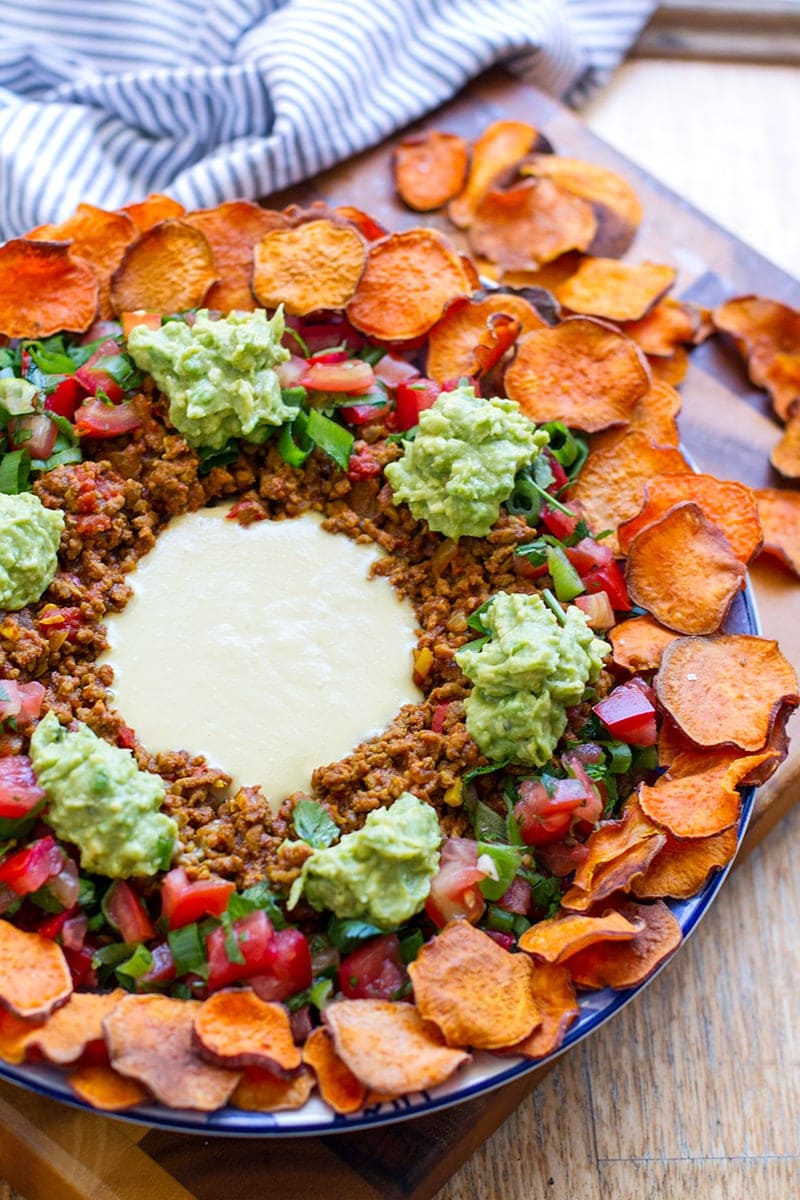 I love regular nachos, and although I still eat them from time to time, I wanted to recreate a paleo-friendly version to be enjoyed at home. These paleo nachos use sweet potato chips instead of corn chips and dairy-free cheese dip instead of regular cheese.
They are great for a party or if you simply want to wedge out on the couch with your favourite movie or while watching some sport.
The best part is that you won't feel bloated or heavy after these nachos as there are no grains, legumes or dairy. With all that nutrient-dense beef, avocado, sweet potatoes and salsa, you can enjoy your favourite comfort food while nourishing your body.
How To Make Paleo Nachos
There are five key elements to these delicious, healthy nachos. Let's break them down.
1. Sweet Potato Chips
You can use any starchy root vegetable but I love thinly sliced sweet potatoes. Coat them in a little oil and bake in the oven until crispy (see below recipe card for full timings and instructions). Sweet potato crisps are grain-free and more nutritious than corn chips.
2. Spicy Beef
Spicy beef is a little bit like beef chilli and is made with ground meat, onions, garlic and spices. It's super easy and you can make a batch ahead of time. It freezes well so you could store a few portions for occasions like this. Sometimes, I use leftover Bolognese sauce with a little added chilli, cumin and paprika powders. This beef con carne with chorizo would work excellently here.
3. Guacamole 
Feel free to use your favourite guacamole recipe here or use my ingredients and instructions below. Even simple mashed avocado with a little citrus juice will work perfectly. You can also try my wicked creamy avocado dressing or jalapeno and leek guacamole.
4. Fresh Tomato Salsa Salad
Okay, you can use ready-made salsa of any kind. I like a bit of freshness on my nachos so I chop up fresh tomatoes, spring onions and coriander and drizzle them with lime juice and a little olive oil. Season with salt and that's it! Wanna mix it up a bit? Try my grilled pineapple salsa.
5. Dairy-Free Cheese Dip
Now, onto the exciting part of the nachos – the cheese! I mean, aren't nachos all about that melted cheese? Well, as these are paleo nachos and I was trying to make them healthier, I whipped up a little dairy-free cheese dip instead. It consists of soaked cashews blended with nutritional yeast flakes, lemon juice, olive oil, and some seasonings. Turned out really well and worked perfectly with the whole ensemble of foods.
Make Ahead Tips
You can make the beef and cheese sauce ahead of time, just reheat before serving. You can skip the sweet potato chips and get some pre-made ones from your local health food store or a supermarket.  Plantain chips, beetroot chips, yam chips or even some regular corn chips can be used as well. You can also make this Paleo Cheese Sauce recipe.
---
Best Way To Eat Healthy Nachos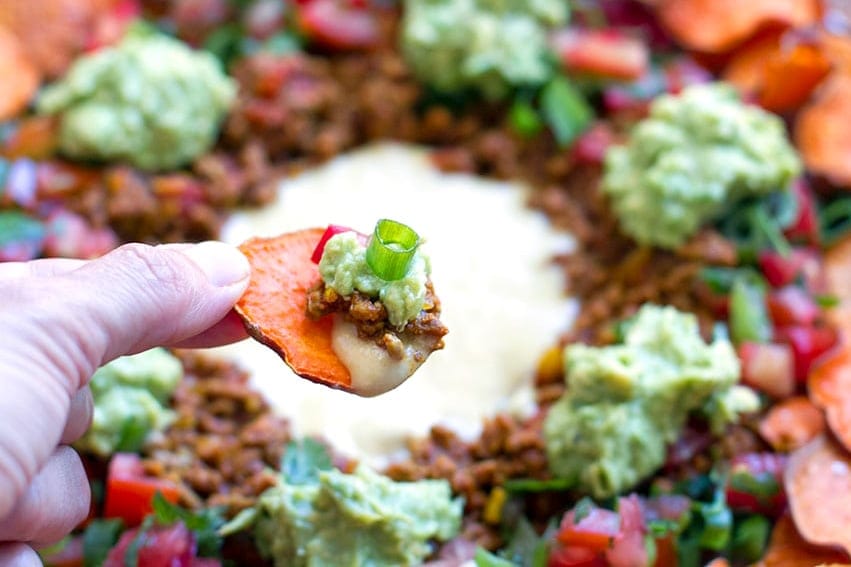 There is no right or wrong way to eat these tasty nachos. I like to dip the sweet potato chips in the cheese sauce first. Then top with a little beef and guacamole; finish with tomato salsa. You might end up scooping a bunch of ingredients into a bowl and just eating them with a fork.
More Tex-Mex Recipes You Might Like
Healthy Naked Burrito Bowls
Chili Con Carne With Chorizo
Jalapeno Coconut Bread With Chipotle Butter
Quick Paleo Chicken Tortilla Soup With Kale
Saucy Spicy Meatballs (Albondigas)
Print
---
Description
These paleo nachos are made with sweet potatoes, guacamole, spicy beef and dairy-free cheese dip and can be served as a dinner meal or shared between friends. If you can tolerate dairy, feel free to melt some regular cheese over the top.
---
Sweet potato chips
Spicy beef
Dairy-Free Cheese Dip
Tomato salsa
Guacamole
---
Sweet potato chips. If making sweet potato chips, preheat the oven to 170 C/338 F (conventional, not fan forced). Slice the sweet potato as thin as you can, you can leave the skin on. Use a mandolin slicer or a slicer setting on a food processor if you like. Toss the potato slices in melted coconut oil or olive oil, use your hands to separate the slices and get them coated evenly. Place parchment/baking paper on two flat roasting trays and place potato slices in a single layer, overlapping each other slightly if needed. Bake for 20-25 minutes and then turn the chips over. Bake for another 20 minutes or even longer if you want them very crunchy. Keep an eye on the time if you oven tends to get too hot and reduce by 5 minutes on each side.
Spicy beef – In a deep skillet or a frying pan, heat the ghee or coconut oil over medium heat. Add the onion and chilli and sauté for 5 minutes, until golden. Add the beef and bring the heat to high. Cook and stir with a spatula for 5 minutes, separating the pieces along the way. Then add the rest of ingredients, stir and bring to boil. Turn the heat down to low and simmer for 20-25 minutes, with a lid on, stirring regularly.
Cheese sauce dip. Place all ingredients except for arrowroot powder and extra 1/4 cups of water in a blender. Process until smooth. If too thick, add more water until it's like a thick smoothie. Transfer to a small pot. Heat up over medium heat and stir. In the meantime, dissolve arrowroot powder in quarter of a cup of water. Stir into the sauce and take off the heat. Arrowroot will thicken the mixture. Taste for seasoning and add more salt and lemon juice if you like.
Tomato salsa & guacamole – Combine salsa ingredients in a bowl and set aside. Prepare the guacamole and set aside.
Finally, assemble the nachos in the following order. Place the beef in the middle of a large, deep platter. Make a well in the middle and push the beef outwards. Add the tomato salsa around the beef and place the chips on the edges of the platter. Place dollops of guacamole on the beef and pour the cheese dip in the well of the middle of the platter.
---
Nutrition
Serving Size:

Quarter of a platter (sweet potatoes, beef, guacamole, salsa and cheese dip)

Calories:

638

Sugar:

19.1 g

Sodium:

1207.7 mg

Fat:

32.2 g

Carbohydrates:

61.5 g

Protein:

33.8 g

Cholesterol:

60 mg