This website may contain affiliate links and advertising so that we can provide recipes to you. Read my privacy policy.
Lobster ravioli sauce is rich and creamy, full of fresh herbs and garlic! It's bursting with flavor and the perfect addition to all of your favorite pasta dishes.
Lobster makes any dish better! You've got to try lobster mac and cheese, bisque, and my reader-favorite lobster tail recipe!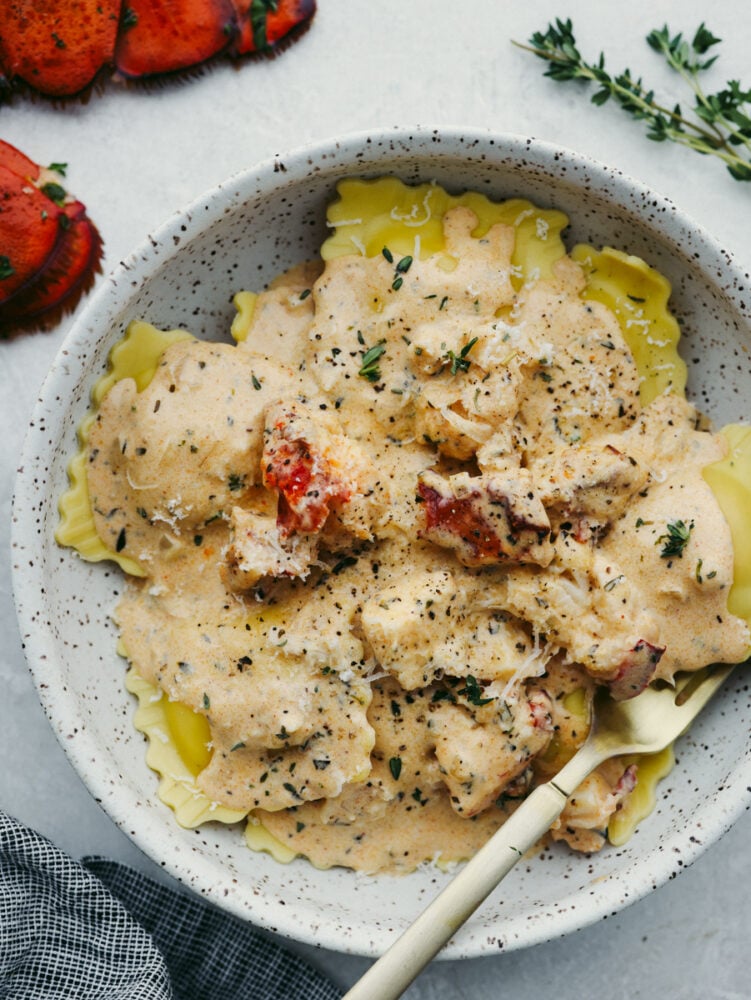 Lobster Ravioli Cream Sauce Recipe
Happy Valentine's Day, everyone! What better way to celebrate the day of love than with lobster? Today's recipe is an AMAZING creamy lobster sauce, filled with garlic, shallot, and herbs. It's perfectly savory and indulgent. Sure to impress your date or the girls for Galentine's! You get all of that amazing lobster flavor without the hassle of removing shells. (Unless you're wanting that too, if so, my butter garlic herb lobster tail is a must-try!)
This thick and creamy sauce coats pasta so perfectly! I love using it over ravioli, specifically. Getting a bite of lobster with tasty cheese-filled pasta is a dream. You can even use lobster-filled ravioli for an extra shot of flavor! Penne and other sauce-grabbing pastas work great, too. Lobster ravioli sauce is super easy, super impressive, and simmers up in less than 30 minutes. Just because it's Valentine's Day doesn't mean you need to be slaving away in the kitchen! Find more easy Valentine's Day recipes here.
Lobster Ravioli Sauce Ingredients
Bring the lobster and wine, and your kitchen has the rest! This lobster ravioli sauce has all the wow-factor with the most simple ingredients! It's the kind of recipe you'll want to come back to- special occasion or not! As always, the measurements for the ingredients listed below can be found in the recipe card at the end of the post.
Butter: Butter is lobster's best friend! Add it to your lobster ravioli sauce for richness and flavor.
Shallot: Diced shallots add a sweet but sharp flavor that's the perfect addition to any sauce.
Garlic: Adds that amazing savory flavor to the sauce.
Dried Thyme and Basil: Thyme is earthy and minty while basil is peppery and aromatic. Both complement this sauce really well!
Dry White Wine: Added for more complex flavor and aroma. Cooking with white wine helps to balance out richness.
Heavy Cream: The creamy base of this sauce! It makes it absolutely decadent.
Old Bay Seasoning: Adds a hint of heat and peppery flavor!
Kosher Salt: I use kosher salt for its chunky size. It also helps to keep flavor more pure and less bitter.
Black Pepper: For a little extra kick!
Lobster: Chopped and cooked, ready to add into the sauce.
Fresh Parsley and Parmesan Cheese: Add a little on top for that perfect garnish!
Lobster Ravioli or Cheese Ravioli: You can use either! Your favorite pasta can be swapped in, too.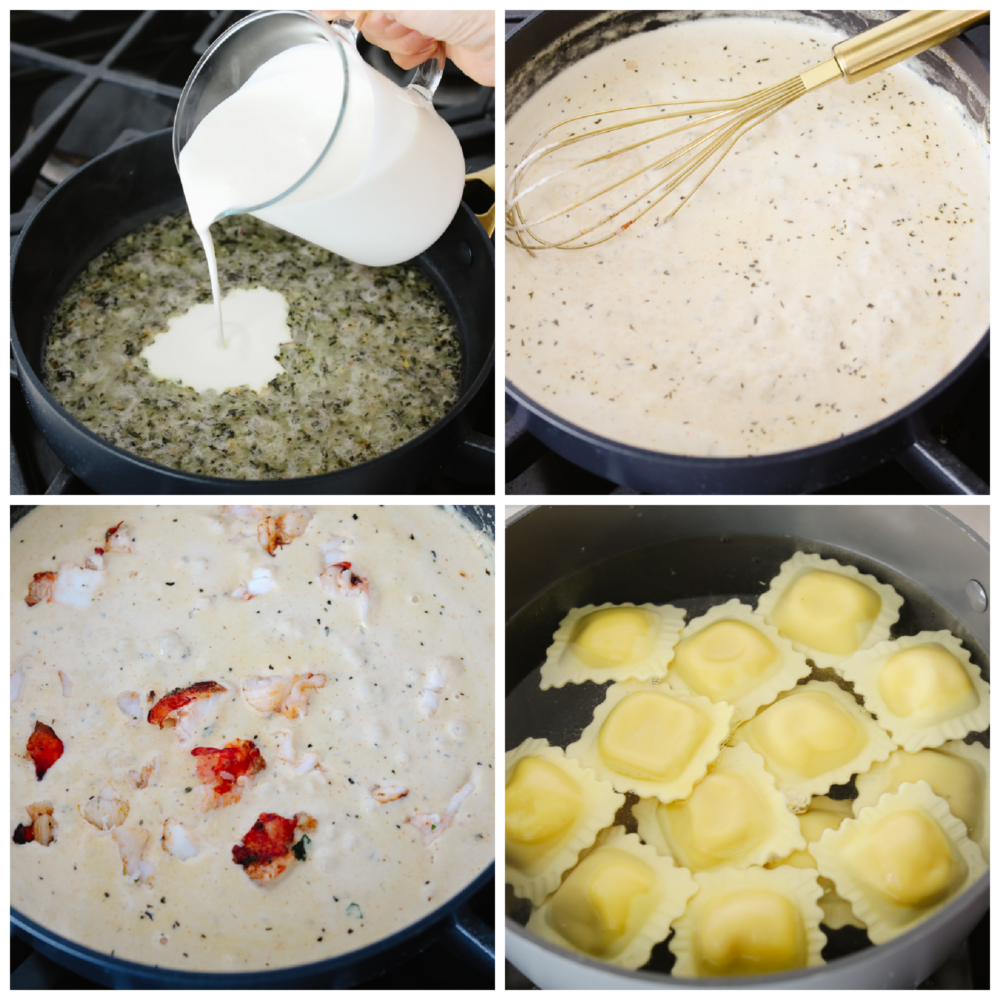 Let's Make Sauce!
Sauté Shallot and Garlic: In a large sauce pan, heat butter over medium heat. Add the diced shallot and cook for 3 minutes until soft. Then, add minced garlic and cook an additional minute.
Add Herbs: Next, add the dried thyme and basil to the skillet and cook for 1 minute until fragrant.
Using a wooden spoon, stir in the dry white wine and cook for 1-2 minutes.
Add Cream, Seasonings, and Simmer: Slowly add in the heavy cream and old bay seasoning. Whisk to combine all the ingredients, and bring to a simmer. Cook for 10 minutes until sauce starts to slightly thicken.
Prepare Lobster: While the sauce is simmering, prepare the ravioli according to the package instructions. Set cooked ravioli aside while you finish up the sauce.
Stir in Ravioli: Add the cooked lobster pieces into the sauce. Stir and cook for 5 minutes. Remove from heat.
Serve: Plate the ravioli and add the sauce. Garnish with fresh chopped parsley and grated parmesan cheese. Enjoy!
Tips and Variations
Here are a few easy ways to customize and perfect this dish! I assure you, this lobster ravioli sauce will become a new favorite of yours!
Add Tomato Paste: Adding a dollop of tomato paste will give you more of a rosa sauce flavor. It's a great way to add color to your sauce, as well.
Make it Spicy: If you want more heat, feel free to add in extra Old Bay seasoning or even a dash of Cajun spices!
Lemon Zest: Adding lemon zest or lemon juice is a great way to balance out flavors. It gives your sauce a nice, bright flavor as well.
Serve With: I like to serve my lobster ravioli with breadsticks, bruschetta, or crostini! You can use the bread for dipping in this amazing sauce.
Storing Leftovers
Now that you've made this incredible sauce, don't let it go to waste! You can heat it up for a quick and delicious weekday lunch!
In the Refrigerator: In an airtight container, your lobster ravioli sauce will keep in the fridge for 3-4 days.
Reheating: To reheat, pop your sauce in the microwave for 10-second intervals until warm. You can also warm over the stove on medium heat until warmed through. If your leftover sauce is too thick, you can add a tablespoon of water as needed until you reach your desired consistency.