This website may contain affiliate links and advertising so that we can provide recipes to you. Read my privacy policy.
This Lemon Garlic Shrimp Scampi Recipe is a delicious 30 minute meal that cooks in a buttery, lemon garlic sauce and is breaded with a parmesan bread crumb topping. Combined, this meal is irresistible!
A true restaurant quality meal right at home! If you love shrimp then Sticky Honey Garlic Butter Shrimp, Lemon Garlic Parmesan Shrimp Pasta or Baked Coconut Shrimp are some of my go-to recipes for you to try!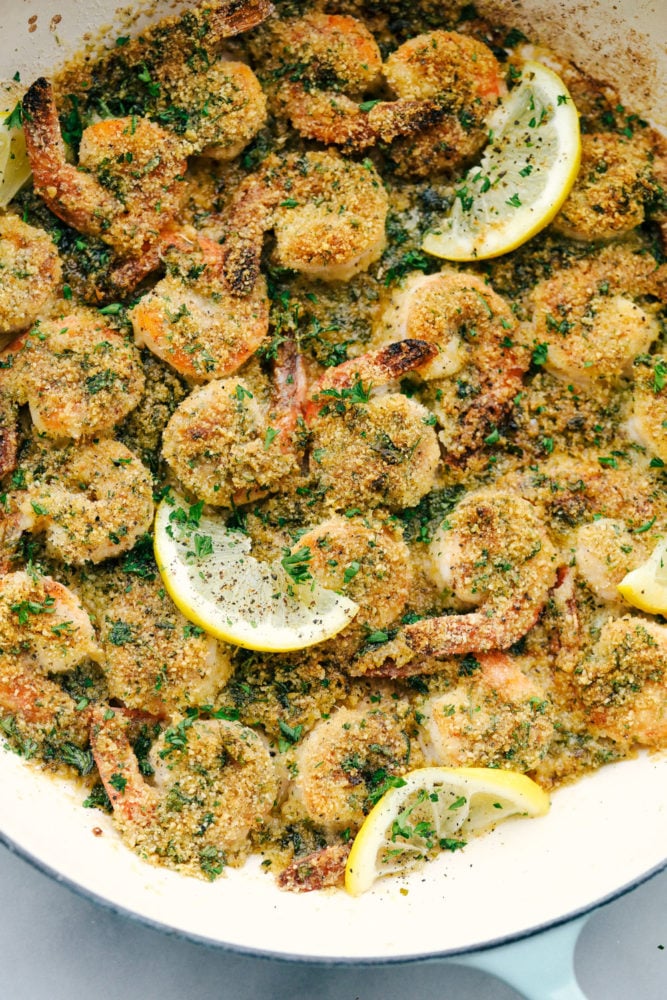 Lemon Garlic Shrimp Scampi
So, here is a little known fact about me. I do not like shrimp. Like at all. But, I really have never given it a chance.  My hubby on the other hand loves shrimp. He is always asking me to make shrimp for dinner. So, I usually compromise and make shrimp a couple of times a month. It has worked out for both of us!
Shrimp scampi is such a classic and delicious meal, so I decided to give it a go.  Well, let me tell you, I LOVED this meal!  It starts out with so many of my favorite flavors. You first cook the shrimp in a butter lemon garlic sauce. Is there even a better flavor combination that that? Then, top it with a parmesan herb bread crumb topping, and broil the shrimp for a couple of minutes to get nice and crispy.  The best part is adding the pasta to the shrimp and it gets coated in the buttery lemon garlic sauce. It is to die for.  One reason I now love shrimp is because the whole process seriously only takes minutes to cook.
Basically, even if you don't think you like shrimp, you have got to give this recipe a try! I couldn't even believe how much I loved this meal!  All of the flavors are incredible and the crispy parmesan bread crumb coating on the shrimp is unbelievably good! You guys are going to love creating this restaurant quality dinner in the comfort of your own kitchen!
Shrimp Scampi Ingredients:
Garlic cloves: Add the minced garlic into the butter/oil combo until fragrant.
Butter and Olive oil: The mix of butter and oil make the perfect fragrant and flavorful saute for the shrimp.
Medium shrimp: Buying uncooked,peeled and de-veined will save you prep time.
Lemon juice: To taste (one tablespoon is a good place to start)
Salt and Pepper: To taste
Dried oregano: Mix fresh oregano together with the parsley for a great earthy flavor.
Parmesan cheese: Freshly grated will melt nicely over the shrimp.
Bread crumbs: Combine with the seasonings and parmesan and sprinkle over the top.
Parsley: Fresh minced.
Linguine pasta: Linguine is the classic choice for this dish, but most pasta will work well.
Let's Cook Up Some Shrimp!
Cook shrimp in garlic butter saute: In a 10 inch skillet, saute garlic in butter and oil for 1-2 minutes. Add the shrimp, lemon juice, and pepper. Cook and stir until the shrimp turn pink.
Create crumble and sprinkle on shrimp: Combine pepper, oregano, parmesan cheese, bread crumbs and parsley in a small bowl. Sprinkle on top of the shrimp and broil for 2-3 minutes until it starts to brown.
Serve: This shrimp pairs well with hot pasta.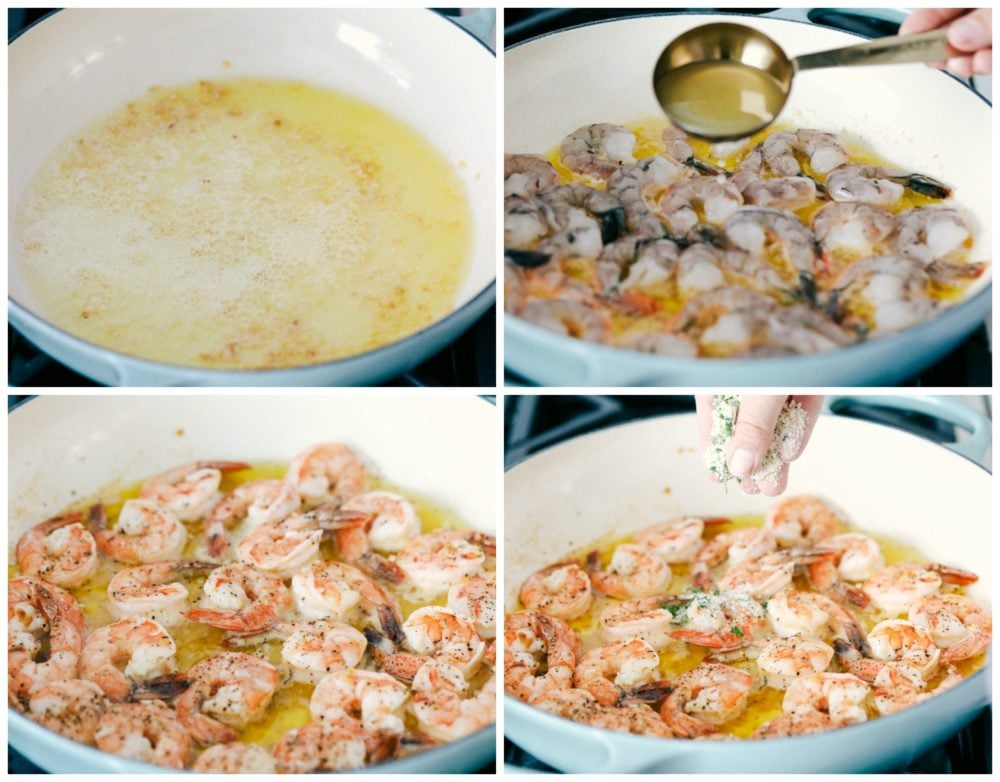 What types of pasta can be made with Lemon Garlic Shrimp Scampi?
Linguini: is the recommended pasta for shrimp scampi. The noodles are not too thick and are capable of locking in the creamy sauce and flavors while enjoying the lighter side of a noodle. The cream compliments the noodle and the shrimps tender meat. When serving a linguine pasta you will want to use less pasta on each plate. This will leave the focus on the shrimp and sauce and bring out those bold flavors.
Angel Hair:  is a very light pasta. It is a thin strand of pasta that is great for shrimp scampi. It holds in the great flavors from the lemon garlic sauce.
Vermicelli: is lighter than angel hair and very delicate. If you are looking for a lighter dish, this pasta is the best one for that. You will not need as much sauce with vermicelli.
What Can I serve with Lemon Garlic Shrimp Scampi?
Lemon Garlic Shrimp Scampi is a meal all in itself. You can enjoy it with pasta and have your dish complete. If you are looking to add on to your meal and enjoy a few other sides to go along with it, I would recommend a salad, bread and/or a savory dish that blends well with the shrimp scampi. A good salad with light flavors but unique textures and vegetables are a great side. Thick, rich garlic bread or warm breadsticks are great to have while eating your Lemon Shrimp Scampi meal too. Enjoy these suggested three sides to go along with your Lemon Garlic Shrimp Scampi!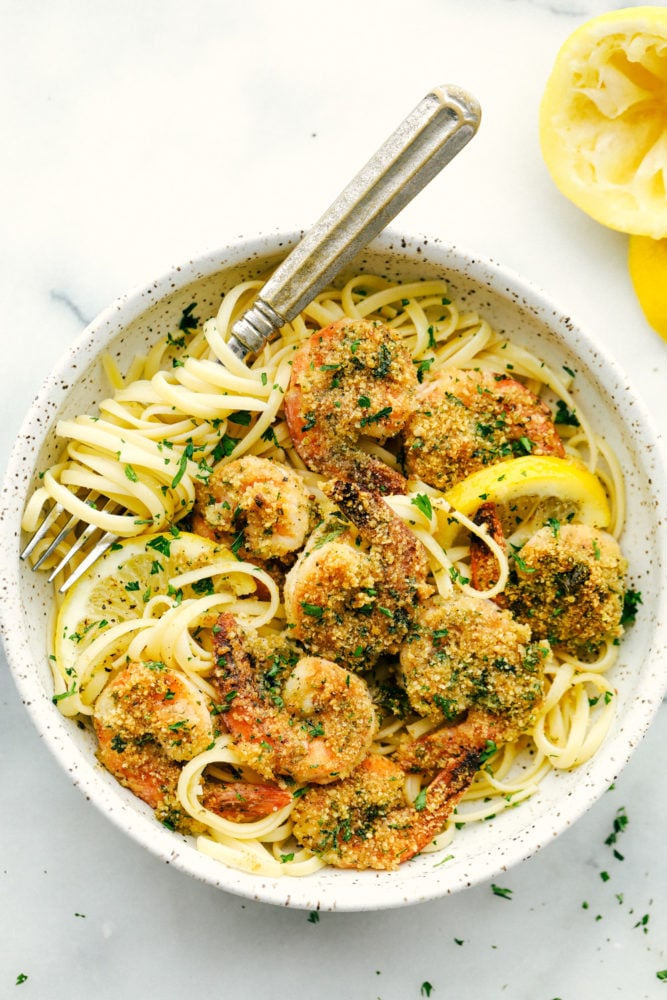 Here are More Delicious Shrimp Recipes: