This is a healthy and nutritious recipe for tuna patties (or fish cakes) which are made with added greens such as kale or spinach. The patties are served with a tasty beet and horseradish relish and a green salad. This is a nutrient-dense dish which is paleo, AIP (autoimmune) and Whole30 friendly.
---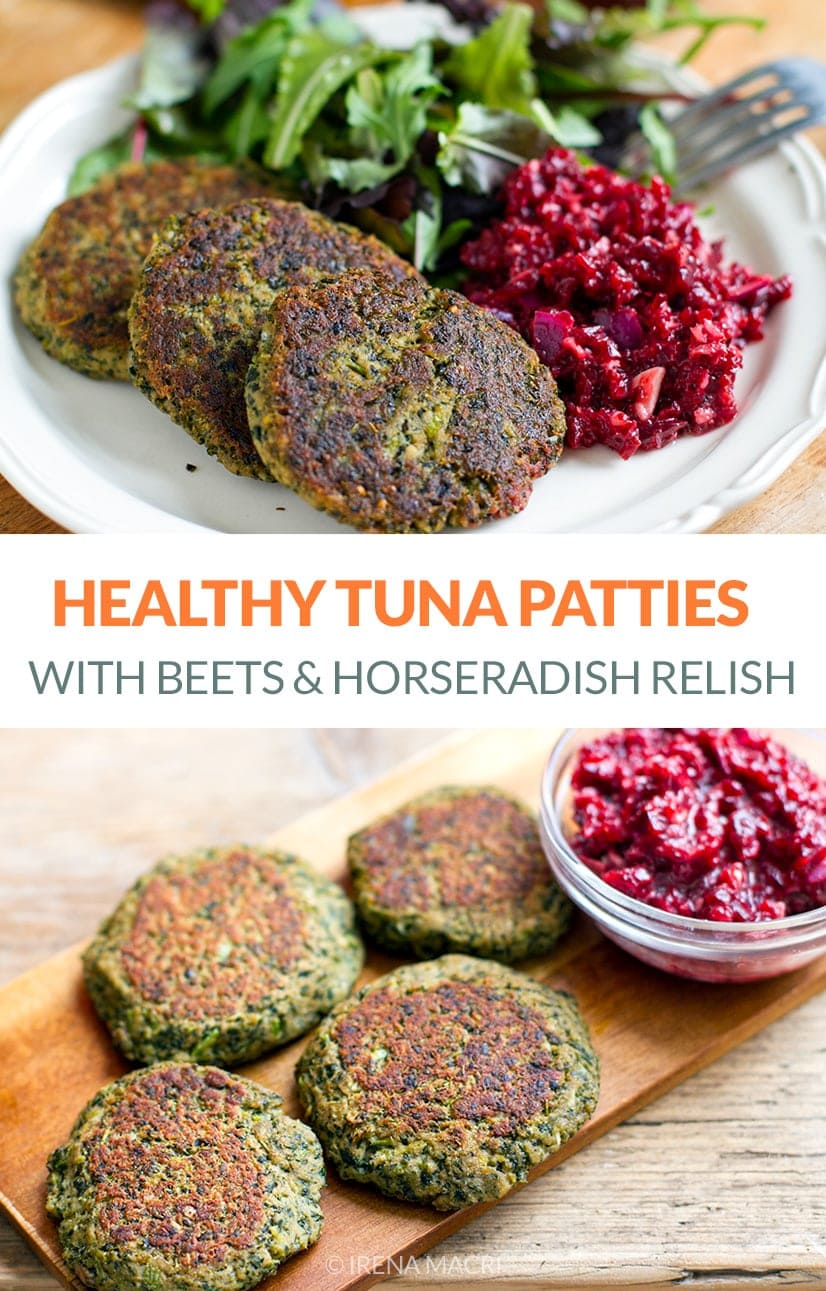 About AIP Tuna Patties
This tuna patties recipe came about because I was cooking a meal for a friend who is following an autoimmune protocol (AIP). The diet has quite a few restrictions (more so than paleo) and is focused on nutrient-dense foods that help the body heal.
The dish started with a tin of tuna and some leftover cooked beetroot. I basically threw together another fridge surprise and it turned into a very healthy and delicious meal. It's filled with nutritious foods – fish such as tuna, kale, dill, beetroot, lemon, red onions and leafy greens. All the good stuff is right here!
The recipe is gluten-free, grain-free and egg-free and is suitable to those following AIP (like my friend), paleo, and Whole30 diets. If you're doing my paleo reset program, this is a great addition to your meal plan.
What Is AIP?
For those unfamiliar with the term, AIP stands for Autoimmune Protocol, which is a modified paleo diet (it's much stricter) that excludes eggs, nightshades, nuts and seeds (including seed-derived spices). It's a healing and anti-inflammatory approach recommended for people with autoimmune diseases/conditions. You can learn more about AIP here. Now, let's get back to the recipe.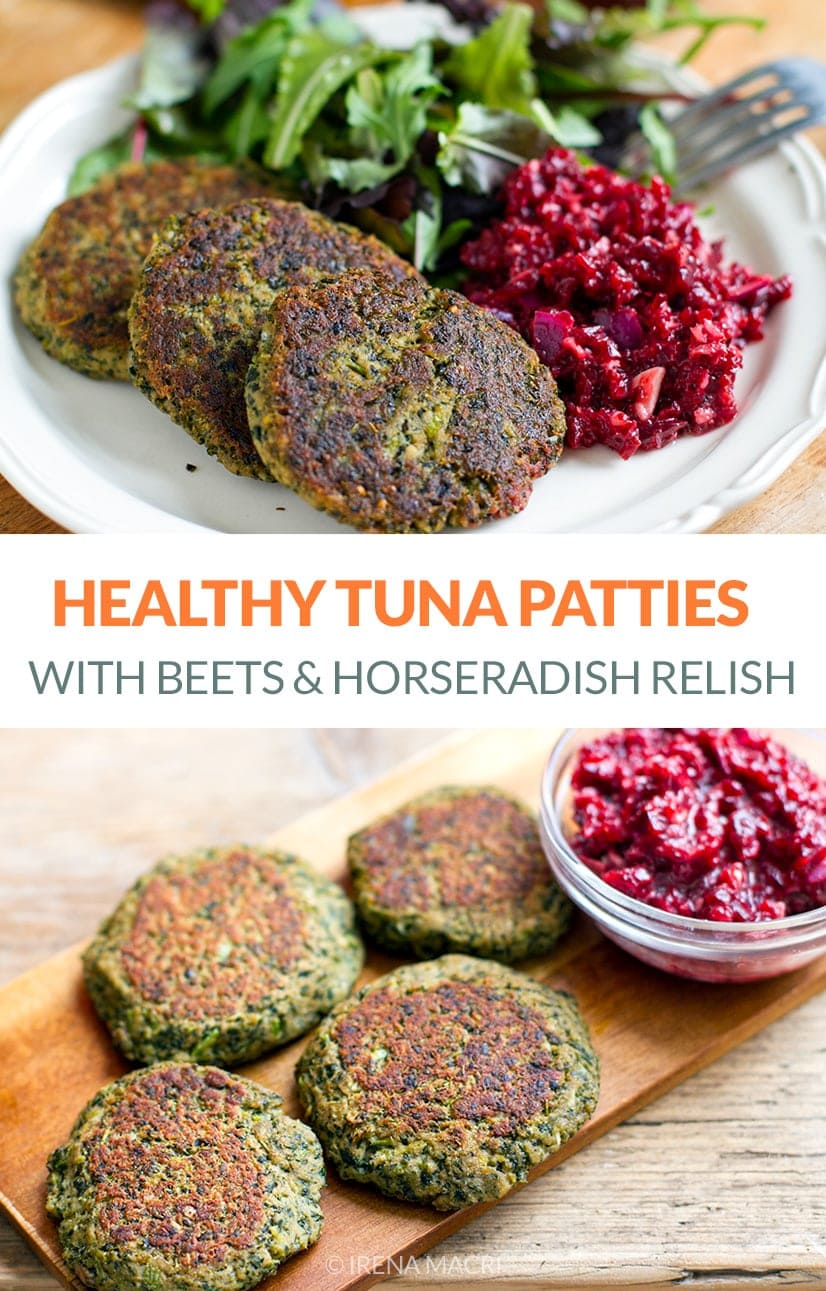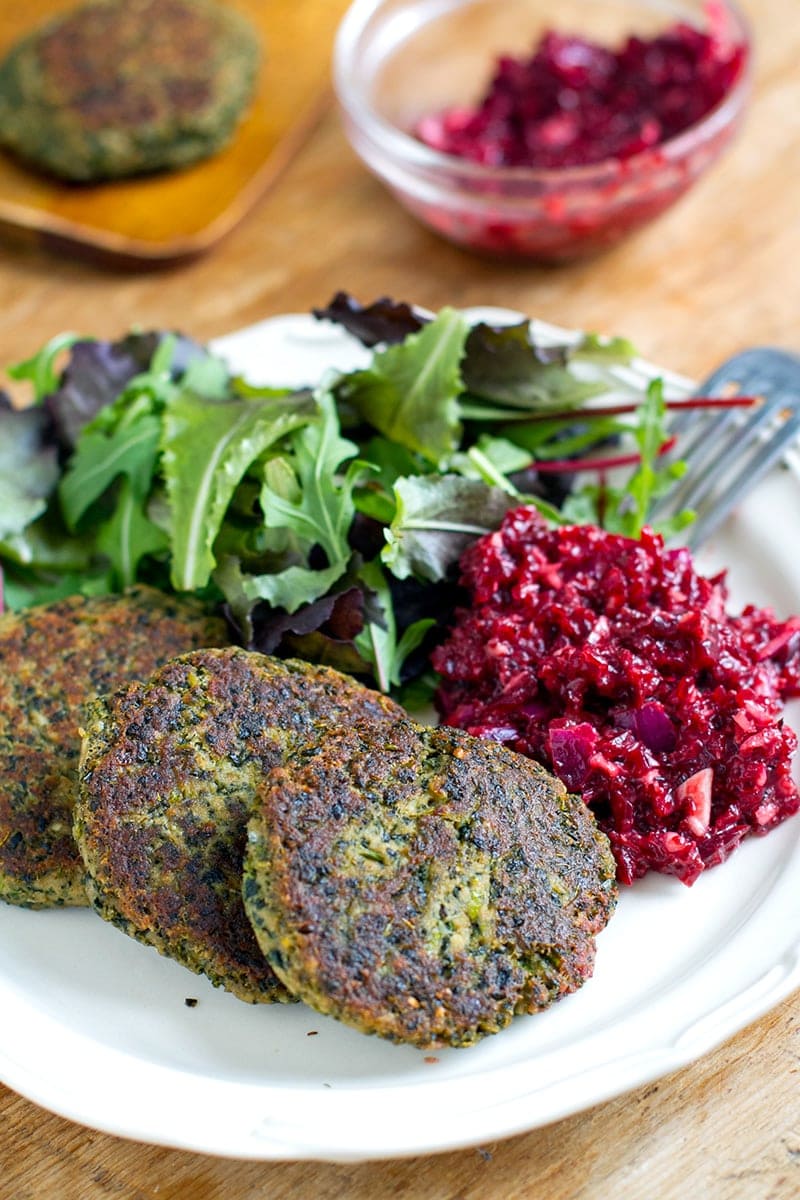 Cooking Tuna Patties
For the tuna patties, I used the more sustainable pole-caught tinned tuna but you can use any other type of fish. I recommend oily fish such as salmon, trout, sardines or mackerel for extra nutrients. If you don't have fresh dill, feel free to use other fresh herbs of choice, and kale can be replaced with spinach.
For the relish, I used pre-cooked beetroot but you can grate some raw beetroot or boil a few roots ahead of time. Horseradish is optional but very nice, you can use a little wasabi for a kick as well.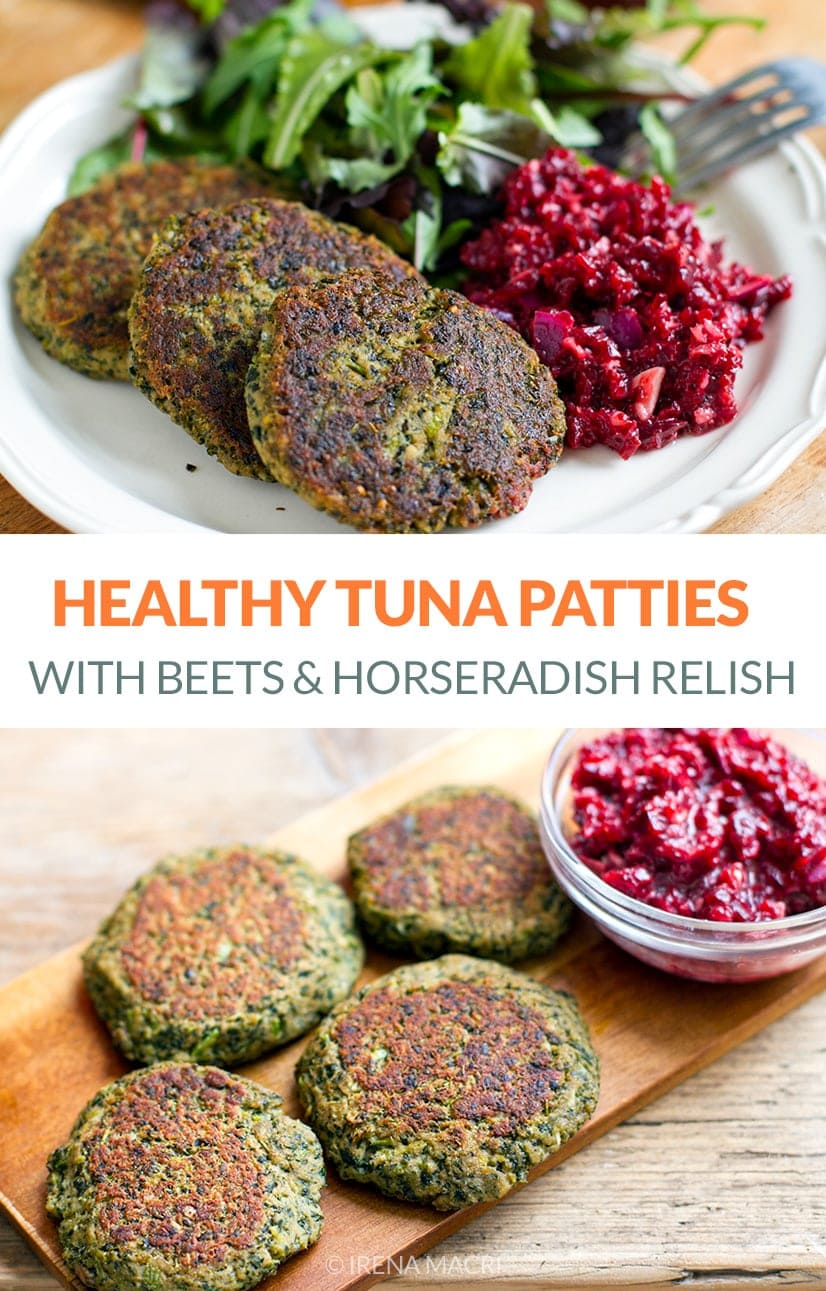 Make ahead tip: You can prepare a larger batch of relish and store it in an airtight jar in the refrigerator for up to 5 days. It will go well with beef burgers or grilled chicken, or as a little topping on sliced avocado.
You might also like to try my salmon and sweet potato fish cakes or my sardine fish cakes.
Print
---
Description
These tuna patties (or fish cakes) are healthy and nutritious, made with added kale and gluten-free/grain-free flour. Served with a tasty beetroot and horseradish relish and a green salad.
---
For the fish cakes
For the beet relish
---
Make the fish cakes. Bring a small pot of water to boil and add the kale leaves. Cook for 1 minutes, until slightly wilted, then rinse under cold water and strain. Squeeze excess liquid and add the kale leaves to a food processor fitter with an S-blade. Add the rest of the fish cake ingredients, except for the tapioca flour and coconut oil. Whiz the mixture for 10-20 seconds, until it starts to come away from the sides. Then add the tapioca and whiz a couple of times to incorporate. Transfer the mixture to a bowl.
Heat a teaspoon of coconut oil in a large skillet over medium-high heat. Using your hands, mould the fish mixture into small patties and flatten slightly. Add the hot pan and cook for 2-3 minutes each side, or until golden brown. Remove to a plate.
Prepare the relish. In the meantime, wash the food processor and put it back together with an S-blade in. Add the relish ingredients and blitz a few times, until ground up into a salsa like consistency. Transfer to a small ramekin.
Wash and prepare a side salad or some green veggies.
Serve the fish cakes with the relish and a side salad.
---
Keywords: tuna, fish, fish cakes, autoimmune