In today's post, I will share one of my favourite squid recipes. Delicious and healthy, this grilled squid with olive oil, garlic, chilli and parsley is my go-to dish to order when visiting a coastal restaurant, especially in southern Europe. It's a super simple squid recipe that mostly relies on good ingredients rather than your cooking skills. This dish is Paleo, Whole30, Keto, Gluten-Free. 
---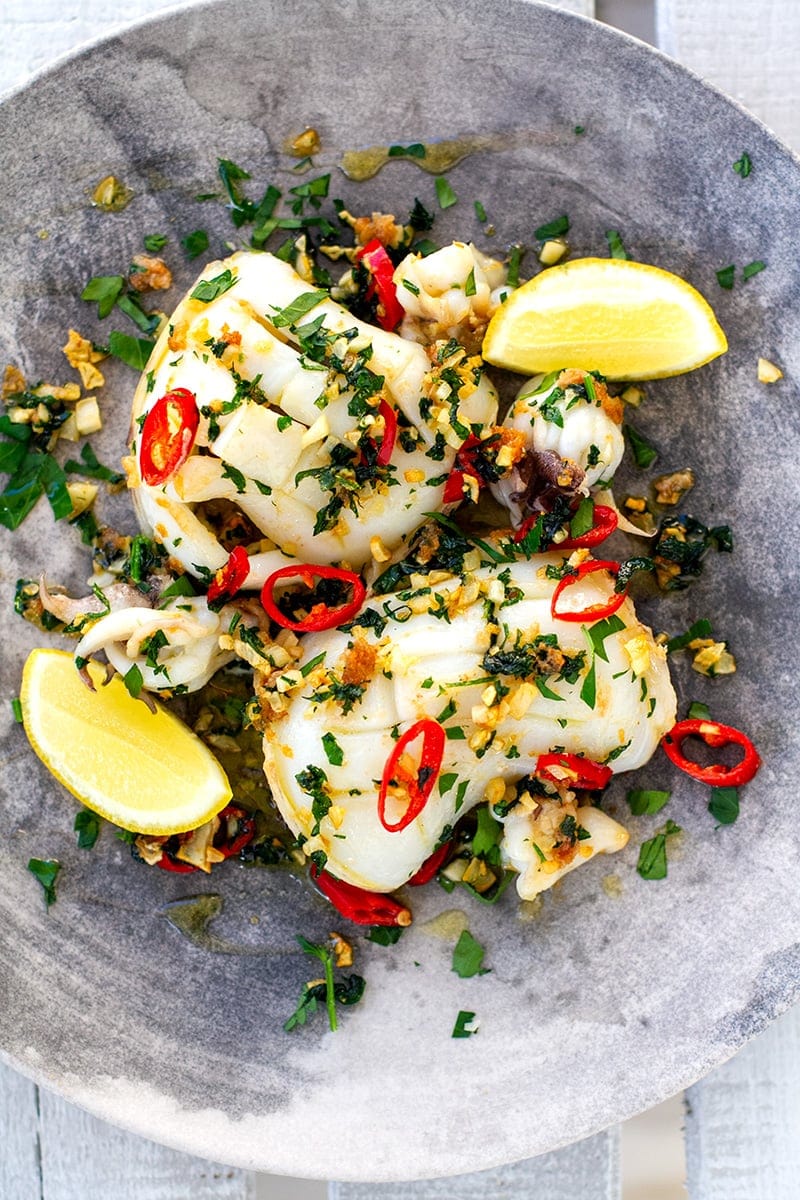 Grilled Squid With Garlic, Chili & Parsley
If you've ever travelled through the Mediterranean countries of Spain, Italy or Greece (to mention a few), you would have undoubtedly come across grilled squid or calamari on the menu.
While the fried squid or calamari rings have become more popular around the world, my favourite has always been the grilled squid drizzled with olive oil, lemon juice and some garlic or/and parsley. This is a much healthier way to serve squid and really showcases its flavour and texture (when cooked right).
What Is Squid & Is It The Same As Calamari?
Whether it's squid or calamari usually has to do more with the language than the food itself. Squid comes from Italian and calamari from Spanish and French words, but in most English-speaking countries we are mostly used to seeing calamari on the menu (and in a deep-fried form).
Biologically speaking, squid and calamari are pretty similar. Squid (or calamari, or even cuttlefish) are typically marine cephalopods molluscs (like the octopus) belonging to the Loliginadae family.
Squid and calamari differ in size and the shape of some of their parts slightly and calamari is considered more tender (or finer) and therefore more expensive than squid. Squid also comes in different sizes, with smaller varieties being more tender to cook.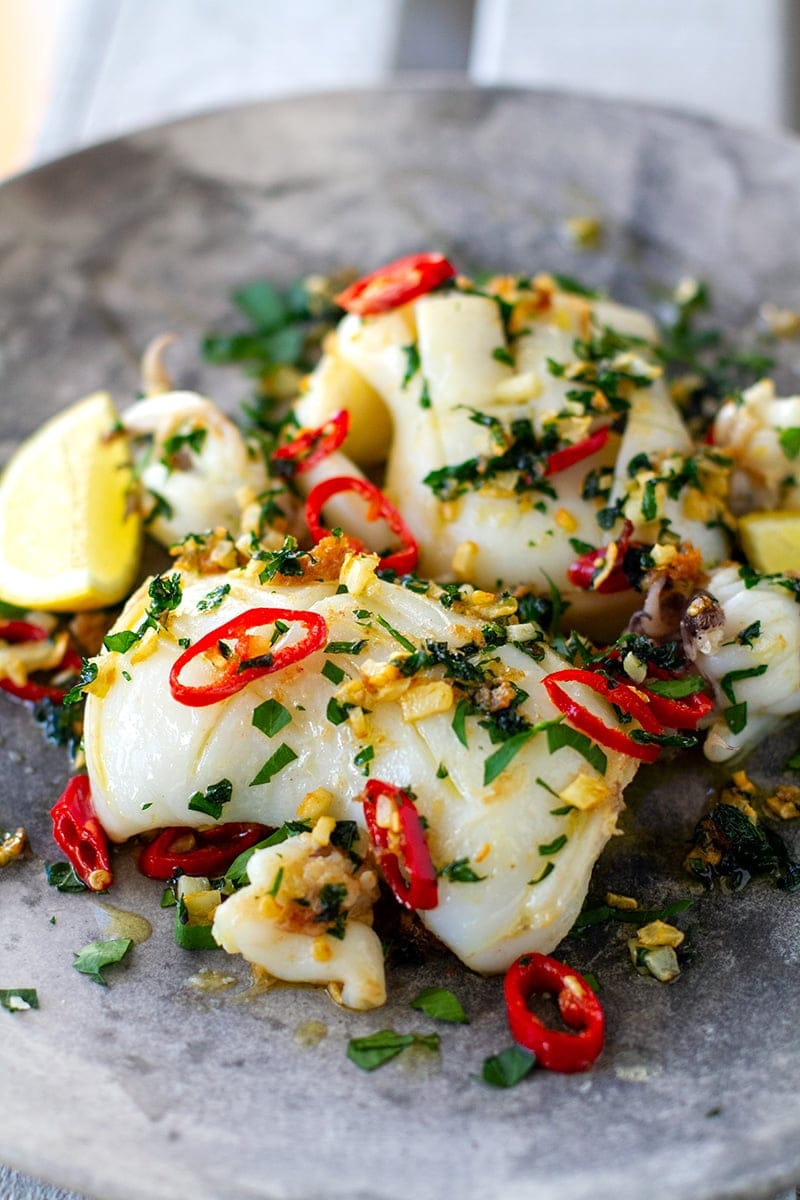 Squid & Calamari Nutrition
As with other seafood, calamari and squid are pretty nutritious and have many health benefits. They provide copper, selenium, and zinc, and are great sources of B vitamins. They are high in protein and low in calories and carbohydrates, making them a great choice for those managing their weight and blood sugar. 
How To Prepare Squid 
For this recipe, I am using fresh, whole, medium-sized squid tubes but you can also use calamari. If you're buying whole, uncleaned squid, I recommend this article to learn how to clean squid from scratch. But, I usually ask the fishmonger to clean it initially, so I don't have to remove the insides and the fin/beak etc.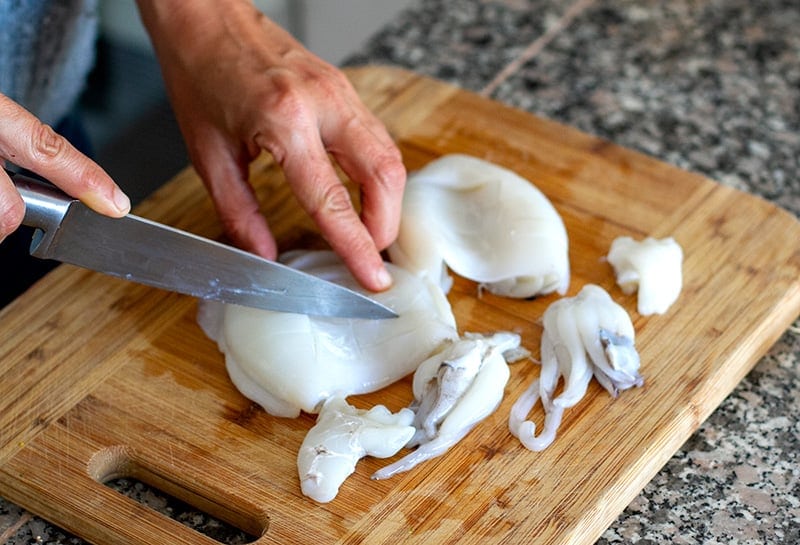 You then have three choices: cut the squid into rings, or large slices or leave it whole. I usually cut away the tentacles and grill them separately. Then, using a sharp knife, I like to score the top of the squid meat in a criss-cross pattern. For very small squid, you don't need to do that or you'll risk cutting through its finer, thinner flesh. 
My personal tip: the fresher the squid the better! Seriously, try and cook it as quickly as possible as the flavour and aroma will change after a day.
Can I Use Frozen Squid? 
If you bought a frozen squid, let it thaw out in the fridge or in cold water. I wouldn't use the microwave as you risk actually cooking it.  Make sure it is completely defrosted! Rinse the squid off with cold water and pat dry really well to remove any moisture. 
How To Grill The Squid
As simple as grilling squid is, it is really to ruin it and end up with tough, chewy flesh. There are two tips to avoid this:
Make sure to remove as much water or moisture from the squid as possible. Once you've cleaned out and cut up the squid to your liking, pat dry all of the pieces using a paper towel. Drying the squid will help it to cook and brown faster, which is what we want. If it's too wet, it will first use the heat to dry up and then start to brown, which will take too long and will result in a tougher finish.
The second tip is to cook the squid (or calamari) on very high heat for a short period of time. You can grill the rings or the whole pieces over hot coals, on a hot BBQ grill or in a frying pan (which is what I did). But, make sure the heat is high and the plate or a pan is very hot before you add the squid. 
The cooking time will vary depending on the size of the pieces but it should start to get those grill marks and change the colour to more opaque white within 2 minutes on each side. Smaller pieces might need less time and larger ones a minute longer. 
Another way to cook squid and calamari is to slow cook it or braise it for 30 minutes or longer. The tenderness will come back after a prolonged cooking time and I love a yummy calamari stew with tomatoes and olive oil as well.
Once cut, pat dry the squid or calamari with a paper towel (read why below), then brush with oil (or add to the pan) and season with salt. You're ready to cook!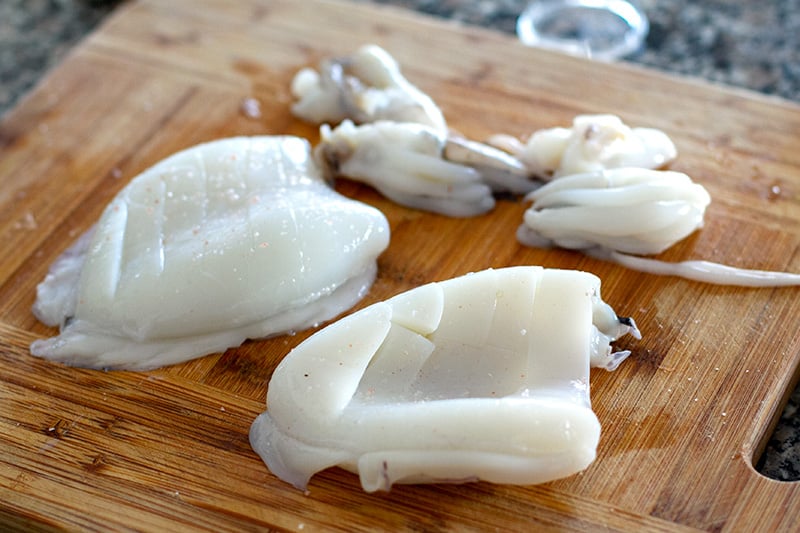 How To Season & Flavour The Squid
In this recipe, I am using a very simple flavour combination of good olive oil, garlic, chili and parsley. In Spain, you will mostly find a lashing of olive oil with parsley or/and garlic, while in Italy you might find chili and in Greece, some oregano or thyme. A drizzle of lemon juice will lift the dish right at the end.
Again, the key is really good olive oil and fresh ingredients. Prepare everything so you're ready to go as the cooking won't take too long. 

What To Serve With Grilled Squid Or Calamari?
In Europe, grilled squid will often come with a side of chips, rice or/and salad and some crusty bread to soak up the flavoured oil. I find it quite satiating so I usually make a simple leafy green salad or a Greek salad.
You could also roast some sweet potato chips or serve a side of simple boiled potatoes drizzled with olive oil or some melted butter. Or, just add the boiled potatoes to your plate and they will soak up all those wonderful juices from the squid, garlic and olive oil.
More Seafood Recipes To Try
---
Print
---
Description
When it comes to seafood, simplicity is key and this grilled squid recipe uses simple cooking technique and a few high-quality ingredients to prepare a stellar meal that is also very nutritious.
---
---
Using a sharp knife, score the tops of the squid tubes in a few places and cut away the tenticle pieces. Using a paper towel, pat dry the squid really well to remove any surface moisture. This will help to cook the squid faster and prevent it from becoming chewy. Set aside and prepare the aromatics.
Heat a tablespoon of olive oil in a large frying pan over high heat. Once really hot (this is important), add the squid and cook for 2 minutes on each side. Remove from the pan and sprinkle with sea salt.
Add 2-3 more tablespoons of olive oil to the pan. Reduce the heat slightly.
Add the garlic, chilli and most of the parsley to the pan and sauté in olive oil for a minute until the garlic is golden brown. Add the squid pieces back in and stir through. Cook together for 20-30 more seconds and drizzle with a little lemon juice (about 1/4 of a lemon).
Serve on a plate with all of the garlic and parsley oil topped over the top.
---
Notes
For BBQ/outdoor grilling over coals: pat dry the squid and brush with a little oil, then grill for 2 minutes each side over high heat. Prepare the garlic and parsley oil in a small pan or you can even keep it uncooked, which will have a more robust flavour. You can brush it over the squid while cooking, or drizzle over the top once it is cooked.
Nutrition
Serving Size:

2 squid tubes

Calories:

366

Sugar:

1.9 g

Sodium:

664.8 mg

Fat:

23.7 g

Carbohydrates:

11.7 g

Protein:

28.2 g

Cholesterol:

407.8 mg
Keywords: seafood, calamari