This website may contain affiliate links and advertising so that we can provide recipes to you. Read my privacy policy.
Grilled Mexican Street Corn is the perfect grilled corn slathered with an amazing mayonnaise blend and topped with parmesan cheese and chili powder. This is one of the best corn recipes you will eat!
Try my Easy Grilled Corn recipe for another great reason to fire up your grill!
Grilled Mexican Street Corn
Grilling season is in full force over here at our house. We love to grill! One of our favorite sides to grill is corn. My entire family (including the picky one) loves to eat corn, so we have it regularly. I have been wanting to try this Mexican Street Corn for a while now and this was the perfect time to try!  I couldn't believe that I hadn't tried it until now! This was the best corn that I have EVER had!
We all couldn't get enough of this corn. My son had two! I could see us making this corn at every single BBQ from now on. It is just that good! I know that you guys are going to love it as much as we did.
What is Mexican Street Corn Made of?
All of these ingredients combined are incredible!  How can you really go wrong with fresh sweet grilled corn?  Then, cover it in a creamy, tangy sauce and top it off with great spices and you have an insanely delicious mixture of flavor!
Corn: Choose the freshest corn for the best results!
Mayonnaise: Creamy base that holds all the delicious flavor. I like to make my mayo at home using this recipe 
Sour cream: Mix together with the mayonnaise and seasoning mixture.
Cilantro: Freshly chopped and mixed together with creamy sauce.
Parmesan: Freshly grated parmesan gives a great salty, nutty flavor.
Lime: Lime juice from 2 limes adds fresh tangy flavor.
Red chili powder: Add according to your spice preference.
Limes: 2 cut into wedges for garnish.
How to Make Grilled Mexican Street Corn:
The corn grills to perfection on the grill along side of whatever meat you are cooking. As soon as it comes off the grill, it gets slathered in a mayonnaise and sour cream cilantro mixture. Then it is topped with parmesan cheese and chili powder.  Yum!
Prepare the Corn: Remove the husks of the corn leaving the core attached.
Grill: Place the corn on a hot grill turning once. Or use a cast iron pan until it starts to get slightly charred.
Make dressing: In a small bowl mix the mayonnaise, sour cream and cilantro.
Brush corn with dressing: Remove the corn from the grill and slather with the mayonnaise mix. Squeeze the lime juice over the corn and heavily season with parmesan. Sprinkle with chili powder. Serve immediately.
What to Serve with Mexican Street Corn:
Summertime begs for a warm grilled meal outdoors.  So, grilling corn on the cob is a favorite at my house. I love to grill this corn alongside barbecued meats like grilled chicken, steak, or hamburgers and hot dogs.  Sometimes I have been known to even cut the corn off the cob before combining with the sauce to make a salsa and then I serve it with fresh tortilla chips.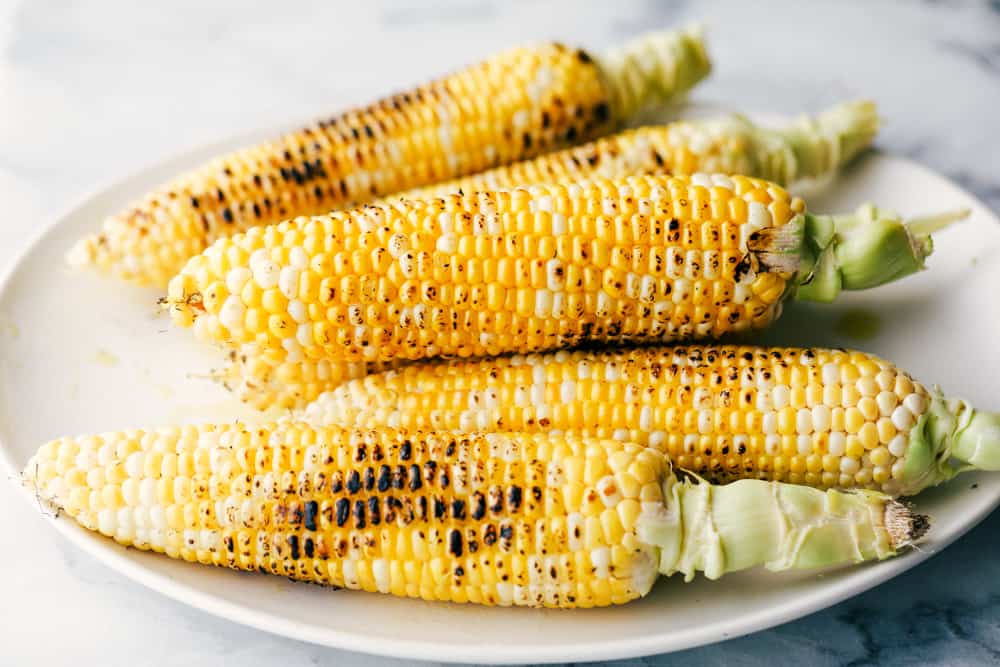 Variations of Grilled Mexican Street Corn:
There are many versions of Mexican Street Corn floating around.  Here are some ideas for taking this tried and true grilled corn recipe and making it your own!
Make it into a salsa: Cutting the corn off the cob once it is grilled, then mix it with the mayonnaise sauce in a bowl.  Serve with chips.
Move it indoors: Don't let rainy days or cooler weather stop you from enjoying this amazing corn!  Make in the oven or on a stovetop skillet instead.  To prepare in the oven you will heat your oven 425 degrees.  Then, spray the corn with cooking spray or slather with butter or oil.  Finally, wrap in foil and cook for 20-25 minutes.  To use a skillet, (I recommend using cast iron) heat your pan to medium-high and turn corn occasionally until it is grilled on all sides.
Mexican crema – Use in place of sour cream.  It is similar to sour cream just a little thinner and saltier.
Cotija cheese- An authentic Mexican cheese that can be used in place of parmesan cheese for an even more authentic dish.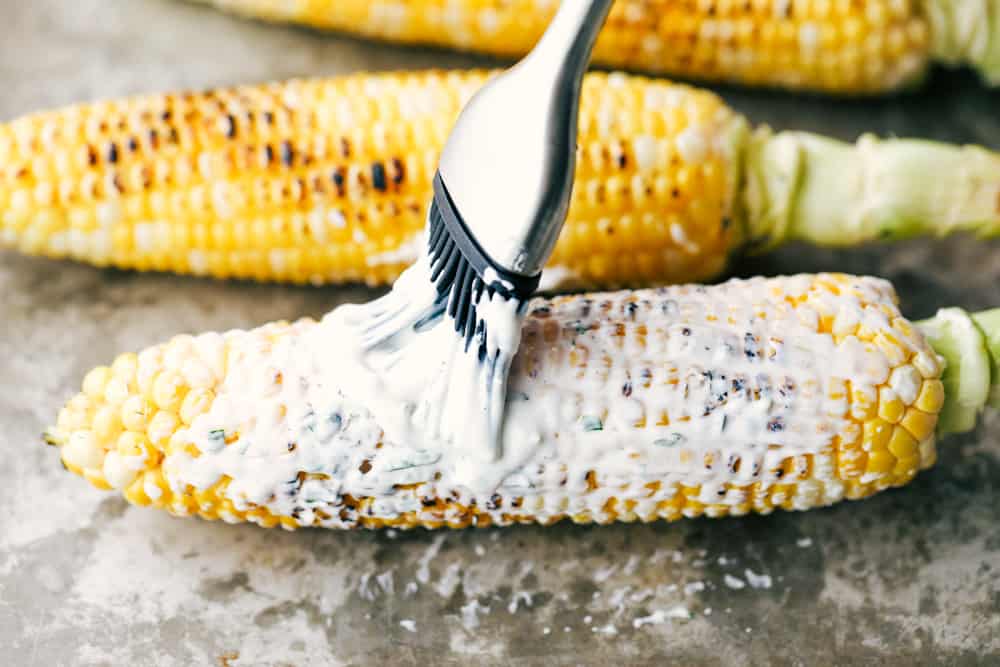 Storing Grilled Mexican Street Corn:
Before storing your Mexican Street Corn, allow it to cool completely.  You will need to store the grilled corn and the topping separately.  Store grilled corn on the cob by wrapping it tightly and placing in the fridge for 2-3 days, or in the freezer, for up to 10 months.  The mayonnaise based sauce will not freeze well, but will stay good in the refrigerator for about a week.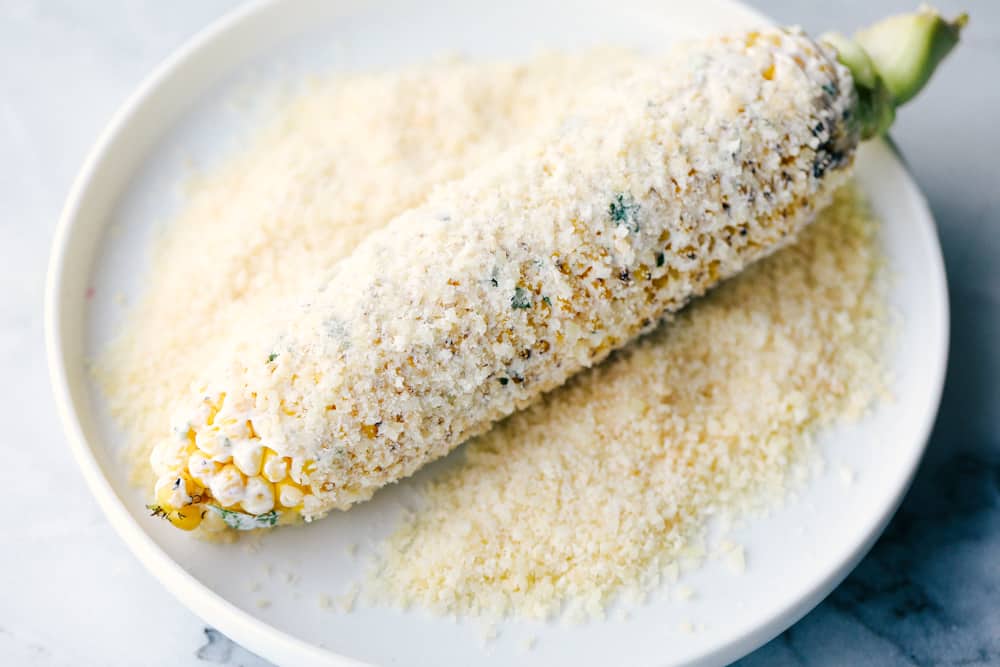 Choosing the Freshest Corn:
When you are looking for the best corn to use in this recipe you are looking for corn that has a bright green husk with no small brown holes in it.  The holes could mean insects, so you want to avoid those!  The tassle at the top of the corn should be a little bit sticky and a light brown color.  Do not pull back on the stalks to check the corn kernels because that will shorten the life span of the corn.  Instead smell for a sweet corn smell and squeeze to make sure the corn is firm and not missing kernels.
Tips for Grilling Corn:
How do I keep my corn from drying out as it cooks? Brush oil on your corn before putting it on the grill to keep the corn from drying out.  Or, place the corn in a large bowl of cold salt water (about 1 tbsp of salt) for 10-15 minutes before cooking it on the grill to keep it moist.
How do I know when the corn is done? When your corn is tender when poked with a knife or fork it is done.
Do I leave the grill open or closed? Keep the grill lid closed for the most consistent temperature and only open to turn corn every 5-6 minutes.
Do I grill the corn with husks on or off? This is ultimately personal preference.  I prefer to have the corn ready to slather in sauce and eat right off the grill, so I cook it with the husks already removed.  I also love to see the grill marks directly on the yellow corn.  However, your corn will also turn out fantastic if you leave the husks on when you grill it.  The husks will keep the heat in and the corn will not dry out as easily.  To achieve this same effect without leaving the husks on, you could wrap the corn in aluminum foil before placing on the grill.
More Delicious Corn Recipes: