This website may contain affiliate links and advertising so that we can provide recipes to you. Read my privacy policy.
Creamy Chicken Gnocchi Soup has a thick and rich broth with shredded carrots, celery, chopped spinach, gnocchi and chicken hidden throughout. This tastes even better than Olive Garden!
Bring restaurant quality soup to your home. I just love the Italian flavors in the slow cooker pasta e fagioli soup or creamy zuppa toscana too, so be sure to give them a try!
Creamy Chicken Gnocchi Soup
You guys are going to love the incredible creamy and rich broth. It is flavored with the perfect amount of seasonings and it even has one of my favorite herbs inside…. thyme. The added chicken and gnocchi (which I absolutely love) are so hearty.  When you add in the freshness of the shredded carrots, celery, and spinach this soup is full of flavor! Put this on your list of must try soups! You will not regret it.
This chicken gnocchi soup is full of flavor in every bite. The combination of the vegetables, creamy broth and gnocchi give this soup 5 stars. It is simple to make and so delicious! Make this a complete meal by serving this favorite olive garden soup with homemade breadtwists and a side salad asparagus salad with lemon vinaigrette or antipasto salad.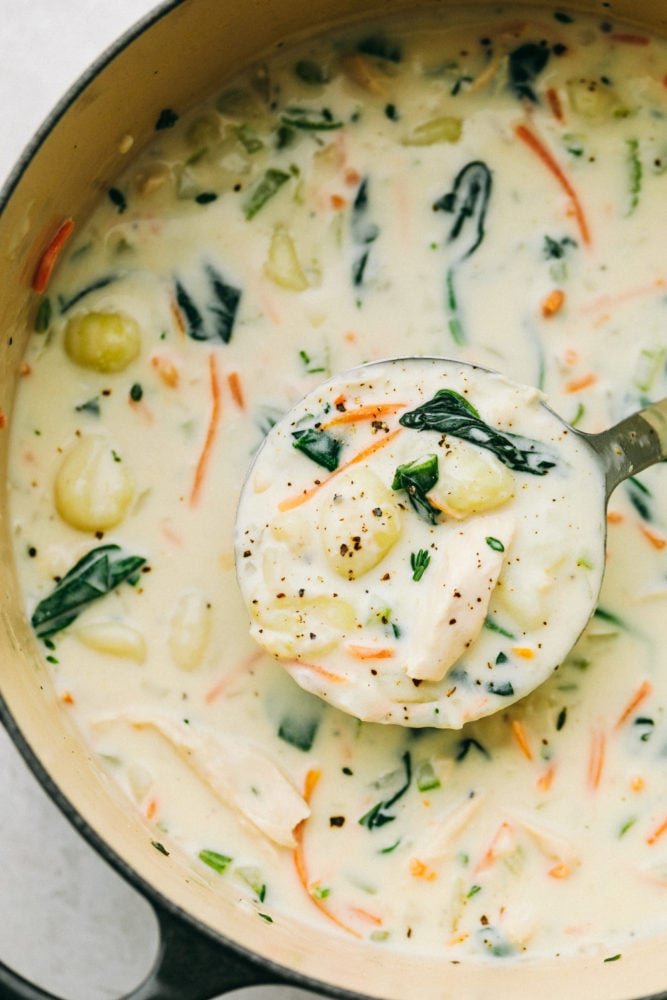 Ingredients to Make Gnocchi Soup:
This Olive Garden Copycat recipe has been on my list of soups to make for a few years now. I love all of Olive Garden's Soups but their Chicken Gnocchi soup is awesome. The best part is that it is so easy to make! It comes together in less than 20 minutes.
Butter: Use the butter to make the roux.
Olive oil: Add to the pan with the butter onion and celery and garlic.
Onion: I keep frozen diced onion in my freezer so that I can easily add it to any dish.
Celery: Diced celery gives this soup a great crunch and fresh flavor.
Garlic cloves:Minced garlic adds a deep Italian flavor.
All-purpose flour: The flour makes a roux which gives the soup its consistency.
Half-and-half: The creaminess of this soup.
Chicken broth: Add as much as you like depending on how thin you like your soup. For a thinner soup use more broth.
Fresh thyme: Earthy and a little bit sweet, with a slightly minty
Shredded carrots: I love the sweet flavor the carrots add!
Spinach leaves: Chopped so that you don't have big pieces in your spoonful.
Chicken breast: Diced and cooked chicken. Cut into pieces before cooking so it will cook quicker.  Cook it in a little bit of olive oil until it's just done. Add a little salt and pepper to it if you like.
Potato gnocchi: Hint- find this on the pasta isle.
Salt and pepper: To taste!
How to Make Gnocchi:
Gnocchi is made from potatoes, flour, and eggs. It seems like an odd combination I would have never thought of, but I am so happy someone did!  Although it does take time to make from scratch, making gnocchi can be so fun!
When I am in the mood and I have the time, I enjoy making it myself.  However, it tastes great store bought too! If you are hoping to try it from scratch here is the breakdown:
Boil Potatoes: Bring a large pot of salted water to a boil. Peel potatoes and add to pot. Once cooked, scoop out inside.
Combine: 1 cup mashed potato, flour and egg in a large bowl. Knead until dough forms a ball.
Cook Gnocchi: Bring a large pot of lightly salted water to a boil. Drop in gnocchi and cook for 3 to 5 minutes or until gnocchi have risen to the top; drain and serve.
Olive Garden Favorite Soup:
Make a Roux: In a large pot add butter and olive oil. Over medium high heat sauté onion, celery and garlic until tender. Next, add the flour to create a roux and cook for another minute.
Add In Liquids: Slowly add the half and half and chicken broth and stir until it starts to thicken.
Spices and Ingredients: The thyme, carrots, spinach, chicken and gnocchi.
Simmer: Allow to simmer for about 5 minutes or until gnocchi is cooked and soup is thickened. (If you want a thinner soup add another can of chicken broth.) Salt and pepper to taste and serve immediately.

Tips for the Best Chicken Gnocchi Soup:
Gnocchi: It is best to use mini gnocchi if you can find them (or make them mini), they're the perfect size for soup.
Sauce: Don't let the sauce get too hot or it can separate. Continually stir the sauce to prevent any separation.
Spinach: For best results use fresh spinach. The frozen spinach will become mushy in the soup over a long period of time.
Vegetables: Dice vegetables small and the same size to have them cook through evenly  in time.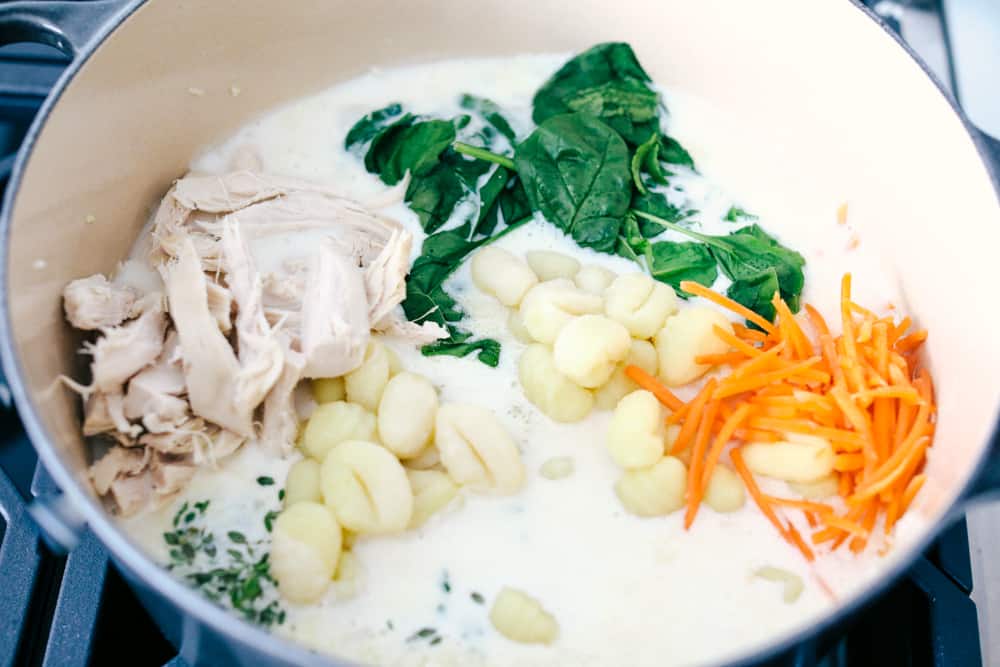 Variations:
Substitutes for Gnocchi: A great substitution is pasta. The small shells or orzo are perfect for adding to this soup as well as rice.
Protein: Substitute Italian sausage instead of chicken in the soup. Before adding it to the soup, brown the sausage at the beginning, then add it in.
Vegetables: Sneak in extra vegetables like peas, zucchini or asparagus.
Thicker Soup: Add extra cream to make it even richer.
Chicken: To save time use pre-shredded, cooked chicken from the grocery store.
Slow Cooker Adaptations:
I would still definitely use cooked, diced chicken. Also, go ahead and sauté the veggies and garlic. Then put the chicken and veggies all together in the bottom of your slow cooker. Add the liquids and all the other ingredients except the gnocchi, half and half, and spinach. Cook on low for three to four hours, adding the gnocchi in for the last hour of cooking. Before serving, add the half and half and spinach and stir to combine. The spinach should wilt quickly. Serve.
How to Store Chicken Gnocchi Soup:
It is a bummer that this soup does not freeze well but it does reheat well. Place back on the stovetop and reheat on a low setting and slowly stirring it. This will help the soup from separating.
Freezing: Unfortunately you cannot store this soup because of the dairy and gnocchi, it won't freeze well. The gnocchi will become soggy and the dairy mixture will separate.
Storing: If you are planning on lots of leftovers you can cook the gnocchi separately and add to individual servings.
Warm, Comforting Soups to Try:
Save