This website may contain affiliate links and advertising so that we can provide recipes to you. Read my privacy policy.
Delicious chicken tenders breaded in a garlic parmesan panko mixture and baked to crispy perfection! This is a meal the entire family will love!
My kids love chicken! Simple recipes like this one and my chicken tender recipe is perfect for those quick lunch meals or a snack for after school.
Homemade Garlic Parmesan Chicken Tenders
We are a huge fan of chicken tenders and breaded chicken for our family.
The "special ingredient" in these tenders is the Panko. Instead of breadcrumbs or just flour I use panko. Panko is generally used in Japanese cooking and it can be found in the grocery store in the Asian foods aisle. I definitely prefer panko to regular breadcrumbs because of its lighter and more delicate texture. It results in a more crispy and crunchy end product than breadcrumbs. Especially when you are baking chicken instead of frying; the panko makes a huge difference!
To try our absolute FAVORITE dipping sauce for these tenders, click here to check that out! 🙂
Chicken Tenders Ingredients:
Chicken Tenders: Boneless chicken breasts are easiest to trim and prepare.
White Flour: This coasts the chicken.
Salt and Pepper: Seasoning and for taste
Olive Oil: Creates a crispy outside when baked.
Garlic: Minced garlic is best and adds flavor.
Basil: Dried basil brings a subtle seasoning everyone loves.
Paprika: If you love a little spice add this to your tenders.
Panko: Gives it the breaded thickness and crunch on the outside.
Parmesan Cheese:

 

MMM! Cheese is the best on these chicken tenders. 

Fry Sauce: My famous fry sauce is delicious and dip-able. SO good!
How to Make Chicken Tenders:
Prepare chicken: Preheat the oven to 400 degrees F. Trim the fat from the tenders.
Dip chicken: Set out three bowls. Fill one with the white flour, about ¼ teaspoon pepper, & about ½ teaspoon salt. Stir,
Stir together: Fill the next bowl with the olive oil or butter and minced garlic.
Add seasoning: Place the basil, paprika, Panko, and parmesan cheese in the last. Stir. Place the tenders in the flour mixture, then the garlic oil, then the panko mixture making sure to evenly and thoroughly coat each piece.
Cook chicken tenders: Place the tenders on the sheet and then place in the oven. Cook for 15 minutes and then flip the tenders and cook for another 5-8 minutes or until the internal temperature of the chicken reaches 165 degrees F.
Serve: Remove and enjoy immediately with the dipping sauce!
Dipping Sauces:
We love to dip our chicken tenders into every type of sauce. I personally love rich and creamy sauces where my kids love the sweet and spicy sauces. It is so fun to mix and match sauces too and create new favorites. I found this seasoned honey mustard sauce in the photos at our local grocery store near the deli section. So fun!
Here are a few of our favorites to eat with these chicken tenders.
Ketchup: Always a classic
Honey Mustard: A little sweet and tangy
Easy Homemade BBQ Sauce: A hint of spice but rich and smooth.
Fry Sauce: Family favorite and a MUST make
Ranch Dressing: Creamy and a kid favorite
How to Store:
These are perfect for storing and last in the refrigerator or freezer for a good amount of time. Then when ready simply reheat for lunch or snacks when needed.
Refrigerator: Once they are cooled completely, place in a ziplock bag and store in the refrigerator for 3 to 5 days long. It is best to warm up in the oven but the microwave will do too.
Freeze: After they are cooled place on a sheet pan in a freezer for about 20 to 30 minutes. Once frozen, place in a ziplock bag or freezer bag and store in the freezer for 3 months. Taking out chicken when needed and reheat in the oven or microwave.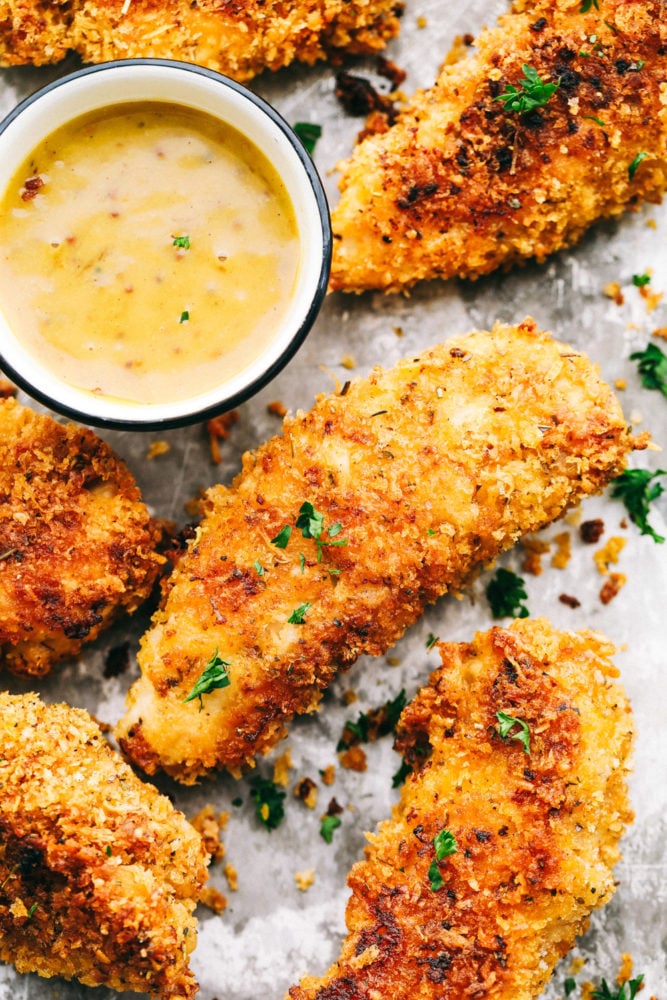 More Chicken Recipes: