This website may contain affiliate links and advertising so that we can provide recipes to you. Read my privacy policy.
Try these chimichangas either baked or pan fried with tender chicken, stuffed Mexican filling all wrapped in a soft but crispy crust on the outside. These will become a family favorite!
Mexican food is one of my favorites to have! Add some Mexican Rice and a horchata drink to the dinner table and enjoy this complete Mexican dinner tonight!
Chicken Chimichangas
These are the best homemade chimichangas I have ever had! I was so impressed I knew I had to double this recipe to get enough of it all. It is festive, easy to make and ready in less than 30 minutes. They are so simple to put together and I even had a couple extra set of hands helping me fold them up with me. It is a fun family affair working together each step along the way. Homemade chimichangas are just what you need to have an extra special Mexican night in your home!
Meat filled, pan in the oven and 30 minutes before dinner you are rocking being a parent. It is so easy to make and delicious to eat. Mexican dinner nights are one of my favorites. I love all things rice and beans with chips and salsa. These combinations are the best and always a favorite in our home. Cook the chicken ahead of time and use the leftovers for this recipe. It makes it easier and comes together quick and easy. Once the chicken is cooked and ready fill each of the tortillas with the stuffing. Wrap and bake in the oven!
What is a Chimichanga?
Chimichanga is known to come form the southern part of the United States. It is essentially a burrito that is deep fried and tastes so good. It is a Mexican-American dish that uses a flour tortilla and add in veracious ingredients and filling mix. Vegetables, tomatoes and avocados are all added in or on top of the chimichanga and then wrapped tightly. Once wrapped place the chimichanga to the baking sheet and bake until golden brown. Add guacamole, salsa or any dressing on top and you have one delicious meal!
Chimichanga Ingredients:
A large flour tortilla filled with shredded chicken, refried beans, cheese, salsa and spices, rolled up like a burrito and then pan fried or baked. Served topped with sour cream, guacamole and salsa, this Mexican inspired recipe is delicious!
Cooked and shredded chicken: This chicken can either be made ahead of time or the day of.Try this Shredded Chicken Copycat to have your chicken already prepared ahead of time.
Chili Powder: Add some spice to the chimichanga.
Cumin: Earthy flavor that add that subtle seasoning.
Paprika: Some warmth and color to the ingredients.
Salt: Just a pinch!
Salsa: Make homemade salsa or buy store bought.
Colby Jack Cheese: The best cheese that melts evenly and tastes good once it is done.
Cream Cheese: Soften the cream cheese in the microwave for a short amount of time or leave out at room temperature.
Green Onions: Colorful crunch that adds a zing and a zest to the chimichangas.
Refried Beans: A soft and subtle hint once you take your first bite.
Burrito Size Tortillas: The bigger, the better! Am I Right!!
Olive Oil: Brush on top getting that golden glow all over the tortilla.
How to Make Chicken Chimichangas:
Combine Ingredients: Preheat oven to 400 degrees.

 

In a medium sized mixing bowl combine chicken, chili powder, cumin, paprika, salt, salsa. cheese, cream cheese,

 

and green onions.
To assemble the chimichangas: Spoon 2 tablespoons refried beans onto the tortilla 2 inches from the edge. Add about ½ cup of the meat mixture and put into the center.

 

Fold in the sides of the tortillas and then roll up the bottom and place seam side down on a baking sheet.

 

Bake: Brush the tops with olive oil.

 

Bake for 20 minutes or until golden brown and heated through.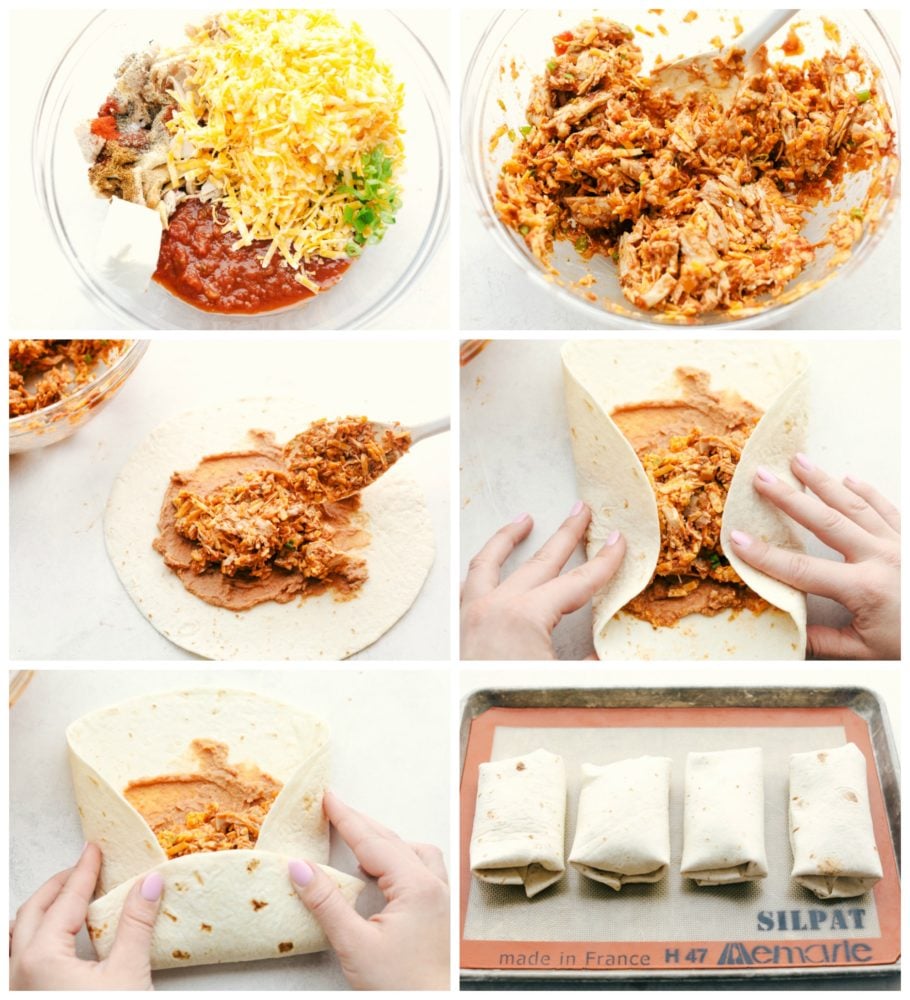 How to Pan Fry a Chimichanga:
Add 1 Tablespoon oil to a medium sized skillet over medium heat. Add the chimichanga skin side down. Fry on each side 2-3 minutes until golden brown and crispy.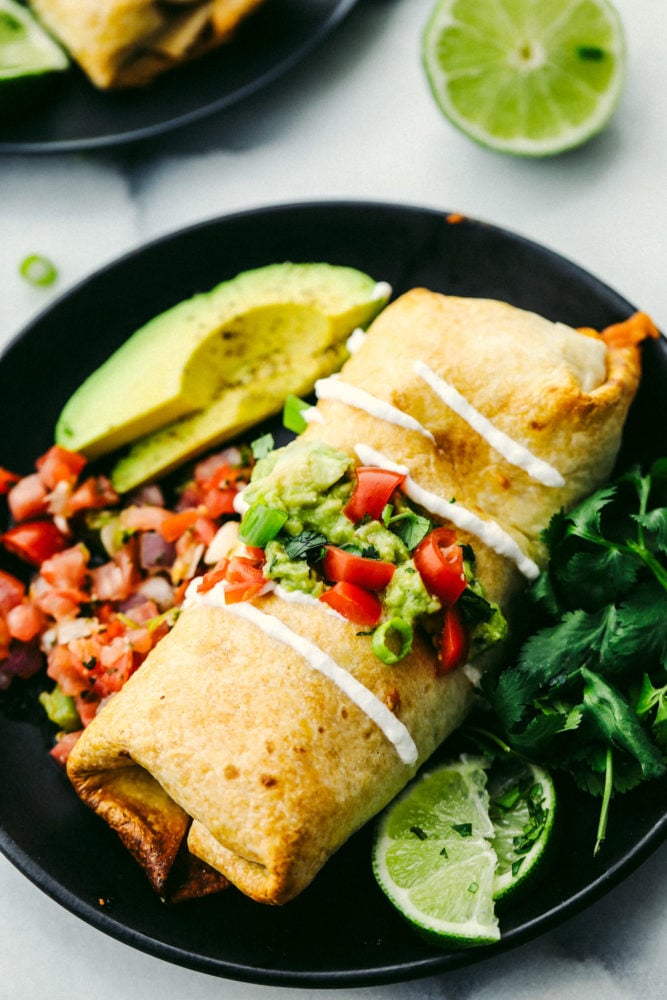 More Mexican Recipes that are a MUST Try: