This Fish Salad packs a lot of nutrients and antioxidants from both the leafy greens and the omega-3 rich salmon. Even if kale has never been your thing, I urge you to try it in this salad. This nutritious salad is from my Salad A Day recipe book and is gluten-free, paleo, low-carb and keto-friendly.
---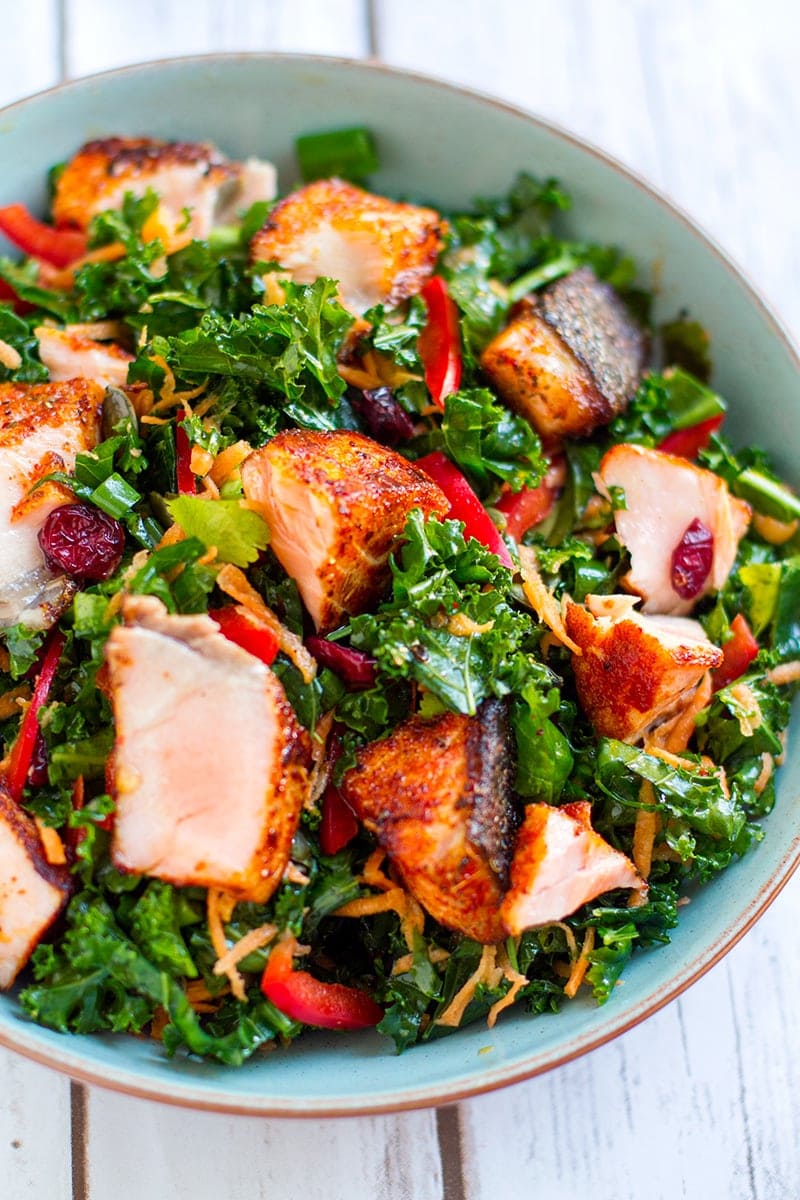 Fresh Fish Salad
I bet that when you think of fish salads, something like a creamy tuna number comes up first. But, using fish in salads shouldn't stop at tinned tuna and I personally love using freshly grilled or baked salmon or white fish as much as I can. Adding warm protein to a fresh salad creates a lovely contrast of cooked textures against the crispy, raw veggies.
Nutrition Notes 
This is a bit of a superfood salad as every single ingredient used has so many health benefits. Kale, carrots, red peppers, pumpkin seeds and dried cranberries are full of vitamins and antioxidants, while salmon is full of healthy fats, protein and minerals. This fish salad is also full of dietary fibre and is very satiating, even though it's still more on the low-carb side. 
It's inspired by the principles of a Mediterranean diet and is great for your heart and brain health, boosts your immune system and keeps you looking and feeling young.  
You can find the full macros and macronutrients below the recipe.
How To Make This Fish Salad
There are three stages to this salad: making the salad dressing, preparing the kale and vegetables, and seasoning and cooking the salmon. 
Make the salad dressing first because you will be using it to massage the kale (see notes on how to prepare kale below). Then season the salmon and let it sit while you do the kale, which will take longer than other veggies. The rest of the salad can be made while the salmon is cooking. 
For the salmon, I used a variety of spices common in Cajun seasonings. These give the salmon that slightly blackened look when cooked. You can grill the salmon in a frying pan (what I did) or on the BBQ. You can also roast or bake the fish if you like. Feel free to use a store-bought Cajun spice blend.
Make-ahead tips: You can pre-chop the kale leaves and store them in the fridge in an airtight Ziploc bag or a container for up to 5-7 days. If you massage it with the dressing, it will last for around 3 days but will start to get a little soggier (which is not a bad thing when it comes to kale). I personally do the massaging just before I serve the salad.
How Long Does Salmon Last In The Fridge?
Salmon can be prepared and grilled ahead of time. Once cooked, it will keep for 3 days in an airtight container. For example, you could cook 3 fillets and store them in the fridge to have for lunch over 3 days.
Raw salmon only keeps for about 2 days in the refrigerator before it starts to smell, so if you want to make a batch, cook it first. Alternatively, freeze the fish if buying in bulk and defrost when needed.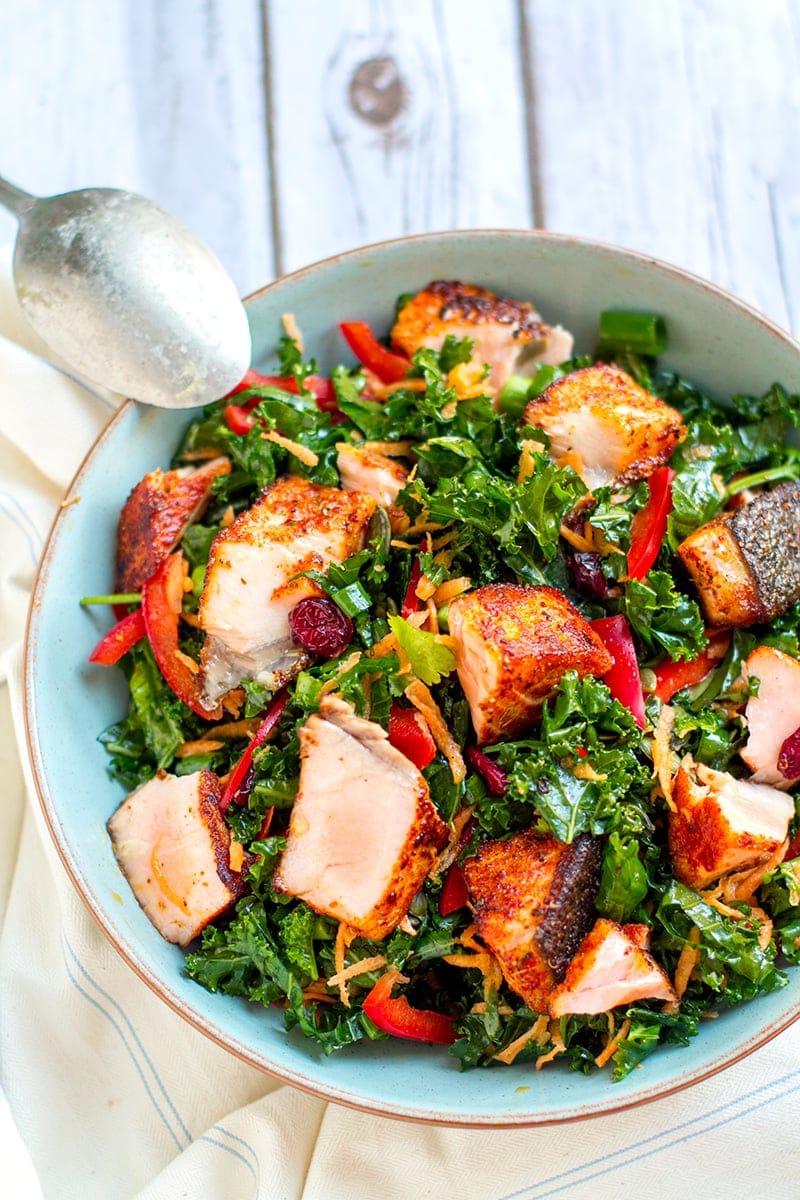 How To Massage Kale For A Salad
Kale is one of the most nutritious leafy greens – full of iron, vitamins and minerals – but in its raw form, the leaves can be quite fibrous and tough to chew, and for some people a little bitter. One way to soften the kale is to cook it but I wanted to use it raw to maintain all of its nutrients. That's where massaging of the kale comes in!
So, why do you need to massage the kale and how do you do it? Massaging kale involves rubbing the raw leaves in your hands to break down the tough cell structure (or the fibres), which will soften the leaves texture and mellow out the flavour.
This preparation method makes the kale easier to digest as well. Similarly to broccoli or other cruciferous vegetables, raw kale can cause a bit of indigestion and gas and the massaging helps to reduce these symptoms.
Normally, you simply need to remove the kale leaves from the fibrous ribs and slice them roughly. Place in a mixing bowl and sprinkle with a little salt and lemon juice (these help with the softening) and use your hands to literally massage the kale for at least a minute. You will notice the leaves becoming wet and change colour to a much darker green. Once they feel softened and slightly beaten up or wilted, that's the result you want. 
In this particular recipe, I am massaging the kale directly with the salad dressing, which also infuses the leaves with flavour.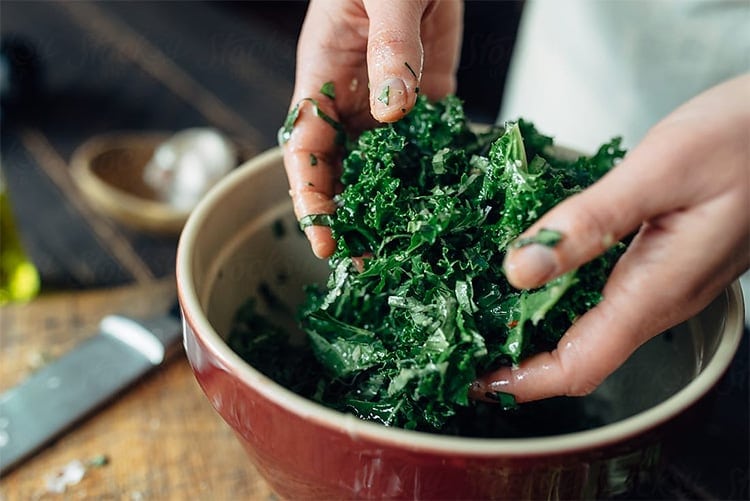 Can I Use Another Type Of Fish In This Salad?
Yes! You can use any type of fish you like. The Cajun spice seasoning will go well with both oily, darker fish and with white fish. Tinned salmon or sardines are also just as nutritious and would speed up the time needed to put this meal on the table.
What If I Don't Like Kale?
While I think that prepared in this way kale is very delicious, I understand that not everybody likes it as much as I do. Some people prefer to only have a little bit of kale in their salad rather than using it as the main base.
By all means, feel free to use half kale and half other leafy greens like spinach or regular shredded lettuce. If you really don't like kale, then try adding just a little bit to begin with and see how you go. 
Swaps & Variations
Chicken or prawns can be used instead of salmon and work well with the seasoning. Cook prawns for 1.5 minutes on each side (until golden browns) and the chicken for 4-5 minutes (depending on the thickness of the slices).
Thinly shredded chard or silverbeet, as well as any other leafy green salad, can be used instead of kale. The idea is to go heavy on the greens here!
Vegetarian version: add some pan-fried tempeh, mushrooms or halloumi cheese. If you can handle legumes or pseudograins, feel free to add some properly soaked and cooked chickpeas, lentils or quinoa.
Whole30 version: omit the dried cranberries and the honey from the dressing. Add fresh blueberries or diced orange or mango instead. 
Keto & Lower-Carb version: omit or reduce the honey from the dressing, replace dried cranberries with fresh blueberries (depends on whether they are sweetened or not); you could also replace the carrot with cucumber, celery or shaved zucchini. Add some sliced avocado.
AIP version: season the salmon with garlic and onion powder and dried herbs and omit seed-based spices; omit the red peppers and pumpkin seeds and replace with another vegetable and some berries.
More Salad & Kale Recipes 
Kale Chicken & Apple Salad
Cajun Honey Lime Salmon With Cauliflower Tomato Rice
Hawaiian Lomi-Lomi Salmon & Avocado Salad
Paleo Kale Caesar Salad With Cherry Tomatoes
Quick Paleo Kale & Chicken Tortilla Soup
Beet Avocado & Edamame Salad (can be made with kale)
More Salmon Recipes Here
Print
---
Description
This nutritious fish salad is made with Cajun-spiced grilled salmon, kale, red peppers and carrots. Dried cranberries and pumpkin seeds are added for another nutrition boost. It's delicious, satiating and perfect for lunch or dinner.
---
---
Combine the spices, salt and chili and rub over the salmon fillets. Set aside for a few minutes.
In a large mixing bowl, combine together the dressing ingredients and add the shredded kale. Using your hands, toss through and massage the dressing into the kale leaves for about 30 seconds. This process breaks down the kale fibres, making the leaves softer and easier to digest.
Heat a dollop of coconut oil in a frying pan over medium-high heat. Add the salmon, skin side down and cook for 5 minutes until crispy. Then turn over and cook for 2 minutes flesh side down, plus 30 seconds on each of the sides. Remove to a cutting board.
Add the rest of the salad ingredients and mix through. Finally, flake or break the salmon fillets into bite-sized pieces and add to the salad. Enjoy!
---
Notes
You can also use a pre-mixed, store-bought Cajun spice blend instead of individual spices.
Nutrition
Serving Size:

2 bowls

Calories:

573

Sugar:

19.8 g

Sodium:

944 mg

Fat:

34.7 g

Carbohydrates:

32.1 g

Protein:

39 g

Cholesterol:

69 mg