This website may contain affiliate links and advertising so that we can provide recipes to you. Read my privacy policy.
An Easy Lobster Roll is a heavenly sandwich with a soft and chewy bun that's stuffed with cool, fresh lobster salad made from a sweet mayonnaise base.  Every bite is packed with crave-worthy flavor that is light and tasty!
If you are obsessed with lobster, also try The Best Lobster Tail or Grilled Cajun Garlic Butter Lobster Tail. They are indulgent and impressive lobster tail recipes that will be a huge hit!
Easy Lobster Rolls
I had my first lobster roll in Boston and it was incredible.   It was an unforgettable meal that was surprisingly easy to recreate at home.  After researching the different varieties of Lobster rolls, I chose this New England Lobster roll, or "lobster salad roll," because it is so quick and easy to make with only a few simple ingredients and a homemade mayonnaise base. A fresh, thick hoagie roll is loaded with chunks of cold lobster meat and tossed in a creamy mayonnaise mixture. The addition of toppings like fresh lettuce and chives creates the most perfect crunch in every bite.
Working with lobster is easier than you think.  Boiling lobster only takes a few minutes and you can be eating a delicious classic lobster roll in no time at all!  For more detailed directions on how to prepare lobster tails check out The Best Lobster Tails.  These rolls became an instant family favorite that we just couldn't get enough of!  Your family will go crazy over them too!
Ingredients in Lobster Rolls:
Just a few simple ingredients come together to make an no stress meal that is light and tasty.  Since it is tricky in Utah to find a whole lobster, I used 4 lobster tails to equal a pound.
Lobster tails: Select a lobster that feels heavy for its size.
Mayonnaise: Combines with the Dijon mustard to make a thick and creamy sauce.
Dijon mustard: Adds a bold kick of tangy spice.
Chives: Chopped chives add mild flavor similar to onion or garlic.
Salt and pepper: Used to season the meat to taste.
Hoagie rolls: This thick, soft bread holds up well to being loaded with sweet lobster and creamy sauce.
Optional: Bib lettuce: Adding lettuce to your roll will give the perfect fresh crunch to each bite.
How to Make a Lobster Roll:
A decadent lobster filled roll is quick and easy to make and is ready in no time!  Simply boil the lobster tail and remove the meat, then toss the meat with the seasonings and creamy mayonnaise and dijon mustard.  In under 15 minutes, you will be ready to build your roll!
Cook Lobster: Bring a large pot to boil. Add the lobster tails and cook for 5-8 minutes until they turn red. Remove from the water and place in an ice bath for 5 minutes.

Prepare Lobster: Remove the lobster from the ice bath and crack the shells and remove the meat. Cut into large chunks.

Stir Lobster Mixture: In a medium sized bowl add the lobster, mayonnaise, Dijon Mustard, chives, and salt and pepper to taste.

Assemble Rolls: Cut the hoagie rolls and add bib lettuce and stuff with lobster mixture. Sprinkle with paprika if desired.
Tips for the BEST Lobster Rolls:
This lobster roll is a New England style roll.  Although there are many ways to build this unforgettable roll, I have gathered the BEST ideas and tips to help you make the perfect lobster roll. Your friends and family will rave about this insanely delicious sandwich!
Bread: Do not use hard bread, soft bread only!  Hot dog buns are common in many lobster roll recipes.
Serve with: Serve the lobster cold with favorites like potato salad, pasta salad, coleslaw, grilled corn, or mac and cheese.
Do not overcook lobster meat: If you cook the lobster meat too long, it will become chewy and tough.  Instead, stick to the recipe directions and use a meat thermometer to make sure your meat reaches 135-140 degrees.
Sauce: Spread the mayonnaise/mustard mixture directly on the bun in addition to or in place of mixing it together with the meat. Make your sandwich drip with the sauce or give it a lighter touch.  This versatile sandwich gives you control over how creamy your sandwich is.
Toasted bun: Butter and toast your bun before adding ingredients. The contrast of the cold lobster salad with the warm bread that has a buttery edge will be amazing!
How to Make a Maine Style Lobster Roll:
Maine style lobster rolls differ from New England Style Lobster rolls because they are served warm and dripping with butter instead of a mayonnaise mixture.  So, instead of putting your lobster into an ice bath, carefully remove the meat from the shells after you boil or steam them.  Then, cut into large chunks and toss with melted butter.  Finally, serve them on a warm, toasted, buttery bun. Yum!
Can You Make Lobster Rolls Ahead?
Yes! Prepare the lobster meat and mayonnaise mixture ahead then refrigerate it for up to 4 days.  If you do not plan to use all the meat right away, the cooked lobster will remain good for 3-4 months in the freezer.   However, do not toss the meat in mayonnaise mixture before freezing.  Instead, freeze the meat separately.  Then, when you are ready to prepare your lobster roll, simply thaw the lobster in the refrigerator.  Once the meat is thawed, toss in the creamy sauce and build your sandwich!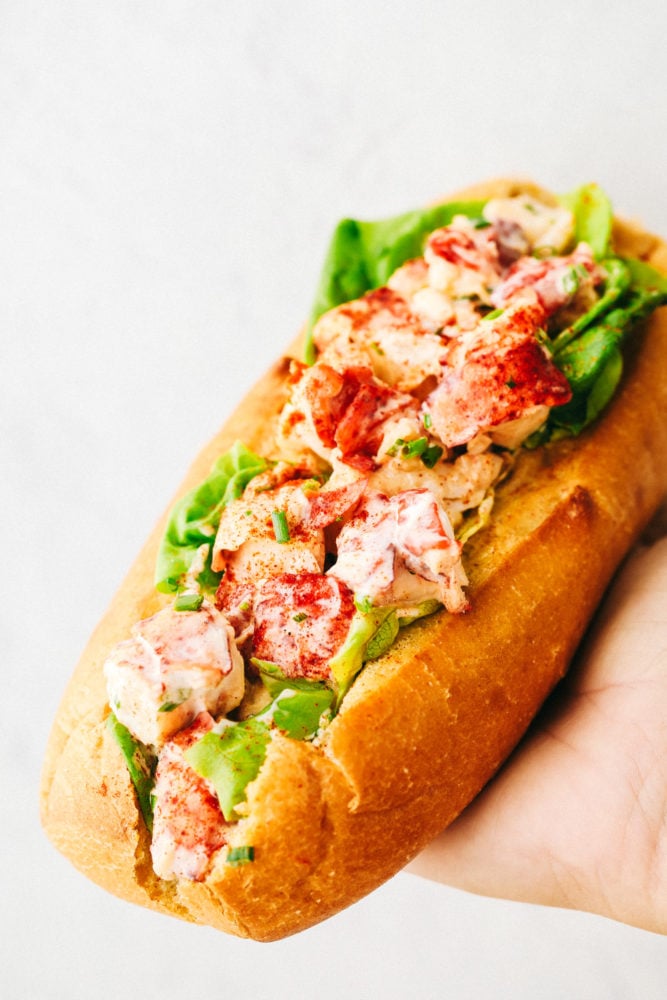 More Seafood Recipes: