Cucumber Hummus Bites are a healthier appetizer option or snack, and these will disappear quickly whenever you make them!
PIN Cucumber Hummus Bites to try them later.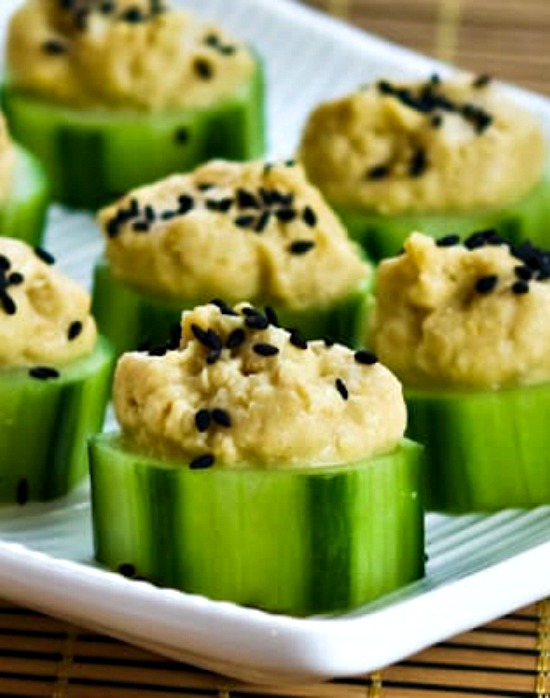 If you're looking for healthy appetizers or Super Bowl party nibbles or just want something to nibble for a snack, these Hummus and Cucumber Appetizer Bites are amazingly easy to make, fun to serve, and I promise that your hummus-loving friends will gobble them up.  And if you happen to have any guests who are trying not to completely abandon their diet on party day, they'll love you for serving a diet-legal finger food like this.
The only part of this recipe that might be a little tricky finding is the black sesame seeds, but you can use regular white sesame seeds as well if you can't find the black ones. Or skip the sesame seeds completely and they will still be delicious!
What ingredients do you need for this recipe?
European cucumber (see notes)
hummus
Black Sesame Seeds (affiliate link) or white sesame seeds
What kind of hummus did I use?
I'm a big fan of Kirkland Organic Hummus from Costco, and that's what I'd probably use for this recipe. But any purchased hummus that you like the flavor of will be great.
Fun Hummus Variations to Try:

How to make Cucumber Hummus Bites:
(Scroll down for complete printable recipe with nutritional information.)
I used a European-style cucumber that comes wrapped in plastic. They have a pretty thin skin, so I peeled them in strips to leave some green color on.  If you have regular grocery-store cucumbers I might peel off all the skin.
Then cut the cucumber into slices around 3/4 inch to 1 inch thick.
I got 14 slices from one of those large cucumbers. I'd guess about 8-10 slices from a regular cucumber.
Put purchased hummus into a small Ziploc bag and cut off the corner. You're going to use this like a pastry bag and squeeze the hummus onto the cucumbers.  (I used just 1/2 cup hummus; you can add more depending on how much you're watching carbs.)
Squeeze a small amount of hummus on to the top of each cucumber slice, just enough to slightly mound up but not so much that it starts to droop over.
I used Black Sesame Seeds (affiliate link) for this recipe. You can keep them in the freezer and they will literally last for years. If you don't want to buy them especially for this, just use white sesame seeds.
Sprinkle the Cucumber Hummus Bites with sesame seeds and serve.
Ingredients
1 large European cucumber (see notes)
1/2 cup hummus
black or white sesame seeds
Instructions
Peel cucumber, either leaving strips of green (if the cucumber has thin skin) or peeling all the skin (if the cucumber has thick waxy skin).
Slice cucumber into thick slices about 3/4 – 1 inch thick.  If the cucumbers seem watery, use a paper towel to press down on both sides to absorb some of the water and dry the surface of the cucumber.
Put hummus into a small bag made of thick plastic.  I used 1/2 cup hummus to make 14 appetizers; you can always add more hummus to the bag  if you prefer a thicker mound of hummus.
Cut off one corner of the bag so you can squeeze the hummus out, taking care not to make the hole too big.
Arrange cucumber slices on a plate or serving tray, then squeeze a mound of hummus on to the top of each cucumber slice.
Sprinkle slices with sesame seeds just before serving.
Notes
The European Cucumbers that come wrapped in plastic is perfect for this recipe. This recipe would be delicious with either purchased hummus or homemade hummus.
Recipe adapted from Cucumber Rounds with Hummus and Yogurt at Fine Cooking.
Nutrition Information:
Yield:
14

Serving Size:
1

Amount Per Serving:
Calories: 29Total Fat: 2gSaturated Fat: 0gTrans Fat: 0gUnsaturated Fat: 1gCholesterol: 0mgSodium: 34mgCarbohydrates: 2gFiber: 1gSugar: 0gProtein: 1g
Nutrition information is automatically calculated by the Recipe Plug-In I am using. I am not a nutritionist and cannot guarantee 100% accuracy, since many variables affect those calculations.
Low-Carb Diet / Low-Glycemic Diet / South Beach Diet Suggestions:
Cucumber Hummus Bites are a great low-glycemic appetizer that would be approved for any phase of the original South Beach Diet. This is also good for other low-glycemic eating plans, and if you check the nutritional information you'll see they are relatively low in net carbs too if you use portion control.
Find More Recipes Like This One:
Use Appetizers to find more ideas for party appetizers! Use the Diet Type Index to find recipes suitable for a specific eating plan. You might also like to Follow Kalyn's Kitchen on Pinterest to see all the good recipes I'm sharing there.
Historical Notes for this Recipe:
This recipe was first posted in 2011 and it's been a hit on the blog. It was last updated with more information in 2021.
We are a participant in the Amazon Services LLC Associates Program, an affiliate advertising program designed to provide a means for us to earn fees by linking to Amazon.com and affiliated sites. As an Amazon Associate, I earn from qualifying purchases.