This website may contain affiliate links and advertising so that we can provide recipes to you. Read my privacy policy.
If you're looking for a knockout dinner that the whole family will love, this crockpot parmesan garlic chicken pasta is the recipe to try. It's so flavorful and satisfying, everyone will be licking their plates clean! It's easy, cheesy, and packed with mouthwatering garlic flavor.
For more recipes that are easy and flavorful, try this crockpot Olive Garden chicken pasta, crack chicken, or chicken and gravy!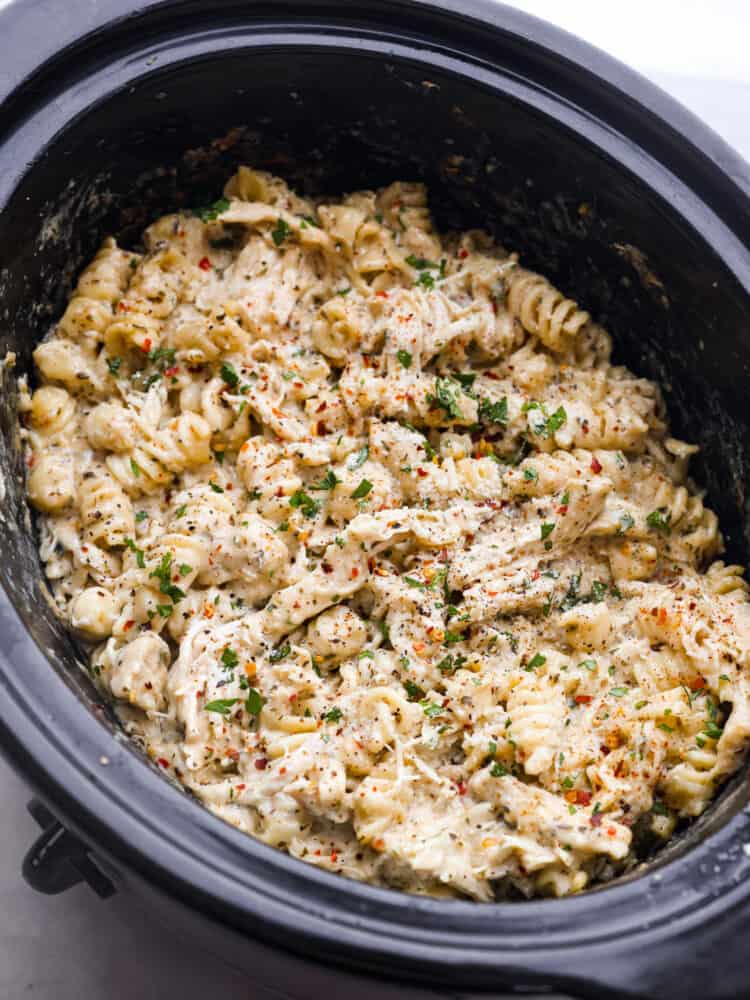 Parmesan Garlic Chicken Pasta in the Slow Cooker
When I know I have a busy day ahead of me, I always go for a crockpot meal for dinner. It's so nice to add in all of my ingredients in the beginning of the day, "set it and forget it," then come home to a hearty and delicious meal! Now, I have too many delicious slow cooker recipes on the blog to count, but this crockpot parmesan garlic chicken pasta is the best addition to the list.
Crockpot parmesan garlic chicken pasta is just so tasty and easy to make. You just throw boneless chicken breasts into the crockpot, pour parmesan garlic sauce on top, then pile on some cream cheese and grated Parmesan. Let it cook low and slow for a few hours until the chicken gets tender and full of flavor. Then shred the chicken, mix it with the sauce, and toss in some cooked pasta. Top it off with fresh parsley and a pinch of red pepper flakes for an extra kick. Trust me, it's a mouthwatering combo that'll have you craving more! If any recipe is picky eater approved, it's this one!
Ingredients You'll Need
This easy-to-make dish features juicy chicken, velvety Parmesan garlic sauce, and a handful of other delightful ingredients, coming together for a truly mouthwatering meal. Let's dive into the lineup of ingredients that'll make this pasta a family favorite! Note: exact measurements are in the recipe card at the end of the post.
Parmesan Garlic Sauce: This sauce is the bomb! It's a yummy combo of Parmesan cheese and garlicky goodness that amps up the flavor of the chicken and pasta. It will make you want to lick your plate.
Boneless, Skinless Chicken Breasts: Juicy chicken breasts that soak in all that tasty sauce while they cook, making them super tender and delicious. Don't have chicken breasts? Use chicken thighs instead.
Cream Cheese: This creamy goodness takes the parmesan garlic chicken pasta to the next level, melting perfectly with the sauce and giving it that extra richness.
Grated Parmesan Cheese: Cheesy goodness that brings the whole dish together. Don't skimp! Also I recommend using freshly grated parmesan cheese if possible, it will melt better and taste better than the prepackaged stuff.
Dry Pasta (Rotini): The pasta is the perfect partner in crime for the chicken and sauce, soaking up all the amazing flavors. I used corkscrew pasta here, but you can use any type of pasta that will hold the sauce. Penne is another great option that I go for!
Parsley and Red Pepper Flakes: These little extras add a pop of color and some freshness. Sprinkle some red pepper flakes if you like it spicy, and parsley for a fancy touch.
How to Make Crockpot Parmesan Garlic Chicken Pasta
It's SO simple. Whisk up your homemade parmesan garlic sauce, toss all of the ingredients in your crockpot, and then let it do its thing while you go about your day! Cooking low and slow is the way to go. You get tender, juicy chicken every time!
Prepare Crockpot: Spray the inside of the crockpot with non-stick cooking spray. 
Add Chicken Breasts: Place the chicken breasts in the bottom of the crockpot.
Cover With Sauce: Then pour the entire bottle of parmesan garlic sauce over the chicken.
Top With Cheese: Add the cream cheese and parmesan cheese on top of the chicken and sauce.
Slow Cook: Cover with the lid and cook on low for 3-4 hours or high for 2-3 hours.
Shred: Shred the chicken before serving and stir it to mix into the sauce.
Cook Pasta: Cook the pasta according to the package instructions. 
Combine: Add the cooked pasta to the crockpot. Stir to combine and garnish with fresh parsley and red pepper flakes. Enjoy!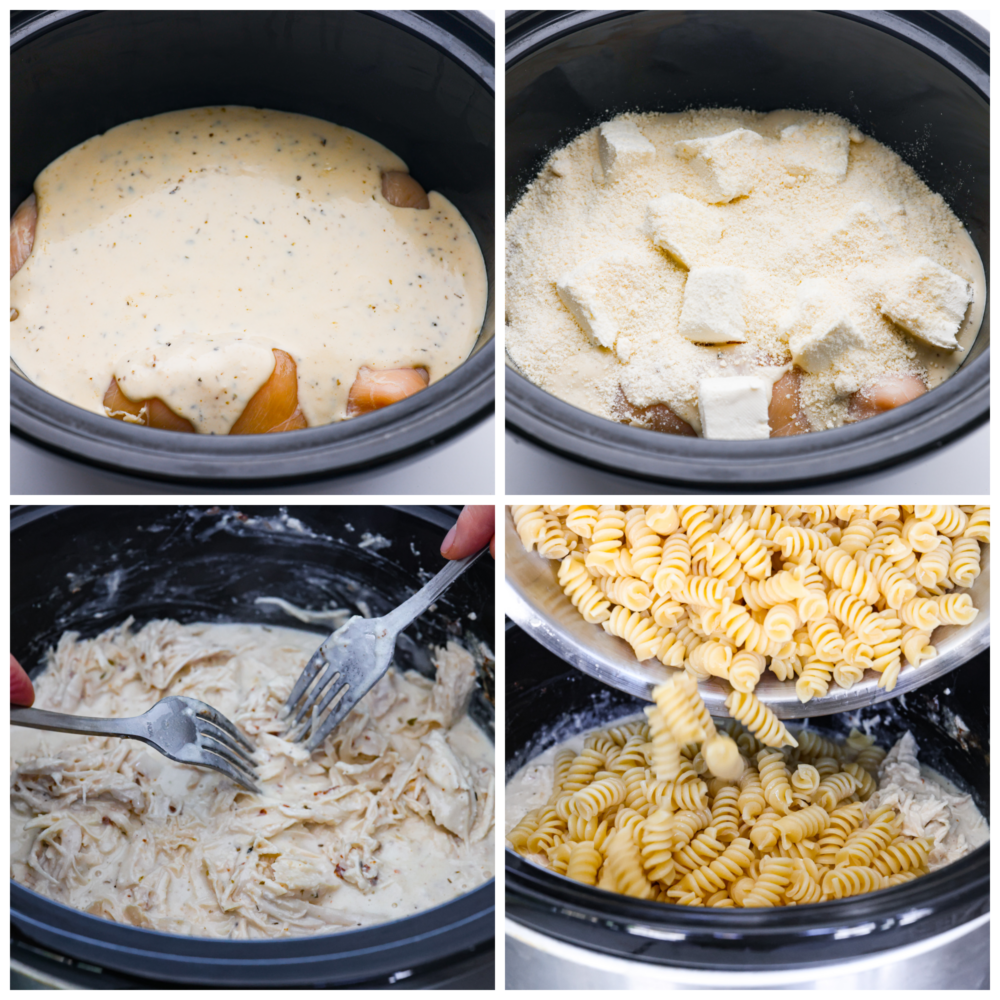 Tips and Delicious Variations
As if this crockpot parmesan garlic chicken pasta wasn't tasty enough, here are a few extra tips to get it just to your liking! I know your family will love it as much as mine does.
Use Chicken Thighs Instead: Use boneless chicken thighs instead of breasts for a juicier and more tender result.
Use Room Temperature Cream Cheese: To avoid the cream cheese from curdling, let it come to room temperature before adding it to the crockpot.
Adjust the Consistency of the Sauce: Add a splash of chicken broth if you prefer a slightly thinner sauce.
Creamy Twist: Mix in some homemade alfredo sauce for a creamy and indulgent alternative.
Kick of Spice: Sprinkle red pepper flakes or add a pinch of cayenne pepper to bring some heat to the dish.
Lemon Zest: Grate some fresh lemon zest over the pasta before serving to brighten up the flavors. You can also add a splash of fresh lemon juice to the sauce if you wish.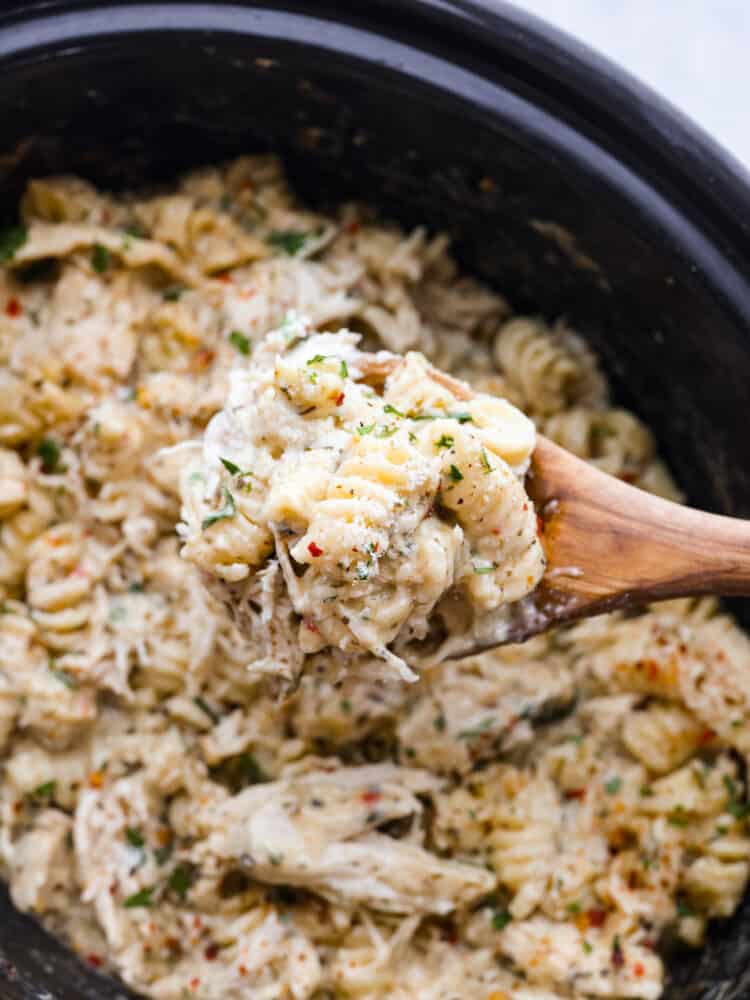 Storing Leftovers
The great thing about this dish is it makes great leftovers and reheats really well if you have extras. The perfect cheesy, hearty lunch that's ready in a snap!
In the Refrigerator: Place leftover parmesan garlic chicken pasta in an airtight container. Store in the refrigerator for up to 3 days.
To Reheat: Reheat pasta in a microwave-safe bowl for 1 minute or until warmed through. If the pasta is too dry you can drizzle additional garlic parmesan sauce on the pasta before warming.