This website may contain affiliate links and advertising so that we can provide recipes to you. Read my privacy policy.
Harissa chicken is tender, juicy, and coated in a spicy, flavor-packed sauce that will leave your mouth watering. This easy and delicious North African dish is the perfect recipe to add to the dinner lineup this week!
If you've never tried North African cuisine before, here's your sign to! It's full of so much amazing flavor! This Moroccan chicken and shakshuka are two of my other favorite recipes.
Harissa Chicken Recipe
Harissa chicken is an amazing dish made with chicken breasts or thighs that are all jazzed up with a blend of spices like salt, pepper, coriander, paprika, cumin, and a bit of cayenne pepper for a spicy twist. But the real star is the Harissa paste – a North African magic sauce made from roasted red peppers, hot chili peppers, garlic, olive oil, and some tasty spices. You can find it at places like Trader Joe's, but it's super easy to make at home as well.
This tasty combo of flavors and heat makes Harissa chicken a hit! It originated from North Africa, particularly Tunisia and Morocco, where Harissa paste has been spicing up their cuisine for ages. When they slathered this zesty paste on chicken and threw it on the grill, boom! Harissa chicken was born – tender, juicy, and oh-so-delicious. Whether you pair it with couscous or stuff it in a pita, this dish will have your taste buds thanking you. It's about as flavorful as they come.
Ingredients You Will Need
Get ready to break out your spice rack, because harissa chicken uses a lot of 'em! (This is what makes it so good, though!) Exact measurements are all in the recipe card below.
Chicken Breasts (Boneless and Skinless): We're talkin' juicy chicken breasts, no bones, no skin – this helps the flavors to shine. You can also use boneless, skinless chicken thighs if you prefer.
Salt: A little goes a long way to enhance all the flavors!
Ground Black Pepper: Adds a bit of kick and depth to the flavor of the chicken.
Coriander: Gives the chicken a citrusy and subtly sweet flavor.
Paprika: For some smoky, warm flavor. Regular paprika and smoked paprika both work!
Cumin: Earthy and warm, cumin plays nicely with the other flavors.
Cayenne Pepper: This adds in some heat.
Red Onion (Minced): Adds sweetness and texture all around!
Garlic (Minced): For some bold, savory flavor! You can also use garlic powder if you don't have any fresh garlic on hand, but it will change the flavor slightly.
Harissa Paste: The boss of North African flavor – a fiery red blend of roasted red peppers, hot chili peppers, garlic, and olive oil. It's the spicy heart of this dish!
Fresh Lemon Juice: Zesty and tangy, lemon juice cuts through the richness, and brings some freshness to the mix.
Olive Oil: The glue that holds everything together! Olive oil not only adds richness to the sauce, but it helps to coat the harissa chicken perfectly.
How to Make Harissa Chicken
Fire up the grill and whisk up that sauce, because you're about to enjoy the most flavorful meal ever! Harissa chicken is quickly becoming one of my favorite dishes, it really packs a punch with that fiery sauce!
Preheat Grill: Preheat your grill to medium high heat, about 400-450 degrees Fahrenheit.
Dry Chicken: Pat your chicken dry and place it in a large bowl.
Prepare Rub: In a small bowl combine your salt, pepper, coriander, paprika, cumin, and cayenne pepper. Then mix to combine and rub over all your chicken breasts.
Harissa Sauce Mixture: In another bowl add your garlic, onion, harissa paste, lemon juice, and olive oil. Pour this mixture over your seasoned chicken and rub to coat each chicken well in the mixture.
Marinate: Allow the chicken to marinate for about 30 minutes.
Cook: Once the chicken is ready, grill for 6-8 minutes on each side, or until the internal temperature of the chicken reaches 165 degrees Fahrenheit/
Rest: Remove the harissa chicken from the grill and allow it to set for a few minutes before serving.
Save Time by Baking
If you want to bake your chicken while it is marinating, preheat your oven to 450 degrees. Prepare a baking sheet by lining it with foil. Place your prepared harissa chicken on the baking sheet and bake for 16-20 minutes, flipping halfway through the cook time.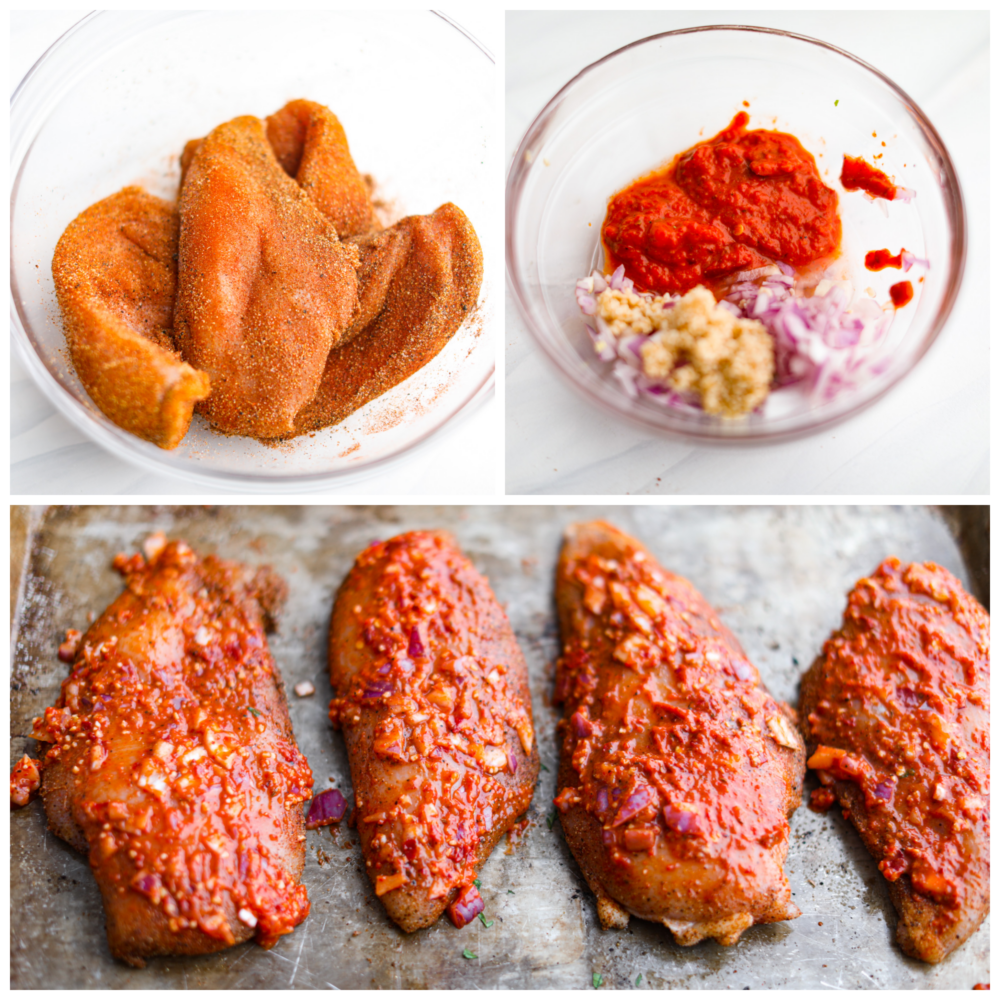 Cooking Tips
These are some tips to customize and perfect this fiery dish, making it a crowd-pleasing favorite that'll leave everyone craving more. So grab your apron and get ready to turn up the heat in the kitchen!
Adjust the Heat: Harissa chicken is all about that kick, but you can control the heat level to suit your tastes. Add more or less Harissa paste and cayenne pepper to find your perfect spiciness sweet spot.
Marinate for Extra Flavor: Let your chicken soak up all the goodness by marinating it for a few hours, or even overnight, in the Harissa paste and spice mix. The longer it marinates, the more flavorful it'll be.
Try Different Cuts: While boneless, skinless chicken breasts are classic, feel free to experiment with other cuts like thighs or drumsticks. Dark meat can be more forgiving and juicy on the grill.
Get Creative with Sides: Harissa chicken pairs amazingly with a variety of sides. Serve it over rice, quinoa, or a couscous salad. You can even stuff it into pita bread with fresh veggies and a dollop of yogurt for a killer sandwich!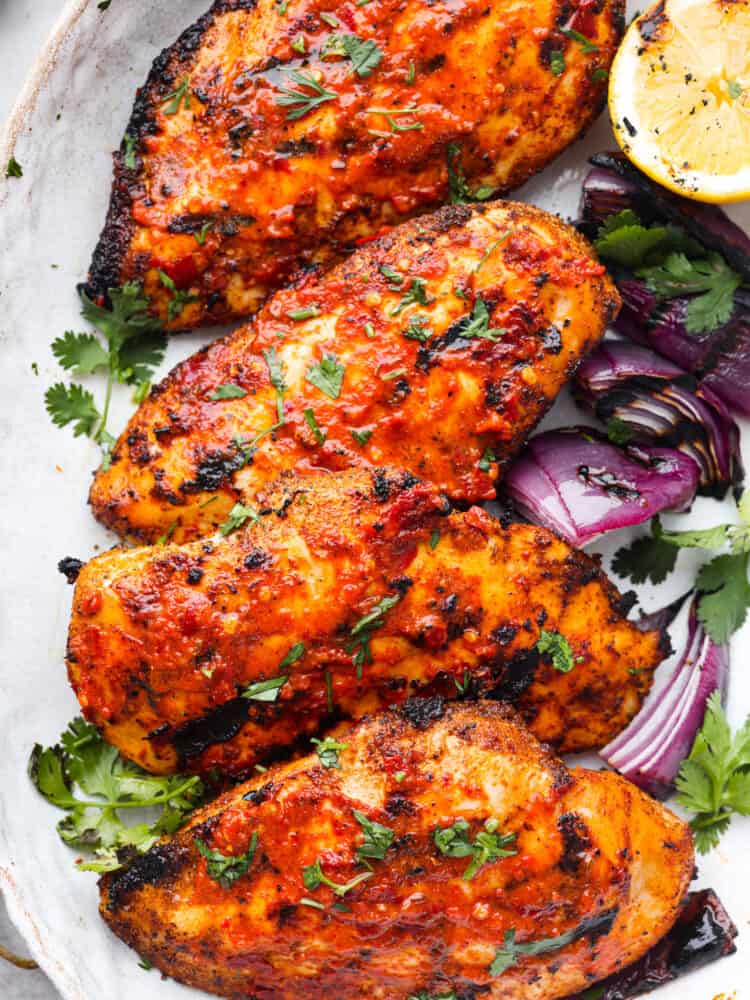 Storing Leftover Harissa Chicken
If you have leftovers of this tasty chicken, be sure to save them! They heat up really well and become even more flavorful the next day!
In the Refrigerator: Transfer grilled harissa chicken to an airtight container or sealable bag and store for up to 4 days. To reheat, pop your chicken in the oven for 10-15 minutes at 350 degrees Fahrenheit or heat over medium heat on the stove until warmed through.