This website may contain affiliate links and advertising so that we can provide recipes to you. Read my privacy policy.
Crispy parmesan garlic chicken with zucchini is a fantastic one-pan meal that the family will love. Crispy chicken is breaded with an amazing parmesan garlic crust paired with tender zucchini sautéed to perfection!
With easy prep, no mess, and big flavor, one-pan meals are the best! Vegetable curry, chili lime chicken, and fajitas are some of my other favorites to add to the dinner lineup this week!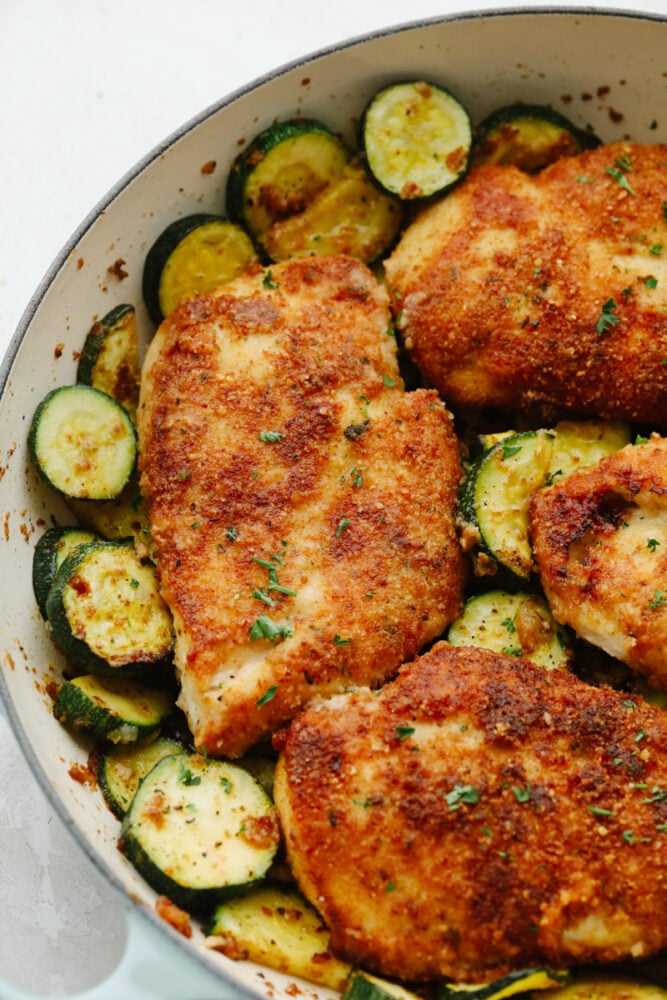 One-Pan Parmesan Garlic Chicken With Zucchini Recipe
Zucchini is my favorite vegetable, so as you can imagine, I get pretty excited when it is actually in season! My favorite way to eat zucchini is to sauté it until tender. I decided to put my favorite textures together in this dish- fresh and tender zucchini with flavorful, crispy chicken. Enhancing these tasty foods with the amazing flavors of parmesan and garlic seemed like the best course of action from there, and boy did it create a mouthwatering dish! It coats the chicken perfectly and gives the whole dish an incredible crispy texture. The awesome thing about this recipe is that I had all of the ingredients on hand. So, for those times when you are staring into the depths of your pantry, wondering what you can make that is tasty, healthy, and not overly time-consuming, this crispy chicken with zucchini recipe is the answer.
My entire family devours it. We cannot get enough of the crispy flavorful crust on the chicken. And the best part of it all? It is packed with protein while also being low in fats and carbs! Honestly, this is like the healthy, KFC-Esque dinner of my dreams. As if you needed more reasons to make this, it all goes in one pan, leaving you with fewer dishes to do! Just 30 minutes will create a nutritious, keto-friendly meal loaded with savory and crispy goodness. Your wallet, diet, and stomach will thank you.
Chicken With Zucchini Ingredients
This is the perfect recipe for using leftover zucchini and chicken breasts! Just a few additional pantry staples with leave you with the most flavorful, delicious result. You can find each individual measurement in the recipe card below.
Chicken Breasts: For this recipe, I use boneless and skinless chicken breasts. You can either slice 2 large breasts in half or use 4 thin chicken breasts.
Butter: This will be used for sauteing. Also, it gives your chicken and zucchini a tasty rich flavor and helps them to cook up perfectly.
Italian Bread Crumbs: I like using Italian bread crumbs for a touch of flavor, but you can also opt for whole wheat bread crumbs to keep it health-conscious.
Grated Parmesan: Parmesan is what is going to give your dish its perfect, cheesy flavor. It also crisps up perfectly to help you achieve the best texture!
Flour: I use all-purpose flour in this recipe to give structure to the breading. You can also use whole wheat flour as an alternative.
Zucchini: I use medium-sized zucchini in this recipe, sliced.
Garlic: Fresh garlic makes all the difference in getting the perfect, savory flavor. Minced cloves work best.
How To Make Crispy Parmesan Garlic Chicken and Zucchini
You are going to love how easily this recipe comes together for those quick weeknight dinners! You get restaurant-quality flavors without all the effort.
Prepare Skillet: In a large skillet, over medium heat melt 2 Tablespoons of butter.
Bread Chicken: Melt remaining 4 tablespoons of butter in a shallow dish. In another shallow dish combine bread crumbs, parmesan cheese, and flour. Dip the chicken in the butter and then coat in the bread crumb mixture and place in skillet.
Cook: Cook on each side for about 3-4 minutes until the outside is crispy and the chicken is cooked throughout. Set aside on plate.
Saute Zucchini: Add 2 Tablespoons of butter back to the skillet and saute the minced garlic for a minute. Add the zucchini to the skillet and saute until tender. Salt and pepper to taste and add 1 Tablespoon parmesan. Add the chicken back to the skillet and heat for a minute or so. Serve immediately.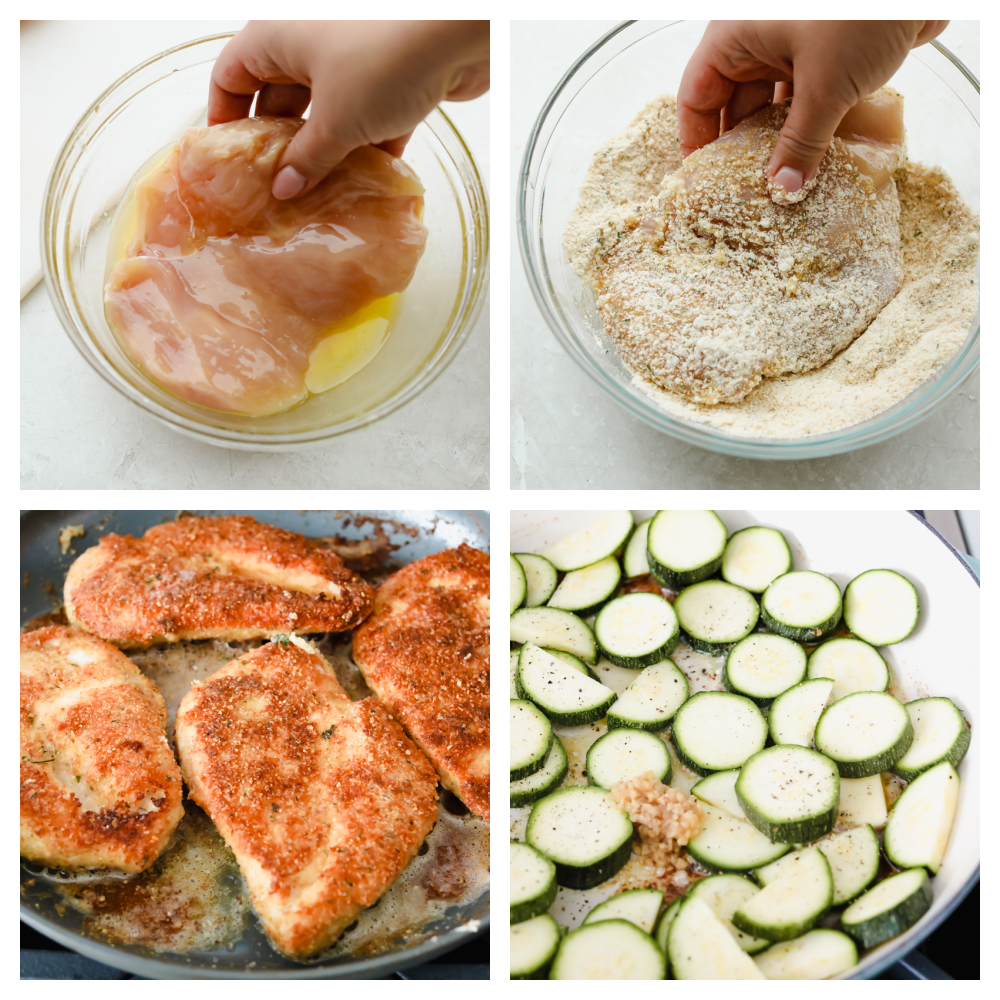 Parmesan Garlic Chicken and Zucchini Quick Tips
This dish is super easy and super delicious, but try out some of these simple tips to get the best result every time!
Season Chicken: You can season your chicken with salt and pepper or Italian seasoning before breading for an extra pop of flavor.
Breading Will Not Stick: If you are having trouble getting your breading to stick, make sure your skillet is hot and butter is melted. Then, once you add your chicken to the pan, try not to move it until that side has cooked completely. Moving it prematurely can pull off all the crispy goodness.
Use a Thermometer: To avoid overcooking your chicken, I always recommend using a thermometer. Stop cooking once your internal temperatures reach 165 degrees Fahrenheit. Otherwise, you could end up with chicken that is too dry.
Zucchini: You will want any zucchini you use to be slightly firm. If it is too soft, it won't get that perfect tender sautéed texture. Also, keep the skin on! It isn't hard to bite through and actually has a lot of nutritional benefits like stimulating collagen production and boosting your immune system!
Uniform Slices: It is important to try and keep zucchini slices roughly the same size so they cook at the same rate.
Storing Leftover Parmesan Garlic Chicken and Zucchini
Not only is this recipe easy to make, but it also stores like a champ! Kids can easily heat it up for a tasty, nutritious lunch.
In the Refrigerator: Chicken and zucchini will keep in an airtight container for 3-4 days.
In the Freezer: In an airtight container, store your chicken and zucchini in the freezer for up to 2 months. Thaw overnight before reheating.
Reheating: The best way to retain moisture in your chicken while also keeping it crispy is to reheat it in a skillet. Cook over medium until internal temperatures reach 165 degrees Fahrenheit. Stir zucchini pieces often to ensure they cook through completely.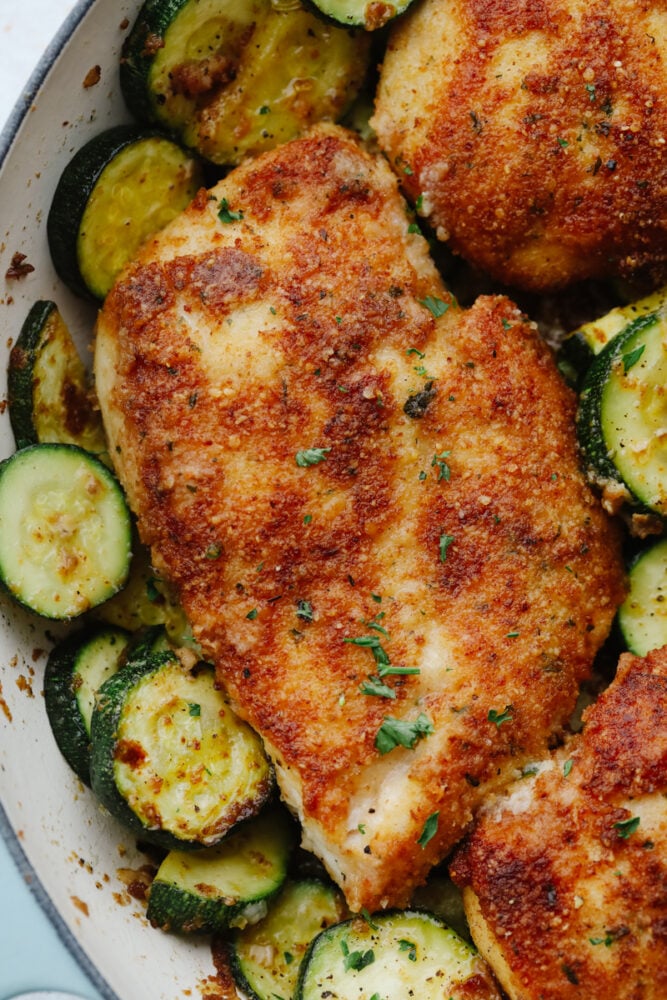 What to Serve With Crispy Parmesan Garlic Chicken
Parmesan garlic chicken and zucchini is a dish that can easily be served on its own. But for more healthy carbs, you could serve this up with a scoop of brown rice. It also tastes amazing alongside other crispy foods like fries or chips. Have an overload of zucchini at home? You could even make baked zucchini fries as a healthier side.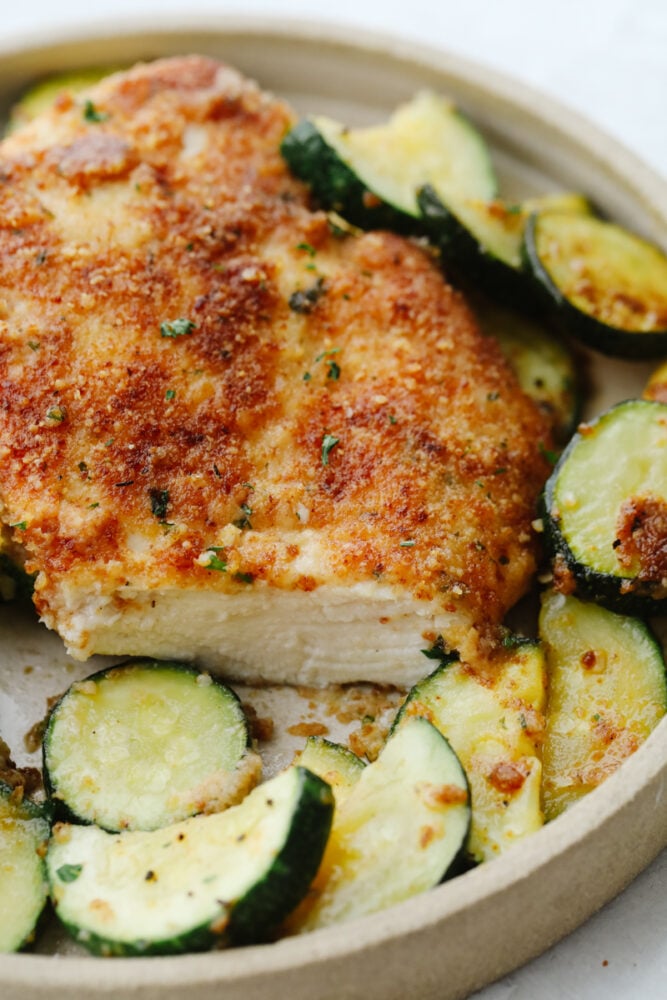 Save