Chicken (or Turkey) Barley Soup is still one of my all-time favorites when I need some cold-weather comfort food. Barley is loaded with fiber, and this soup is dairy-free; check the info in the post if you'd like a version that's low-carb and gluten-free.
PIN Chicken (or Turkey) Barley Soup to try it later!
It's getting cold in Utah, which always puts me the mood for soup. I love soup with barley, and you can make this Chicken (or Turkey) Barley Soup with leftover chicken, or use leftover turkey if you happen to have some! This recipe is also great to make when you don't have leftover chicken or turkey because you can start with a couple of chicken breasts, an onion, some carrots, some celery, and some barley and a little over an hour later you have a delicious soup.
Don't be tempted to increase the amount of barley. If you haven't cooked with barley that much, you'll be surprised how much it increases. Barley has a delightfully nutty flavor that I think combines perfectly with chicken or turkey, and it's also very low on the glycemic index for those who care about that!
What ingredients do you need?
What is Barley?
Barley is a type of ancient grain that's tasty and high in fiber. It has a slightly nutty taste and chewy texture. 
Is Barley Gluten-Free?
Barley is not gluten-free and it should be avoided by people who have celiac disease or gluten sensitivity.
How can you make this soup lower in carbs and gluten-free?
Barley does have some fiber, so if you check the net carbs this might be lower in carbs than you think. But if you'd like to make a version that's truly low in carbs and also gluten-free, just replace the barley with 1-2 cups of frozen cauliflower rice.
Want more Turkey Soup Recipes?
Check out Low-Carb and Keto Turkey Soup Recipes or Slow Cooker and Instant Pot Turkey Soup Recipes for lots more soups with ground turkey or leftover turkey!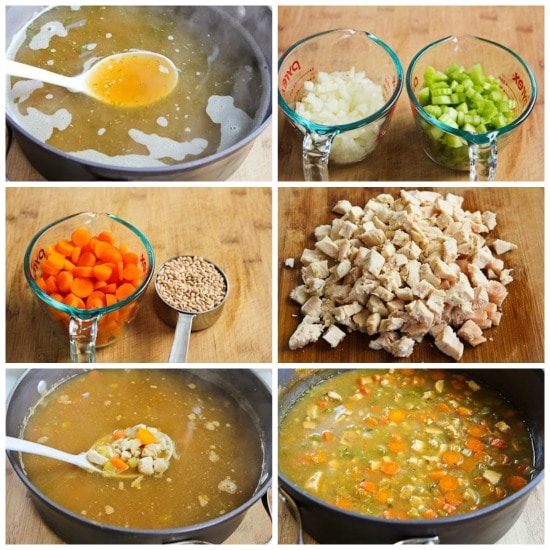 How to Make Chicken (or Turkey) Barley Soup:
(Scroll down for complete recipe with nutritional information.)
I simmered two chicken breasts in water with a little chicken soup base to get the chicken, but use leftover diced chicken or turkey if you have some.
While the chicken cooks, combine the chicken stock or turkey stock, water, vegetable bouillon, dried thyme, Poultry Seasoning, and dried parsley and let it simmer while you prep other ingredients.
Chop up an onion and a cup of finely chopped celery and add it to the simmering soup pot.
Then slice the carrots and add them to the soup with 1/2 cup of pearl barley (or cauliflower rice) and continue simmering.
When it is cool enough to handle, chop up the chicken (or use 2 cups diced leftover chicken or leftover turkey if you prefer.)
When the barley is nearly tender, add the chicken or turkey and continue cooking until the barley is as tender as you'd like it.
I cooked the soup at a very low simmer for about an hour and 15 minutes total.
Don't add the chicken or turkey too soon or it will string apart in the soup.
Season with salt and fresh ground black pepper to taste and serve hot.
More Tasty Soups with Chicken or Turkey:
Chicken Soup with Collards and Lemon
Low-Carb Turkey Soup with Zucchini Noodles
Instant Pot Low-Carb Chicken Tomatillo Soup
Weekend Food Prep:
This recipe has been added to a new category called Weekend Food Prep  to help you find recipes you can prep or cook on the weekend and eat during the week!
Ingredients
2 cups diced cooked chicken or turkey (see notes)
8 cups chicken or turkey broth (see notes)
1 quart water
1 generous T Better Than Bouillon organic vegetable soup base (see notes)
1 tsp. dried thyme (or use frozen thyme leaves if you have them)
1 tsp. poultry seasoning
1 T dried parsley
1 onion, chopped small
1 cup chopped celery
1 cup sliced or diced carrots (or more if you really like carrots)
1/2 cup pearl barley
fresh ground black pepper to taste, salt if desired
Instructions
If you don't have leftover chicken or turkey,  put two chicken breasts in a small saucepan with some water and a little bit of Better than Bouillon Roasted Chicken Base (affiliate link) and simmer over very low heat about 20 minutes, or until the chicken is barely done.
Let chicken cool, then dice into small pieces.
In a large stock pot, combine chicken or turkey stock (or canned chicken broth), water, vegetable soup base, dried thyme (or frozen thyme leaves), poultry seasoning (affiliate link), and dried parsley.
Simmer 15 minutes while you chop veggies and chicken.
After 15 minutes, add chopped onion, chopped celery, sliced carrots, and barley.
Start to simmer, and when the barley is nearly done (about 45 minutes) add the diced chicken.  You may want to add a cup or so of water if the soup reduces too much.
When the barley is done to your liking, season the soup with fresh ground black pepper and salt to taste, and serve hot. (Be sure to taste before adding salt if using canned chicken stock, which can be rather salty.)
Notes
If you're cooking chicken breasts, use or 2 boneless-skinless chicken breasts.
You can use chicken broth in a can or a carton if you don't have homemade chicken stock.
Vegetable bouillon is optional, but recommended for best flavor, other types of veggie stock cubes can be used.
Recipe created by Kalyn.
Nutrition Information:
Yield:
8

Serving Size:
1

Amount Per Serving:
Calories: 210Total Fat: 8gSaturated Fat: 2gTrans Fat: 0gUnsaturated Fat: 5gCholesterol: 40mgSodium: 806mgCarbohydrates: 18gFiber: 2gSugar: 6gProtein: 16g
Nutrition information is automatically calculated by the Recipe Plug-In I am using. I am not a nutritionist and cannot guarantee 100% accuracy, since many variables affect those calculations.
Low-Carb Diet / Low-Glycemic Diet / South Beach Diet Suggestions:
This Chicken Barley Soup is a great meal for phase two or three of the original South Beach Diet. You could make the same soup with brown rice, or wild rice, which would still be great for South Beach and also gluten-free. Soup with barley isn't suitable for low-carb diets (although this might be lower in net carbs than you think.) If you want to make a similar soup that's low in carbs, just replace the barley with 1-2 cups frozen cauliflower rice.
Find More Recipes Like This One:
Use Soup Recipes to find more recipes like this one. Use the Diet Type Index to find recipes suitable for a specific eating plan. You might also like to Follow Kalyn's Kitchen on Pinterest to see all the good recipes I'm sharing there.
Historical Notes for this Recipe:
This recipe was posted in 2006. The photos were updated in 2012 and the recipe was last updated with more information and the option for using cauliflower rice in 2021.
We are a participant in the Amazon Services LLC Associates Program, an affiliate advertising program designed to provide a means for us to earn fees by linking to Amazon.com and affiliated sites. As an Amazon Associate, I earn from qualifying purchases.