This website may contain affiliate links and advertising so that we can provide recipes to you. Read my privacy policy.
Chicken Tetrazzini Casserole is such a classic and comforting casserole. This is creamy, cheesy and hidden with fresh mushrooms and peas. Topped with parmesan cheese and crispy breadcrumbs this is the perfect casserole!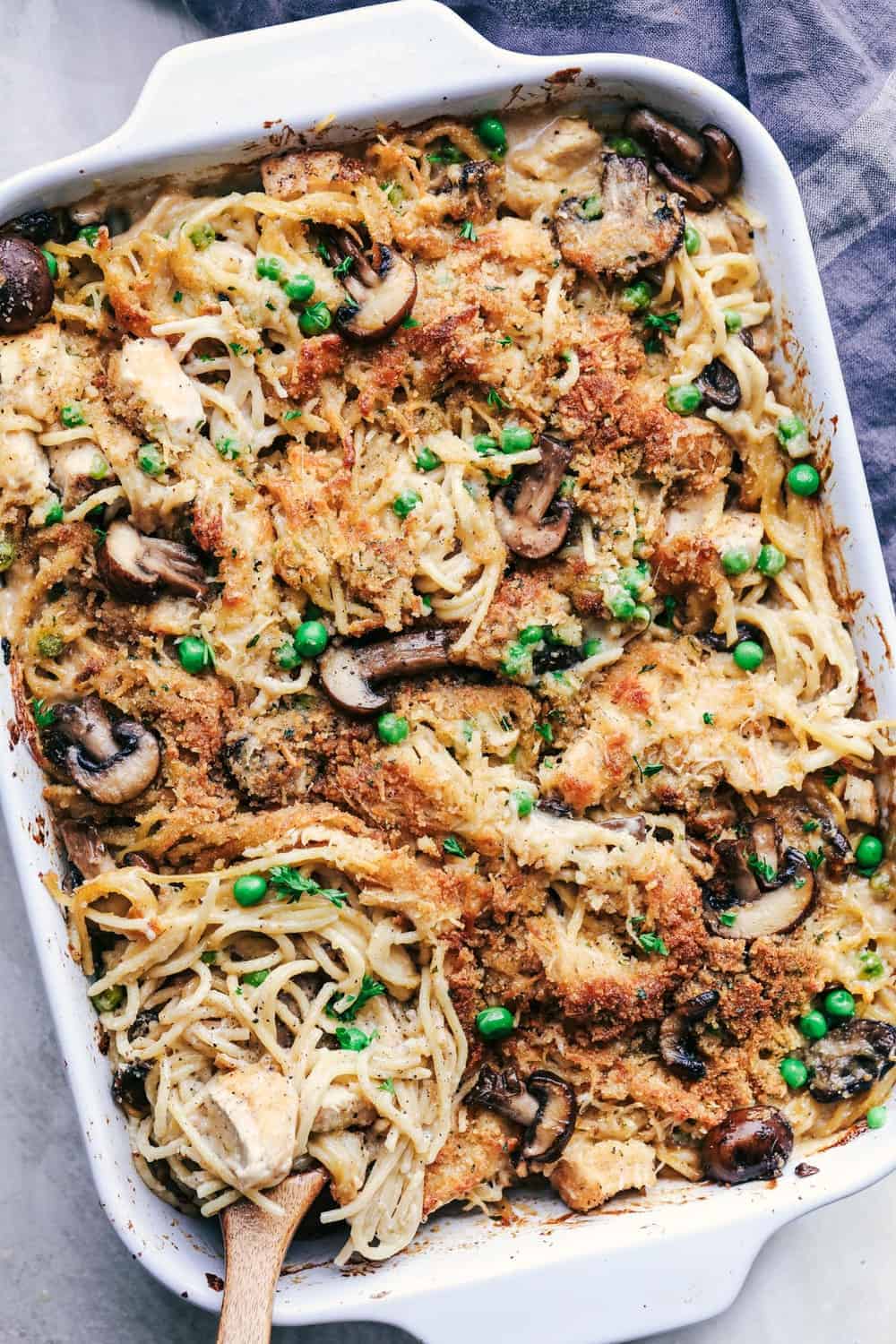 I seriously love a good casserole. They are so comforting in the cooler months and I especially love that they can feed my entire family. Chicken tetrazzini is such a classic. It is hearty and full of creamy pasta with the yummy addition of mushrooms and peas. I have had some delicious chicken tetrazzini casseroles in my day, but I am here to tell you that this one is the BEST.
A good casserole has to be creamy and cheesy and not dry at all. This casserole just happens to have a secret ingredient that provides such great chicken flavor to the dish. It is McCormick's Simply Better Chicken Gravy. This gravy is not just for mashed potatoes. It is absolutely incredible used in recipe creations. It has real ingredients, like chicken stock, with vegetables, herbs and spices. This provided awesome flavor in this casserole and no additional seasonings were needed!
I had some requirements when I created this casserole. It had to be creamy, cheesy, and topped with crispy bread crumbs and parmesan cheese. Oh my goodness. This casserole was absolute tetrazzini casserole perfection. So many amazing flavors and textures are happening in this dish. This is such a hearty casserole filled with chicken, mushrooms, peas, and pasta tossed in this creamy and delicious sauce. But topping it off with crispy buttery bread crumbs and parmesan cheese… WOW! This casserole gets a 10 out of 10 for our family!
How do you make chicken tetrazzini?
Begin by cooking your spaghetti pasta until al dente. Drain. In a medium saucepan add the olive oil, mushrooms, garlic, and peas and cook until tender.
Add the flour, simply better chicken gravy, and half and half and let simmer until thickened.
Add the spaghetti to a 9×13 inch pan and toss with the mushroom and pea mixture and cheese. Top with parmesan cheese, breadcrumbs, and butter. Bake at 350 for 30-40 minutes or until heated through.
What is the origin of chicken tetrazzini?
A common question asked is where does chicken tetrazzini come from? It is an American dish with diced poultry in a butter/cream sauce and parmesan sauce.
This casserole will become a family favorite with the first bite. I can't wait for you to try it!
Click here to find McCormick's Simply Better Gravy in your area
More delicious, comforting recipes I created using the Simply Better gravy from McCormick:
Creamy Turkey Wild Rice Soup 
Skillet Sweet Potato Shepherds Pie
This post was sponsored by McCormick®. I love working with brands that I am passionate about and use in the kitchen for myself. All opinions expressed are my own.