This website may contain affiliate links and advertising so that we can provide recipes to you. Read my privacy policy.
These grilled pineapple spears are coated in a buttery brown sugar cinnamon glaze that is caramelized with 3 simple ingredients and then grilled to perfection.  This will be one of the most amazing sides that you grill this summer!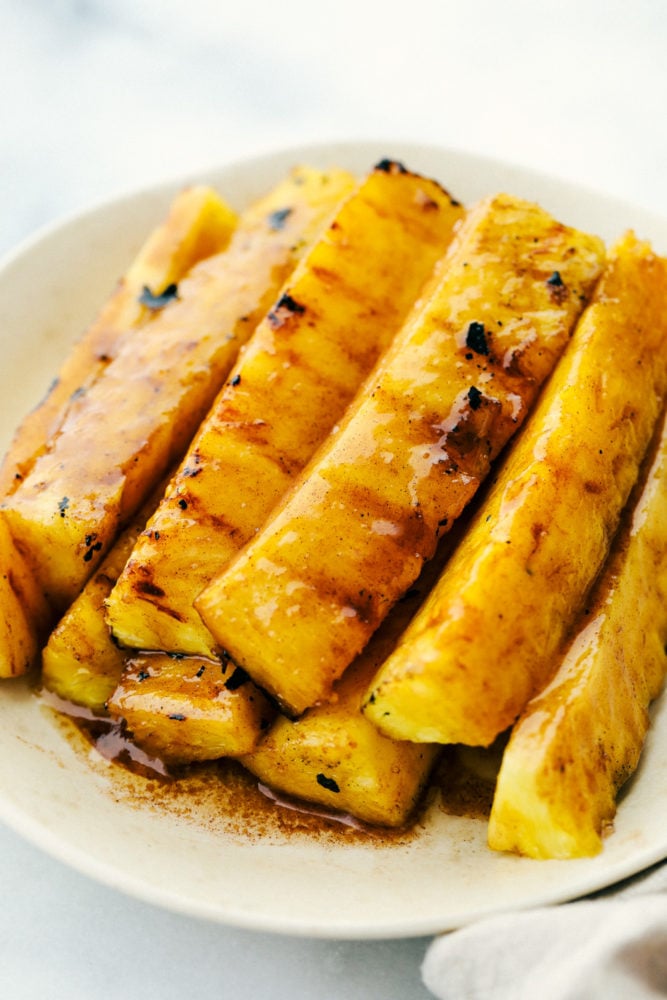 Caramelized Brown Sugar Cinnamon Grilled Pineapple
This caramelized brown sugar cinnamon grilled pineapple was the 4th recipe on the blog. As soon as I started my blog I had to put this recipe on it. We make this grilled pineapple every single time that we grill. It is to die for. It is my favorite and adds so much to any grilling or BBQ dish. With this quick and easy recipe you will be sure to have the MOST delicious pineapple and your family will be raving about it.
Have you ever been to Rodizio Grill? Then you know all about the amazing pineapple that they serve! I have been trying to make the amazing sauce that they drizzle over these, and I think I have it perfected. Using only 3 ingredients makes this brown sugar cinnamon glaze to die for. It is so simple to make and will whisk up quickly. Grilling only takes a few minutes and this grilled pineapple will complete any meal as a delicious side dish.
Pineapple Ingredients:
When I tell you that this is one of the best sides that you will grill this summer, it is no joke! It goes great with anything that you will grill and it will be the talk of the barbecue. I know that you will love this just as much as we did. It is truly a five star recipe!
Pineapple: The main ingredient turned into something spectacular.
Brown Sugar: Sweeten the sauce with brown sugar.
Butter: Melting the butter will help spread the glaze evenly.
Cinnamon: Adds a little sweetness with a hint of spice. Sprinkle some cinnamon overtop of the spears as well as adding it to the glaze.
How to Grill Pineapple:
The sauce is incredible. It is a buttery brown sugar cinnamon glaze. When the pineapple cooks on the grill, the sauce caramelizes and becomes absolutely incredible on top of these! The pineapple stays juicy and grills to perfection. You will be amazed with your first bite!
Making the caramelized glaze: Lay the pineapple spears on a pan. Sprinkle lightly with cinnamon. Whisk together the butter, brown sugar and cinnamon. (If it seems thick, I always put it in the microwave for a few seconds so that it can easily pour on top of the pineapple.)
With a brush: Spread on top of the pineapple.
Grilling pineapple: Grill for about 7-10 minutes or until it is starting to turn golden brown. I always like to brush the excess sauce from the pan back on top of the pineapple before serving.
The Recipe Critic Pro Tip:
Spray or wipe the grill before oil or use a grill pan to cook the pineapple on the grill.
Variations of Glaze:
It is always fun to try new things and with pineapple it makes it even more delicious. Try these amazing flavors that also compliment the grilled pineapple.
Honey: Substitute the brown sugar for honey for a sweeter glaze or even half brown sugar and half honey.
Spicy: Add a little spice with chili powder or cayenne pepper in the glaze.
Coconut and Fruit Juice: This is a citrus favorite. Use lime, orange or lemon juice to infuse the pineapple with a bold citrusy flavor.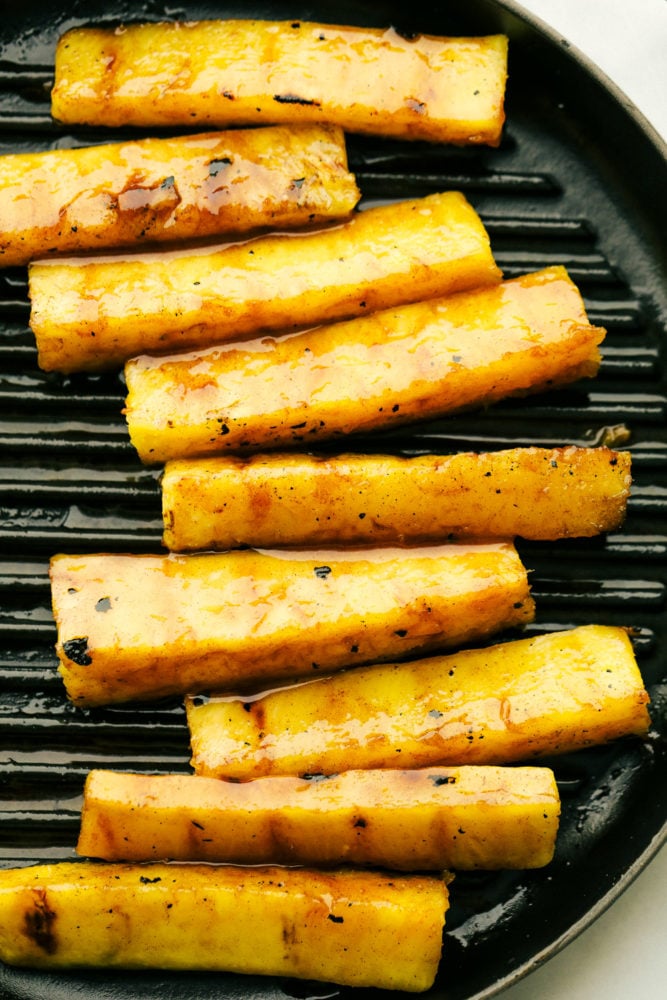 What to Serve with Grilled Pineapple:
This grilled pineapple is perfect as a side dish, adding it to salads or salsa. This pineapple tastes delicious once grilled and can be served so many ways.
Appetizer: Add some extra flavor to this pineapple cheese ball
Side Dish: Pineapple is sweet and subtle for any home cooked meal like this honey lime ginger pork or grilled flank steak.
Salad: This grilled mango and pineapple salad is perfect for adding in grilled pineapple.
Burger or Sandwich: Most burgers or sandwiches taste better with a citrus pineapple slice that is grilled up.
Salsa: Chop up the pineapple spears and add in some extra flavors to your salsa.
Topping: Pineapple topping with various ingredients added on top of steak, pork or chicken makes a great topping.
Stir Fry: Cook some rice and vegetables and add in grilled pineapple chunks for more sweet and citrusy texture and taste.
More Ways to Enjoy Pineapple:
Pineapple is one of my favorite fruits in the summer. Try these delicious recipes with pineapple this summertime.